2018 BAA 5K: Hagos Gebrhiwet (13:42) & Buze Diriba (15:22) Pull Off Ethiopian Sweep
By Jonathan Gault
April 14, 2018
BOSTON — Even a missed turn was not enough to stop Hagos Gebrhiwet from claiming the 2018 BAA 5K title on Boston Common this morning. The 23-year-old Ethiopian, the Olympic bronze medalist at 5,000 meters, was off his game for much of 2017, finishing sixth in this race before missing the summer season (and the World Championships) due to injury. But Gebrhiwet returned to good form indoors by running 7:37 for 3,000 meters in his 2018 opener (before going on to finish 4th at World Indoors) and today he showed he's ready to roll outdoors by running down four-time BAA 5K champion Ben True — who set an American record of 13:20 to win last year.
Article continues below player
Gebrhiwet's mistake — initially failing to make the final turn onto Charles Street — cost him a couple of seconds and was enough to spring True into the lead and give him a chance at the victory.
"He missed the turn, so I thought I could have capitalized on the mistake," said True. "But I wasn't able to, just couldn't close that last half-a-second gap."
Even after Gebrhiwet passed True midway down the final straight, it remained a close race with True and the Saucony Freedom Track Club's Tommy Curtin close behind. But neither American could catch the speedy Gebrhiwet, as he held on for the victory with all three men credited with the same time of 13:42. The Nike Oregon Project's Eric Jenkins finished two seconds behind in fourth.
As the finishing time (the slowest since 2011) suggests, the pace was not fast early. The temperature — 49 degrees and sunny — was good for racing, and the Boston course is famously fast, but a 10+ mph headwind early in the race kept the pace conservative through the mile (4:32) and 2-mile marks (9:03). It was not until Gebrhiwet began to push during the third mile that the pack began to really string out up front.
The women's race finished in very similar fashion to the men's, with Buze Diriba claiming the crown in 15:22 in a three-way kick over Ethiopian Fotyen Tesfay (15:23) and Kenyan Monicah Ngige (15:24). Like True, Diriba won this race last year and the NYC Half last month, but she was able to complete the trifecta today.
One other note: American Aidan Puffer of Manchester, Connecticut, set a new age-13 world record of 15:47, smashing his own record of 16:11.4 set at the CVS 5K in Providence last year.
Results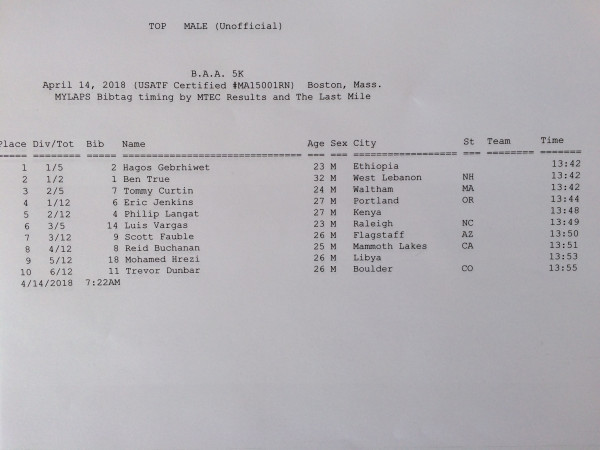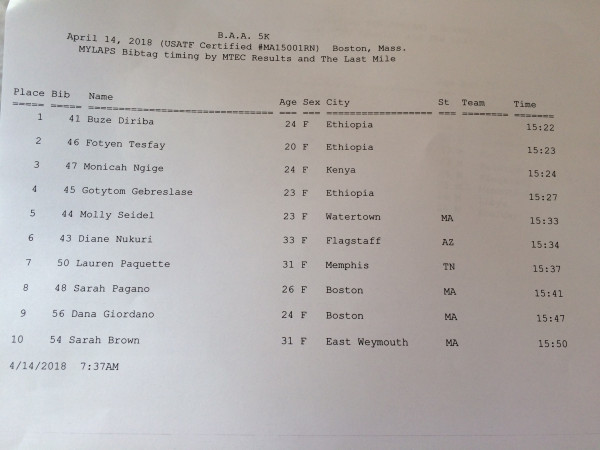 Ben True wasn't pleased to get outkicked, but Gebrhiwet is no slouch
True spent the winter preparing for the NYC Half, and while he won the race, the result is that his kick may not have been as sharp today as in previous years at this race (he won here in 2011, 2012, 2015, and 2017).
"When I lose a sprint, I'm always really disappointed," True said. "I can't say I'm all that thrilled about it. I knew that this 5k, we were putting it here to try to snap me back into the fastest stuff before getting on the track. Hopefully, I did that. Or taught myself a lesson that I need to do a little more speed."
Up next for True is Payton Jordan, where he'll try to run a fast 10,000. Expect to see a bunch of Americans there. True said there won't be a 10,000 at Pre this year and though there is supposed to be one at the Oslo Diamond League in June (geared around Sondre Moen Nordstad), there is some doubt about that one as Moen has already scratched from a few races this year.
Tommy Curtin (might be) making a name for himself
As Curtin crossed the finish line in third, the PA announcer called it "the race of his life." But if you've been paying attention, it wasn't that much of a surprise. Curtin was 6th in the 5k at USAs last year on the track and 2nd at the US 5k road champs in November, defeating guys like True, Paul Chelimo, and Hassan Mead in the process.
"I think people forget who I am entirely," Curtin said. "I didn't run super great in college, not like out of this world or anything, so coming to the pro world, I think people dismiss me pretty easily. But definitely not the race of my life. It was a good race, though."
Editor's note: Curtin ran 13:27 while at Virginia Tech and finished 2nd in the 5k indoors and 4th outdoors as a senior in 2016.
Curtin said that he's planning on racing a 1500 soon as he knows he needs to improve his speed (3:44 pb) to be a factor at the national level in the 5k. But he admitted that the 10,000 may be his "unfortunate future."
So you're not looking forward to the 10,000, Tommy?
"No! It's twice as far!" he said.
10 minutes with Eric Jenkins
I didn't speak to Jenkins, who finished 4th today, after the race, but I had a lengthy sit-down chat with him yesterday at the Fairmont Copley Plaza. If you have the time, I'd definitely recommend you watch it as Jenkins was candid in discussing his move back home to Portsmouth, New Hampshire, his struggles at the 2017 World Championships, and the magical 13:00 barrier, which he would like to break at some point. He also had some good stories about his transition to the Nike Oregon Project coming out of Oregon in 2015, and what it was like to go from college training to working out alongside Olympic medalists Mo Farah, Galen Rupp, and Matthew Centrowitz.
Talk about today's action on the messageboard:
MB: Americans go home devastated: Hagos G (13:42) and Buze Diriba (15:22) win 2018 BAA 5k.
MB: Aidan Puffer of Manchester, Connecticut just set a new age-13 world record of 15:47, smashing his own record of 16:11.4.