WTW: Proof That US Women Benefit From African Sexism, Insight On DQs at Worlds, Runner Triathletes, Performance of Week From 'Baby Nats'
The Week That Was In Running, February 26 – March 11, 2018
By LetsRun.com
March 13, 2018
The Week That Was is back. This week we take a look back at the last two weeks as with World Indoors and NCAAs on back-to-back weekends, we didn't have time to write one last week.
If you missed our coverage of World Indoors or 2018 NCAA Indoors, catch up now: 2018 World Indoors coverage, 2018 NCAA Indoor coverage.
Past editions of the Week That Was can be found here. Questions, comments, or a tip? Please call us at 844-LETSRUN (538-7786), email us or post on our forum.
****
Stat of the Week I
25% – percentage of the men's mid-d and distance events at the 2018 NCAA Indoors that were won by Americans (American Andy Trouard won the 3k)
100% – percentage of the women's mid-d and distance events at the 2018 NCAA Indoors that were won by Americans.
Article continues below player.
Those stats are far from an anomaly. It's much harder for an American man to win an NCAA mid-d/distance title than for an American woman. For fun, we decided to go back and look at the last 10 years of NCAA results and figure out what percentage of the men's and women's NCAA titles were won by Americans. On the men's side, it is just 42.2%. On the women's side, it's 73.3%. See for yourself.
# of American NCAA Winners Over Last 10 Years

Men
Women
800i
5
8
Mile
2
8
3,000i
5
9
5,000i
2
8
800o
7
8
1,500
9
2
Steeple
4
10
5,000o
3
7
10,000
1
6
Total
38/90 (42.2%)

66/90 (73.3%)
If you are looking for a pattern — other than it's harder for an American man to win than an American woman — good luck finding one as some of the results are bizarre. For example, 9 of the last 10 men's 1500 winners have been American but just 2 of the last 10 in the mile. For the women, it's reversed as the indoor mile has been dominated by the USA, with Americans having won 8 of the last 10 titles, but outdoors that's reversed at foreigners have won 8 of the last 10 women's 1500s.
The fact that it's harder for US men to win than US women makes sense as many of the non-US winners, particularly on the men's side, hail from Kenya. Kenya is still very much a male-dominated society. The Kenyan women didn't start winning multiple medals at Worlds on the track until 2007. They are expanding their presence, but aren't a huge factor on the women's side in collegiate running yet.
More: *NCAA Men's Record Book *Women's Record Book
****
Performance of The Week / Josh Kerr Needs To Watch This
The performance of the weekend from a mid-d/distance perspective came at the Baby Nats D2 champs. In the men's DMR, Western Oregon's David Ribich had a monumental carry on the anchor.
| | |
| --- | --- |
| Overall | |
| Comfort | |
| Cushioning | |
| Durability | |
| Appearance | |
| Value | |
He got the baton in 8th. Check out how far back he was (and note the track at Pittsburg State is an oversized track).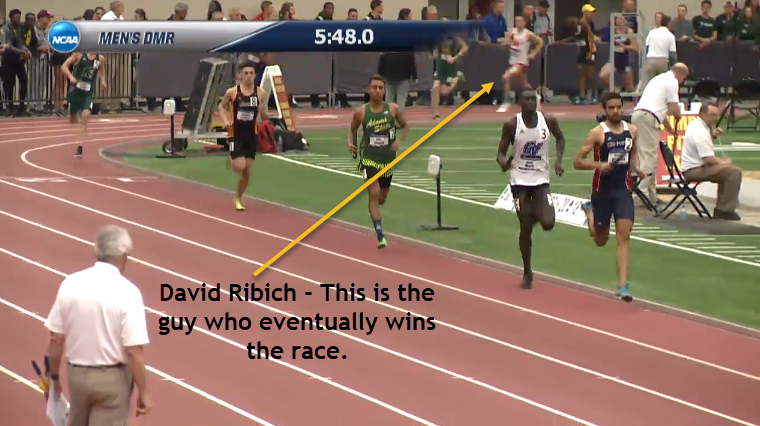 Even with just over 600 to go, Ribich was still way back.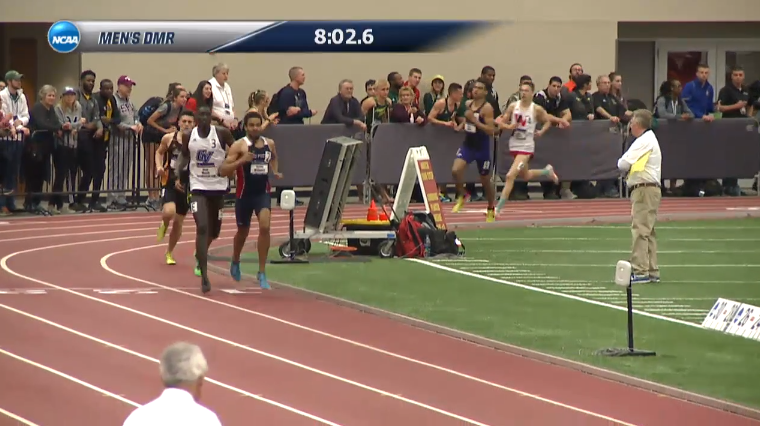 But this is what it looked like at the finish.
How in the heck is that possible you say? Well Ribich, who has pbs of 3:39.56 for 1500 and 3:58.88 for the mile (and finished 9th at USAs last year), split 3:55 to get the win.
If you go to this link, find the video below that says "Day One Full Replay" and fast-forward to the 7:29:00 mark, you can watch the entire race as the NCAA broadcast the entire meet for free. Watching a replay of the D2 broadcast online was very enjoyable. There were no announcers for the stream but quite honestly the stadium announcer by himself was pretty good. Some of you might prefer that to the announcers they had on the ESPN stream.
It's not fair for us to say Josh Kerr should watch this as Ribich was totally fresh for the DMR (Ribich came back the next day and got third in 3k). At the D1 champs, Josh Kerr was doubling back from the mile prelims and that's much harder to do.
****
Rod Dixon — Eliud Kipchoge 1.0 — Loses His New Zealand National Record In The Marathon
Before Eliud Kipchoge, there was Rod Dixon.
What do we mean by that? Well, when the founders of LetsRun.com were kids, they watched the New York City Marathon on TV. And one of the winners during their childhood was Rod Dixon of New Zealand, who won in a Kiwi record of 2:08:59 in 1983. As they grew in their fandom, it shocked them when they learned Dixon started his career as a miler, winning Olympic 1500 bronze in 1972 and sporting a mile pb of 3:53.62 and 1500 pb of 3:33.89 (equivalent to a 3:51.04 mile). Back then, marathoners weren't known for their mile speed. The results database Tilastopaja doesn't even list a mile pb for the likes of Frank Shorter, Bill Rodgers, or Alberto Salazar.
So the range of Dixon amazed them. Dixon was a trailblazer of sorts as in the year 2018, the best marathoner in the world and in history, Eliud Kipchoge, wasn't too shabby at the mile either, having run a 3:50.40 pb (Galen Rupp is pretty good himself at 3:50.92).
Dixon's national record in the marathon lasted a very long time — nearly 35 years. But it finally went down on March 4 when Jake Robertson, who has never broken 4:00 in the mile (twin brother Zane has a 1500 pb of 3:34.19, which equates to 3:51.37 in the mile), ran 2:08:26 in his debut to finish third at the Lake Biwa Marathon in Japan.
After 34 years, 4 months and 9 days, Rod Dixon's New Zealand marathon record of 2:08:59 has been broken by @Jakehtbz in Lake Biwa https://t.co/O2cqokl9SS pic.twitter.com/yyjdv8b3qE

— LetsRun.com (@letsrundotcom) March 4, 2018
****
There Were Way Too Many DQs At World Indoors – How About Updating The Rulebook So You Have To Option To Add Time Penalties Instead of Making DQs?
The 2018 IAAF World Indoor Championships are in the books. The action on the track was really fun to watch. If you missed our coverage, catch up now:
LRC 2018 IAAF World Indoor Championship full coverage
That being said, the action off the track drove us nuts. We were extremely miffed by all of the DQs. Yes, the officials were following the rules. We don't have a real problem with that. We have a problem with the rules. They need to be updated.
If we were running the IAAF (and hey, they are looking for a new CEO — you know how to reach us if you want to hire us), here is what we would make sure was implemented before the 2019 Worlds. Moving forward it's clear the following needs to happen ASAP for major television track meets.
If there is a possibility that someone is going to be DQ'd it needs to be decided within 5 minutes and the fans notified. Imagine if, 30 minutes after an NFL game was over, the announcers came on with no warning after a commercial break and said that one of the touchdowns has been disallowed for a rules infraction, the final score had been changed, and no replay was shown. Yet that's basically what happened repeatedly at Worlds. A race would end. The fans and people at home had no idea there was even a possible lane infraction as no yellow flag came up, nothing was said at the arena or on the broadcast, and yet they would return from commercial and announce a DQ. Yet there never was video of what caused the DQ on the broadcast.
Athletes were just as oblivious. Drew Windle ran his victory lap only to step off the track and find out that he had been disqualified (though he was later reinstated). The Czech Republic's Pavel Maslak found out he had won the men's 400 in the mixed zone after some journalists told him after looking at one of the results monitors. LRC, personally, had to tell at least one athlete that they had been disqualified.
The sport needs to be modernized for TV audiences. If there is a potential DQ, that needs to be announced within a minute of the race ending. If a team wants to protest, they need to do so immediately. In figure skating, they put yellow cards up on the screen to show you that things are being reviewed. A similar system should exist in track. Then maybe give them two minutes to review it and come to a decision. We don't want to hear about how it takes a long time to review the footage. It shouldn't. Hawk-Eye technology exists. Hell, if that's too expensive, fly a drone over both turns, broadcast it live and make it the responsibility of the federations to raise a yellow flag.
The rulebook needs a big-time update. We 100% believe that grazing a line on the first turn of an indoor 400 or stepping on a line in the middle of a nearly two-mile steeplechase shouldn't result in an automatic DQ. Come up with some sort of time penalty (.25 of a second) so an inconsequential step on the line doesn't result in a needless DQ. Similarly, we'd be for creating some type of "Usain Bolt false start rule." If a big-time star is jittery and false starts, let them run the race but move them back, say, 1% of the distance (1 meter in the 100 or 4 meters in a 400). Since the IAAF is coming up with a world ranking system for each event, make the criteria that only people ranked in the top 5 in the world can do it (we'd be fine for it applying to everyone, but some have claimed it would add too much time to a meet).
With these changes, the IAAF would avoid some of the embarrassing headlines that came out of World Indoors, which included every single runner in heat 3 of the first round of the men's 400 being disqualified.
#trivia #Birmingham2018 All runners being disqualified happened at least once before, in 1944 all 6 men's AAU 100m final were DQ for 2 false starts
The race was re-run for exhibition https://t.co/UXhfnmitdu
cc @AthleticsWeekly @Statman_Jon @OlympicStatman https://t.co/FFBTDUUQQo

— PJ Vazel (@pjvazel) March 2, 2018
Stats friend Peter Larsson recalls: "In the dual match between Sweden and Finland in 1992 all men (6) in the 1500m race was disqualified for unsportsmanship behavior. It was some fighting going on then ??????"

— PJ Vazel (@pjvazel) March 2, 2018
More: LRC After Ridiculous DQs At The 2018 IAAF World Champs, The IAAF Rule Book Needs To Be Modernized & The Visa Issue Is A Disgrace
*LRC Morning Session Recap: Paul Chelimo Is DQ'd In 3,000, As Is World Leader Bralon Taplin (& His Entire Heat!) In the 400
****
Email of The Week / Great Info on The DQ Process At World Indoors
Last week we received a great email from Charles McConnell — a coach and writer on athletics from the UK — and we want to share some excerpts from it. The email from McConnell, who has been to multiple World Indoors, including this year, is very informed. He didn't just attend World Indoors; he also then watched the entire meet on the BBC and then emailed us.
Charles had some insight on the DQs in Birmingham, which he fully supported. He suggested that the idea that DQs for lane infringements were done to support Brits is wrong as the Jury of Appeals was made up of people from Spain, Holland and Canada (and besides, any member of the Jury of Appeals has to recuse themselves if an appeal regards an athlete from their country). Of course, the more important issue is the nationality of the official calling the infringement in the first place (and we don't know who that was). If that official hadn't called the ticky-tack DQs, there wouldn't have been anything for the Jury of Appeals to adjudicate. And if the Jury of Appeals have clear visual evidence of a DQ — no matter how minor the infraction — they have to call it. Lane infringements aren't judgment calls; they either happened or they didn't.
Here's what McConnell wrote:
Having returned from Birmingham and finished watching the 21+ hours of coverage of the WIC on BBC and caught up with recent comments on LR.com, I would like to make the following observations.
Lane infringements:- The WIC is the highest standard indoor meeting of the year and its judging should match that. Peter Matthews in the results issue of Athletics International vol 28 (8) p1 stated that 'Appeals were put in on the grounds of not gaining material advantage etc., but were rightly dismissed by the Jury of Appeal', as athletes in other meetings were ' just not being used to the application of the rules, so in effect getting away with running short of the full distance'.  As on all tracks- indoors and out, lane 1 is measured 30cm from the kerb, whilst in the outer lanes it is 20cm from the white line.  If athletes can run very close to the kerb of lane 1 or the white lines of the outer lanes, they can run less than the distance specified and do it without breaking the rules!   Athletes who try to run as close to the kerb or line as possible instead of running in the centre of the lane can have no complaints.  That gamble does backfire when you step on the kerb or line – especially with your right foot (the outer foot!) as was often seen on the tv coverage.  Dqs have been happening in major champs for years for this – e g Gwen Torrence in 1995 during a tv interview.  The idea that our sport shot itself in the foot by so many dqs in that ignorant and ill informed piece by Alan Abrahamson is drivel.  What does he want – a free for all where you start in lane 6 but finish in lane 5?  The Jury of Appeal came from Spain, Holland and Abbie Hoffman from Canada, so all final decisions were made by them (or a reserve if the athlete came from Spain).  If you have recorded the Portland or any previous WIC meeting, perhaps a study would reveal some interesting results but it may all be due simply to the steep bends- unique to Birmingham.
McConnell also had little sympathy for American Colleen Quigley, who complained the athletes weren't allowed to warm up on the track. He said the procedures followed in Birmingham were similar to those used at other World Indoor Champs and she should have simply read the team manual and come to the practice session that was offered on Thursday.
Warm up and familiarisation to the track:- all athletes should have read the IAAF Team Manual (produced for every IAAF competition) which gives you as much info as you could want.  The track was available for training etc on Thursday from 9 to 11am and starters would have attended from 10 to 11am for familiarisation.  If athletes had not raced on that track I would have assumed they would have taken that opportunity.  The procedures did not seem any different from those in operation to me as a spectator in Sopot in 2014 or in Portland in 2016.  I wonder how many of the people complaining had competed at a previous WIC or indeed had actually watched previous editions on tv?  Warm up was available in the Community Hall – there was even a plan in the manual, situated downstairs from the arena though runners have in the past used some of Birmingham's 31 miles of canals.  With the snow, athletes had to improvise and shock/ horror -think for themselves and be prepared to alter their plans.  A few options:  the stadium adjoins a multi storey car park, so run under cover -up and down a few levels; they could run outside if they had done a recce to see if any local roads were free of snow.  They could have run on the spot and done the 100 up exercise of W G George which helped him run the mile in 4:12.75 in 1886 (but you would have to be an athletics fan with an interest in endurance history to know about that) or you could use the Community Hall. 
Finally, McConnell said he has reason to believe that technology was used to call the lane infringements in Birmingham. If that was the case, it should have been added to the broadcast. It would make it very entertaining to see a yellow card pop on the screen and then for it to be revealed who the foul belonged to. But it needs to be done in near real time.
I have heard that up to 20 hawkeye cameras were used and this could be the reason for the number of dqs but this has not been confirmed.  Presumably these would flash up any transgression which would be escalated to the Track Referee and then up to the Jury.  As the camera would have a record of the foul, countries could save themselves the cost of the appeal -(100 dollars -in the team manual Rule 9.15.2 p31) as there was evidence and it was not simply a track judge's opinion.  Once the dqs started, does this indicate that athletes are very slow learners or do they think that the rules will not be applied to them?
More: Colleen Quigley Criticizes World Indoor Meet Management, Cites  "Brutal" Officiating, Says "They've Forgotten That It's All About the Athletes"
*After Ridiculous DQs At The 2018 IAAF World Champs: The IAAF Rule Book Needs To Be Modernized & The Visa Issue Is A Disgrace I
****
Email of The Week II / Is Morgan Pearson The Next Gwen Jorgensen?
While the women's Olympic triathlon champ Gwen Jorgensen has recently quit triathlon and all but in name joined the Bowerman Track Club (she's training with Shalane Flanagan and coach Jerry Schumacher and waiting for her 90 day match from Asics to expire so she can sign with Nike), there are a lot of ex-runners trying to be Olympic triathletes. Check out the email we received from Dany Racine from Quebec, Canada, who is a current student and runner at Laval University.
Hi,
I share with you a triathlon world cup result from Mooloolaba, AUS, of an ex-Colorado buffaloes, 13:36 5000m runner, NCAA XC team champion and All-American ; Morgan Pearson.
He has been up to triathlon training with coach Jono Hall for the last year or so.  For what it seems like his debut on the world cup, it was really surprisingly good.
https://www.triathlon.org/results/result/2018_mooloolaba_itu_triathlon_world_cup/320988
You too see Matt Mcleroy, 3rd in that race, who also was an NCAA XC team champion, 13:51 5000m, 28:36 10 000m runner and All-American at NAU.
So far, Morgan is doing far better at his debut than any of the last US runners that transferred to triathlon. Will be interesting to follow.
Have a good one,
Dany Racine
LetsRun.com also learned this week that surprise NCAA 3000m champion Andy Trouard almost didn't use his 5th year of eligibility at NAU because he was so interested in the triathlon.
****
New Balance HS Nationals
Unless you are a high school coach, parent or athlete, you likely don't have time to follow the HS scene all that closely. So here is a nice CliffsNotes version of the big performances at last weekend's New Balance Nationals indoor meet.
Here are the top 3 results for the distance events.
Event
Boys
Girls
800
1.  Jett Charvet, 12, Brentwood, CA, 1:50.91
2. Ian Delgado, Green Hope, 1:51.06
3. Luis Peralta, 11, Passaic, NJ, 1:51.74
 1. Athing Mu, Trenton Track, 2:06.59 PB
2. Nikki Merrill, 11, Portsmouth, 2:07.27
3. Victoria Vanriele, 10, Berkeley Heights, 2:08.31
Mile
1. Dustin Horter, 12, Liberty Township, 4:08.03
2. Ryan Lockett, 12, Poolesville Sr, 4:08.82
3. Dalton Hengst, 12, York, PA, 4:09.10
1. Katelynne Hart, 10, Glen Ellyn, Il, 4:45.47 PB
2. Victoria Starcher, 10, Ripley, WV, 4:46.32 PB
3. Katherine Lee, 12, Wading River, NY, 4:46.61 PB
2 Mile
1. Brodey Hasty, 12, Brentwood, 9:00.38
2. Ryan Oosting, 11, Arlington, MA, 9:01.87
3. Thomas Fafard, 12, Repentigny, QC, 9:04.41
 1. Katelyn Tuohy, 10, North Rockland, 9:58.89 PB
2. Kelsey Chmiel, 12, Kinetic Running, 10:02.36 PB
3. Jacqueline Gaughan, 12, Exeter, NH, 10:16.13
5k
1. Chad Johnson, 12, Colonel Crawford, 14:42.59
2. Connor Nisbet, 11, Wilmington, DE, 14:44.82
3. William Hare, 12, Princeton, NJ, 14:49.61
1. Jacqueline Gaughan, 12, Exeter, NH, 16:19.42 PB
2. Monica Hebner, 12, Allendale, NJ, 16:53.91
3. Ryann Helmers, 12, Charlottesville, 17:03.33
4 x 800
1. Loudoun Valley, 7:39.30
Wells, Hunter, Bogucki, Affolder
2. Green Hope, 7:41.43
Delgado, Petersen, Epps, Kehn
3. Northport, 7:46.36
Claiborn, Claiborn, Fodor, O'Connor
1. Ridge, 9:08.07
Convery, Cicchetti, Lyons, VanBaale
2. Padua, 9:10.97
McLaughlin, Owens, Bader, Olivere
3. Niskayuna, 9:11.58
Kokernak, Smith, Spiers, Kokernak
4 x Mile
1. Loudoun Valley, 17:01.82
Wells, Hunter, Bogucki, Affolder
2. Hopewell Valley, 17:30.73
Pavicic, Meredith, Dolan, Dolan
3. Ann Arbor Pioneer, 17:34.55
Paige, Wallace, PandoGir, Foster
1. Troy, 20:31.47
Palomino, Anderson, Monaghan, Worrel
2. Granville, 20:33.25
McFarlan, Zink, Lamb, Christia
3. Hilliard Davidson, 20:39.66
Stull, Tighe, Lewis, Sculli
DMR
1. Brentwood, 9:56.31
Thompson, Vest, Benson, Hasty
2. St Anthony's, 9:58.36
Payamps, Barbaro-Barnett, Dearie, Gatewood
3. Loudoun Valley, 10:00.58
Bogucki, Simms, Wells, Affolder
1. North Rockland, 11:44.38
Morales, Housman, Francois, Tuohy
2. Saratoga Springs, 11:52.96
Vetter, Chilton, Vetter, Chmiel
3. Padua, 11:54.49
Bader, Owens, McLaughlin, Olivere
Loundon Valley (team coached by Drew Hunter's parents that won NXN) tried to win all the distance relays, but had to "settle" for winnin gthe 4×800 and the  4xmile with a third in the DMR.
If you want all of the key distance results from around the world each week compiled like that but in a much deeper format, we recommend you subscribe to Race Results Weekly as thanks to them, the above table only took us about five minutes to compile.
****
Stat of the Week II
70:13 – new Canadian women's half marathon record set by Rachel Cliff, who is getting ready for the Commonwealth Games, at the Fidelity Investments The Woodlands Marathon & Half Marathon earlier this month.
70:47  – old Canadian women's half marathon record that was set by Lani Marchant at the Tom King Classic in Nashville in 2014.
More: Rachel Cliff gears up for Commonwealth Games with record-setting run
****
Quotes of the Week (that weren't quote of the day)
#1 Ummm…maybe Vanderbilt should let her walk on
"I wasn't good enough to be recruited by Vanderbilt for track so I decided running marathons is what I'm going to do. I'm a distance runner at heart. Track is my worst nightmare."

-19-year-old Casey Crosson, a freshman at Vanderbilt who isn't on the cross country or track teams, talking after winning the 40th Kaiser Permanente Napa Valley Marathon in 2:50:49. Crosson ran 5:18 for 1,600 and 11:17 for 3,200 in high school at Harvard-Westlake in California where she also placed 34th in the state in cross country.
More: First time is the charm for Crosson, women's champion of Napa Valley Marathon
#2 Can someone explain to us what "pre-existing commercial framework" means?
"Whilst I am sorry to be leaving, the pre-existing commercial framework makes it difficult for me to apply my talents and fully leverage the assets of the IAAF in the way I would like. Given my stance, I have resigned so the IAAF can pursue a different commercial strategy for the sport."
-IAAF chief executive officer Olivier Gers explaining why he's resigning from the IAAF. If you know what he means by "pre-existing commercial framework," please let us know.
#3 It's hard for an 800 guy to justify a full ride
"That was a $70,000 race!" 
-Notre Dame 800 runner Elijah Silva, a 5th-year graduate transfer from Tulsa, yelling to ND distance coach Sean Carlson on his way to the mixed zone after he helped the Fighting Irish finish second in the men's DMR at NCAAs.
One thing many people don't understand is it's often hard for 800 guys to get a full ride. Sprinters can normally run more than one event (100, 200 and sometimes jumps), as can distance guys (5,000 and 10,000, and XC), whereas 800 guys often only have one place where they can score — unless, as Silva did, they help out on the DMR indoors.
More: 2018 NCAA DMRs: VaTech's "Three Musketeers" Gamble And Win; Oregon Women Edge Stanford For First Title In Program History
*****
Recommended Reads
To see our favorite reads from other weeks, go here.
****
Quotes Of The Day And Last Week's Home Pages
To see the actual quotes of the day from last week or last week's home page or any home page, go to our archive page.
---