How Does Kamworor Stack Up Versus Bekele And Farah? ESPN Overrates Allyson Felix, Bernard Lagat Isn't The Fastest Masters Half Marathoner
The Week That Was In Running, March 19 – March 25, 2018
By LetsRun.com
March 27, 2018
Past editions of The Week That Was can be found here. Questions, comments, or a tip? Please call us at 844-LETSRUN (538-7786), email us or post on our forum. If you missed our extensive coverage of the 2018 IAAF World Half Marathon champs catch up now, 2018 IAAF World Half Champs Special Section.
****
Yes, We Believe Geoffrey Kamworor Actually Split 13:01 in a Half Marathon
The race of the week last week was the 2018 IAAF World Half Marathon Championships. And with apologies to Netsanet Gudeta, who set a women's-only "world record" of 66:11 (whenever you have to put a world record in quotation marks and whenever someone has actually run more than a minute faster than that world record, you know it's not that big of a deal), the story of the championships was Geoffrey Kamworor's third straight win that was achieved with a 13:01 5k split from 15 to 20k.
Ever since that 13:01 split (Note: since he picked it up a tiny bit from 20k to the finish, it's probable that his split from 16k to 21k was under 13:00), we know some have questioned the accuracy of it.
We are not among them for three reasons.
Article continues below player.
The people behind the Valencia World Champs are extremely experienced.
Famed US and Olympic course measurer David Katz posted on the messageboard that he was at the race, and if he didn't have concerns about the measurement, then we certainly don't either.
Kamworor's split certainly seems possible if you understand wind.
Let's talk about the wind.
The wind was coming out of the W-NW and was over 30 mph at the race start. We looked online during the race and saw it was still being reported at over 30 mph. That's a big wind.
And guess what direction the runners were running between 15 and 20k? Predominantly, they were running from the NW to the SE as shown here.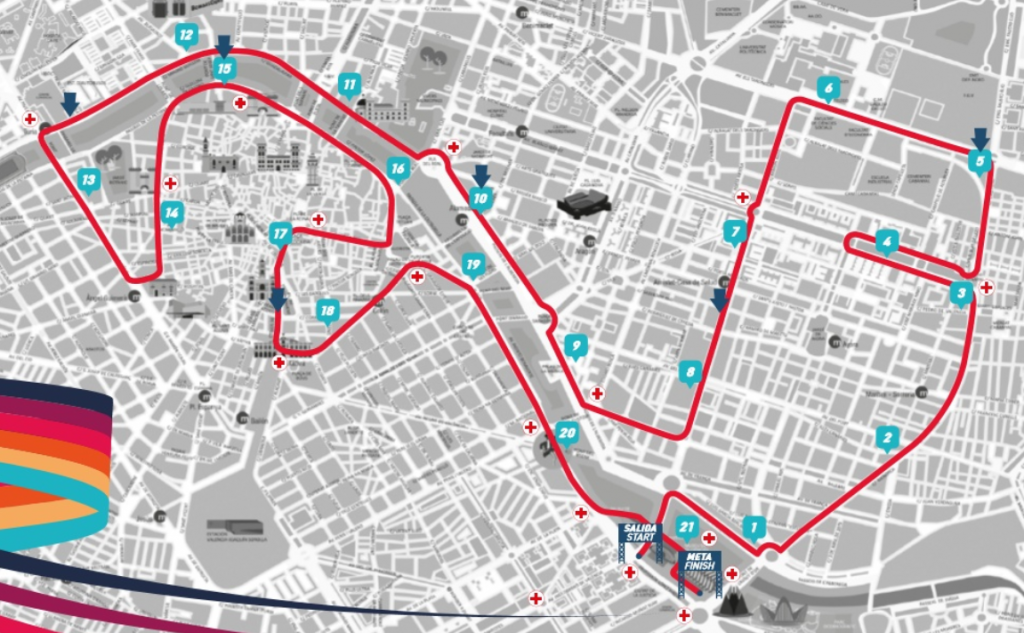 In 2011, before the Boston Marathon was run, LetsRun.com coaching guru, part-owner, and basketball trickster John Kellogg wrote that a 20 mph tailwind would be worth 3-4 minutes over the course of a marathon. We all know what happened after that – 2:03:02.
| | |
| --- | --- |
| Overall | |
| Comfort | |
| Cushioning | |
| Durability | |
| Appearance | |
| Value | |
So if a 20 mph wind is worth 3-4 minutes over a full marathon, then logic says it would be worth 21.3-28.4 seconds for 5k (5k is 11.85% of a marathon). If you split the difference and round, you'd say a 20 mph tailwind would help a runner by 25 seconds for 5k. Now Kamworor certainly didn't have a tailwind helping him for the entire 5k as there was a right-hand turn between 16 and 17k that took him into the wind. Looking at the map above, he got help for maybe the equivalent of 3 kilometers. 60% of 25 seconds is still 15 seconds. So a 20 mph wind would probably help him by roughly 15 seconds. A 30 mph wind would obviously help him even more.
How much more?
We don't know, and John Kellogg didn't want to speculate (though it's not going to be 50% more). He came up with the 3-4 minutes for a 20 mph tailwind in a marathon from personal experience, having run many out-and-back tempos on the perfectly flat roads of Waco, Texas, while in college at Baylor.
But it's fair to say that a 30 mph wind would help him by at least 20 seconds. Add in the fact that the course dropped by about seven meters from 15 to 20k (elevation chart here) and that's another 4+ seconds per John Kellogg's formula of 1.8 seconds for every 10 feet in elevation drop.
Kamworor had not been running that fast through 15k (he was on 62:11 pace at that point as his 5k splits had been 14:32, 14:56, 14:45). So could the very best human run something equivalent to a 13:25 in still conditions for 5k at the end of a half marathon that had been extremely tactical up that point?
Yes, we think he can. And we think that is what Geoffrey Kamworor did.
Remember, the world record for the half marathon averages out to 13:50 per 5k, so a 13:25 5k is about eight seconds per mile faster than world record pace. Plus remember, Kenenisa Bekele ran the last 5k of the 2003 Worlds 10,000 in 12:57 and that was off of a 13:52 first half.
And if you don't believe us that it was windy in Valencia, check out the video below.
Strong winds will be a big factor at #IAAFValencia2018. Here are the conditions near the finish line 3 hours before the start. pic.twitter.com/uQiNl8FsOS

— David Monti (@d9monti) March 24, 2018
******
Comparing Kamworor, Mo Farah, and Kenenisa Bekele
Kamworor's 13:01 split is something we will not forget. Much like Kenenisa Bekele's 12:57 close in a 26:49 10,000 at the 2003 Worlds or Sammy Wanjiru's 2:06:32 Olympic win in the heat of Beijing, it totally shifted the paradigm of what we thought was possible. As a result, Kamworor's win got us to thinking about the GOAT (Greatest Of All Time) debate once again and the thought we had was, "Ok, now will everyone stop trying to argue that Mo Farah can even be in the conversation for the GOAT?"
For seven seasons, from 2011 to 2017, Farah was a nearly unbeatable 5,000/10,000 championship runner. But during many of those years, Kamworor has been just as unbeatable in cross country and the half marathon as he has now won a global title for five straight seasons — 2014, 2016, and 2018 World Half, 2015 and 2017 World XC. Yes, Farah only raced in one of those Worlds that Kamworor won (2016 World Half), but in terms of XC and the 13.1 distance, one could argue Kamworor is equally as dominant as Farah has been at 5,000 and 10,000. Since the start of 2014, Kamworor has won 13 of the 16 half marathons/cross country races he's run, winning five world titles in the process.
Yes, overall at all distances, Kamworor hasn't won nearly as often as Farah (and Farah beat him head-t0-head in the 10k at the 2015 Worlds, 2016 Olympics, and 2017 Worlds), but the win rate of Farah over the past seven seasons is less than Bekele's win rate over his best seven seasons and Bekele also has much better personal best times.
Take a look at the chart we made by looking at the results database at Tilastopaja.org.
Win Rates During Their Peak Years
Bekele
Farah
Kamworor
2003: 9/12
2011: 12/14
2004: 9/10
2012: 11/14
2005: 10/12
2013: 9/12
2014: 5/8
2006: 12/17
2014: 5/7
2015: 5/9
2007: 11/13
2015: 8/10
2016: 3/5
2008: 12/13
2016: 7/10
2017: 3/8
2009: 9/10
2017: 9/12
2018: 3/3
Total: 72/87 (82.8%)
Total: 61/79 (77.2%)
Total: 19/34 (57.6%)
More: MB Discussion: Geoffrey Kamworor split 13:01 from 15k to 20k at the World Half Champs – Valencia 2018
*Race Recap: Geoffrey Kamworor Splits 13:01 5k – Yes, 13:01 – At End Of Race To Win 3rd Straight World Half Marathon Title
LRC GOAT discussions: From February 2015 The LetsRun.com Staff Civil War: Can Mo Farah Be Considered The GOAT (Greatest of All-Time)? * From September 2016 LRC Debate: After Berlin Who is the Greatest of All-Time – Kenenisa Bekele, Haile Gebrselassie or Mo Farah?
****
Bernard Lagat Was Great But Not The Best Master Last Week As Mark Kiptoo Broke Haile Gebrselassie's Half Marathon World Record
Since the co-founders of LetsRun.com are 44, they are blown away by the fact that 43-year-old Bernard Lagat ran 62:16 and scored for the US at the World Half Champs last week. That's very good stuff. But Lagat was far from the oldest man at the World Half Champs. Oldest man honors went to 51-year old Antoni Bernado of Andorra. Bernado, the only person to have finished five Olympic marathons, ran 70:19 at the World Half Champs to finish 131st overall. Considering the fact that Andorra has the longest life expectancy in the world, we guess it makes sense that Bernado is running well at 50+, but on an age-graded scale, Lagat's performance was superior as he was a little over a minute over Haile Gebrselassie's 40+ world record of 61:09 whereas the world record for 50+ is 66:23 (South Africa's Titus Mamabolo in 1991).
However, the time that Lagat needed to break if he was going to be the world record holder wasn't 61:09 as earlier in the day on Saturday, 41-year-old Mark Kiptoo of Kenya ran 61:04 to win a different half marathon in Spain (the dio Maratón Azkoitia-Azpeitia Memorial Diego García) and break Gebrselassie's world record.
Kiptoo, in case you forgot, is a guy who only started as a runner at age 29 but since then has gone on to run 12:53 and 26:54 at age 34, and 2:06:00 at age 39.
****
Stat of the Week I / More Proof That Kenya Is Really Good At The Half Marathon
5 – number of American-born athletes that have ever broken 61:00 for the half marathon.
8 – number of Kenyans that broke 61:00 for the half marathon last week, not counting the World Half Marathon Championships. Six did it at the Wehr Venloop Half Marathon in the Netherlands and two at the Stramilano Half Marathon (only Kamworor did it at the tactical World Half).
****
Valencia — What A Magnificent Host
Often times, we've wondered why cities bother to host major athletic events as it requires a lot of work and what does one really get out of it? Do tourists suddenly flock to the city?
Well in the case of Valencia, the answer very well may be yes. The visuals of the course were truly mind-boggling. We know we want to take a vacation there. They did a wonderful, wonderful job of hosting. The created a beautiful course designed to be super fast that ran through a historic city and featured a modern finish. Alas, Mother Nature didn't cooperate with the wind but mega kudos need to go to everyone in Valencia.
If you didn't watch the race, check this video out.
****
Stat of the Week II / Is Nijel Amos Regaining His Old Form?
45.94 – opening 400 time put up by Nijel Amos in June 2012, in a year in which he ended up running 1:41.73.
45.94 – opening 400 time put up by Nijel Amos, who is beginning his second year with the Oregon Track Club in Eugene, last week in San Diego.
More: 2012 Olympic Silver Medallist Nijel Amos Is On The Fast Track With OTC Elite
****
ESPN Embarrasses Itself By Naming Allyson Felix As One Of The Most Dominant Athletes of the Last 20 Years
So last week, ESPN came out with its list of the 20 most dominant athletes of the last 20 years. The list had two track and field athletes on it. Usain Bolt, obviously and justifiably, was one.
The other?
Allyson Felix.
Are you kidding?
We went back and compiled Allyson Felix's win rate at 100, 200 and 400 since the start of 2004. Overall, she's won just 51.1% of all of her individual races since the start of 2004. Even in her favorite event, the 200, her win rate has been only 66.2%. See for yourself.
Yr
100
200
400
2004
2/9
3/6
0/2
2005
2/6
10/10
1/1
2006
2/8
3/6
–
2007
1/9
4/4
4/5
2008
1/5
2/4
2/3
2009
1/6
7/7
2/4
2010
2/2
5/6
6/6
2011
–
2/6
3/5
2012
2/6
4/4
–
2013
0/2
2/5
0/1
2014
1/6
4/7
0/1
2015
0/1
2/4
4/4
2016
–
0/2
3/4
2017
0/2
1/3
2/4
Total
14/62
(22.6%)
49/74
(66.2%)

27/40
(67.5%)
Felix is a great athlete but she's far from dominant. She will be remembered for being really good for a really long period of time and also for being really versatile. The only reason why she's the most decorated female track athlete in terms of gold medals is because she's good enough to be named annually to the US 4×100 and 4×400 teams which pretty much guarantees her at worst a silver medal as long as Team USA doesn't drop the baton.
There are a lot of female track and field athletes way more dominant than Allyson Felix, with win rates WAY higher than her.
Shot putter Valerie Adams of New Zealand only has 11 official losses, total, since the start of 2005 (Felix has 74 losses over that time frame), and Adams won 10 global titles in a row (counting indoors) between 2007 and 2014. Hammer thrower Anita Włodarczyk hasn't lost since 2014, has won five global titles during her career and owns the 14 longest throws in history. Heck if you are looking for an American, what about long jumper Brittney Reese? She has the same number of individual global outdoor golds as Felix (5), three individual World Indoor titles (Felix has none) and a 62.4% (68/109) win rate since the start of 2009.
Felix being named to ESPN's list (she came in at No. 16) is another classic example of the media — which really cares very little about women's sports — trying to act like they care about women's sports. We imagine ESPN was desperately trying to put another woman on the list as only four of the other 19 are female and had no idea who to put up so they decided to go with a well-known American. Embarrassing. It's the same thing that the sportswriters did last year when Felix finished third in the voting for the AP Female Athlete of the Year award. Felix was only third in the 400 at Worlds and yet they thought she should be AP Female Athlete of the Year? Did they not know that another American, Phyllis Francis, beat Felix to win 400 gold in London and also ran on the victorious 4×400 team?
More: MB: Allyson Felix and Bolt ranked on ESPN's most dominant athletes of the last 20 years
*****
Quote of the Year (that wasn't quote of the day) / Attention Men, Women Can Lead You
Last week, USC hosted a track meet that featured the five Power 5 conference men's and women's track & field teams that feature a female director — USC, Ohio State, Miami, Ole Miss, and Tennessee (Texas now has an interim female director in Tonja Buford-Bailey but they weren't at the meet). While we normally try our best not to highlight things when the Power 5 conferences separate themselves and act like they are superior to everyone else, we've got to talk about this meet as we like the idea. The LA Times did a story on the meet and we loved the following quote from USC coach Caryl Smith Gilbert.
"People say it's important for women to see women in leadership positions, but I disagree. I think it's important for men and women to see women in leadership positions because men need to see strong women as well. I hope that athletic directors see that women can do the job just like anyone else and I hope that athletic directors will give more women the opportunity to interview for jobs and be part of, not just track and field jobs, but all jobs."
More: Track meet at USC brings together the five women coaching the men's and women's teams at major programs
PS. We sometimes miss great track articles if they are one-off articles in local papers that we don't check regularly. So if you see something track-related in your local paper that you think should show up on our front page, please email it to us.
****
Quote of the Week (that wasn't quote of the day) / Kamworor Has Already Accomplished A Lot
"This is now my fifth year in a row winning a gold medal in a world championships. I've really accomplished big achievements in my career."
–Geoffrey Kamworor, 25, talking after winning the World Half Champs last week. It will be interesting to see how much more he can accomplish in his career. Haile G won his last outdoor world title at age 28 (indoor at 29), Bekele won his last world outdoor title at 29, but Mo Farah won his first at age 28.
****
Most Boisterous Quote of The Week / Free Coaching Advice
"I think [Laura Muir] has got the scope to go on to 10,000m to the marathon. The sessions we do in training are large-volume sessions and I think already in a matter of weeks she could go out and be challenging for the British record over 10k if that's what she wanted."
–Andy Young, Muir's coach, talking in a BBC article on Muir where Young points out that she's facing some really good competition right now in her event (the 1500).
Yes, the 1500 is really good right now with the likes of Genzebe Dibaba, Faith Kipyegon, and others but Young's quote is a real stretch.
We have a real hard time believing Muir could challenge the British 10,000 record within a matter of weeks. Young has to be aware of the fact that the British record is held by a woman of the name Paula Radcliffe and it's 30:01.09. That's pretty darn fast, but the reason why we don't think Muir could approach Radcliffe's record in a matter of weeks is that Radcliffe got better the longer she ran and yet Radcliffe's PRs at both 3000 and 5000 are better than Muir's.
Radcliffe's 3000 pb is 8:22. Muir's is 8:26. Radcliffe's 5000 pb is 14:29. Muir's 5000 pb is 14:49. If Muir was capable of breaking the 10,000 record, we'd expect her PBs at 3000 and 5000 to be faster than Radcliffe as Radcliffe was made to run far.
It can be argued that Muir hasn't run a whole lot of 3000s and 5000s (but she did run the 5000 at World last year and wasn't close to a medal) so she can go much faster, particularly if that's the focus. But even if Muir did move up to the 10,000, it's not like the competition there is a whole lot easier — two women by the name of Almaz Ayana and Tirunesh Dibaba went 1-2 in the 10k last year.
If Young's quote is somehow true, and in reality she's a long distance runner trying to be good at the 1500 much like Ryan Hall and Jordan Hasay early in their careers, then our minds are blown as Muir's 1500 pb is 3:55.22.
While we think Young's quote is fiction, we do like the way he is coaching her. We loved the following quote that came from him after the one above.
"But I made her the promise, as long as she kept getting faster over the shorter distances, she can stay down there. Her preference is to do the 800m and 1500m."
Bingo. Young correctly realizes that you can't force things on athlete. As the old adage goes, "You can lead a horse to water but you can't make her drink."
More: Laura Muir's Coach Says She's A Victim Of Having To Face "Some Of The Best Distance Runners Of All Time"
****
Stat of the Week III / Yet Another Reason Why We Love Non-Profits Running The Major Road Races Across the Country
Take a look at the list of winners at the Carlsbad 5000 road race for the last 10 years. What stands out?
| | | | | |
| --- | --- | --- | --- | --- |
| 2009 |  Bekana Daba (ETH) | 13:19 |  Aheza Kiros (ETH) | 15:38 |
| 2010 |  Eliud Kipchoge (KEN) | 13:11 |  Meseret Defar (ETH) | 15:04 |
| 2011 |  Dejen Gebremeskel (ETH) | 13:11 |  Aheza Kiros (ETH) | 15:13 |
| 2012 |  Dejen Gebremeskel (ETH) | 13:11 |  Tirunesh Dibaba (ETH) | 15:01 |
| 2013 |  Dejen Gebremeskel (ETH) | 13:21 |  Gelete Burka (ETH) | 15:26 |
| 2014 |  Dejen Gebremeskel (ETH) | 13:13 |  Julia Bleasdale (GBR) | 15:06 |
| 2015 |  Lawi Lalang (KEN) | 13:32 |  Genzebe Dibaba (ETH) | 14:48 |
| 2016 |  Joshua Cheptegei (UGA) | 13:24 |  Meseret Defar (ETH) | 15:00 |
| 2017 |  Dejen Gebremeskel (ETH) | 13:27 |  Viola Lagat (KEN) | 15:35 |
| 2018 | Kalle Berglund (SWE)     | 14:15 | Emelia Gorecka (GBR)         |  16:04 |
Yes, the winning times at last week's race were abysmal — 14:15 and 16:04. That's what happens when the elite prize money and travel money is gutted. To be honest, we'd much rather they just totally eliminate the prize money for like four years and then once every five years hold a race worthy of the Carlsbad name.
But what can you expect? The Competitor Group's races started going downhill once they got bought by private equity firm Calera Capital in 2012. Remember, they tried to totally eliminate all North American elite funding in 2013 before an outcry caused them to keep it a little while longer. Well last year, Calera Capital unloaded Competitor Group to a Chinese conglomerate and things have apparently only gotten worse.
Can the NYRR please go national and become the USARR and try to take over some of America's iconic road races before they all turn into fun runs?
More: MB: Carlsbad elite field…. Lol. WTF!
MB: *Carlsbad 5000 Results??
*Sweden's Kalle Berglund (14:15) And GB's Emillia Gorecka (16:00) Win Carlsbad 5,000 Gorecka beat out US's Sarah Brown by one second. 
****
In Case You Were Wondering What Trinidad Alfonso Is…
Last week, it was driving us nuts that we had no idea what Trinidad Alfonso was. We wanted to know because the World Half Champs were technically named the IAAF/Trinidad Alfonso World Half Marathon Championships. We still aren't entirely sure thanks as the translation is a little awkward but at least now we have an idea. According to the fundaciontrinidadalfonso.org website, the "Trinidad Alfonso Foundation is a not-for-profit foundation presided by Juan Roig that was created in 2012 with a very clear objective: to promote the Culture of Endeavor in the society of the Valencian Community."
Our pillars are endeavor, sport, and roots.
We believe in endeavor as the basis for work, betterment and progress.
We believe in sport as the means to improve the life of people and society.
We believe in roots as the principle to return everything we have been given to the land and the people in the area.
****
Recommended Reads
Kenya Standard Digital: "Athletes Race From Rags To Riches And Back To Rags" Kenyans use running to escape poverty and gain a fortune, but with no education on how to manage their wealth, many can end up right back where they started.
The Honor Of Representing His Nation Motivates Ethiopia's Jemal Yimer As He Prepares For The World Half Champs Yimer ran the fastest debut ever at RAK last month with 59:00. Even still, the World 10,000 5th placer says his future is on the track: "I am a man of the track. I feel like the track is where I breathe better. I can train there the whole day."
2012 Olympic Silver Medallist Nijel Amos Is On The Fast Track With OTC Elite Amos had a rough 2015 and 2016, but now with Mark Rowland at OTC has got him back in the right direction. He says he's feeling good and is even talking about a WR attempt this summer.
To see our favorite reads from other weeks, go here.
****
Quotes Of The Day And Last Week's Home Pages
To see the actual quotes of the day from last week or last week's home page or any home page, go to our archive page.
---