The Crazy Thing on the Arm of Million $ Marathoner Yuta Shitara Explained
by LetsRun.com
February 26, 2018
Editor's note: This article was originally titled, "The Unanswered Question from Tokyo: What Was The Crazy Thing on the Arm of Million $ Marathoner Yuta Shitara?", but since we have an answer we've changed it.
Sunday's Tokyo Marathon was the greatest day in Japanese marathon history in terms of absolute men's performances. Up front Yuta Shitara stole the show winning the "$ 1 Million" (actually 100 millon Yen which is roughly $937,000) bonus for running 2:06:11 and breaking the 15 year old Japanese record in the marathon of 2:06:16 by Toshinari Takaoka. But behind him it was a Japanese exhibition of marathon running as overall, two Japanese men went sub 2:07, six sub 2:09, nine sub 2:10 , and thirteen sub 2:11 (2:11:06 is 5 minute mile pace in the marathon)
Brett Larner of Japanese Running News has all the details on the "The Greatest Day in Japanese Men's Marathoning History" and the details on how Shitara's took home $1,022,000 in officially published bonuses and incentives.
Article continues below player.
There is one unresolved question for us of a not serious nature.
What the heck was Yuta Shitara wearing on his arm the final 2km?
Update we have an answer. It was apparently an image of Shitara with the words, "Last Fight."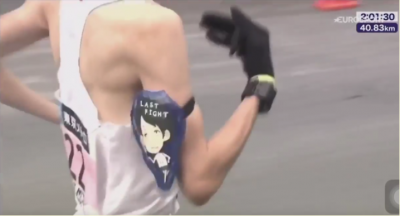 At the final water bottle stop at 40km, Shitara grabbed his water bottle which was attached to a big red wreath like it was at all the other previous water stops. (Runners attach their bottles to colorful objects so they can find them).
Shitara took a drink and then pulled something off the water bottle/wreath and put his hand through it and started sliding it up his arm.
He ran with the thing on his arm the final mile and quarter to the finish where he collapsed on the ground and we got the best look at it.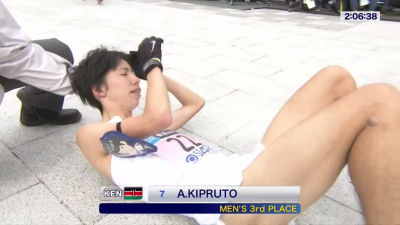 So, what is on his arm? We're going to reach out to Brett Larner but figure you one of our LetsRun.com faithful will know for sure. Tell us in this thread on our forums.
The other thing that impressed us with Shitara was that he put up his arm to celebrate 11 seconds before the finish. Considering there was a 100 million Yen bonus for breaking 2:06:16 and he only finished in 2:06:11, we were a bit worried it was premature, but he had it in the bag, thanks to whatever the good luck charm was on his other arm.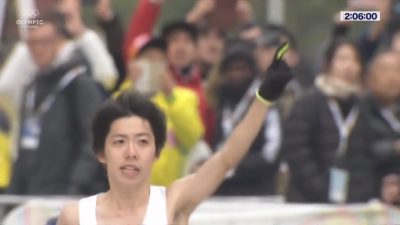 Screenshot from Olympic Channel broadcast of race. Full Tokyo coverage here.
Larner also has another article from 2016 predicting success for Japanese in the marathon which sort of explains how they got to yesterday's performances.
Discuss: What was on Shitara's arm in Tokyo?