Molly Huddle Breaks American Record at 2018 Aramco Houston Half Marathon
by LetsRun.com
January 14, 2018
HOUSTON — Molly Huddle broke Deena Kastor's 67:34 American record in the half marathon which had stood since 2006 at the Aramco Houston Half Marathon today by running 67:25 to finish in seventh place.
The race was won by Ethiopia's Ruti Aga, the 2017 Berlin Marathon runnerup, in 66:39.
The 33-year-old Huddle, who is also the American record holder at 10,000 meters on the track (and used to hold the 5,000 record as well), got the record by going out hard with the leaders from the gun. Kastor's old AR came out to an average of 16:00.8 per 5k but Huddle hit 5k in 15:48, 10k in 31:34 (15:46 5k), and 15k in 47:29 (15:55 5k). 47:29 at 15k is 66:29 pace.
Article continues below player.
In the 16th km, Huddle started to lose contact with the lead group but as long as she didn't totally blow up she'd get the AR and she held on and got it as she hit 20k in 63:48 (16:19) before crossing the line in 67:25 (Huddle covered the last 1.0975 km at 16:29 5k pace). As a result of her quick pace, Huddle also beat Kastor's American records at 10 miles (51:30 for Kastor, Huddle was 50:52) and 20k (1:04:07 and 1:03:48).
Fellow American Jordan Hasay, who was hoping to challenge Huddle for the record, didn't go with the leaders early but still ran 68:38 — two seconds faster than what she ran in Houston last year (Hasay's pb is 67:55).
We should note that while Huddle's time is an American record, it's not the fastest half marathon ever by an American woman. Kara Goucher ran 66:57 at the 2007 Great North Run, but because the race was contested on a point-to-point, downhill course, it is not eligible for record consideration.
Quick Take #1: Congratulations Molly
This race certainly lived up to the hype. With the stacked international field and both Hasay and Huddle in the race, anything less than the American record would have been a disappointment. Huddle certainly deserved it as she went out hard.
If you are wondering how Huddle can run an American record and only finish 7th, please realize the women ahead of her in this race are all very good. Here are their credentials.

Ruti Aga

– 2:20:41 marathon pb, 2nd in Berlin in 2017. 23 years young.

Caroline Chepkoech

– The 2017 Falmouth Road Race winner had a breakout race on the track in the DL final in Brussels where she lowered her pb from 14:51 to 14:27. 23 years young.

Mary Wacera

– The 29-year-old ran 66:29 in Houston in 2016 – the fastest time ever on US soil.

Buze Diriba –

The 23-year-old was 5th in the world in the 5k at Worlds in 2013 at age 19. She also beat Huddle at the Manchester Road Race on Thanksgiving.

Edith Chelimo

– The 31-year-old was not well-known at all until she ran 65:52 in Cardiff in October — only a UK all-comers record and the 7th-fastest time ever.

Eunice Chumba

– The 24-year-old, who represents Bahrain internationally, ran 66:11 in Copenhagen in September. She also ran 2:24:27 in Rotterdam last April.
Huddle knew she was in over her head, but went for it anyway
While the pre-race talk focused on Huddle's and Hasay's quest for the American record, Huddle knew it was unlikely she'd win the race. She said, "I knew I'm not a 65-minute half marathoner runner so I had to be realistic (on where she'd finish in the race)."
Nonetheless, she cherished the opportunity to push her limits and went with the hot early pace, knowing she'd pay for it later. "I knew I was in over my head….I knew the bottom would fall out eventually. It was fun to see where the lines was for me."
That point for Huddle came on the 11th mile when she slowed to 5:14. She said she had been running 5:05 to 5:08 before that.
"We were going really well through 10 miles, but then I kind of blew up when they dropped me," she said. She then got a little bit worried as to whether she'd break the American record, but she held on to get it by nine seconds. (She broke the American 10-mile record by 38 seconds and the 20k record by 19 seconds).
Breaking Deena's record is extra special
Huddle, who once owned the American 5000m record on the track and still has the 10,000m record, said it was extra special to beat Deena Kastor's record in the half. "It means a lot that it was Deena's record, to just be in the company of Deena who has the American record [in the marathon], gives me a lot of confidence," she said.
Now Huddle turns her attention to trying to win the Boston Marathon where she'll have Americans Hasay, Desi Linden, and Shalane Flanagan trying to accomplish the same thing. Huddle says each brings something different to the table, with Linden being made to run Boston, Hasay being the newcomer with great success, Flanagan being the hometown hero, and Huddle having the track speed. Flanagan's win in New York "reminded us it's (an American winning) possible. It definitely got me excited."
Huddle did more strength stuff in her build-up to Houston, but said only now will she really begin her marathon preparation for Boston, which is 92 days away. Her agent Ray Flynn afterwards said he thought Molly was coming down with a cold which may have affected her the final part of the race.
and
Jordan Hasay has come a long way in a year-  "I definitely want to win Boston. That's my goal."
Last year Jordan Hasay ran 68:40 and it garnered a ton of attention. Today she ran 68:38 and it was a performance that didn't turn any heads. She said afterwards that her coach Alberto Salazar told her the cold weather might make times a little bit slower. "I'm actually really pleased. I felt a lot better than I thought I was going to feel," she said noting that she three weeks off after Chicago and has only been training 7-8 weeks.
Jordan gave the impression she was most impressed with the effort and feeling rather than the result. "I was really pleased with the effort. It felt pretty comfortable… Obviously Boston is the main goal. If I had an incredible day (today),  maybe I'm close to PR shape or even up there with Molly. It just wasn't today," she said. "Today I'm not bummed, it's just sort of ok."
Hasay had tremendous success in her two marathons after Houston last year and how has shifted her focus to something that was unimaginable a year ago, winning the Boston Marathon. "I definitely want to win Boston. That's my goal. That's what I was telling myself  out there today, Boston, Boston, Boston." She believes all 4 Americans (herself, Huddle, Desi Linden, and Shalane Flanagan) "have a realistic shot (of winning)."  Hasay wasn't too concerned with her time today as not only was it her second fastest ever, but noted that last fall less than a month before she ran 2:20:57 at the Chicago Marathon she only ran 1:10:42 for the half in Philadelphia.
Note: Since initial publication this part was edited to better reflect Jordan's quotes.
Aliphine Tuliamuk joins Hoka One One NAZ Elite
Tuliamuk, who won the US road 10k and 25k titles last year, has joined the Hoka One One NAZ Elite team coached by Ben Rosario. The signing was so new Tuliamuk ran in Hoka gear, but not Hoka shoes today. Rosario said Tuliamuk is a great fit for his club and should work with marathoners Stephanie Bruce and Kellyn Taylor. Tuliamuk is just getting back in the swing of things after her 2:33:15 in New York (Taylor ran 2:29:56 and Bruce 2:31:44) and only ran 1:11:41 (last year she ran 1:09:58 here).
Becky Wade PRs
Wade, who grew up in Houston, ran 1:11:15 which was more than a minute PR. Her coach told her not to wear a watch and not to look at splits which paid off.
Top 30 results appear below.
Talk about the race on the messageboard. MB: Official Aramco Houston Half Marathon and Chevron Marathon Thread: Molly Huddle and Jordan Hasay go for the American Record.
Men's recap:  Jake Robertson (60:01) Crushes Stacked Field Over Final 2 Miles to Win 2018 Houston Half Marathon 
Top 30 Women's Results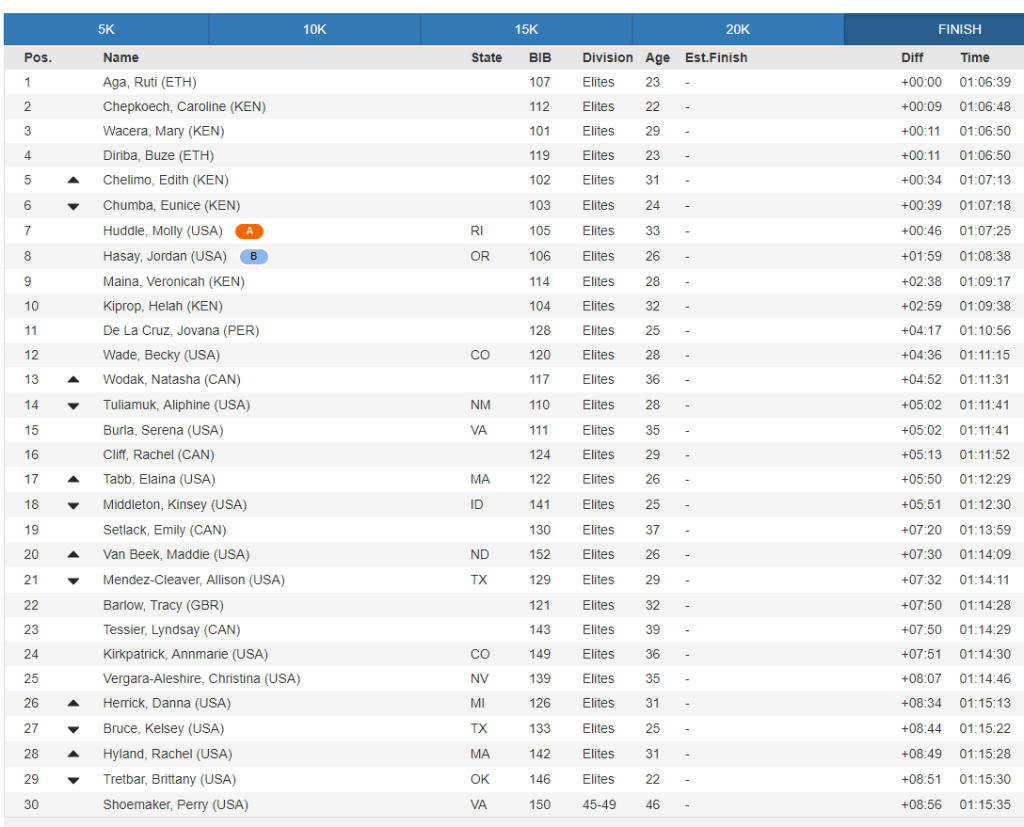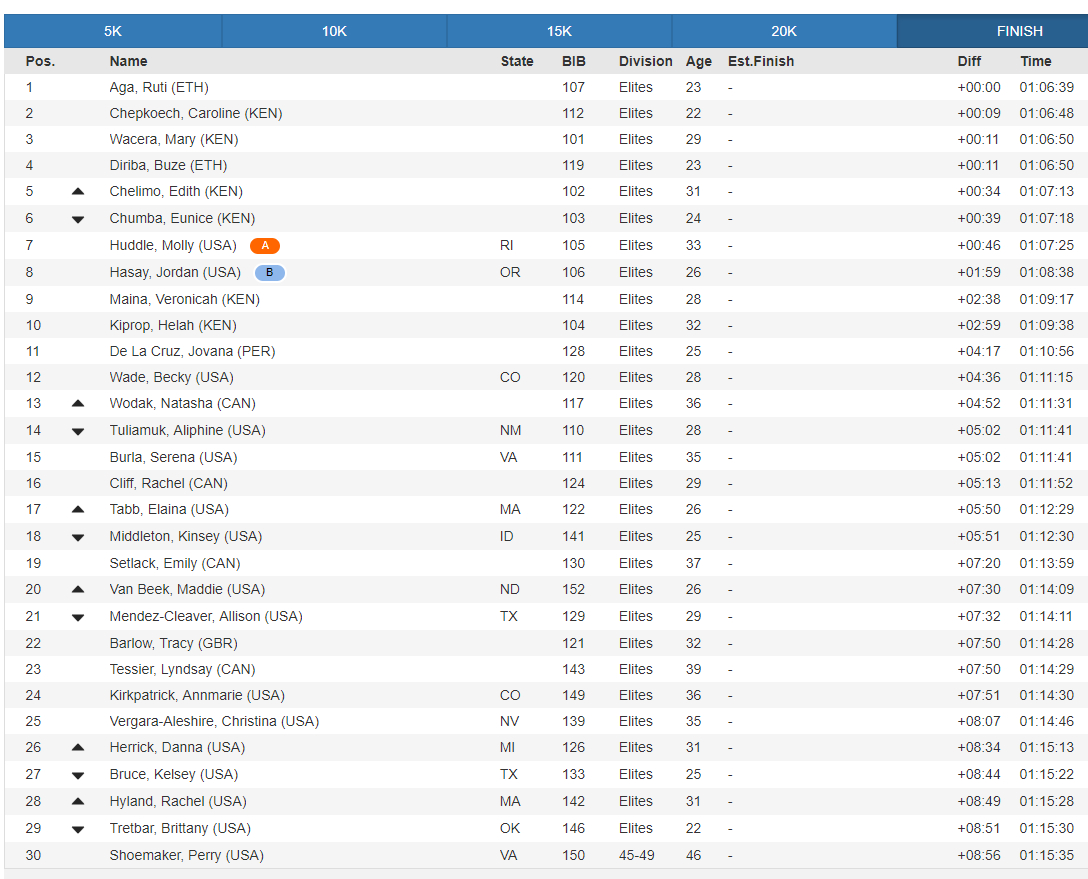 More Houston video here or in video player.