Meb Reveals What He'll Miss Most About NYC, Shalane Says She's Had Her "Best Buildup Ever" & More Thursday NYC Marathon Notes
By LetsRun.com
November 2, 2017
NEW YORK — Whenever we're at a major marathon, we try to bring you insight that you can't get from just watching on TV, and one of the best ways to do that is to check out the pre-race press conferences. We spent the afternoon mining for nuggets of information from the top U.S. pros (the international pros are tomorrow) and below we present our biggest takeaways ahead of Sunday's TCS New York City Marathon. Shalane Flanagan told us about her "best buildup ever," her possible retirement, and how to beat Mary Keitany, Meb Keflezighi told us about his recent family trip to Eritrea and his thoughts on his final marathon and we caught up with Shadrack Biwott, Jared Ward, Stephanie Bruce, Kellyn Taylor, and Aliphine Tuliamuk as well.
We also spent some time talking to studs such as Paul Chelimo, Molly Huddle, Desi Linden, and Brenda Martinez ahead of Sunday's Abbott Dash to the Finish Line 5K/USATF 5K Championships, which you can find in a separate article here: LRC Paul Chelimo Aiming for World Indoor 3k Gold, Brenda Martinez Done with the 800 – Abbott Dash to the Finishline USATF 5k Notes
Article continues below player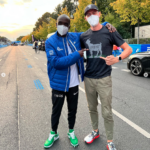 Kipchoge loves the 1:59:40 Shirt Get Yours Today
What a legend!
Shalane Flanagan: "This is the best buildup I've ever had" but "if [Keitany] is in 2:17 shape, yeah I won't be there"
Flanagan said that this has been the best of her 10 career marathon buildups. She's spoken openly about her longtime goal of winning a major marathon, and believes that it could come to pass soon.
Still, much of that depends on the woman Flanagan referred to as "the alpha" in the race, three-time defending champ Mary Keitany. All of Keitany's races have gone extremely well in 2017 — especially her 2:17:01 win in London — but you never really know how fit someone is until the race begins.
"If I'm in the best shape I've ever been [in] and she's in 'okay Mary' shape, maybe we match up," Flanagan said. "I don't know. But if she's in 2:17 shape, yeah I won't be there."
Flanagan has also hinted that she may be considering retirement soon. Flanagan said that ending her career with a major victory would be a "dream scenario."
"A lot of people would be like, Well if you had a major win, that means you could capitalize on that moment and keep going. But to me, I feel like I've done almost everything that I want to do. I have some unfinished business I'd say probably in terms of times. In the half marathon (67:51 pb) and marathon (2:21:14 pb), I could run much faster, I know that in my heart. But I'm chasing being like Meb and like Deena and having that win, having that title."
Flanagan trained for this buildup alone and some wondered why she didn't do it with Bowerman Track Club teammate Betsy Saina. We found out the answer: Saina has left the team and returned to her native Kenya, where she is being coached by Patrick Sang. Previously it was known that Saina was being coached by Sang for this buildup but no official split from BTC was announced.
Meb Keflezighi: "For 42 years [old], yeah, this is where I want to be"
Meb spent two months in Eritrea over the summer with his family. The trip was part family reunion, and part lesson for his daughters.
"The first day we came back [to the USA], taking them to school, I said, Where are we walking? And I said, Sidewalk. Did you see any sidewalk there? Or did you see the dirt [with] kids playing around? How often did they change [clothes]? [That] put it in reality for them."
Keflezighi and his family also brought nine bags of shoes and clothing to distribute to people in need courtesy of Skechers. For more on the trip, check out this story in the San Diego Union-Tribune.
As for the race itself, Keflezighi said that in the early stages of his buildup in Eritrea, he was a little banged up but he's been healthy since returning to the States.
"For 42 years [old], yeah, this is where I want it to be…I used to make a move when I wanted to make a move or try to cover moves when somebody else moves. But now that's getting a little bit challenging. So for me, I just have to be smart."
As everyone knows, this is Meb's final marathon, and he said that what he'll miss most about the race is the VIP treatment as the NYRR put him up in a luxury suite in his hotel this weekend. What he'll miss the least? Drug tests. Though this is Keflezighi's farewell race, he said he's still been tested three times in the last three weeks — including this morning.
There was also an interesting presentation where Meb received a personalized surfboard with the NYC course map and his previous NYC finishes. Meb said that he'd never gotten the chance to surf because of running, despite living most of his life in sunny San Diego.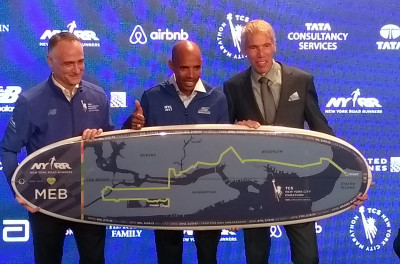 Jared Ward is fit and the BYU guys are sticking with him for the first time
Jared Ward says his training has been "pretty seamless (the) last 8 weeks." After Boston, he had to take some extra time off because a pelvis injury that started bothering him in Rio reappeared. Jared was worried he was getting a late start in July for New York but the training has gone very well.
"My long runs have been better than before Rio," he said but said his "real fast intervals (those lower than one-mile repeats)" have been a bit slower.
Jared is a volunteer assistant of the #2 team in the country, BYU (his alma mater) and works out with the team when they can do the same workout (their coach Ed Eyestone is also Ward's personal coach). Jared said, "This year is the first year when I'll finish a workout and they'll be a few of them with me…it's a treat (working out with them), because those guys are so good this year, they're deep, they're strong, they're fun to run with. I've loved that aspect of life as well…When you love everything you're doing, it's ok to have a lot going on. It's been fun."
Jared's goal for New York is a podium finish and he realizes with such a strong field he could have a good run and finish off the podium.
Shadrack Biwott hopes to keep improving after back-to-back top-five finishes at majors
Biwott, 32, has flown under the radar a bit in recent years. He was 5th last year in NYC in a PR of 2:12:01 but despite that, his contract with Asics was not renewed. How did he respond? By going to Boston and finishing 4th, coming just seven seconds from another PR.
Biwott admitted that going the first four months of 2017 without a sponsor was "tough" but the relentlessly positive Biwott, who operates with a smile constantly plastered to his face, didn't let that keep him down.
"I just kept my head up and went to Boston with all that energy and tried to really do a good job. Which I did. And that propelled everything forward."
Shortly thereafter, he signed with Brooks and joined the Hansons-Brooks Distance Project, which Biwott called "a blessing." Though it can take a while for a marathoner to adjust to the Hansons system, Biwott feels he's handled the extra volume (as much as 130 mpw) very well and has nailed every workout, including a key 2×6-mile session in howling winds. But even when confronted with tough conditions, Biwott remains positive.
"There's only two choices: cry about it or smile about it. And so I chose to smile about it."
As for what to expect on Sunday?
"I was fifth [last year], I was fourth in Boston," Biwott said. "Maybe third? Anything can happen. You never know. I know I'm healthy. I'm ready to go."
Supermom Superdaughter Stephanie Bruce ready for NYC despite her mom's battle with breast cancer
Stephanie Bruce is having a tremendous 2017. Early in the year, she finished 22nd at the World Cross Country Championships and then five days later set a PR at 10,000 (31:59.88). That would be impressive enough — especially because she has two kids under the age of four in her house.
But besides being supermom, Bruce has taken on a new role: superdaughter. Bruce's mom, Joan, was diagnosed with late-stage inflammatory breast cancer last November. This year after World XC, Joan had a double mastectomy and moved into Stephanie and her husband Ben Bruce's house in Flagstaff. Stephanie said her mom is doing well.
"She's a trooper and eternal optimist," Stephanie said.
Despite all of this, Stephanie's training has been going better than ever and she is able to keep up with Hoka One One NAZ Elite teammate Kellyn Taylor in workouts (more on that below). Stephanie is shooting for the top 10 and would love to get in the top seven.
Stephanie said staying focused on running hasn't been a problem.
"Running has always been my free moment… It's my job and my passion."
Kellyn Taylor is ready to show all the work she's put in
Taylor is most known for finishing 6th at the Olympic Trials last year after hanging with Shalane Flanagan and Amy Cragg longer than anyone else.
Taylor said at the Trials she was very fit, but the end results may not have shown her fitness. Same thing with her result at London this year (2:28:51). Kellyn said her training with Bruce has gone great and she's ready for the result to show it.
"I felt like at the Trials I was in really good shape on the day but the strategy did not produce a good time (and London the same) and I'm just hoping this is the time it's going to show my fitness and all the work I've put in, instead of having a lackluster performance. Ideally if it's a good day, top 10, great day, top 5," she said.
Taylor said in workouts she usually one-steps Stephanie Bruce, just because she's used to training by herself.
For Aliphine Tuliamuk, Sunday's race is the first step to the 2020 Olympics
Tuliamuk has run two previous marathons, but neither went particularly well. In her debut at 2015 Pittsburgh, she said she didn't know what to expect and ran 2:34. In her second one, 2016 Houston, she started feeling sick halfway through and was actually pleased with her 2:35 final time as she thought she was going to wind up running three or four hours.
Tuliamuk has been training for this one with 2015 Boston Marathon champ Caroline Rotich and Tuliamuk, who was second at the US 20K champs in September behind Jordan Hasay, thinks she can break 2:30. The Kenyan-born Tuliamuk, who went to college at Wichita State, also said that she'd really like to represent the US at the 2020 Olympics and believes the marathon will be her event.
"The marathon is the one event that I know I can be really, really good at," Tuliamuk said. "I know it's the event that is probably meant for me."
Plus there are fringe benefits.
"More for me is always better," Tuliamuk said. "And so because we have a lot of miles when you're doing a marathon, I like it. I like going out for 20 miles and I can come home and eat a burrito and not worry about it."
Talk about the 2017 NYC Marathon on our messageboard: MB: 2017 NYC talk.