Editorial: What about the fans? The NCAA needs to treat non-revenue sports equally when it comes to pay-per-view streaming
The NCAA shouldn't be fine with parents potentially being charged $30 per month for the rest of their lives to watch their son or daughter compete in the national championships
By LetsRun.com
November 17, 2017
What are you doing this weekend?
Want to watch the NCAA field hockey championships — DI, DII or DIII — or the DIII women's volleyball championship? Great news, you can watch them live for free on NCAA.com.
Article continues below player.
Want to watch the DII or DIII soccer champs in a few weeks, or even the men's water polo champs? No problem, you can watch for free on NCAA.com.
Oh wait, this is a running site. You want to watch the NCAA DI, DII, or DIII cross country championships? You're out of luck unless you want to fork over at least $19.99 (FloTrack's site currently lists the cost of a subscription at $19.99/month but we were just charged $29.99 three days ago so they may have quietly reduced it due to backlash) and you'll have to remember to cancel the FloTrack Pro subscription service you signed up for or you'll get charged $19.99 (or $29.99) next month as well (and on and on).
| | |
| --- | --- |
| Overall | |
| Comfort | |
| Cushioning | |
| Durability | |
| Appearance | |
| Value | |
Ridiculous.
Until now, the NCAA model has been very fan-friendly. Put its championships on TV networks that most people already have subscriptions to and/or stream them online for free. Last year, the NCAA allowed FloTrack to stream the DI cross country meet online, but at the time, FloTrack offered a free trial subscription option. This year there is no free subscription, both the DII and DIII are behind the paywall as well, and fans are out of luck.
In reality, this is not about about getting random cross country fans to pay, but rather getting those closely related to or connected to the athletes to pay — mainly parents and recent alums. The little-known secret about the cross country champs is there are a ton of athletes and teams competing. There are 510 men and women competing in the DI champs alone and probably similar numbers at DII and DIII, so there are 3,000 potential customers in parents alone. So far, the NCAA hasn't tried to charge for things like DIII volleyball championship stream but we are starting to wonder if that may simply be because there are a limited number of potential parents to be charged, with fewer than 30 athletes competing and only two teams.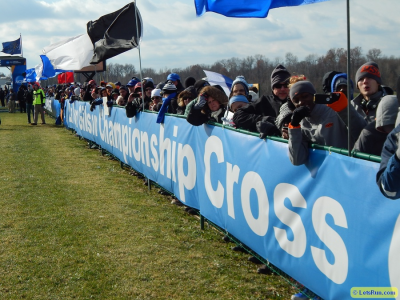 The NCAA is a non-profit organization and should treat all of its non-revenue sports equally. Let's not punish one sport more than another because there are more athletes competing. The vast majority of cross country athletes aren't on full scholarship. Their parents pay a lot of money for them to compete and shouldn't have to pay any more to watch their loved ones compete in a national championship than a field hockey or volleyball parent. Parents should not have to pay anything to watch a lifetime of dedication play out at nationals — a $50 payment from each cross country program would easily cover the costs of production — but if the NCAA wants to charge, then come up with a one-off, non-recurring price and charge it for all championships not on TV. 
We've asked the NCAA if they plan on charging for access for more non-revenue sports in the future. They have not answered the question. Last March, they wrote, "We'll decline an interview" on the subject. We tried again last week and again weren't given a response.
We also asked the NCAA to provide us with the streaming numbers for 2015 and 2016 NCAA cross country championships and the NCAA declined to do so. We asked for those numbers because last year, in a gushing press release on the cross country champs being put behind a paywall for the first time, the NCAA claimed that charging would lead to more people watching: "We continue to look for ways to bring our championships to a broader audience and ways to improve the overall student-athlete experience."
That's total BS. Anyone with common sense knows that fewer fans will watch the cross country championships behind a subscription paywall. The NCAA needs to come up with a consistent policy for all non-revenue sports.
---
Talk about this topic on our fan forum / messageboard: MB: NCAA's greed has no bounds!! NCAA/FLO will charge you $29.99 to watch D1 and even D2 and D3 nationals this year!
If you want to send us your thoughts directly, give us a call at 844-LETSRUN (538-7786) or email us.