2017 NCAA Cross Country Roundup: Interesting Facts and Figures From Friday's Action
by LetsRun.com
October 27, 2017
This weekend is one of the best weekends of the year if you are a fan of NCAA cross country. We don't have time to recap every single meet that took place today but you can find all results courtesy of the coaches' association here. Instead, below we point out what interested us most about today's action. Talk about it on our fan forum: MB: OFFICIAL 2017 NCAA conference XC champs discussion thread
#2 BYU Perfect-Scores #3 Portland
Article continues below player
Two of the top three teams in the country met today in Oakland as #2 BYU (Pre-Nats champions) squared off against #3 Portland (Wisconsin runners-up). In the end, it was no contest however, as BYU produced one of the most dominant performances of the season by going 1-2-3-4-5 on the #3 team in the country.
BYU has impressed in every one of its races this year, scoring 17 to defeat Oregon and Stanford at the Dellinger Invitational in September and scoring 41 to win at Pre-Nats earlier this month. But the Cougars' perfect score today (led by individual champ Connor McMillan) may top them both.
Now we are aware that Portland did not run a full-strength team today as the Pilots rested four of their top seven from the squad that took second at Wisconsin.
MB: I thought we had seen it all, but did Portland just tank their conference meet?
For the record, we're not big fans of schools resting runners for their conference meet. We will have more on this subject later as we've reached out to Portland coach Rob Conner for comment.
But Portland did run its top two finishers from Wisconsin, and BYU's top five all finished in front of both of them. So even if Portland ran its full team, that may not have been enough to prevent a BYU sweep.
How good is BYU? Well consider that they put five men in front of Jeff Thies today, and Thies was 8th at the Wisconsin Invitational — the deepest meet in the country outside of nationals. Plus BYU's #6 and #7 runners were both within five seconds of Thies.
For reference, #1 Northern Arizona put three guys in front of Thies at Wisconsin, but their #4 was eight seconds behind and their #5 was 12 seconds behind.
The key to the sweep today for BYU was Daniel Carney. Coming into today, BYU had the same four guys finish as their top four (in some order) in all three of its races this year — McMillan, Casey Clinger, Rory Linkletter, and Clayton Young. But Carney has been closing the gap all season. He was only their eighth man at their season opener at home on September 16 (6.3 seconds behind their #4) but he was their #5 at Dellinger (2.6 seconds behind their #4) and their #5 again at Pre-Nats (0.4 behind #4). Today, he was second, and while the place isn't really relevant (BYU's #2, #3, #4, and #5 guys all crossed together), what is important is that he was right with their top group.
"[Carney] is the key to whether or not we can win a national championship," BYU coach Ed Eyestone said on the broadcast after the race.
#3 Colorado Women Upset #1 Oregon
The Colorado men didn't get what they wanted today in Springfield, Oregon, but today was a great day for the Colorado women's team. The third-ranked Buffs toppled #1 Oregon on Oregon's home course, 53 to 71. #14 Stanford was third (also with 71, lost tiebreaker to Oregon). #13 Washington was fourth with 128, #28 Cal fifth with 132, and #27 Utah sixth with 146.
USC Women Forfeit at Pac-12s
While we criticized Portland above, we've got to give them credit for one thing – at least they recorded a team score. The USC women did not.
No, there wasn't a bout of food poisoning or a bus accident. USC only started four women in a race when it takes five to score. The USC press release states, "USC did not figure in the team scoring, as only four runners completed the course due to an injury to junior Lauren Maurer." USC did fly five women to the meet but Maurer didn't run. This is absurd. USC has a 12-member xc roster and 38-member track roster. Get someone from that group – or someone on campus who ran cross country in high school – to walk the freaking course if worse comes to worse.
One last thing, we are pleased that the Pac 12 did exactly what we told the NCAA to do a few weeks ago. Instead of leaving USC off the results entirely, they were listed as finishing last in the results with an incomplete team score – at least in the printed results (some online versions left them off).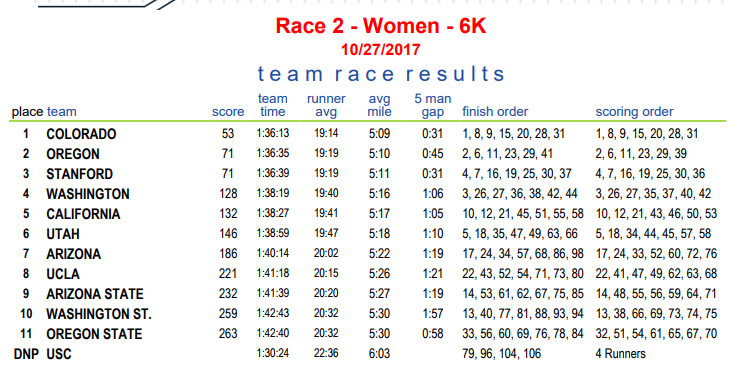 USC wasn't the only team that failed to field a full squad at Pac-12s. Oregon — which remember, was hosting the meet — only entered six women (you can enter up to 10). Oregon has 13 women listed on its XC roster, but several of them are mid-d runners and a few others have been hurt and/or sick this fall. It's possible that the Ducks only have six healthy full-time XC runners right now as they also only entered six at Pre-Nats (which they still won).
The First Time Is Always Special: Colorado State Men
The #9-ranked Colorado State men are having a season to remember. Today, Colorado State, which has made NCAAs three of the last four years, put up just 31 points to win their first-ever Mountain West title (league started in 1999). They easily defeated #17 Air Force (59) and #19 Utah State (93 points in 4th, Boise State was 3rd with 64).
Well, Almost Always: Colorado Men Lose
Maybe we should have been more specific in our language in the segment above. The first time a team does something is special – assuming it's a win. Today, the Colorado men lost a Pac-12 cross country meet for the first time in their history: they were a perfect 6 for 6 heading into today's meet. And at roughly the 6.8 k split, Colorado led Stanford 49 to 56 but the famous late-race surge for Colorado wasn't there, just like it wasn't there in 2015 at NCAAs. Today, Stanford closed better and won their first conference XC crown since 2010, 41 to 47.
Colorado fans are now hoping that history doesn't repeat itself like it did when they used to be in the Big 12. In their first 12 years of the Big 12 (1996-2007), Colorado never lost. Then, once they lost, they never won again. Admittedly, they were only in the conference for three more years (Oklahoma State won in 2008-09-10).
Biggest Non-Upset: ACC Men
The coaches' association preview of the ACC meet said the following, " Look out for a potential upset in the men's as Virginia Tech has come on as of late. The Hokies finished fourth at the Pre-National Invitational and were ranked 11th in the most recent National Coaches' Poll. Syracuse is going to have its hands full in this race compared to its next one in the Northeast Region."
Not exactly. Final result. Syracuse 27, Virginia Tech 73.
Most Dominant Winner: Karissa Schweizer
Reigning NCAA champ Karissa Schweizer of Missouri won the SEC title by 30.8 seconds.
Least Dominant Winner: Lamar Men
The Southland men's team battle was as close as they come. Lamar and McNeese State both finished with 42 points. Now, remember the NCAA foolishly doesn't break ties by looking at the 6th man or woman. Instead, you score each team #1 vs #1, #2 vs #2, etc. Lamar won the tiebreaker 3-2 as their #1, #3, and #4 men all finished ahead of McNeese State's #1, #3, and #4. But those three battles were all extremely tight as in each case the Lamar runner finished directly ahead of the McNeese runner. Lamar's #1 was first and McNeese's #1 was second (4.7 seconds back), Lamar's #3 was 8th and McNeese's was 9th (.3 of a second back) and Lamar's #4 was 11th and McNeese's 12th (.8 of a second back).
In case you are wondering, in terms of sixth man, Lamar and McNeese State's #6 were also just one spot apart with Lamar's #6 in 22nd and McNeese's in 23rd (.6 of a second back).
Biggest Turnaround: Columbia Women
Last year, the Columbia women were last at the Ivy Heps meet. This year, they won it. When is the last time this has happened in any conference? If you know, email us or post it in our forum: MB: Columbia women were last in Ivy League in 2016, but first in 2017. When is the last time a team went from last to 1st?
The women's meet was definitely a reversal of fortunes for nearly all the Ivy women as at the first 3.1k checkpoint, the four schools that went 1-2-3-4 last year (Harvard, Yale, Penn, and Brown) were in 5-6-7-8 spots this year. In the end, Yale moved up to third so the top four to bottom four and bottom four to top four didn't quite hold up.
Unfortunately for Crimson fans, Harvard authored a dubious turnaround of their own as they went from first in 2016 to last in 2017.
????? pic.twitter.com/8GyCj6ZiiM

— Columbia Lions XC/TF (@CULionsXCTF) October 27, 2017
MB: The official 2017 HEPS CROSS COUNTRY thread.
Biggest Turnaround (Negative Direction): Louisville Men
Two years ago, the Louisville men finished 7th at NCAAs on their home course at E.P. "Tom" Sawyer State Park. Today, at the same venue, the Cardinals finished 15th — dead last — at the ACC meet.
We're aware that in collegiate athletics, teams can vary greatly from year to year with graduation. And that is certainly the case in Louisville as their entire top five from 2015 (all of whom hailed from Kenya) have since graduated. We're not sure about the scholarship situation (there are only 11 men on the 2017 roster), but to go from 7th in the country to 15th in the ACC — behind the likes of Miami and Boston College — in the span of two years is very poor.
Twin Power
Identical twin freshmen Gabrielle and Danielle Orie may have chosen to attend different Ivy League schools, but they couldn't be separated at their first Heps championship. Gabrielle finished 7th for Cornell in 21:20.0 while Danielle finished 8th for Penn in…the exact same time.
And they weren't just together at the finish. The Ories ran the entire race together as they were 5-6 at 3.1k (0.3 apart) and 6-7 at 5.1k (0.6 apart).
Finishing in the top 10 at Heps as a freshman is impressive, but Gabrielle will have family bragging rights as she beat out Danielle for the final first-team All-Ivy spot.
One last thing about this result: does it finally prove that coaching is overrated? Genetics are way more important than the coach.
Arkansas Men 8th Straight and Conference Crown #50 / Only 26 More in A Row To Go
Chris Bucknam may be trying to change some traditions at Arkansas, but not everything is changing for the Razorbacks. The 27th-ranked Hogs went into the SEC meet as underdogs to #16 Ole Miss but they ended up winning their 8th straight conference crown with 41 points as unranked Alabama was second with 81 (thanks to a 1-2-3 finish up front) with Ole Miss third in 82. Bucknam, who lost the SEC meet to Alabama in years 1 and 2 of his tenure (2008 and 2009), does have a ways to go to catch his predecessor, however, in the legendary John McDonnell. McDonnell won a ridiculous 34 straight conference XC crowns during his reign. Friday's win was Arkansas 50th conference XC title.
If Only They Scored Just Three
The Alabama men went 1-2-3 at the SEC meet. They very well may have the best top 3 of anyone in the country.

Here are the credentials of their top 3. Their third-best guy today has a 28:04 pb and was 5th at NCAAs in the 5000 indoors.

Vincent Kiprop – JR – PRs of 13:42/28:19. Prior to this year, he was the most dominant runner in D2 ranks at Missouri Southern, where he won two NCAA D2 10,000 titles, two at 5,000 (1 indoor and 1 outdoor) and 1 XC title.
Gilbert Kigen – JR – PRs of 13:53/29:33. Prior to this year, he was the most dominant junior college distance runner in history, winning 9 NJCCCA titles in track and 2 in XC.
Alfred Chelanga – JR – PRs of 13:48/28:04. Alabama school record holder in the 10,000 was 5th at NCAA indoors in 5000 last year. Ran XC last year for Shorter University (D2), where he was the NCAA runner-up to Kiprop.

Note they are all juniors and were all born in Kenya. Unfortunately for Alabama, there was a 1:37 spread between #3 and #4 for them so they only ended up 2nd at SECs. If Alabama can get two more guys for 2018, they could challenge for an NCAA title.

Sometimes You Run Great, But Still Lose
The Columbia men scored 43 points on Friday at the Ivy Heps. Often, that's a winning score — it would have been enough to win 12 of the previous 20 Heps titles. Unfortunately for the Lions, Princeton put all five of its scorers in the top 10 and scored 28 points, relegating Columbia to second.
That it came down to Columbia and Princeton should come as no surprise as the Heps has basically been a two-team conference for the past decade. Since 2006, Princeton has won eight titles, Columbia has won three, and the rest of the league combined has won one (Penn in 2016).
Columbia did make some history today by recording the lowest non-winning score in the 78-year history of the Heps — though that may not come as much satisfaction.
75 Years and Counting
Yale University – the beloved alma mater of LetsRun.com co-founder Weldon Johnson – won their one and only conference meet 75 years ago in 1942. Harvard and Yale may be tops in the country when it comes to name recognition, but they've got some work to do in men's cross country as Harvard (last win in 1972) has the second-longest drought in the Heps.
MB: The official 2017 HEPS CROSS COUNTRY thread.
---
Talk about today's action on our fan forum / messageboard: MB: OFFICIAL 2017 NCAA conference XC champs discussion thread