Manangoi, Obiri & Semenya All Victorious On Final Day of IAAF World Championships
August 04, 2017 to August 13, 2017
By David Monti, @d9monti (c) 2017 Race Results Weekly, all rights reserved LONDON (13-Aug) — On the final night of competition at the 16th IAAF World Championships at London Stadium here, middle and long distance athletes took center stage in front of 55,520 enthusiastic fans.  When all of the racing had concluded, Elijah Manangoi of […]
Join Our Supporters Club To Keep Reading
Sign up today to get a free 12-week training program and t-shirt.
By David Monti, @d9monti
(c) 2017 Race Results Weekly, all rights reserved
LONDON (13-Aug) — On the final night of competition at the 16th IAAF World Championships at London Stadium here, middle and long distance athletes took center stage in front of 55,520 enthusiastic fans. When all of the racing had concluded, Elijah Manangoi of Kenya (1500m), Hellen Obiri of Kenya (5000m) and Caster Semenya of South Africa (800m) left the stadium with gold medals around their necks helping their nations to rank second and third, respectively, in the overall medal table behind only the United States.
Of the three Obiri, last year's Rio Olympic 5000m silver medalist, was the first to take to the track here tonight. She knew she was in for a tough race against Ethiopia's Almaz Ayana, the woman who won the 10,000m at these both these championships and last summer's Olympics.
Article continues below player
After an exceptionally slow start where none of the women wanted to lead, Ayana finally took to the lead about 1400 meters into the race, turning a 65.9-second lap to string out the field. Obiri followed her, staying close. Obiri, a 3:57.05 1500m runner, was happy to follow Ayana.
"I knew Ayana was very strong," Obiri told Race Results Weekly. "So, I asked myself if Ayana is going to be in the front I'm going to follow."
The race quickly settled into a steady rhythm. Ayana ran level 68 and 69-second laps while Obiri continued to follow closely. The rest of the field fell back, and through 4000 meters, the leading duo had a solid 10-second lead. Obiri knew she was in the right position, and waited.
"I knew Ayana is a front runner," Obiri said. "Because I knew I had a strong kick, 200, 300 (meters). So I waited until the last 200, so I say I have to go."
With 300 meters to go, Obiri launched her kick and Ayana had no response. The tiny Kenyan with her long braids flying behind her simply ran away from the Ethiopian, clocking 60.7 seconds for the final lap and winning in 14:34.86.
"When I crossed I thought, whoa, I'm the world champion!" Obiri said. "I was extremely, extremely happy. I'm so happy."
Ayana had a comfortable cushion over the rest of the field, and was a clear second in 14:40.35. Behind her, Dutchwoman Sifan Hassan sprinted furiously in the final lap to drop Ethiopia's Senbere Teferi and Kenya's Margaret Chelimo Kipkemboi to claim bronze in 14:42.73.
"It was a difficult race," admitted Ayana. "I am better at leading it to get the win rather than challenging in a final sprint."
There were three Americans in the final. Shannon Rowbury finished ninth in 14:59.92, Molly Huddle was 12th in 15:05.28, and Shelby Houlihan was 13th in 15:06.40. All three were disappointed with their results.
"My fitness is good, but today isn't a good reflection of that," Rowbury lamented.
WILSON BREAKS UP THE "BIG THREE" IN 800M
The "Big Three" of the 800-meters –South Africa's Caster Semenya, Burundi's Margaret Niyonsaba and Kenya's Margaret Wambui– seemed destined to claim all the medals tonight. But, Ajee' Wilson of the United States had other ideas. The 23 year-old American record holder decided to take the pace out hard from the gun and try to wear down her rivals. She led through 200 meters (27.1 seconds), and was just a shade behind Niyonsaba at the bell in a very fast 57.98 seconds.
"I felt great," Wilson said. "My coach (Derek Thompson) told me to get out. If I found myself in the lead, cool, if not, don't fight for it."
Niyonsaba led Wilson, Wambui, Semenya and Canada's Melissa Bishop down the backstretch. With about 300 meters to go, Wilson injected a surge, and it was clear that Wambui was beginning to labor. Semenya moved up on the outside, and positioned herself for the final push to the line. The South African launched her closing sprint and would not be denied her second consecutive global title, backing up her 2016 Olympic win with a fast 1:55.16 here.
"I just love you guys," Semenya told IAAF interviewers, referring to the fans in London. "It feels like home in London. I used to say Berlin was like my home. Obviously it is South Africa, but there are such fantastic people here. Beautiful."
Behind Semenya, Niyonsaba was able to pull away from Wilson in the homestretch to get the silver, 1:55.92 to 1:56.65. Wambui was fourth in 1:57.54.
"Coming off the last turn, I saw that the three of us had pulled away, so I was just like, hey go for it," Wilson told reporters. "I'm going to get a medal. I just gave it all I had the last phase. I'm happy, I'm grateful that I got a medal."
Bishop, the silver medalist from these championships in Beijing two years ago, finished fifth in 1:57.68.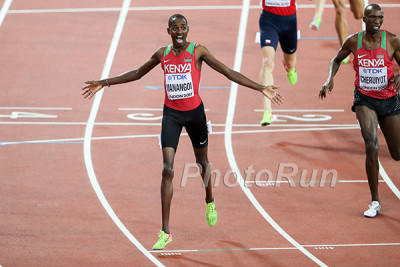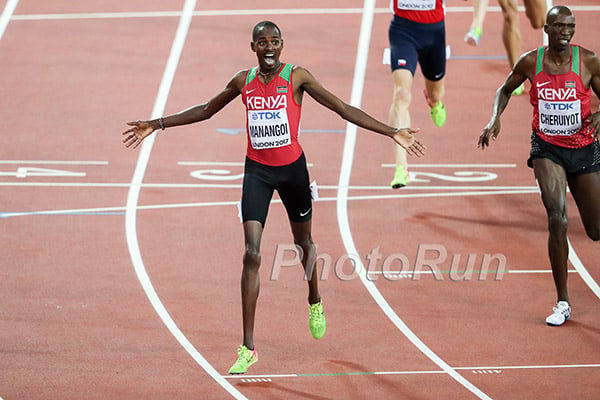 MANANGOI WINS 1500M WITH BOLD TACTIC
Elijah Manangoi has repeatedly told the media that he doesn't like slow races. So, in tonight's 1500m final, he and teammate Timothy Cheruiyot decided to make the race fast.
But not right away.
After a tepid 61.6-second first lap, Cheruiyot and Manangoi stepped on the gas, logging a 56.1-second lap, and opening up a gap on the field. The crowd loved it.
"I was happy when the noise came from the crowd," Cheruiyot explained. "I tried to respond to that."
Their teammate, reigning world champion Asbel Kiprop, got behind them, while Norway's Filip Ingebrigtsen and Spain's Adel Mechaal scrambled to catch up. The two Europeans actually ran under 55 seconds for their second 400 meters, faster than the Kenyans. That put them back into the medal picture.
"Before the race I though that the Kenyans would work together and make it a fast race to get rid of the 800m guys on the home stretch," Ingebrigtsen said.
At the bell, Cheruiyot was leading Manangoi, Kiprop, Ingebrigtsen and Mechaal. Kiprop wasn't able to hold the pace and drifted back (he would finish ninth). The two Kenyans were too strong for Ingebrigtsen and Mechaal, and raced each other for the gold down the homestretch. Manangoi got it, 3:33.61 to 3:33.99.
"I knew I was in pretty good form and thought I could make the podium but to win this gold is wonderful," Manangoi gold IAAF interviewers.
The battle for bronze was compelling. Ingebrigtsen was in lane-two, while Mechaal was against the rail, gritting his teeth and swinging his torso wildly trying to muster some extra speed. In the final 10 meters, both men thrust themselves for the finish line, with Ingebrigtsen tumbling to the track after clinching third in 3:34.53 to Mechaal's 3:34.71.
"I caught up with them (the Kenyans) but I couldn't go past them," Ingebrigtsen said. "It was kind of hard to try and catch them, but I won a bronze so I'm pretty happy."
The lone American in the field, Johnny Gregorek, finished tenth in his first world championships in 3:37.56.
USA LEADS MEDAL TABLE
The United states had their best-ever world championships winning a total of 30 medals, 10 of them gold, their highest total ever, surpassing the 28 medals (12 gold) in Daegu in 2011. Kenya was second with 11 medals (five gold), and South Africa third with six (three gold).
"Our athletes have been phenomenal, the U.S. athletes have been phenomenal," said USA Track & Field president, Vin Lananna. "I couldn't be more excited."