Caster Semenya remains unbeatable in the 800 as Ajee Wilson wins bronze at 2017 World Track and Field Champs
By LetsRun.com
August 13, 2017
LONDON — Caster Semenya's dominance in the 800 continued tonight as the 2017 IAAF World Championships came to a close as she went from third to first in the last 100, destroying the competition over the final 60 meters to win her fifth global gold and 19th straight 800 in a new personal best of 1:55.16. Burundi's Francine Niyonsaba, who led most of the race, settled for second for the second straight year in 1:55.92 as American Ajee Wilson picked up her first Worlds medal in third in 1:56.65, meaning that the three fastest women on the year this year went 1-2-3 in the order of their seeding.
Article continues below player
2016 Rio bronze medallist Margaret Wambui was fourth in 1:57.54 and Canada's Melissa Bishop fifth in 1:57.68 – the second straight Worlds where Bishop was left without a medal despite running 1:57.
The Race
Niyonsaba and Wilson clearly wanted a fast pace as they both got out front as Niyonsaba took the field through 200 in 27.08 and 400 in 57.98. She was followed closely by Wilson (58.21), who was in turn followed closely by Wambui (58.36). Semenya was just 6th at 400 (58.53), but that was a little misleading as she was just behind Wambui and on the outside in a good position to respond.
On the backstretch, Wilson surged as she clearly wanted to get the lead and try to run the final turn on the rail. However, Niyonsaba didn't want to give up the lead and she responded to try to hold Wilson off. While Wilson did move into the lead, she never got far enough ahead to come in on the rail and the two would run the turn side by side.
Semenya was just third and it was clear that it was a three-person race. Coming off the turn, Semenya went wide and at first didn't make up much ground. But a third of the way down the homestretch, she started to move up and it looked like someone had hit turbo in a video game as she absolutely destroyed Niyonsaba and Wilson over the final 55-60 meters, winning by more than three-fourths of the second. In the final eight seconds of the race, she managed to put more than 5 meters of daylight between herself and Niyonsaba and Wilson; they were slowing down as most do in an 800 but Semenya was speeding up, closing in 27.6 to finish off a big negative split. Semenya lowered her pb from 1:55.27 to 1:55.16 by running a huge negative split of 58.53/56.63. Niyonsaba ran a slight negative split herself (57.98/57.94) but her final 200 was just 28.85.
Analysis and post-race comments below results.
Quick Take #1: Semenya was magnificent. And barring a court order, Semenya is unbeatable right now at 800.
Considering Semenya won two DL meets coming into Rio by scant margins (she won Pre by .10 and Monaco by .20), there was some thought that Semenya might be vulnerable tonight as she was doubling back from the 1500.
Instead, Semenya delivered the best race of her life and crushed the competition over her final 50. It's races like this that make people think Semenya can run much faster as she ran a big negative split and still ran 1:55.17. So Semenya deserves big props for coming up with a huge race when she needed it.
That being said, there seems to be no denying that the gold and silver medals were in some ways handed out on July 27, 2015, when the Court of Arbitration for Sport lifted the IAAF's rule requiring women with hyperandrogenism to reduce their testosterone to no more than 10 nmol/L.
Prior to that ruling, Semenya hadn't been able to break 2:02 for 800 in more than 2 years. In 2015, she ran five 800s before the ruling, none faster than 2:04.19 and her yearly best in 2014 was 2:02.66. A month and a day after the ruling she ran 1:59. Now she's negative-splitting a 1:55.
This is her 19th straight win at 800. When you don't have a womb or ovaries but do have internal testes and more than 3 times as much testosterone as the average woman, it's an advantage.
QT: Semenya "I think was the easiest race I've ever run in my life."
Semenya after the race was asked how she'd rank this performance. "This is the best I've ever produced in my life," Semenya said noting she not only won, but set a lifetime best.
Semenya was also asked whether running the 1500 here (where she got the bronze) made the 800 harder. She said it made it easier because she used up all her nerves for the 1500. "I think was the easiest race I've ever run in my life. Coming into the  one-five (what she calls the 1500) opened up some of the nerves," Semenya said.
Semenya still has big goals in the sport and said she might go for the world record next year. "This was just the beginning… I still have a lot of dreams to achieve," she said.
Before she tackles the world record, Semenya needs to finish up her collegiate degree. She also dedicated her victory to the women of South Africa who have supported her.
Quick Take #2: Ajee Wilson wanted gold and clearly wasn't just running for a medal
If you thought Wilson would be ecstatic with a bronze considering it was her first global medal, then you'd be wrong. It was clear in the final strides of this race when disappointment was visible on Wilson's face that she had run to win. That said, by the time she received her medal, Wilson was quite happy. Check out this picture of Wilson with her coach Derek Thompson (for the first time this year, coaches are being recognized with their own smaller medals).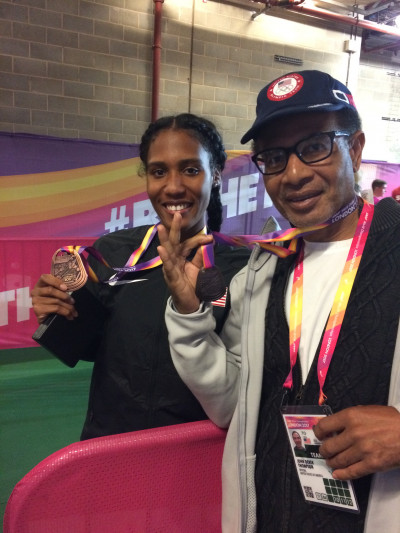 Trying to get the lead before 600 was a smart plan. To win, Wilson must have known she'd have to PR and also run a perfect tactical race where she'd be able to save ground by running on the rail and hope Niyonsaba/Semenya were maybe a little off their game or doomed from having to run extra ground.
Wilson deserves props for going for it. It's that mindset that has enabled her to get in the shape of her life and win a medal. If she had a defeatist attitude towards racing athletes who are believed to be intersex and viewed them as unbeatable, it would be a self-fulfilling prophecy.
"I definitely have enjoyed the two races I have raced against [Semenya and Niyonsaba]," Wilson said. "I definitely look at it as Hey, I'm racing, I want to win. Whoever I'm on the line against, like I said, I'm competitive against. When I race in practice, we have a mixed practice. We train with a 12-year-old girl. I train with a 26-year-old guy. So no matter who I'm racing against, I'm like, Hey, I'm going to try and catch her, I'm going to try to beat him."
Wilson has been an 800 prodigy ever since she won the World Youth title as a 17-year-old in 2011. It can be hard for young athletes to maintain that level of success, but Wilson has been remarkably consistent as she's moved up the ranks, adding World Junior gold in 2012, a World Indoor silver last year and now, most impressive of all, a World Outdoor bronze.
"I can pretty wholeheartedly say it was definitely because of my coach right here," Wilson said, motioning toward Thompson. "He's all-inclusive, you know? It's not just about what I'm doing on the track, it's about what I'm doing [in my] personal life. It's about creating good habits to being successful."
Thompson, who began working with Wilson when she was a junior in high school, does not fit your conventional model of a successful professional coach. Until this year, he worked a full-time job as a mailman (he retired in March) and he is decidedly old-school in his approach: Wilson and training partner Charlene Lipsey train outside year-round in Philadelphia and until recently trained on a dirt track (they had to relocate when the school that housed it was closed).
But Wilson has never questioned his methods, and for good reason. He has taken her from Ajee Wilson, high school phenom, to Ajee Wilson, American record holder and World Championship medalist.
Melissa Bishop interview
Melissa Bishop got the silver medal in Beijing by running 1:58.12. Since then she's lowered her PR to 1:57.02, but not been higher than the 4th she was last year in Rio as Caster Semenya has returned to the top of the sport.
Bishop said she needs to break out of the 1:57s first before she can tackle being the best in the World.
Charlene Lipsey interview
Talk about the action in our forum.