Portland Track Festival: Clayton Murphy Misses 1000m AR, Grace Wins 800 and Will Run 1500 at USAs, Rowbury, Martinez Win, Symmonds Debuts
by LetsRun.com
June 11, 2017
PORTLAND, Ore. — Clayton Murphy last year announced he was turning professional at the Portland Track Festival and he ended the year with an Olympic bronze medal.  This year he was back in Portland for an American record attempt at 1,000m and while Murphy came up well short, he did get the win, as did fellow US Olympians Kate Grace, Brenda Martinez and Shannon Rowbury.
Nick Symmonds also made his 800 debut as he tries to end his final track season with a spot on the US team for Worlds.
We recap the action below. *Results on one page here *For results of "B" races click here
Men's 1000m: Clayton Murphy Comes Up Well Short of American Record But Meets Rick Wohlhuter
The men's 1000m featured an American record attempt by Olympic 800m bronze medallist Clayton Murphy. In a nice nod to the sport's past, the Portland Track Festival flew in Rick Wohlhuter, the current record holder, who set his record of 2:13.9 way back in 1974, to hold the finish line tape. Wohlhuter's record is the longest standing American record in the book.
Murphy, however, came up well short of the record, running 2:17.17, making him the 16th-fastest American of all time.
Article continues below player.
Murphy said his splits were close to what he wanted (he hit 400 in 52 when he was hoping to hit 53; he hit 800 in 1:47 when he was hoping for 1:46.5), but he said he just didn't have it the final 100m. "I just hit 700 and couldn't turn it over," he said. He noted they were a little bit fast the first 400 and that "might have cost me at the end."
Murphy said he does pay attention to what the stars of the 800 like David Rudisha are doing, saying, "I'm a track fan. I love track." The track fan in him could also appreciate Rick Wohlhuter flying out from Florida for the record attempt. "It was an honor to have him here," Murphy said before Wohlhuter came over and met Murphy for the first time.
The two stars were gracious to each other with Murphy saying, "I knew it (the American record) was fast and I had a lot of respect (for the record), but I have a lot more respect now." Wohlhuter said, "When I ran the race I had a lot more competition."
Wohlhuter said he was "a bit nervous" before the race himself as he's got "some skin in the game," but noted he would like to see the record fall.
Cool Moment When Murphy and Wohlhuter Meet:
1 Murphy, Clayton Nike 2:17.17
2 Booth, Ryan Team Run Eugene 2:30.49
3 Block, Daniel Vic City Elite 2:32.01
4 Paul-Morris, AdamV ancouver Th 2:49.91
-- Peterson, ColeU. of Victoria DNF
-- Fleck, Nathan High Performance DNF
-- Richardson, Ben Newmarket Huskies DNF
-- Armstrong, Beau Team Run Eugene DNF

Men's 800: Healthy Nick Symmonds Accomplishes Goal of Sub-1:50, Hoping for Magic at USAs
On Saturday night, the "B" 100m at the Racers Grand Prix with Usain Bolt got more attention than the "A" race, and that was the same case here. This is the final season for Nick Symmonds, the six-time US champion, and he ran his first 800 of the year trying to get ready for USA nationals in less than 2 weeks. Nick was in last at the bell (53 seconds) and then moved up the final 200m to finish 5th in 1:49.48 in the "B" 800.
After the race Nick said he found out about 10 days ago he would qualify for the USA championships by virtue of his World Championship medal in 2013, so that took off the pressure of having to hit the 1:47.50 qualifying standard. Nick thus shifted his focus and training a bit and he said his goal today was to run even splits and sub-1:50. He accomplished the sub-1:50 goal, even if he positive-split the race. Nick now is hoping to whip his body into shape and work some magic to prolong his career at USAs.
Believe it or not, Nick opened his 2015 season slower than he did tonight. In 2015, Nick ran 1:49.81 to open his season and won USAs that year, but he had 7 weeks between his opener and USAs in 2015 instead of less than 2 weeks this year. Symmonds could also have run faster in that race, but his momentum wast totally thrown off by a fall.
Post-race, Nick said, "The reality is for me to be in fighting shape at USAs, I need three or four more rust busters like [this]. I'm not going to get it so that's going to have to be it. But you know, I've gotten really fit in a couple weeks before. So maybe there is some old-man strength in there and I can be in 1:46, 1:47 shape come USAs. That's what I have to hope for."
B 800
1 Ciattei, Vincent Virginia Tech 1:47.54
2 Gourley, Neil Virginia Tech 1:47.98
3 Harris, Nick Colorado 1:48.86
4 Smith, Tyler U. of Victoria 1:49.17
5 Symmonds, Nick Brooks Beasts 1:49.48
6 Fleck, Nathan High Performance 1:50.73
7 Momoh, Leoman Team Green Running 1:51.17
8 Romero, Luis Unattached 1:52.56
Former Long Beach State runner Chris Low got a PR and the win in the "A" race.
A 800
1 Low, Chris Brooks 1:46.40
2 Kemboi, Edward High Performance 1:46.44
3 Alvarado, Abraham Unattached 1:47.18
4 Abda, Harun Nike OTC Elite 1:47.22
5 Casey, Pat Nike OTC Elite 1:47.65
6 Cohen, Mason Australia 1:48.13
7 Gilreath, James Team Green Running 1:48.28
8 Kidder, Brannon Brooks Beasts 1:48.67
Women's 800m: Kate Grace Goes Sub-2:00, Says She'll Run 1500 at USAs
Kate Grace was clearly best in this one as she powered home to the win and her first sub-2:00 clocking of the year with the 1:59.30 comfortable win. There were a lot of excited people behind Grace as Hannah Fields PR'd by over two seconds to finish second. Georgia Griffith in 3rd and Hannah Hermansson in 4th also both skipped the 2:01s and lowered their PRs from the 2:02s to the 2:00s.
1 Grace, Kate Nike 1:59.30
2 Fields, Hannah Brooks Beasts 2:00.53
3 Griffith, Georgia Unattached 2:00.90
4 Hermansson, Hannah Cal Coast Tr2:00.94
5 Efraimson, Alexa Nike 2:00.95
6 Leblanc, AnnieLanaudire O2:01.56
7 Mires, Baylee Brooks Beasts 2:04.33
8 Saunders, Claudia Brooks Beasts 2:08.56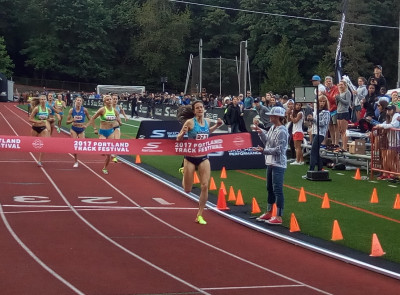 Grace had a dream 2016 as she won the Olympic Trials 800m and made the Olympic final. Her 2017 has started out even better than her 2016, as she has PR'd at 1500 (4:03.59 at Pre) and has now run sub-2:00 earlier in the year than she did last year (last year her first sub 2:00 was at the Olympic Trials). However, despite her success at 800 last year, Grace said after the race today she will run the 1500, not the 800 at USAs. When asked about why she chose the 1500 over the 800, Grace thought about it and said, "Because I want to" and then said her endurance training has gone well the last two years and "I'm starting to feel more confident and I want to take on the challenge of a longer distance."
Women's 15000m: Brenda Martinez Shoots for Sub-4:00, Comes Up Short
This one had aggressive pacing as the rabbit hit 800 in 2:08 (4:00 pace) and afterwards Brenda Martinez said she wanted to try to run sub-4:00 but she couldn't keep the pace on her own the final 500 and settled for the win in 4:03.15.
Martinez will be the favorite at USAs in the 800 as she's already run 1:58.78 this year and has a silver medal from Worlds in 2013. At 29, Martinez isn't sure how many more years she has left at 800, but her husband said she's just learning the event.
Dani Jones of Colorado got her first sub-4:10 clocking in 4th.
1 Martinez, Brenda New Balance 4:03.15
2 Hall, Linden Nike 4:04.37
3 Johnson, Lauren Boston AA 4:05.88
4 Jones, Dani Colorado 4:08.42
5 Sutherland, Sara Saucony 4:08.93
6 Yee, ReganLangley Mustangs 4:09.29
7 Piliusina, Natalija Brooks Beasts 4:11.04
8 Fulton, Eleanor Skechers Perform 4:11.46
9 Edwards, Kaela Oklahoma State 4:11.71
10 Kelly, Mariah New Balance Canada 4:13.01
11 Silva, Samantha NIKE Bowerman Tr 4:14.02
12 Petty, Angela New Zealand 4:18.98
13 Price, Rhianwedd Miss State 4:31.12

Women's 5000: Shannon Rowbury Runs 15:12 to Win Easily, Hasn't Decided Between 1500, 5000, or 1500/5000 Double at USAs
Good news: Shannon Rowbury is the US record holder at both 1500 and 5000. Bad news: Shannon Rowbury is the US record holder at both 1500 and 5000. That gives her a difficult decision as to which event to run at the USA Championships. Six of her seven World Championship/Olympic appearances have been at 1500 (she ran the 5000 in 2013), but Rowbury, last year's World Indoor bronze medallist at 3,000, is considering running the 5,000 this year, or even attempting the double at USAs.
Rowbury noted the top 5000 runners in the world are a lot faster than her, but there are also some crazy times being run in the 1500. She ran the 5000 today to make sure she got the Worlds standard out of the way. She also said she has done little training with Sifan Hassan, the Dutch 1500m star who joined the Nike Oregon Project this year. Rowbury is glad to have her in the group as she believes it will push her to a new level.
Section 1
1 Rowbury, Shannon Nike Oregon Project 15:12.52
2 Tonn, Jess Brooks Beasts 15:33.13
3 Thackery, Calli Unattached 15:37.90
4 Inglis, Sarah Unattached 15:41.29
5 Wodak, Natasha Unattached1 5:42.81
6 Balouris, Elaina Boston AA 15:44.97
7 Cridebring, Alycia SRA Elite/Rabbit 15:46.98
8 Sachtleben, Bethany Saucony Hurricanes 15:48.10
9 Macumber, Cally Hansons-Brooks 15:53.37
10 Green, Claire Unattached 15:56.44
11 Digby, Erica Vancouver Th 15:58.60
12 MacDougall, Brogan PK 16:08.84
13 Smith, Makenna Cal Coast Tr 16:10.44
14 Thompson, Joanna Rebook/Zap Fitness 16:20.01
15 Spencer, Kate Asics Sydney 16:25.31
16 Granados, Ayla Strava TC / rabbit 16:41.52
17 Lopez, Sabrina Skechers Per 16:42.65
In the "B" 5000, 13-year-old Grace Ping ran 16:25 to lower her 13-year-old age group record.
Men's 1500m: Eric Jenkins Prepares for USATF 5000 By Staying Undefeated in 1500/Mile in 2017
Eric Jenkins has not lost a 1500 or mile this year with wins at the famed Wanamaker Mile and at the Oxy meet. He continued that streak here, but said he will be running the 5000 at USAs, not the 1500. Last year, Eric missed making the US Olympic team by .06 of a second, but said his preparations are going even better this year.
Henry Wynne, the NCAA indoor mile champion last year who didn't make it to NCAA indoors or outdoors this year, ran a season's best of 3:39.67 while 2012 Olympic silver medallist Leo Manzano tied his season's best way back in 13th in 3:41.68. Manzano said despite not running a fast time this year, his training is going very well.
1 Jenkins, Eric Nike Oregon Project 3:37.55
2 Prakel, Sam Unattached 3:37.79
3 Lomong, Lopez NIKE Bowerman Tr 3:38.52
4 Masters, Riley Nike 3:38.76
5 Philibert-Thiboutot, Cha Asics 3:38.86
6 Hill, RyanN IKE Bowerman Tr 3:38.89
7 Saarel, Ben Colorado 3:39.05
8 Winn, Daniel Boston AA 3:39.25
9 Fleet, Mac Nike 3:39.49
10 Wynne, Henry Virginia 3:39.67
11 Herrera, Daniel MEXICO / HPW 3:39.69
12 Geoghegan, Will Nike 3:40.97
13 Manzano, Leo Hoka One One 3:41.68
14 Denault, Robert Newmarket Huskies 3:41.88
15 Haney, Blake Unattached 3:51.43
B 1500 *Results
DII champ David Ribich of Western Oregon got the win and a PR in 3:39.56.
Men's 5000: Kirubel Erassa Wins By Thinking of LeBron James
Former Oklahoma State runner Kirubel Erassa go his first big win with the Atlanta Track Club as he and Morgan McDonald were clearly best on the final lap, but Erassa was even better than McDonald. McDonald, the Big 10 champion at 5000m, did not qualify for the NCAA West regional because he had only run 14:14 this season, but he clearly is very fit.
Erassa said the final 100m when he was battling McDonald he was thinking of LeBron James. Below, we've got a quite a bit of basketball talk in our interview with Erassa, who did a stint at altitude in Ethiopia this year.
1 Erassa, Kirubel Atlanta Track Club 13:23.12
2 McDonald, Morgan Wisconsin 13:23.28
3 Osako, Suguru Nike Oregon Project 13:25.56
4 Dunbar, Trevor Nike/Hudson Elite 13:26.27
5 Curtin, Tommy Saucony 13:26.55
6 Buchanan, Reid Mammoth Track Club 13:27.83
7 Bor, Emmanuel WCAP 13:28.79
8 Estrada, Diego Asics 13:32.15
9 Zienasellassie, Futsum Hoka / NAZ Elite 13:34.84
10 Stilin, Joe Reebok/Zap Fitness 13:34.94
11 Monroe, Alex Boulder Track Club 13:36.26
12 Alex, George-Byron Skechers/Ana 13:40.25
13 Colley, Andrew Reebok/Zap Fitness 13:46.07
14 Bruchet, Luc Asics/Canada 13:49.39
15 Maggard, Dillon Utah State 13:57.41
16 Jordan, Andrew Iowa State 14:03.99
17 Proudfoot, Ross Speed River TFC 14:08.57
18 Gidabuday, Sydney Adams State 14:13.91
19 Kibet, Elkanah US Army 14:14.50
20 Abbey, Jefferson Unattached 14:30.13
Men's Steeple: Stanley Kebenei Wins, Just Misses PR
Last year at the Olympic Trials, Stanley Kebenei was in 2nd place coming off the final water jump. He'd finish 13th afterwards and say, "I don't know what to say, I just missed my lifetime chance…Oh my god." Kebenei has put that behind him and in his very first steeple of 2017 got the win and missed a PR by .03.
Kebenei said he ran his first steeple this year on purpose and he looks ready for nationals under new coach Scott Simmons.
1 Kebenei, Stanley Nike 8:18.55
2 Rotich, Anthony Nike 8:27.16
3 Huling, Dan NIKE Bowerman Tr 8:30.36
4 Thompson, Joshua Oklahoma State 8:32.90
5 Shrader, Brian Saucony Freedom TC 8:33.38
6 Hurt, Tripp Team Run Eugene 8:41.89
7 O'Neil, Austin Unattached 8:42.27
8 Bruce, Ben NAZ Elite 8:43.68
9 Sterling, Henry NE Distance 8:45.75
10 Updike, Lucas Team Run Eugene 8:46.25
11 Gay, John Vancouver Th 8:47.13
12 Miller, Bryce UNAT-UMKC 8:56.44
13 Sees, Jonathan SRA Elite 9:11.57
14 Ibarra, Luis Unattached 9:14.38
-- Updike, Isaac Team Run Eugene DNF
Ben Bruce also ran the steeple and broke 9:00 for the 16th straight year. He'll be running his 15th straight USATF champs in the 10,000m in 2 weeks.
Men's 600: Cas Loxsom Ties Up, Charles Jock Wins
World indoor 600m record holder Cas Loxsom went out hard in this one and tied up the final 100m as Charles Jock got the win in 1:15.42. For reference, Loxsom's world best indoor time is 1:14.91.
1 Jock, Charles Nike OTC Elite 1:15.42
2 Loxsom, Casmir Unattached 1:15.94
3 Abda, Harun Nike OTC Elite 1:16.01
Women's Steeple: Maria Bernard Wins
1 Bernard, Maria UCAC 9:44.29
2 Rolland, Megan Oiselle/IDtc 9:47.00
3 Austin, Caroline Seattle Runn 9:51.38
4 Butterworth, Alycia Idaho Track Club 9:53.61
5 Lawrence, Collier Oiselle 9:55.47
6 Garry, Kira Unattached 10:00.99

The Portland Track Festival is made for distance geeks, as the meet features only distance races with an intimate atmosphere where fans are allowed on the track for certain events. There is even a Seattle vs Portland race where LRC poster Jamin was part of the winning team that won beer and $100 each.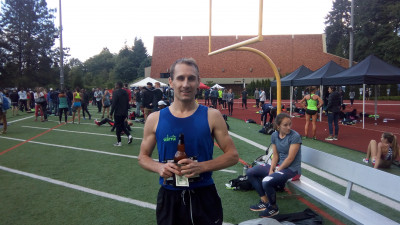 What would Portland be without food trucks at the meet?
: