Good News, Nick Symmonds: You're Already Qualified for USAs
By Jonathan Gault
June 9, 2017
Six-time U.S. 800-meter champion Nick Symmonds has said repeatedly that 2017 will be his final season as a competitive athlete. The 33-year-old will make his season debut on Sunday at the Portland Track Festival and at this week's TrackTown Tuesday event at Hayward Field said that if he does not hit the USATF Outdoor Championships qualifying standard of 1:47.50 in Portland, he "probably" will not race again.
Well, we've got good news for Symmonds and his fans. Ladies and gentlemen, may we present USATF Competition Rules Article I, Section I, Rule 8.1(a):
RULE 8 AUTOMATIC QUALIFICATION
Article continues below player.
Automatic qualification, as listed in this section, shall not abrogate any entry requirements other than the qualifying requirements for a championship. Any athlete who attains any of the following shall be afforded automatic qualification into a USA Indoor, Outdoor, Race Walking or Marathon Championship or USA Olympic Team Selection in the same event in which the performance was attained:
1. Track and Field –
(a) During the current or four previous calendar years, earned an individual medal in track and field in an Olympic Games or in an IAAF World Indoor or Outdoor Championship.
Remember this?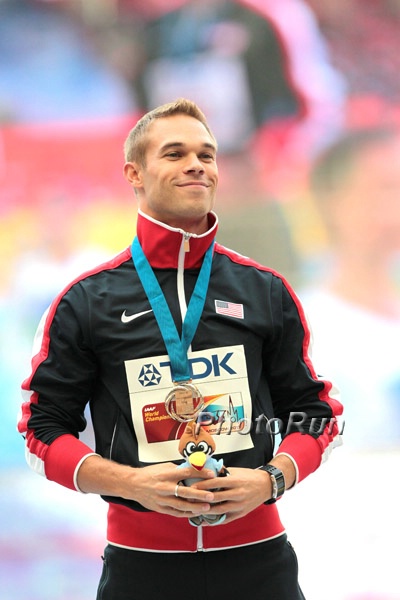 That is Nick Symmonds on the medal stand at the 2013 IAAF World Outdoor Championships in Moscow. And since Symmonds won a silver medal in the 800 meters at that event, he is automatically qualified for the 2017 USATF Outdoor Championships in the 800 meters.
We'll see you in Sacramento, Nick. The first round of the 800 is a week from Thursday.