Nike or Its PR Firm Altered the Time on the Clock in an Eliud Kipchoge Breaking2 Finishline Photo
by LetsRun.com
May 9, 2017
Eliud Kipchoge ran an incredible 2:00:25 for the marathon early Saturday morning at the Nike Breaking2 exhibition event.
It was a run for the ages and further proved what we knew beforehand: Kipchoge is the greatest marathoner of all time.
Article continues below player
We will digest this run more this week and try to figure out what Kipchoge's run corresponds to in a traditional marathon without pacers jumping in and out and the slipstream effect from the pace car. We're not quite sure what it told us about what humans can do in a traditional marathon, but it was a beautiful run.
For some associated with the event, it was first and foremost a marketing event. Want proof?
Check out the official photo of the finish sent out by Nike's PR firm Weber Shandwick: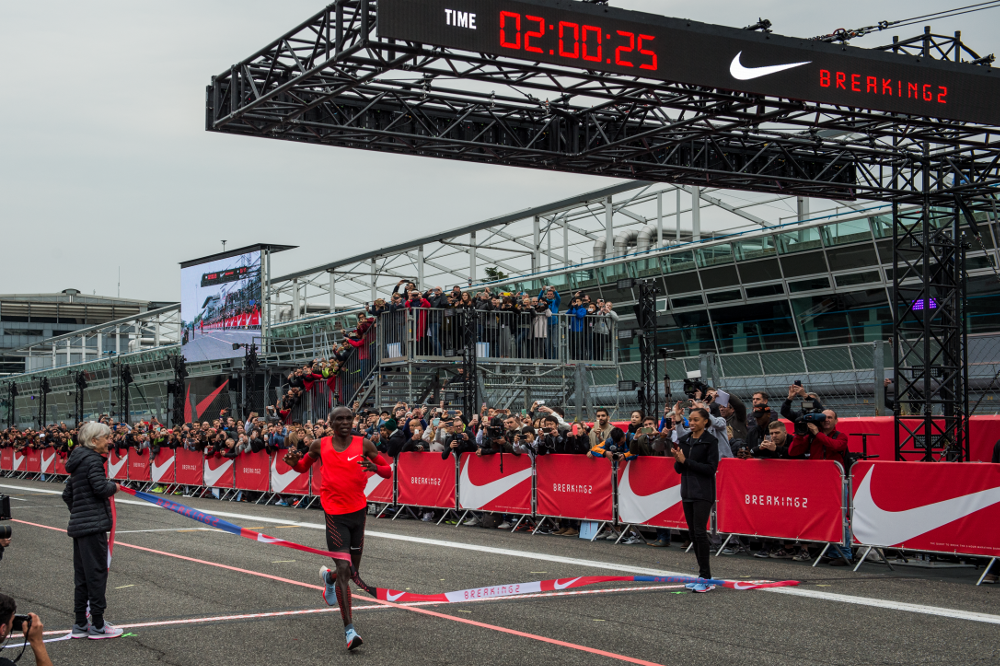 The photo is great. It's so good we wanted to use it in our article and replace the screenshots we had of the finish that we had taken from the internet broadcast.
Then we discovered one problem. The photo sent out by Weber Shandwick had been photoshopped to adjust the time and put the clock at 2:00:25. If you watch the short video of the race finish below, you'll see the clock never shows 2:00:25. It gets to 2:00:23 and stops.
If you zoom into the PR photo above and look at the video board in the background, you can see it shows 2:00:23 (see enlarged image on the right). It's a pretty common occurrence at marathons that the finish clock is off by a second or two from the official race time. The drawback is it makes the official photo not look quite as good when a historic time is run. No problem for Nike or their PR team. Just photoshop in the proper time.
A bonus to having a private race is Nike can use images of it in marketing materials. We hope they don't use the 2:00:25 photo. 2:00:23 isn't perfect, but it's the real world. If marketers had their way, the clock might show 1:59:59 ; )
We reached out to Weber Shandwick to try to find out whose idea it was to photoshop the photo and have not heard anything back.
Update LetsRun.com Has Been Using Fake Boston Marathon Photo for Years: In the discussion of this article on our forums, some posters said they didn't see what the problem was with the finishing photo being altered. Our take is editorially, it just can't be done. Marketers are free to do what they want but we felt this alteration warranted being pointed out as Nike sent it out to news outlets.
Others surmised something like this was pretty common. LetsRun.com's Weldon Johnson then challenged visitors to find a finishing photo submitted by a race that had altered the time on the clock and said he'd buy a pair of Nike shoes to first person who did it. The visitors didn't find a photo altered by a race, but they did find a finish photo used on LetsRun.com that had been altered.
Check out this photo:
A great photo. So great, LetsRun.com has used it a lot on its site. The only problem is the photo turns out to be fake with the time being photoshopped.
Check out the photo from Getty Images below. As you can see Mutai is well past the finishline and the clock still shows 2:03:01 (his official time was 2:03:02). LetsRun.com reached out to Victah Sailer, of photorun.net, who took the photo and he admitted to altering the time. He said via email that he has advised races to set their clocks ahead one second as finishing times get rounded up so, but they won't do it, so he altered the time. That is unacceptable in the eyes of LetsRun.com. Our photos need to reflect what happened in the race.
Real photos and screenshots of the finish below.
Discuss this article here in our forums.