WTW: If Only Track and Field Were Run Like the UFC, Come on Usain Don't Be A Chicken, We Take Away A British Record, Could The Russians Do It Clean and The Greatest Gaffe In Track Announcing History
The Week That Was In Running – January 23 – 29, 2017
by LetsRun.com
February 2, 2017
In working so much on previewing all the stuff that will take place this upcoming weekend, we almost forgot to recap last week. But our look back at last week is here – just a little bit tardy.
If you missed our on-site coverage from the 2017 New Balance Indoor Grand Prix, you can catch up here.
*****
Please Watch This Video Now
In working on another story last week, we came across a video that we want you to watch. We don't want to spoil it for you in case you don't know what happens. It's a video of the 1988 men's Olympic 800 final. Please watch at least through the 5:00 mark. If you don't have five minutes, you can click here and watch for two minutes.
Article continues below player.
Have you watched it yet?
Ok good.
What you just watched was NBC announcers Charlie Jones and Frank Shorter famously totally botching the call of the 1988 Olympic men's 800 final where UVA freshman (now UTEP coach) Paul Ereng won Olympic gold in shocking fashion. In the race, all eyes were on Said Aouita as he was trying to become the first man in history to win the 800 and 5000 at the Olympics. Aouita, who had already won the 1984 Olympic 5000 and was in the midst of his amazing seven-year streak of dominance where he won 115 of 119 races from September of 1983 to September of 1990, was attempting the ridiculous 800, 1500, 5000 triple in Seoul. The announcers mistook the unheralded Ereng, whose win at NCAAs was an upset and who finished just 3rd at the Kenyan Trials, for compatriot Nixon Kiprotich.
Once they realized it, we've got to give credit to the play-by-play man, Charlie Jones, as he took responsibility for the gaffe and said, "We have blown this call. Gentlemen, we were wrong. That is Paul Ereng – NCAA champion, University of Virginia. We have made the mistake of the Olympic Games. Number 651 Paul Ereng, 20 years of age. My mistake, nobody else. Oh Dave, can you save me on this one?"
That being said, we totally don't think Jones was the one that caused the gaffe. As the runners were rounding the final turn, 1:30 into the race, Jones correctly identified Ereng, who was dead last early in the race and way off the pace, as being in the hunt. Eight seconds later, Frank Shorter – the color commentator who is supposed to be the track and field expert – incorrectly claimed the Kiprotich was making his move. So we place the blame on Shorter. Six seconds before the race is over, Shorter incorrectly corrected Jones and said Kiprotich was battling for the win. To expect the play-by-play man to then recorrect Shorter is crazy.
If you want to see a much better description of the race, check out David Coleman's commentary for the BBC. Coleman didn't even need color man Brendan Foster as he nailed both his description of the race and his analysis of it afterwards.
We like that clip as Coleman paused before saying Ereng was making his move, which was perfect as it shows you how surprising it was that a guy who was in his first season as an 800 runner and who was only 3rd at the Kenyan Trials was about to win.
"And on the inside, storming through (slight pause) is Ereng. Ereng the Kenyan has come right from nowhere! Ereng the unknown Kenyan comes through to win it," said Coleman.
After the race, his analysis was spot-on: "I think the others destroyed each other."
Watching the race certainly makes us appreciate David Rudisha. Rudisha likes to run from the front but one thing that is very underappreciated about Rudisha is what a great sense of pace he has. Rudisha doesn't commit suicide in races by battling for the pole at a pace he can't sustain (rewatch the 2016 Olympic final for evidence).
Speaking of unsustainable, Aouita's dominance over such a variety of distances and such a long time frame will likely never be replicated again. Coming into Seoul, he hadn't lost a flat race (yes he ran one steeple and lost it in 8:22) in more than three years. To this day, Aouita is the only man in world history to break 1:44, 3:30 and 13:00. But we won't be appreciating it due to this.
MB: Greatest gaffes in track and field announcing history
More: If you like reading about unknown freshman NCAA stars at 800, you should read this story we wrote this week: LRC Who Is Emmanuel Korir – The Freshman The Set A World's Best In The 600m? "I Think He Could Be A World Champion In The 800"
*NYTimes On Aouita Going For The Triple in Seoul
*NY Times Recap of Seoul 800
*Washington Post Criticism of Charlie Jones' Announcing in Seoul
****
Usain Bolt Loses A 4 x 100 Gold Medal
Speaking of poor journalism, we hated the column that Christine Brennan wrote for USA Today that was written after it was announced that Usain Bolt would lose his 2008 4 x 100 gold medal because Nesta Carter tested positive for a stimulant in a re-test of his 2008 samples.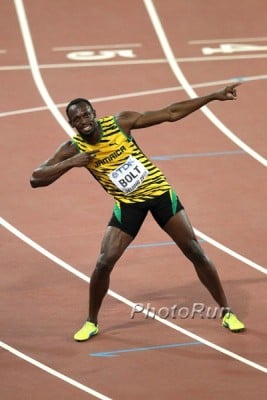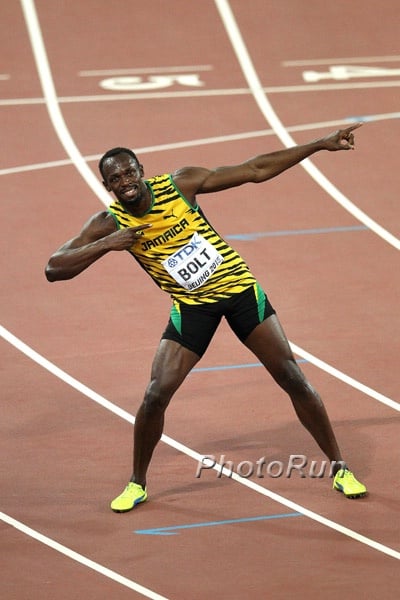 What we didn't like was this excerpt from Brennan.
"Those clean athletes know. They know who's cheating. Sometimes the suspicions become so obvious that they can't help themselves from talking about it in public…
"So, if Bolt knew Carter was doping, why didn't he speak up?  Cynically, we know why. What teammate would speak up and kill his or her chances for an Olympic gold medal? The very rare one, that's who."
While we generally like Brennan's work as she is one of the few national sportswriters who consistently takes a strong stance against doping (she's totally opposed to people like Barry Bonds and Roger Clemens being in the HOF) and we've always said that the anti-doping movement needs to be led by the athletes, she was far from having her best day when she wrote this column. Her logic in this case is totally flawed.
Usain Bolt and Nesta Carter aren't really teammates. They train in different groups (Carter is coached by Stephen Francis, Bolt is coached by Glen Mills). They are teammates in the same sense that one might say Larry Bird and Michael Jordan were teammates (at the All-Star Game or Olympic Dream Team).
Usain Bolt and Jamaica certainly didn't need Nesta Carter to win 4 x 100 gold in 2008. Jamaica won the final by .96 of a second. They destroyed everyone. With the US not in the final, they could easily have won the gold medal without Carter. Dwight Thomas ran the semi and Jamaica's winning time in the semi (38.31) was basically the same as Trinidad & Tobago's (38.26) in the other heat and Bolt didn't run the semi. It was clear that by adding Bolt to the team for the final, they were going to win easily. Thomas' seasonal best that year was 10.20. Nesta Carter (9.98 sb) was an unnecessary upgrade.
More: Brennan: Don't feel sorry that Usain Bolt is losing an Olympic gold medal
****
If Track and Field Had A Commissioner / If Track and Field Were The UFC
Speaking of Usain Bolt, we were very excited last week to read that Wayde van Niekerk has requested a schedule change for Worlds so he can more easily go for the 400-200 double.
That got us to thinking. If track and field were run like most professional sports, there is no way in hell Usain Bolt would only be running the 100m during his final year in the sport. Bolt has always said the 200 is his baby and favorite event. The new star on the block – 400m world record holder van Niekerk – now wants to run the 200m. If track and field were the UFC, there is no way in hell that Bolt vs van Niekerk at 200m wouldn't be the last race of the 2017 World Championships.
The fans deserve it. Yes, Bolt has given us a lot of great memories. But dodging van Niekerk isn't the proper way to go out.
What if he loses, you say? Stop. We don't want to hear it would ruin his legacy. Playing for the Washington Wizards didn't hurt Michael Jordan's legacy so losing to an all-time great like van Niekerk wouldn't crush Bolt's.
Hell, we imagine most people under the age of 25 don't even know that Michael Jordan ended his career by going 37-45 and missing the playoffs as a member of Washington Wizards.
We actually think a loss by Bolt might be good for him. It might motivate him to keep going through 2020 as he'd finally have a new goal. Instead of "Don't lose," his new goal would be to "Beat van Niekerk."
Track and field needs better matchups. We have a dear friend who is a cheap bastard. We nearly fell out of our chair last week when he told us he loves the UFC and that he paid like $75 to watch a recent bout on pay-per-view. We were like, "Really?" He said, "It's amazing. Even if the main event is a dud, they know they are in the entertainment business and stack the whole card with great fights, so unlike boxing you are certain to get your money's worth."
Come on Usain. Don't be a coward in your final year on the circuit. Race Wayde for all the marbles in the 200.
We wonder if he'd do it if we raised $5 million on GoFundMe.
****
Callum Hawkins Loses A Scottish Record
Immediately after Callum Hawkins ran a 60:24 Scottish national record for the half marathon at the 2016 Great Scottish Run, people watching and running the race started speculating that the course was short. Our messageboard was full of questions and the race management took the unusual step of issuing a statement saying that while the course had been modified in 2016, it had been accurately measured and the course was certified to be a full half marathon.
Well last week, the race changed course and admitted the race was approximately 150 meters short. Two-thirds of the error came from the fact that the course was measured when there were cars on the road and runners save a lot of ground by running tangents on streets when cars are absent (another 50 meters came from not running the right route in Bellahouston Park).
The whole scenario reminded us in a weird way of how easy it is to spot marathon race cheaters. Serious runners have an amazingly great idea of what they are capable of running and what their splits should be. Even a minor mess up (150 meters over the span of 13.1 miles) immediately sets off bells.
MB: Great Scottish Run found 150m SHORT
MB: 2016 Great Scottish Run: Britain's Callum Hawkins (60:24) and Betsy Saina (67:24) both scorch GSR
****
Serena Burla Moves Into The Top 10 On The US Marathon List
Last week, 34-year-old American cancer survivor Serena Burla moved into the top 10 all-time for the US in the marathon (knocking Marla Runyan out of it) with a negative-split 2:26:53 pb (1:13:30 / 1:13:23 halves, previous pb of 2:28:01) to grab fourth at the Osaka Women's Marathon in Japan. With that time, Burla is basically now a lock for the 2017 World Championship team (Burla was 10th at 2015 Worlds).
The 10 Fastest American Marathoners (Per TFN)
2:19:36 Deena Kastor (Asics) 04/23/06
2:21:14 Shalane Flanagan (Nike) 09/28/14
2:21:21 Joan Samuelson (Athletics West) 10/20/85
2:22:38' Desiree Linden (Hansons) 04/18/11
2:24:52' Kara Goucher (Nike) 04/18/11
2:26:22 Magdalena Lewy Boulet (Saucony) 04/11/10
2:26:26' Julie Brown (adidas) 06/05/83
2:26:40' Kim Jones (Nike International) 04/16/91
2:26:53 Serena Burla (Mizuon? unattached) 01/29/16
2:27:03' Amy Cragg (Brooks) 03/20/11
We imagine some of you are wondering, "Why would an American run the Osaka Marathon?" There certainly are a variety of potential reasons (explore a different part of the world, she's sponsored by the Japanese-based Mizuno, etc.) update: we've received word that Burla is currently unsponsored.) but one reason that we learned about from an industry insider this fall is that it might be financially lucrative in terms of an appearance fee.
You see Osaka is an IAAF Silver Label Road Race. It's also a women's-only road race. To get an IAAF Gold or Silver Label, a race must have an international-level elite field that consists of competitors that have run a certain standard (Gold is harder than Silver) within the last 36 months from five different countries. For a mixed-gender race, it's not too hard to do as you can split it up and have competitors from three countries in the women's race and two different countries in the men's. For a single-gender race, it's a little harder to get five different countries so it's more likely a US woman could pick up an appearance fee.
For a Silver Label race, the times to hit are as follows:
Marathon: Men: 2:12:00 and Women: 2:32:00
Half Marathon: Men: 1:03:00 and Women: 1:12:00
10km/10,000m: Men: 29:00 and Women: 33:00
(Or finish top 20 in most recent Worlds – whether it's track, XC, half marathon or marathon, including the Olympic marathon).
There aren't that many different women in the world not from Kenya/Ethiopia who have broken 2:32 in the marathon and who are willing to race outside of their home country. For Osaka, there were a ton of Japanese racers, obviously, and then one from the USA, one from Bahrain, one from Poland, one from Ethiopia and one from Australia with the standard – so they had six countries.
One other thing working in Osaka's favor is now Burla has plenty of time to get ready for Worlds versus having to rush it if she ran a spring marathon.
For more info on the IAAF Gold, Silver and Bronze labels, go here.
More: MB: Serena Burla just ran 2:26:53 for 4th in the Osaka Women's Marathon.
*Japan's Risa Shigetomo Wins Osaka Women's Marathon In 2:24:22 US's Serena Burla was 4th in 2:26:53.
*Shunsaku Shibata (63:05) And Rei Ohara (70:02) Win Osaka Half
*****
Cas Loxsom Breaks The World Record*
The indoor world's best at 600m has gone down twice in the last two weeks (officially, the IAAF doesn't recognize the indoor 600 as a world-record event). First UTEP freshman Emmanuel Korir of Kenya broke the 1:15.12 record of Germany's Nico Motchebon by running 1:14.97 and then American Cas Loxsom of the Brooks Beasts bettered that by running 1:14.91.
Since the 600-meter meter distance is rarely run, we thought we'd try to put it in perspective for you. A 1:14.91 is a good indoor time but it's not earth-shattering.
According to LetsRun.com coaching/stat guru John Kellogg, Loxsom's 1:14.91 600m is equivalent to 1:45.61 for 800. When David Rudisha set his 1:40.91 WR, he hit 600 in 1:14.30 and still had 200 meters to run. Of course, it's easier to run the 600 outdoors than indoors. Since the start of 2015, only one man, Musaeb Balla of Qatar, has run faster than 1:45.61 indoors and police found drugs in his room last year.
THAT WAS FUN #WR

— Casimir Loxsom (@cazzylox) January 28, 2017
More: MB: Cas Loxsom Breaks Indoor World Record* in 600m*
*MB: Who the heck is Emmanuel Korir?!
*MB: UTEP Freshman Emmanuel Korir breaks indoor 600m World Record
*LRC Who Is Emmanuel Korir – The Freshman The Set A World's Best In The 600m? "I Think He Could Be A World Champion In The 800"
*****
Stat of the Week
7.83 – season-opening time in the 60m hurdles by Kendra Harrison (100mh world record holder) in 2016.
7.75 – season-opening time recorded last week by Kendra Harrison.
*****
Quotes of the Week (that weren't quote of the day)
#1 Could The Russians Do It Clean?
"I've been in the system so I've always realized that even after the ARD movies, it will be hard to change it because you need to change the mentality. A lot of the coaches that work in Russia, they have been athletes themselves and they were coached inside the USSR system similar to what was going on [recently]. And then they went to coaching and it's hard for them to believe that there is another way to do it."
–Yuliya Stepanova talking after the New Balance Indoor Grand Prix about why it's difficult for Russia to make the transition to competing clean.
One of the problems for Russia, at least in terms of athletics, is that they may not believe there is "another way to do it" without doping if "it" means "winning gold medals." Well at least in certain events like the running events. Russia is a very Caucasian country and Caucasians won a grand title of zero gold medals in the running events at the 2016 Olympics (Matthew Centrowitz is biracial). That's 0 for 22 if you are counting.
#2 Clearly Yelena Isinbayeva Has Never Heard of Ray Rice
"Why don't the informants contact investigating authorities instead of filming material on a hidden camera and then selling it? Why don't they go to the Ministry of Sports or anti-doping agency to declare the violations?"
– Yelena Isinbayeva talking last week after Germany's ARD came out with another television report exposing Russian doping violations. In the latest ARD report, banned Russian coaches are shown to still be coaching.
Isinbayeva's quote is totally naive. Considering the Russian's track record, the idea of trusting the Russians to handle it themselves would be foolish. Plus people freak out when they see videos of any crime. Hearing about a crime is one thing, seeing it is another.
More: Yelena Isinbayeva isn't happy with the informants in the newest German ARD documentary
#3 Sally Kipyego Is An American – But Maybe Not For Running
"I have not yet determined how this (my US citizenship) will impact my professional running career, if at all."
–Sally Kipyego talking after becoming a US citizen last week. As a dual citizen, she still has the right to compete for Kenya.
More: LRC Olympic Silver Medallist Sally Kipyego Is Unsure Whether She Will Represent the United States Internationally
LRC America Has A New Distance Star: Olympic 10,000m Silver Medalist Sally Kipyego Now A Citizen
*MB: Olympic 10,000m Silver Medallist Sally Kipyego Became an American Citizen Today
#4 He Should Know, Right?
"I expect fireworks in London, I expect her (Vivian Cheruiyot) to clock best times in future in marathon. I can predict by the end of 2017 the best road runner will be Vivian. It will be great to watch her run alongside other distance stars."
–Eliud Kipchoge, himself a former world champion on the track and now marathon star, predicting great things for Vivian Cheruiyot at the 26.2 distance in an interview with CitizenTV.
More: Eliud Kipchoge Is Predicting Big Things For Vivian Cheruiyot In The Marathon – "I expect fireworks in London …"
#5 Mary Keitany Can Predict The Future – At Least Some Of It
"It is still too early to talk about winning the event … But I know I will not be ninth."
-Mary Keitany talking to The Star about the 2017 Virgin Money London Marathon.
More: Mary Keitany Makes  London Marathon Proclamation "
#6 Alan Abrahamson Talks About The Olympics
"There's a great argument to be made, amid the populist movements in our world that have produced Brexit and the election of Mr. Trump, that — now more than ever — the world needs the message of the Olympics."
–Alan Abrahamson writing on 3wiresports.com. In another column on the site this week, Abrahamson said people who are saying that Trump's immigrant ban will kill off LA's bid for the 2024 Olympics need to calm down and take a chill pill as they clearly don't know what they are talking about. In recent years, the Olympics have gone to China and Russia and the World Cup has gone to Russia and Qatar.
More: On Mr. Trump and double standards: let's all chillax
*Land of hope and dreams — believe it
****
Recommended Reads
"Abbey D'Agostino Returns To Running With Fresh Outlook"
Christoph Harting Describes What It Was Like To Follow In His Brother's Footsteps And Become An Olympic Discus Champion Harting says that when his brother won in 2012, he told himself he was going to do it too and throw ever farther.
To read our favorite reads from other weeks, go here.
****
Quotes Of The Day And Last Week's Home Pages
To see the actual quotes of the day from last week or last week's home page or any home page, go to our archive page.
Past editions of The Week That Was can be found here. Questions or comments? Please email us or post them in our running fan forum.