2017 Houston Half Marathon: Leonard Korir (61:14) Outkicks Feyisa Lilesa For the Win; Veronicah Nyaruai Wanjiru (67:58) Wins Women's Race As Jordan Hasay Runs 68:40 in Debut
By LetsRun.com
January 15, 2017
HOUSTON — For the second week in a row, 2016 U.S. Olympian Leonard Korir won a race in thrilling fashion, edging out Olympic silver medallist Feyisa Lilesa to win the 2017 Aramco Houston Half Marathon in 61:14 just eight days after outkicking Callum Hawkins to win the Great Edinburgh XCountry. Just as in Edinburgh, Korir fell behind late after Lilesa went for broke with 200 meters to go, but he held on and finally moved by his Ethiopian rival just meters from the finish line.
In the women's race, Veronicah Nyaruai Wanjiru upset sub-67:00 women Mamitu Daska and Mary Wacera to earn the win in 67:58. American Jordan Hasay posted a stellar debut, slashing over a minute off of Shalane Flanagan's American course record to take fourth in 68:40, a time made all the more impressive by the warm, muggy conditions (65 degrees, 96% humidity). Hasay's time puts her at #6 on the all-time U.S. list. For all intents and purposes, this was Hasay's debut in the half marathon (she ran the Nike Women's Half Marathon in San Francisco in 2015 but did not race it seriously), which would make her the second-fastest debutant in U.S. history, behind only Kara Goucher's 68:30 in Lisbon in 2009.
If you missed the race as it was happening, you can re-live it and discuss the results in our official thread:
MB: Official 2017 Houston Half Marathon Thread
What a finish to the men's half marathon! @houstonmarathon pic.twitter.com/Uzi1AgDVzV

— ABC13 Houston (@abc13houston) January 15, 2017
Men's race: Leonard Korir takes down Feyisa Lilesa in thriller
The race went out quickly, with the leaders passing two miles in 9:07 (59:45 pace), but they would back off from there; by 10 kilometers (28:51), the lead pack consisted of 10 men, including Korir, Lilesa and Olympic 10k fourth placer Yigrem Demelash of Ethiopia. Perhaps due to the humid conditions, the pace would further slow from 10k to 15k (14:58 leader to leader).
The racing began in earnest during mile 10 (4:32) and after another 4:32 11th mile, the lead pack was down to four: Korir, Lilesa, Eritrean 5k Olympian Hiskel Tewelde Ghebru and Ethiopian Fikadu Tsadik. Tsadik, who had assumed the lead once the rabbits dropped out, ran at the front, with Lilesa and Ghebru flanked to his left and right, respectively. Korir sat directly behind him at the back, steeling himself for the impending kick.
The quartet backed off during the penultimate mile (4:48) as no one wanted to be the first to move. They kept waiting, waiting, waiting until just over 200 meters remained, at which point Lilesa launched into an all-out sprint, each man responding almost instantaneously. All four men ran together for a few seconds, but Lilesa and Korir began to separate as they made the turn for home, Lilesa narrowly ahead. Just like Hawkins last week, Lilesa tried desperately to hold the American off in the final straight, and there was even some contact between the two as they battled for position. Ultimately, however, it was Korir who once again emerged victories, finding just enough time to thrust his arms out in celebration as he broke the tape. Just as at the Olympics, Lilesa threw his arms up to form an X in protest of the Ethiopian government's treatment of his Oromo people. This time, Lilesa was moving considerably faster when it came time to make the gesture, so forming the X slowed him down, though it did not impact the outcome as Korir was already past him.
Ghebru and Tsadik bumped each other battling for third place, which went to Ghebru, barely (both men were clocked at 61:17). Behind Korir, the second American was a total surprise: Kiya Dandena, a 2012 grad of Division II Texas A&M-Kingsville, who PR'd by 63 seconds to take 11th in 63:13, one second ahead of Luke Puskedra.
Men's results (courtesy Houston Half Marathon/Mika Timing)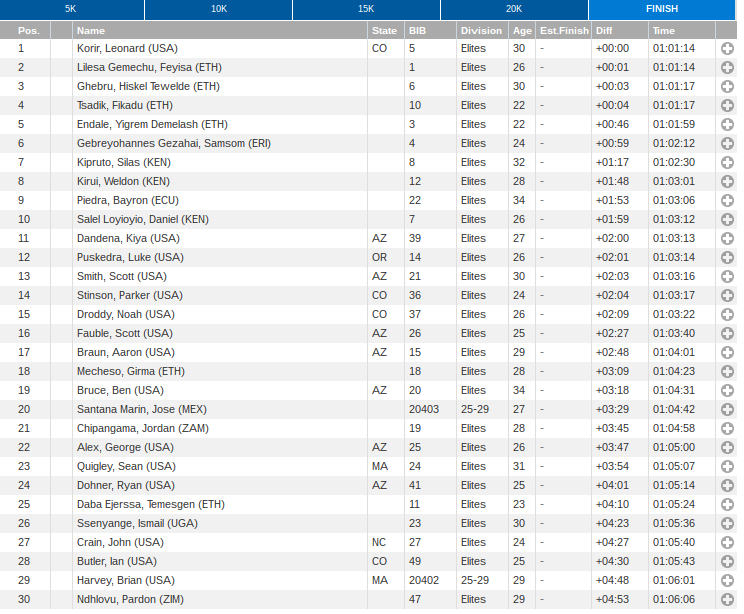 Quick Take #1: Leonard Korir strikes again and says he was only 80% fit when he made Olympic team last year
Korir's coach Scott Simmons told us before the race that he believed Korir was in the shape of his life, and he ran like it today, notching another victory against stiff competition. Not only is Korir collecting some impressive scalps, his races are becoming appointment viewing. Today, he beat Lilesa in an epic kick eight days after outkicking Hawkins in Edinburgh. If you go back even further, to 2015, Korir held off Stephen Sambu at the line to win the NYC Half. He's not a guy you want on your shoulder with 100 meters to go.
Though Korir's time today was not a pb (his best is 61:06 from that NYC race), he certainly looks capable of going well under 61 minutes in good conditions.
At the post-race press conference Korir said he is much fitter this year than last. He said when he made the Olympic team last year he was "not that fit". He estimated his fitness was 80% at the Trials, but he showed in the heat of Oregon he would not quit in a race and he showed that same perseverance in his two wins the last two weeks.
Coach Scott Simmons agreed Leonard is at another level this year as he was coming off of basic training in the Army last year. The entire WCAP group plans on running USA Cross Country in Bend, Oregon and World Cross Country if they qualify which means the US could have a tremendous team.
Quick Take #2: Feyisa Lilesa is back in good form
Lilesa's first race since moving to the United States, his 2:15:57 fourth-place finish at the Honolulu Marathon, did not go particularly well. Today he looked much better in duking it out with Korir and will be a man to watch at the London Marathon in April.
Quick Take #3: Who the heck is Kiya Dandena?
There were several solid Americans in the men's half marathon field aside from Korir, including 2016 Olympic Trials fourth placers Luke Puskedra and Scott Fauble, but the second American across the line was 27-year-old Ethiopian-born Kiya Dandena, who trains in Flagstaff for Team Run Flagstaff Pro. Dandena's track PRs, which he set at Division II Texas A&M-Kingsville, are modest (14:38/29:59), and according to his TFRRS profile, he never even made NCAAs on the track. But he beat some solid runners today, edging out Puskedra for #2 American honors and PR'ing by over a minute with his 63:13.
Women's race: Veronicah Nyaruai dominates from the front as Jordan Hasay crushes it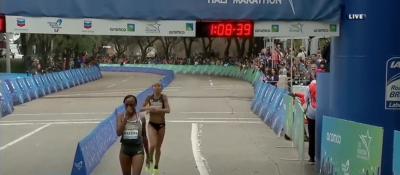 The women's race strung out comparatively faster than the men, and by 10 kilometers, passed in a blazing 31:42 (66:52 pace), only three women remained: Nyaruai and Ethiopians Dera Dida Yami and Mamitu Daska. Unlike Daska, a 66:28 half marathoner, Nyaruai (68:06 pb) and Dida (debut) were in unfamiliar territory.
However, it was not the seasoned Daska who made the decisive move, but Nyaruai, who ripped off a 5:00 eighth mile to drop the pack. She had opened up a 12-second lead by 15 kilometers (16:03 from 10k to 15k) and by 20k the outcome appeared decided with Nyaruai 18 seconds in front of Dida. At the same time, Hasay was crushing it in her debut, reeling in Daska and moving into third with under a mile to go, level with two-time World Half Marathon Championships medallist and defending Houston Half champ Mary Wacera of Kenya.
Things became interesting in the final mile, as Nyaruai, who had slowed to split 16:34 between 15k and 20k, began to crater. With under half a mile to go, Nyaruai had surrendered almost all of her lead, and Dida had her in her sights, running perhaps 30 meters behind. But Nyaruai found a second wind once she caught sight of the finish line, and at that point any hopes of a Dida comeback went up in flames, Nyaruai pulling away to win in 67:58, nine seconds up on Dida. Wacera wound up holding off Hasay by two seconds, but the American's 68:40 was still an incredibly impressive performance for her first serious half marathon, especially considering the conditions.
Women's results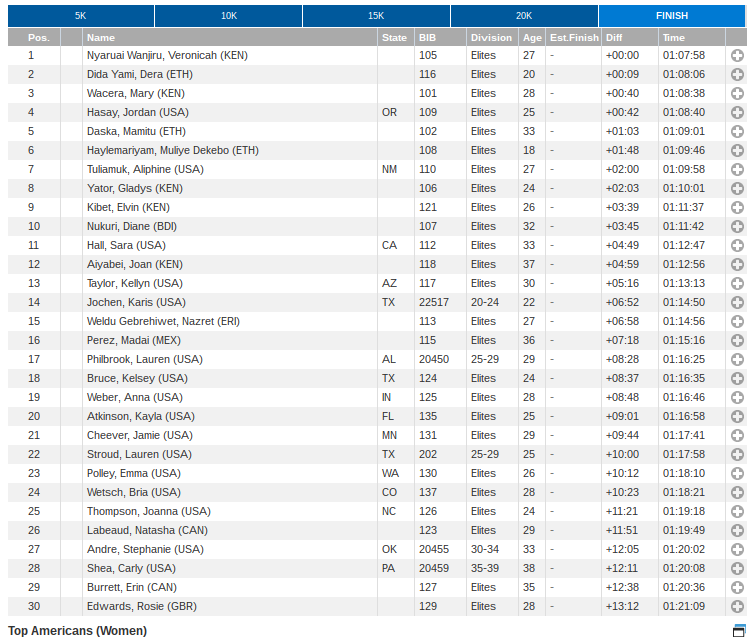 Quick Take #1: What a run from Jordan Hasay
Last year, after failing to make the U.S. Olympic team in both the 5,000 and 10,000 meters on the track, Hasay and coach Alberto Salazar decided to give it a go on the roads. After taking seventh at the Beach to Beacon 10K and third at the U.S. 5K champs, she won her first national title in what was, at that point, the longest race of her career, the the U.S. 10-Mile champs in Minnesota in October.
After passing that test, Salazar gave her permission to move up to the half marathon this weekend and Hasay responded brilliantly once again, almost taking down one of the world's best half marathoners and recording the second-fastest debut* by an American woman. Here's how she stacks up against the rest of America's best:
Fastest debut half marathons (record-eligible courses) by American women
1. Kara Goucher, 68:30 (2009 Lisbon)
2. Jordan Hasay, 68:40 (2017 Houston)
3. Molly Huddle, 69:04 (2014 NYC)
4. Joan Benoit Samuelson, 69:14 (1983 Philadelphia)**
4. Cathy O'Brien, 69:39 (1990 Philadelphia)**
5. Shalane Flanagan, 69:41 (2010 Houston)
*Officially, Hasay ran a half marathon in San Francisco in 2015 but ran it as a workout
**Those are the first half marathon results we can find for Benoit and O'Brien; if you know of a half marathon they ran before those races, let us know
UPDATE: Messageboard poster tlbernhard notes Benoit's first half marathon was a 71:xx in 1981. 
Hasay's great run today will naturally prompt plenty of discussion about how she will fare at the full marathon. Well you won't have to wait long to find out: she's making her debut in Boston in April.
MB: Hasay is BACK baby!!! 68:40 half-marathon debut in subpar conditions, #2 American debut ever!!
MB: Jordan Hasay debut predictions — Boston 2017
MB: Hasay 68:40 — Predict Boston
Interview with Luke Puskedra (12th in 63:14)
Interview with Parker Stinson (14th in 63:17)
Interview with Ben Rosario and Hoka One One Northern Arizona Elite
Interview with cult hero Noah Droddy (15th in 63:22)
Men's marathon results
Kenya's Dominic Ondoro followed up his course record at the Twin Cities Marathon with a victory in Houston in 2:12:05. Elkanah Kibet was the top American in sixth in 2:17:25.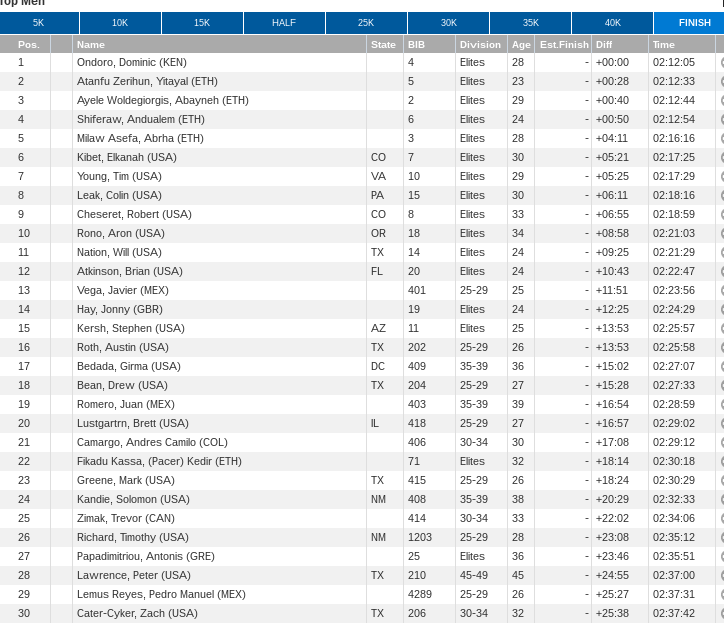 Women's marathon results
After finishing third in 2013 and second in 2014, Ethiopia's Meskerem Assefa finally got the win in Houston, running 2:30:18. Texan Becky Wade was the top American in third in 2:35:57 on an uncomfortable day for marathoning.
Becky ran at race in Houston and her run today was one of the best of the Americans along with obviously Korir and Hasay.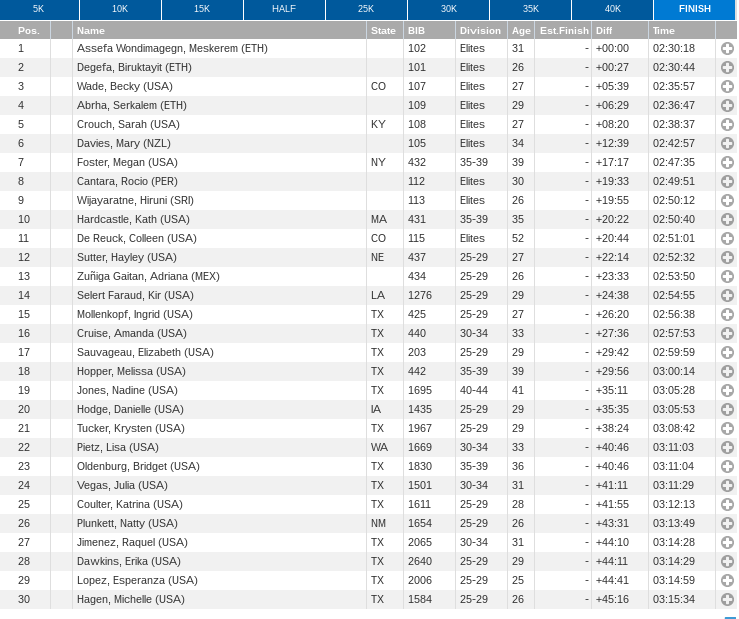 If you missed the race as it was happening, you can re-live it and discuss the results in our official thread:
MB: Official 2017 Houston Half Marathon Thread