Shawn Barber Gets Off, Olympic Triathlete Champ Gwen Jorgensen Can Really Run, Big Payday for American Women on the Roads, Paul Chelimo Gets Burned, and Japanese Justice
by LetsRun.com
October 12, 2016
The Week That Was In Running – October 3 – 9, 2016
Below we recap last week's action in the world of running. In case you missed our coverage of the 2016 Chicago Marathon, you can catch up here as we don't talk about Chicago below. We also don't talk about the Washington Post's expose on Max Siegel below as we think that is deserving of its own article.
Article continues below player
Past editions of The Week That Was can be found here. Questions or comments? Please email us or post them on our fan forum.
****
Shawn Barber Gets Off
Last week we found out that 2015 pole vault world champ Shawn Barber tested positive for cocaine at the Canadian Olympic Trials but wasn't forced to miss the Olympics as Athletics Canada the Sport Dispute Resolution Centre of Canada (SDRCC) believed his explanation that he got small amounts of the drug in his system after hooking up with a random stranger that he met on Craigslist casual encounters.
Our thoughts?
We've got no problem with the lack of suspension (assuming they validated the story). Cocaine is only banned in-competition. Becca Gillespy Peter of Pole Vault Power (and regular LetsRun poster) has stated that a source told her Barber submitted samples of his hair to prove he wasn't actually a regular user of cocaine. WADA is not the morality police. We believe something like marijuana shouldn't even be banned as it's not performance-enhancing.
In terms of the actual tawdry incident, we agree with a poster on CBC.ca who wrote:"Why didn't he just buy a girlie-magazine and some lotion? A much safer option."
More: MB: Shawn Barber got dinged with cocaine use, had hooker testify at his hearing
****
Stat of the Week I
31 – number of years that the Medtronic Twin Cities Marathon record belonged to American Phil Coppess, who ran 2:10:05 in the fourth edition of the race in 1985. That record finally fell by the wayside on Sunday when Kenya's Dominic Ondoro repeated as champ in 2:08:51, netting him $35,000 as there was a $25,000 bonus for the course record. In the women's race, Kenya's Jane Kibii won in 2:30:01.
****
Stat of the Week II
$88,975 – amount of prize money paid out to American women last week at the at the US 10-Mile and 10k championships, which were held on back to back days in totally different parts of the country. The Medtronic Twin Cities 10 Mile was in Minneapolis on Sunday and the Tufts Health Plan 10K for Women was in Boston on Monday.
The big winner was Jordan Hasay, who took home $22,000 by running 52:49 at the 10 Mile as she also won a $10,000 battle of the sexes bonus. When you add in the fact that more than $4,600 was awarded to American women at the BAA Half Marathon in Boston on Sunday as well, it was a great weekend for US women to pick up some dough.
It seems foolish to hold two US championships at distances that draw the same athletes on back to back days. If they do it again next year, we'd like to see the $10,000 bonus go to the woman who runs the fastest combined time in both races. Don't tell us it's impossible to run well in two races on different sides of the country in back to back days. Former Harvard runner Lindsey Scherf did just that.
On Sunday, Scherf ran 55:01 to place 8th and win $750 at the US 10-miler. On Monday, she ran 33:03 and placed 6th at the US 10k, winning $2,850. Her two performances are actually very close to each other on an equivalency chart. According to McMillan, 33:03 for 10k equates to 55:14 for 10 miles.
****
Olympic Triathlete Champ Gwen Jorgensen Is A Legit Runner
The third placer at the US 10-mile champs was Olympic triathlon champion Gwen Jorgensen, who ran 53:13. After winning in Rio, it was announced that Jorgensen would be running the 2016 TCS New York City Marathon. Last week's result shows that those who thought Jorgensen's appearance is New York would be little different than a celebrity appearance along the lines of Lance Armstrong are mistaken. Jorgensen certainly has the talent to contend for top American honors as her 53:13 converts to 2:29 for the marathon.
Wow. @gwenjorgensen ran 53:13 for 3rd place at @usatf 10 Mile Champs. That's equivalent to a 2:29:10 marathon. #TCSNYCMarathon.

— David Monti (@d9monti) October 9, 2016
Jorgensen is a very good runner. While her passion in high school and for the first three years of college was swimming, she's always been a better runner. In college at Wisconsin, after three years of so-so results in swimming (no appearances at NCAAs) she finally went out for the track team midway through her junior year in 2007. Joining the team mid-season, she ended up running 4:21 for 1500 – that's talent.
A year later, she was 7th at NCAAs in the 5000. During her redshirt senior year, she was 19th at NCAA cross in 2008 and ran 15:52 for 5000 on the track. She ran 32:12 for 10k on the roads in Sydney in 2015, so she likely could run around 5 minutes a mile for 10,000 on the track. Looking back at her high school results, she ran 2:19 for 800 as a freshman.
The marathon distance will be Jorgensen's biggest obstacle in New York. That is true for all first-time marathoners, but she has much less miles on her legs than most of them.
More: Gwen Jorgensen's Mom Reveals Whether Her Daughter Always Looked Like A Future Olympic Triathlete
2008: From the pool to the track with Gwen Jorgensen
****
National Records Set Last Week
At the Great 10K in Berlin, the two Olympic 12th placers in the 10,000 both set national road records.
On the men's side, Kiwi Zane Robertson ran a 27:28 national record (and road pb) to get the win by 50 seconds. He ran a negative split of 13:49/13:39 to break Rod Dixon's national record of 28:13, which had stood since 1981.
In the women's race in in Berlin, Sweden's Sarah Lahti (the woman whom we featured after she won the B heat of Stanford this year), won by even more as her national record of 31:57 was 72 seconds better than anyone else (and 27 seconds under the old record). Lahti is just 21 years of age. If she'd gone the US collegiate route, she'd be dominant given her pbs of 15:10 and 31:28.
****
Maybe Men Should Stay Out Of The Kitchen After All
The Army Ten-Miler was held on Sunday in Washington, D.C. Stephanie Reich (56:29) ran away with the women's race. In the men's race, Augustus Maiyo edged Bernard Lagat's brother Robert Cheseret as both were timed in 48:20 but the big news was that Olympic silver medallist Paul Chelimo was a DNF.
A source told us Chelimo didn't finish as it's taken him a while to recover after he burned himself cooking: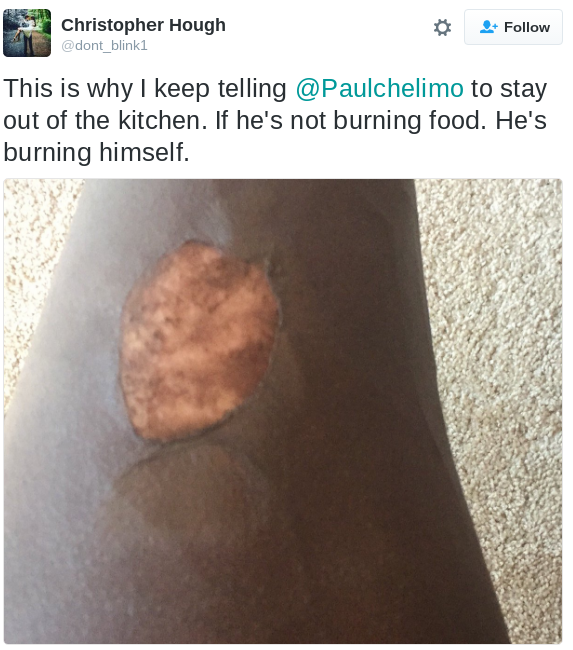 Chelimo — who is a great follow on Twitter — admitted after the race that he was underprepared.
Never do a 10 mile race without any workout it's gonna kill your Ego???

— Paul Chelimo???? (@Paulchelimo) October 9, 2016
More: Paul Chelimo Greeted President Obama In Swahili When They Met At The White House
****
What Does A Japanese Collegiate Sports Team Do When One Of Its Team Members Gets Arrested?
In America, it seems like every single week some prominent professional or collegiate athlete is getting arrested. What does the team do? Very little other than suspend the athlete.
In Japan, guess what happens? The whole team forfeits.
Last week, in Japan, the first of the three big collegiate ekidens was held – the Izumo Ekiden. However, Kwansei Gakuin University did not participate as one of their team members was arrested on October 7 for suspicion of breaking into a house to steal money. The team withdrew from the competition the very next day.
In the actual race, Aoyama Gakuin University repeated as champions as the Ivy League guest team got trounced yet again (they finished 14th out of 20 teams despite having Will Geoghegan and Johnny Gregorek on it).
More:Kwansei Gakuin University Withdraws From Izumo Ekiden After Team Member Arrested on Suspicion of Theft
*Aoyama Gakuin University Holds Off Yamanashi Gakuin and Tokai for Second-Straight Izumo Ekiden Win
***
Quotes of the Week (that weren't quote of the day)
#1 If Your Dream Was To Make the Olympics and You Failed To Achieve That, Don't Feel Too Bad
"No one really preps you for how boring the Olympics can be. And no one believes me when I say it either. I did go see some events and sightsee, but you end up just sitting in the village waiting around a lot of the time."
-Cornell's Rudy Winkler, the 2016 US Hammer champ, talking to the Cornell Daily Sun.
#2 Free Coaching Advice 
"I do believe the best thing that an athlete can invest in is a decent, fitted mattress. That's where they will be recovering for eight-plus hours every single day. Recovery is so important in order to train hard."
-former European indoor 1500 champ Matt Yates talking about his coaching philosophy to Athletics Weekly.
#3 Laura Muir – The Modern-Day Steve Prefontaine
"I was gutted with the end result but that's how I ran the race and I wouldn't have run it any other way. I went for it and it just didn't happen."
–Laur Muir, talking to Spikes last week about how she has no regrets about running for gold in Rio, even though that strategy may have cost her a medal.
More: ONLY WAY SHE KNOWS
#4 We Hadn't Heard This Ourselves
"We have a saying in track and field that 'every medal is a gold medal.'"
-Olympic pole vault bronze medallist Sam Kendricks talking to HellenicNews.com.
More: Catching Up With Olympic Pole Vault Bronze Medalist Sam Kendricks
#5 With Doping, Anything Is Possible
"Well, yeah, with doping of course it's possible (a sub-2 hour marathon), with doping you can run like a car."
-Ethiopian athletes talking in an article in a Michael Crawley article in The Guardian that is critical of the Sub2Hr Project.
Our thoughts? 1) Talk of sub-2 is pretty much stupid as we are nowhere close to it. 2) It's absolutely ridiculous that the Sub2Hr Project people would write this after Kenenisa Bekele ran 2:03 in Berlin, "Indeed, we are proud of the fact that in just a few months we were able to take 2 mins off his marathon PB."
Kenenisa took 2 minutes off of his marathon pb. They may have helped. Have someone split 1 hr for one half of a marathon, and then we can start talking about it.
****
Recommended Reads/Listens
We highlight some of our favorite reads from last week. To read our favorite reads from previous weeks, go here.
The Guardian: "The 2-Hour Marathon: Who Is It For?" Journalist Michael Crawley has spent more than a year in Ethiopia as an anthropologist and has some major criticisms of the Sub2Hr Project, questioning their motivation and methods.
*Sub2Hr Project Defends Themselves And Responds To Crawley's Criticisms They counter with "Why did man go to the moon" or "try to run under 4 minutes for the mile?"
*MB: Ethios: "Well, yeah, with drugs you can run like a car."
*LRC Archives: The Myth Of The Sub-2-Hour Marathon
Running Has Given Former Kenyan Cattle Rustler Julius Arile Lamerinyang A New Lease On Life
*"Gun Runners" Film About Kenyans Who Traded In Their AK-47s And Became Top International Marathoners Is Debuting In Toronto Next Week One of the stars of the film – Julius Arile Lamerinyang – is racing in Toronto. *Trailer
Trailer For New Documentary On The Rise And Fall Of US Olympic Sprinter Danny Harris
IAAF Profile On French Discus Thrower Melina Robert-Michon Who In Rio Finally Won An Olympic Medal In Her Fifth Olympic Games
Scientific Breakdown Of The 100m – What Makes Sprinters Fast And How Much Faster Can We Go? A big part of speed is "how forcefully they can hit the ground in relation to their body weight."
Meet Norman Peart – The Man In Charge Of Keeping Usain Bolt's Finances In Order And Him Out Of Trouble Since He Was In HS
Alcohol and the athlete: A Column By Daniel Wallis for Runner's Tribe
****
Others Results Of Note
****
Quotes Of The Day And Last Week's Home Pages
To see the actual quotes of the day from last week or last week's home page or any home page, go to our archive page.
Past editions of The Week That Was can be found here. Questions or comments? Please email us or post them in our running fan forum.