7 Quick Takes About Two Fantastic Races at The 2016 Chicago Marathon
By LetsRun.com
October 9, 2016
The 2016 Bank of America Chicago Marathon is in the books. On the men's side, two-time world champion Abel Kirui pulled off an upset as he used a 29:30 last 10k (technically 10,008 meters from 20 miles to the finish) to win a tactical race and resurrect his career. Kirui won in 2:11:23, just ahead of defending champ Dickson Chumba who ran 2:11:26.
The women's race was fast from the gun but there was no stopping Kenya's Florence Kiplagat. The half marathon world record holder defended her title by running 2:21:32, well ahead of Edna Kiplagat's 2:23:28 as everyone in the field except Florence faded big time after 30k after a quick opening half of 70:29 for the leaders.
Article continues below player
Like our coverage from Albuquerque?
Below, we've got seven quick takes of analysis. You can also check out our race recap (LRC 2016 Chicago Marathon: Abel Kirui Digs Deep To Resurrect His Career With His First Win Since 2011; Florence Kiplagat Sends A Statement To Athletics Kenya) and story on the top American finisher in Chicago, Diego Estrada (LRC The Top American At The 2016 Chicago Marathon Ended His Day on Crutches, But Dropping Out Wasn't An Option For Diego Estrada).
1. Abel Kirui is back – at age 34.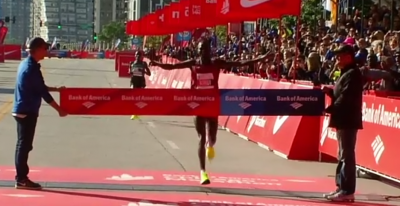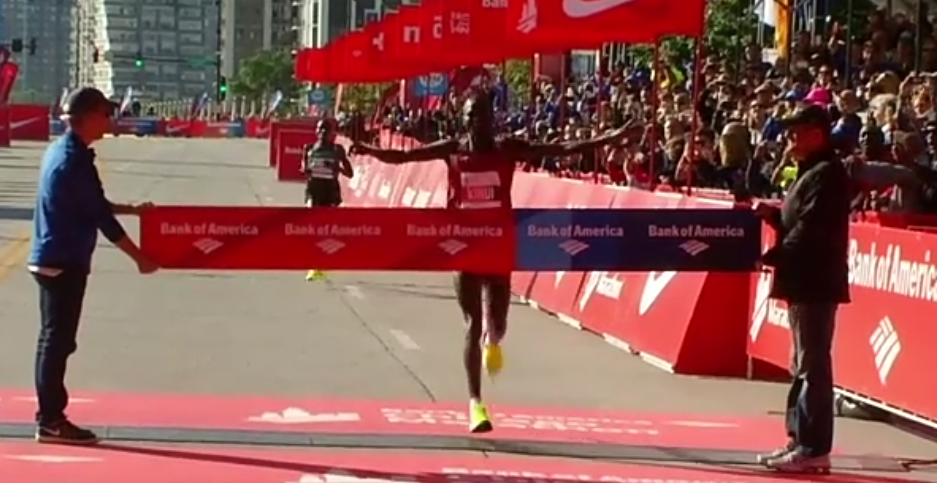 Before today's win, Kirui hadn't won a marathon since his victory at 2011 Worlds (he also won in '09)  and hadn't been top 3 in a marathon since earning Olympic silver in 2012. He didn't run a marathon at all in 2013 and between 2014 and 2015 he ran four marathons but the best among them was a sixth place finish in Amsterdam in '14. It looked as if Kirui, who turned 34 in June, was at the end of the road. However, he showed some signs of life in Tokyo in February, taking fifth in 2:08:06, his fastest time since 2012, and today returned to the top with his win in Chicago — Kirui's first win at a marathon outside of the World Championships.
The lack of rabbits certainly helped Kirui. Aside from Worlds and the Olympics, he had run eight other World Marathon Majors, but apart from a 2nd in Berlin in '07, his track record was poor: two 5ths, a 6th, two 9ths, a 10th and a DNF. Chicago may be the ideal race for him — it's not hilly, but it's not rabbitted either, just like World Championship/Olympic courses.
Ezekiel Kemboi would be proud of @AbelKirui1 celebration at Chicago Marathon. 2:11:23 FTW unofficially. pic.twitter.com/sRa8dkAYxt

— Jonathan Gault (@jgault13) October 9, 2016
2. Florence Kiplagat made Athletics Kenya look stupid
Florence Kiplagat confirmed today what we already knew – she's consistently one of the world's very best female distance runners. This spring, when Athletics Kenya announced its Rio Olympic team and Kiplagat and Mary Keitany were both left off it, we called that decision a disgrace. Kiplagat had just finished third at the world's most competitive marathon – London – yet she didn't make the team.
Today's result proves we were right. The controversial third selection to the Rio team – Visiline Jepkesho – finished 86th in Rio. Jepkesho also raced here today and ended up a DNF. Jepkesho's not a bad marathoner (she had the lead today at 25k) but she's not yet in the same class as Florence Kiplagat or Mary Keitany.
The fact that Jemima Sumgong won gold for Kenya in Rio meant that a lot of people forgot how foolish Kenya's third marathon selection was. We hope today's result reminds people that they consistently make really stupid decisions.
Florence broke open today's race by taking off at 30k. She ran the 5k from 30k to 35k in 16:18 to give herself a 53-second lead (she lead by 1 second at 30k).
Florence Kiplagat's splits
| | | | |
| --- | --- | --- | --- |
| Split | Time | Diff | min/mile |
| 05K | 0:16:56 | 16:56 | 5:27 |
| 10K | 0:33:29 | 16:34 | 5:20 |
| 15K | 0:50:10 | 16:41 | 5:22 |
| 20K | 1:06:47 | 16:38 | 5:22 |
| 25K | 1:23:51 | 17:04 | 5:30 |
| 30K | 1:40:30 | 16:40 | 5:22 |
| 35K | 1:56:47 | 16:18 | 5:15 |
| 40K | 2:13:56 | 17:09 | 5:32 |
| Finish | 2:21:32 | 7:37 | 5:35 |
3) It was a great day for coach Renato Canova
The Italian mastermind (and LetsRun.com poster) Canova, coached both Chicago winners. We'll let you know when Canova chimes in on the LetsRun.com forums about Kirui's and Kiplagat's races, but in the meantime you can share your appreciation here.
4) Don't judge a book by its cover. And don't judge a marathoner by his form.
By the end of the men's race, it was down to Dickson Chumba and Abel Kirui. If you asked observers to pick a winner, most would have gone with Chumba. Kirui was running with a pained expression and appeared to be breathing more heavily than Chumba, whose face never changed. Kirui's form was also all over the place, in contrast to the smooth Chumba. (Not to mention Chumba's recent results have been way better than Kirui's).
But you can't tell how hard a marathoner is working just by looking at them. Paula Radcliffe looked as if she was in pain for every second of her marathons, but that didn't stop her from routinely crushing the field. Every runner's form is different.
5) Pacemakers are overrated
If you didn't see the men's race live, you may be shocked by the winning time of 2:11:23, the slowest in Chicago since 1993 when Luíz Antônio dos Santos won in 2:13:14.
Don't for a second think the slow winning time made for a boring race. A slow time almost always guarantees a good finish and we got that here and an entertaining last 10k.
Announcer Tim Hutchings said during the final miles of  the men's race, "This is where the sport needs to be… racing. Who cares about the time because this has been two hours of the juiciest races."
A slow opening pace also ensures TV time for the Americans, so it makes for a good broadcast. There even was a Japanese leader at 30k. We're not saying we always want Chicago to be won in 2:11:23, but the men's field was pretty weak for a World Marathon Major, and we're glad we got a thrilling race this year with a great champion like Kirui returning to the winner's circle.
Chicago was smart to bring in two-time world champ and Olympic marathon silver medallist Kirui for a race without rabbits. And speaking of races without rabbits, if you've never heard of  Luíz Antônio dos Santos (the last winner to run slower than Kirui), he won Chicago twice, Fukuoka once, and was 3rd at the World Champs in 1995. Some guys are great without rabbits.
That being said, we've always said we'd like to see the majors spice things up. Maybe do rabbits every other year in Chicago (or one out of four in New York).
6) We (and apparently everyone else) are starting to think about London 2017
NBC Chicago had a great interview with Abel Kirui after the race. Kirui's English is great, and the interviewer (not a running guy), had done his homework and followed the race. We need more of that.
Kirui said he wanted to do something in America and was very pleased to get the win. "[Both of us winners] being guided by Renato Canova it is amazing. We are shedding tears right now. It is wonderful, amazing.  I have been deciding to do something [great] on the soil of America… I was putting all my prayers and efforts to win today."
He then surprised us by immediately turning his talk to London 2017. "I think now I need to meet with three guys. I was praying so hard that I get something [good] here so I [could] request to my manager to meet with Eliud [Kipchoge] and [Kenenisa] Bekele and Wilson Kipsang next year in London. That is my main goal in life," he said when asked what's next.
Kirui interview here:
To borrow from Tim Hutchings, Kipchoge (world's best marathoner ever) vs Bekele (arguably world's best distance runner ever) vs Kirui (one of world's best championship marathoners ever) is what the sport needs.
7) Good first marathon finishes for Stephen Sambu and Diego Estrada
With all the surging, this was a tough race to debut in and it would have been easy for a debutant to get caught up in all the moves and really blow up. But Stephen Sambu ran like a savvy vet and finished fifth in 2:13:35 (which netted him $25,000 – 6th pays $0). The time won't raise any eyebrows, but the road ace certainly looks as if he has some potential in the marathon.
Diego Estrada's debut at the Olympic Trials in February was a disaster, but he was determined to get it right the second time around. Despite a fall around 10 kilometers (he tripped on a water bottle at a drinks station), Estrada hung tough to finish as the top American in 8th in 2:13:56, well ahead of Elkanah Kibet (10th in 2:16:37). Luke Puskedra, the top American in Chicago last year, had a rough finish as he wound up 19th in 2:20:18. Puskedra really cratered over the final 10k, splitting 16:57 from 30k to 35k and 19:25 (6:15 pace) from 35k to 40k.
It was a slow day for the Americans in the women's race as well. Serena Burla was the first across the line in 7th in 2:30:40, with Sarah Crouch (9th, 2:33:48) and Alia Gray (10th, 2:34:00) also in the top 10.
Diego Estrada trips and goes down at drinks station just after 6 miles. #ChicagoMarathon pic.twitter.com/rllLiyJbcG

— Jonathan Gault (@jgault13) October 9, 2016