Women's 1500 Prelims: Genzebe Dibaba Gaps The Field as Does Dawit Seyaum As All Three Americans Advance
by LetsRun.com
August 12, 2016
RIO DE JANEIRO — The first track event of the evening session tonight was the first of three rounds of the women's 1500. If you judge the results based on 2016 best times, then there were no major casualties as all of the top 10 fastest entrants advanced to Sunday's semifinals (top 6 in each heat + next best 6 times from each of 3 heats). Not a surprise, really, as the field was just being narrowed from 41 to 24.
Here's how the top 10 seeds fared today.
Article continues below player
2016's Fastest 1500 Performers (among women entered)
1 3:56.41 Faith Kipyegon KEN -2d in heat #2
2 3:57.49 Laura Muir GBR – 3rd in heat #3
3 3:58.10 Dawit Seyaum ETH – Won heat #3, closed in 27 high.
4 3:59.83 Genzebe Dibaba ETH -Won heat #1
5 4:00.08 Besu Sado ETH – Didn't look great in heat #2 but was 6th auto qualifier
6 4:00.87 Sifan Hassan NED – Big close in heat #2 that got her the win
7 4:01.57 Jenny Simpson USA – 4th in heat #2
8 4:01.78 Linden Hall AUS-  4th in heat #1
9 4:02.62 Meraf Bahta SWE – 5th in heat #2
10 4:02.66 Laura Weightman GBR – Time qualifier out of heat #2
In terms of the biggest takeaway from the day, we'd say it was that world record holder Genzebe Dibaba, who came into the Olympics as a bit of a question mark given the fact she's only finished one race outdoors this year, looked great in dominating the first heat. She was far from the only favorite to look good as the 2015 silver and bronze medallists Faith Kipyegon of Kenya and Sifan Hassan of the Netherlands went 1-2 in the second heat. And then in heat #4, it was the fourth placer from 2015 worlds Dawit Seyaum who won that heat in dominating fashion. So all told, the top four women from Worlds last year all looked great.
All three Americans – Jenny Simpson, Shannon Rowbury and Brenda Martinez – advance as auto qualifiers as well.
Heat 1
After running much of the first lap (72.77) in the back, Dibaba moved up into second after 800 (2:21.20). Then a lap later (3:24.93), Dibaba had had enough and she exploded from the pack with 300 meters to go. She instantly gapped the pack and won in 4:10.61 thanks to a 61.06 last lap (leader to leader). Behind her, Ireland's Ciara Mageean was a clear second in 4:11.51 and then there was a blanket finish for the final 4 auto qualifying spots as placed 3-6 were separated by just .02, but they were basically a quarter second up on 7th placer Hilary Stellingwerff, who didn't advance. American Brenda Martinez was in that group and ended up 4th.

Results -Heat 1
RANK

BIB

ATHLETE

RESULT

1

643

ETH

4:10.61

Qualified

2

844

IRL

4:11.51

Qualified

3

1355

USA

4:11.74

Qualified

4

324

AUS

4:11.75

Qualified

5

1093

POL

4:11.76

Qualified

6

757

GER

4:11.76

Qualified

7

494

CAN

4:12.00

8

1035

NED

4:13.15

9

996

MAR

4:13.46

10

1195

SRB

4:15.17

11

944

KEN

4:15.41

12

1133

POR

4:18.53

13

1049

NEP

4:33.94

14

1199

STP

4:38.86
Quick Thought: The prelim was "a little rough" for Brenda Martinez, but she's on to the semis
Martinez barely made it onto the 1500 team at the Olympic Trials and of the three Americans, she has is the longest shot for a medal here. So perhaps it's not surprising that Martinez had the most difficulty advancing — she was .24 away from going home. In the 1500, that's not a tiny margin, but Martinez definitely had to work for it coming down the home stretch.
Martinez acknowledged that her race was "a little rough" but was positive overall.
"I'm happy the way I closed and if I needed another gear, I had it in me," Martinez said. "I'm happy to move on."
QT #2: Linden Hall Pleased with Run and Season
Hall, who went to Florida State, has dropped her pr from 4:10.41 to 4:01.78. Last year the Olympics were a dream, but this year she has a realistic shot at making the final. She definitely isn't at the Games as a tourist as she skipped the opening ceremonies because the Australians had a training camp in Florida which was familiar ground for her from college. She said the Australian team had a mock ceremony in Florida. She can enjoy the closing ceremonies for sure.
QT #3: Marta Freitas Olympic Dream Doesn't End How She Wanted
Freitas, the NCAA 1500m champ, didn't run well tonight finishing last of the more serious qualifiers in the heat,  but she was still able to see the big picture afterwards saying she proud to make so much progress this year and fulfill her dream of being an Olympian. She said she used to think Olympians were "heroes." We couldn't agree more. Marta is now pat of a special sporting hero club.
Heat 2
Seeing the slow times in the first heat, Colombia's Muriel Coneo took out the second heat in 66.54 as world leader Faith Kipyegon and former world champion Jenny Simpson sat in third and fourth. At 800 (2:15.11), Kipyegon led as Simpson was in fifth on the outside with 2015 bronze medallist Sifan Hassan running in last of the main pack (one refugee runner was way behind the pack). At 1200 (3:21.80), Kipyegon led with Ethiopia's Besu Sado 2nd and Simpson 3rd. On the backstretch, Hassan started her charge from the back and as she came off the final turn she had passed Simpson and was getting close to Kipyegon. Those two would end going 1-2 with Hassan finishing .01 ahead. SImpson was just 6th (with 6 auto qualifiers) coming off the final turn but she'd move up to 4th. Her qualifying was never in jeopardy as there was a bit of a gap to seventh, which helped Sado, who faded a lot in the final 50 but still auto qualified.
The overall pace and last lap (60.79) were both faster than the first heat.
Results – Heat 2
RANK

BIB

ATHLETE

RESULT

1

1032

NED

4:06.64

Qualified

2

950

KEN

KIPYEGON Faith Chepngetich

4:06.65

Qualified

3

1095

POL

4:06.90

Qualified

4

1372

USA

4:06.99

Qualified

5

992

MAR

4:07.42

Qualified

6

647

ETH

4:08.11

Qualified

7

728

GBR

4:08.37q

8

318

AUS

4:09.05q

9

492

CAN

4:09.45

10

548

COL

4:09.50

11

448

BRN

4:10.96

12

1158

ROU

4:11.55

13

1075

NZL

4:11.88

14

1147

ROT

4:47.38
Quick Thought: This heat proves why the Ethiopians should have an Olympic Trials.
The 20-year-old Sado didn't look good at all in the final 100 and we think she's got no shot at a medal even though she's run 4:00.18 this year. Ethiopia would have a better medal contender if 19-year-old Gudaf Tsegay was on the team instead. Tsegay isn't on the team as her seasonal best is 4:00.28 and the Ethiopians decide based on time. But in addition to being the more credentialed runner, Tsegay, who won world junior silver in 2014 and world indoor bronze this year, beat Sado in Sado's last race before the Trials in Stockholm on June 16, when Tsegay ran 4:04.37 to Sado's 4:04.89. Tsegay followed that up with a 1:59.77 pb on Monaco on July 15.
Quick Thought: Simpson advanced after a note of encouragement from her sister
Simpson's sister, Emily, is a fire chief in the U.S. Army stationed in Ft. Stewart in Georgia and before Jenny's race tonight, she passed along a note: "To be brave is to move forward."
Being brave has been Simpson's mantra for some time, and she's hoping to embody that during her time on the track in Rio.
"I was challenged with what's really the one message that I really believe in when it comes to not just sports, but how what I do transcends sport. And for me it really is, what does brave look like every day? Whether it's on the track, or whether it's sitting in traffic or whether it's on the Olympic stage or going in for a job interview. I really hope I can just continue to embody that for people that watch me."
Simpson did her sister proud by advancing in a relatively stress-free prelim, though she noted that with so many women bunched together with 100 to go, she had to move out to lane 3 to finish, which is something she doesn't normally do. No doubt Emily will be proud watching back in Georgia.
"She says in very, very different ways, she loves how we both fight our our country," Simpson said. "So I'm out here to put up a good fight."
Heat 3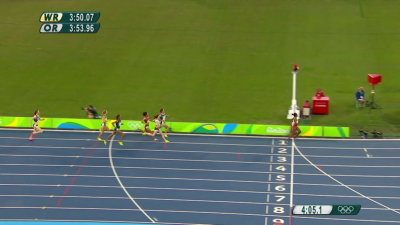 Nicole Sifuentes, trailed closely by Shannon Rowbury and Zoe Bucknam, took the field through 400 in 66.23 as British record holder Laura Muir was content to run in last. Not much changed at 800 (2:14.17) but shortly after 800 Muir decided to move up and by by 1k, she was in 3rd on the shoulder of Rowbury. At 1200 (3:20.76), it was still Sifuentes, Rowbury and Muir but the pack was still tightly bunched until a little after halfway down the backstretch when Ethiopia's Dawit Seyaum, who was 4th at Worlds last year and 2nd at World Indoors earlier this year, began her kick for home. She quickly gapped the field and won going away thanks to a 27-high final 200.
Results – Heat 3
RANK

BIB

ATHLETE

RESULT

1

648

ETH

4:05.33

Qualified

2

1370

USA

4:06.47

Qualified

3

710

GBR

4:06.53

Qualified

4

993

MAR

4:06.63

Qualified

5

1222

SWE

4:06.82

Qualified

6

322

AUS

4:06.93

Qualified

7

491

CAN

4:07.43q

8

951

KEN

4:08.09q

9

1119

POL

4:08.67q

10

783

GER

4:09.07q

11

867

ITA

4:09.74

12

605

DJI

4:42.67

13

1241

TLS

5:00.53

1266

UAE

Did not start
Quick Thought: Shannon Rowbury: "I'm coming into this Olympics more prepared than I've ever been before."
Rowbury looked very strong and said that tonight was a good first step for her as allowed her to get her legs ready for the battles to come in the semis and the final.
Rowbury broke the American record last year and ran under 2:00 in the 800 for the first time in her life on July 29. She said that she thinks her speed is the best it's ever been.
"I feel like I'm coming into this Olympics more prepared than I've ever been before," Rowbury said. "I know from the last two Olympics I've been in that people come out of the woodwork, everybody brings their A game. But I've controlled what I can and I've come in here, fortunately, healthy strong fast, well-rounded in my preparation.
Rowbury was part of one of the dirtiest races in history — the 2012 Olympic women's 1500 final — and has not been shy on sharing her thoughts on that race in the past. Four years on, she's hoping that the sport is in a better place.
"I pray. That's what I've been praying going into this championship, that it will be a cleaner Olympics than it was before. Unfortunately that's something that's out of my hands… I speak out because I hope that the federation can keep making changes in a positive direction and it does seem that that is the case so I'm happy to be part of the sport at what I hope is a turning point."