Shannon Rowbury Shares Her Thoughts on 2012 Olympic 1500 Final — "These Cheaters Rob People Like Me and My Competitors of Medals"
By LetsRun.com
March 7, 2016
Last week, two more women from the 2012 Olympic 1500 final were tied to doping. On Monday, it was announced that Abeba Aregawi of Sweden (then competing for Ethiopia), who finished fifth in that race, recorded a positive A sample in an out-of-competition drug test in January. On Sunday, Turkey's Gamze Bulut was reported to have had abnormalities in her biological passport. On Monday, Bulut, who finished second in 2012, was provisionally suspened pending an IAAF investigation, per the BBC.
That now makes six women from the 2012 Olympic 1500 final who have either served a doping suspension or have been strongly linked to doping.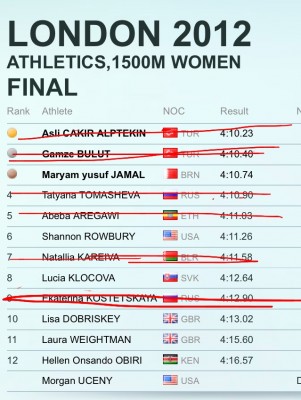 Last week, Jenny Simpson, who finished second to Aregawi at the World Championships in 2013, shared her thoughts with LetsRun.com on Aregawi's positive test.
LRC: Jenny Simpson's Take on Abeba Aregawi Testing Positive: "What has been announced today is far from justice served."
Yesterday, Rowbury took to the online video service Unscriptd to respond to the news about Aregawi and Bulut. You can watch the whole video below but Rowbury revealed that she was crying on her cooldown as the medalists took their victory laps and implored the IAAF to support their clean athletes. Rowbury added that she had yet to receive a single correspondence from the IAAF about the convictions in her event and had to learn about them through social media and news articles.
In the 1500m final at the 2012 Olympics, Shannon Rowbury placed 6th. Four of the top five finishers have now tested positive for drugs. Here she appeals for a #cleansport:

Posted by Unscriptd on Sunday, March 6, 2016
"While those women were doing their victory lap in the London Olympic stadium, I was crying through my cooldown and then sobbing in the Olympic green, trying to gather enough self control to face my family with a smile and tell them I was fine. These cheaters rob people like me and my competitors of medals. But they also rob our family, our support group and our country. … This news has left me feeling validated that my best is and can be enough. And I wake up every morning and when I tie my shoes I do it with a smile on my face and a mission in my heart."