Olympic Men's 400 Preview: With World Champ Wayde van Niekerk And Olympic Champs LaShawn Merritt And Kirani James, The Stage Is Set For A Classic Olympic Final
by LetsRun.com
August 10, 2016
The men's 400-meter final in Beijing last year was one of the greatest in the history of the one-lap event. Led by Wayde van Niekerk's 43.48 (#4 all-time), three men broke 44 seconds in the same race for the first time in history while Luguelin Santos became the fastest fourth-place finisher in history, clocking 44.11. Ever since that night in the Bird's Nest — which ended with van Niekerk being stretchered off the track and taken to a hospital for exhaustion — the track world has been waiting for a rematch, and that's exactly what they'll get in Rio.
This is truly a clash of the titans. You've got the reigning world champ van Niekerk against the past two Olympic champions, LaShawn Merritt of the United States and Kirani James of Grenada. Between them, the three men have claimed every global 400 title since 2008, and all three men have been in fine form this year. They're 1-2-3 on the 2016 world list, and both van Niekerk (44.11 sb) and James (44.08 sb) are undefeated. Merritt has lost twice (both to James, at the Drake Relays and the Pre Classic), but he's also shown impressive short speed as he has taken up the 200 as well this year and run three of the four fastest times in the world (including a world-leading 19.74 at the Olympic Trials). Van Niekerk is no slouch in the speed department, either. He's undefeated at 200 this year and in March became the first man in history to break 10.00 in the 100, 20.00 in the 200 and 44.00 in the 400 by running 9.98 in Bloemfontein (MB: South Africa's Wade Van Niekerk just made history – 1st man to go sub 10 100m, sub 20 200m and sub 44 400m!)
Article continues below player
Really, there's not much to choose between these three. Both Merritt (43.97 WL at Olympic Trials on July 3) and van Niekerk (44.12 in Monaco on July 15) ran fast in their last pre-Olympic races. James was a bit slower (44.60 in Hungary on July 18) but he's still undefeated and 2-0 against Merritt. If the track is fast in Rio and all three men enter in peak form, Michael Johnson's 17-year-old world record of 43.18 could fall. That would require a special race, but these are three special guys who will be pushing each other to the absolute limit.
If one of the big three falters, there are a few guys who could step up. Santos has struggled this year but has gone 2nd-3rd-4th in the last three global championships. Botswana's 19-year-old phenom Baboloki Thebe could also be capable of something big as he's #4 on the world list and won the African Champs after never running a 400 before this year.
Event Time and Date:
Prelims – 8:05 p.m. ET Friday, August 12
Semis – 7:30 p.m. ET Saturday, August 13
Final – 9:00 p.m. ET Sunday, August 14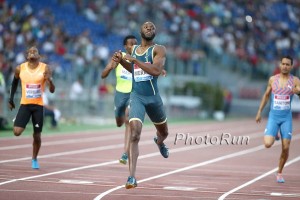 2016 World Top 10
1. 43.97 LaShawn Merritt USA
2. 44.08 Kirani James GRN
3. 44.11 Wayde van Niekerk RSA
4. 44.22 Baboloki Thebe BOT
5. 44.24 Tony McQuay USA will not compete at Olympics
6. 44.34 Machel Cedenio TTO
7. 44.38 Bralon Taplin GRN
8. 44.46 Steven Gardiner BAH
9. 44.55 Ali Khamis Abbas BRN
10. 44.60 Nery Brenes CRC
2015 Worlds Top 5
Gold: Wayde van Niekerk, South Africa 43.48
Silver: LaShawn Merritt, USA 43.65
Bronze: Kirani James, Grenada 43.78
4. Luguelin Santos, Dominican Republic 44.11
5. Isaac Makwala, Botswana 44.63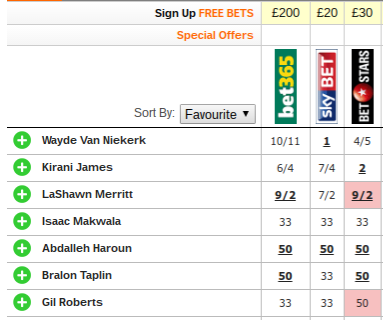 Track and Field News Top 3 Picks:
| | |
| --- | --- |
| 1. Wayde van Niekerk (South Africa) | 43.48 ('15) |
| 2. Kirani James (Grenada) | 43.74 ('14) |
| 3. LaShawn Merritt (USA) | 43.65 ('15) |
LRC Prediction Contest Votes
LaShawn Merritt 37.1%
Wayde van Niekerk 34.1%
Kirani James 28.6%
Other 0.2%
LRC Picks: Gold: van Niekerk Silver: Merritt Bronze: James
These three men are clearly the class of the field, the only question is, in what order do they finish? van Niekerk is undefeated since his ridiculous run in Beijing last year, so we'll go with him for the win. Merritt has shown impressive speed in the 200 and has the world lead, so we like him for second and James for bronze — the same order as Worlds last year.