Race of the Week: U.S. Champs Clayton Murphy & Matthew Centrowitz To Square Off at 1000 Meters on Saturday Before A Primetime, National TV Audience on ESPN
By LetsRun.com
July 22, 2016
The final IAAF Diamond League meet before the Olympics is taking place today and tomorrow in London. The London Anniversary games features two of the sport's biggest stars in Mo Farah and Usain Bolt, but the race of the weekend, at least for US fans, isn't taking place in London. It's taking place in Houston, Texas and the best news is you don't have have to subscribe to some relatively obscure cable channel to watch it live. This baby is going to be live on ESPN – in prime time!!
Tomorrow night, Clayton Murphy, the US 800 champ, and Matthew Centrowitz, the US 1500 champ, are racing at 1000 at the American Track League meet in Houston.
Watching the U.S. 800 and 1500 champions race each other at an intermediate distance is rare. Getting to see them do it in primetime on ESPN? In 2016, that qualifies as a minor miracle and we've got to give out mega kudos to meet organizer Paul Doyle for making it happen. We dive into the matchup below and provide some details on the meet.
Article continues below player.
What: 2016 American Track League Houston
When: Saturday, July 23
Where: Wendel D. Ley Track & Holloway Field, Rice University, Houston, Texas
How to watch: Live on ESPN from 9 p.m. ET to 11 p.m. ET
Schedule (all times U.S. Eastern)
8:00pm Women's Pole Vault
8:10pm Men's Javelin
8:30pm Men's 100m B-Section
8:45pm Women's 100m B-Section
9:03pm Women's 400m Hurdles
9:11pm Men's 400m Hurdles
9:28pm Men's 100m- Heat 1
9:36pm Men's 100m- Heat 2
9:43pm Women's 100m
9:52pm Men's 500m
10:00pm Women's 300m
10:08pm Men's 200m
10:18pm Men's 110m Hurdles
10:26pm Women's 100m Hurdles
10:34pm Men's 1000m
10:44pm Women's 200m
10:52pm Men's 100m
Athletes entered include: Ashton Eaton, Asafa Powell, Matthew Centrowitz, Clayton Murphy, Jeremy Wariner, Sandi Morris, Jenna Prandini, Ajee Wilson, Courtney Okolo, Danielle Williams
We requested start lists but as of Friday morning we had not received them and they had not been posted on the meet website.
Men's 1000 (10:34 p.m. ET)
We haven't seen a matchup between the U.S. 800 and 1500 champs since 2008, when Nick Symmonds and Bernard Lagat met over the same distance in Gateshead in 2008. In that one, 1500 champ Lagat prevailed over Symmonds, 2:16.18 to 2:17.10.
Centrowitz joked on Twitter that he'd prefer 1200, but 1000 is a fair distance.
1200 would be more fair ? Certainly I'm getting a 1.5 second handicap? https://t.co/X3BBK0RCIG

— Matthew Centrowitz (@MattCentrowitz) July 14, 2016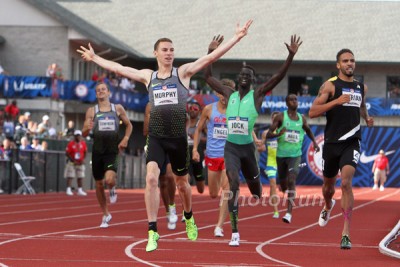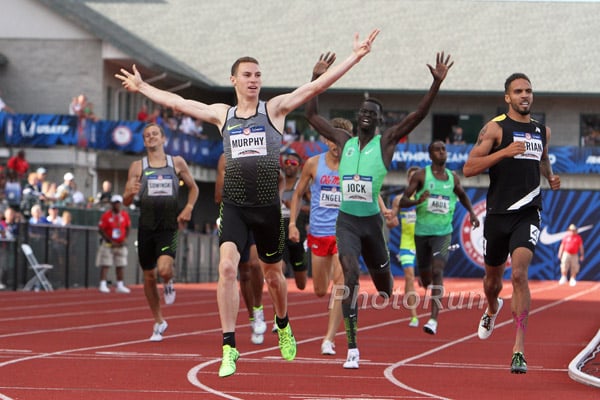 Both men are accomplished in both events. Centrowitz ran 1:44.62 for 800 last year, which is actually faster than Murphy's pb (1:44.76). And he's obviously a tremendous 1500 runner, with two global outdoor medals and a World Indoor title in March (not to mention four U.S. outdoor titles). Murphy made the semis at Worlds in the 800 last year and was the NCAA champ indoors; in June, won NCAAs in dominant fashion in the fastest time (3:36.38) at NCAAs since 1987. Murphy may have a slight advantage in that he's been training for both distances this year (Centro's been totally focused on the 1500) but Centrowitz looked so good at the Olympic Trials (setting a meet record of 3:34.09) that he should be fine dropping down.
The 1000 is a rarely-run event, so it's hard to predict exactly what each guy is capable of. Per All-Athletics.com, Murphy has never run one and Centro had only done two, both indoors: 2:19.56 in Stockholm in 2013 and 2:17.00 in Boston last year. To get a better sense of how they stack up, we got super nerdy. Below, we translated Murphy and Centrowitz's pbs over 800 and 1500 into speed (meters per second). We then used that to create an equation where x=race distance and y=speed in meters per second. Then we solved the equation for when x=1000 to get their projected 1000m time based on 800/1500 pbs. While these times aren't a prediction (as they're based on Murphy and Centrowitz's absolute best races), the PRs we used are recent (Murphy's are from 2016, Centro's from 2015) so they're not totally kooky. Math below.
Murphy 800 pb (1:44.76): 7.63650248 m/s
Murphy 1500 pb (3:36.23): 6.93705776 m/s
Slope = -.00099921
Murphy equation = 8.43586787 – .00099921x
When x=1000, y=7.43665787 = 2:14.47
Centrowitz 800 pb (1:44.62): 7.64672147 m/s
Centrowitz 1500 pb (3:30.40): 7.12927757 m/s
Slope = -.00073921
Centrowitz equation = 8.23808593 – .00073921x
When x=1000, y=7.49887593 = 2:13.35
Since Centrowitz has a better pb at both 800 and 1500, he's obviously projected to have a better 1000m time, but in reality, the two may be closer at that distance than the numbers indicate. Centrowitz is clearly the superior 1500 runner, while Murphy may be capable of faster than 1:44.76 for 800 as he ran that in the final to win the Trials. If he's in a race like last week's women's 800 in Monaco, where a front-runner goes out hard and tows everyone along to PRs, 1:44-low or 1:43-high is possible. (Remember, Boris Berian was in the lead at 400 at the Olympic Trials but didn't get to the lead until just before 400 because of the waterfall start). In fact, Murphy's true 1500 best is probably faster too as when he ran 3:36.23 he won that race by almost two seconds. Centrowitz's PRs are quite accurate as he was towed along by two speed demons (David Rudisha and Asbel Kiprop) in both of his PR races.
But enough of these hypotheticals! Who's going to win? Neither Murphy nor Centrowitz likes to lead. Centro generally gets in good position near the front before kicking on the last lap. Murphy sits somewhere in the middle of the pack before exploding to the lead over the final 100. We don't know who else will be in the field, but expect to see Centro and Murphy hanging off the leader's shoulder at the halfway point. We rate Murphy's speed a little better than Centro's at the moment (after all, he did defeat Berian, the World Indoor champ who won the Pre Classic in his final pre-Trials race) so it's in Centro's best interest to move early — say with 300 or 400 meters to go. If he does that, Murphy will likely replicate his NCAA/Trials gameplan by trying to hang with the move and shifting gears with 100 left. At the past two U.S. Outdoor Championships, Centro's move on the final lap has been so strong that he's dropped the rest of the field with 100 to go. Can Murphy hang on? In a 1000-meter race, the answer is probably yes. But can he hang on and respond with a late move of his own? Well, that's why they're running the race.
All this analysis is also built around the idea that the two men are treating this as a championship-style event where winning is the only priority. And that's not always the case. This is the first post-Trials race for both of them, and Rio is obviously the goal. They could be finishing up one last hard training block. Or they could just be racing to try out tactics before the Games. More than anything, this race is fun: a chance to answer a hypothetical question kicked around in Eugene bars during Trials week.
LRC Prediction: Centrowitz FTW. Outside of the Portland Track Festival — which he basically ran as a workout (he doubled in the 800 and 1500; Murphy beat him in the latter race), Centrowitz is undefeated on the year. Of course, Murphy has only lost once since January himself. Both men are in fine shape, but Centro is the bigger medal threat in Rio and has the more accomplished career. In a race this tight, that's enough for us to give him the edge.
Vote in our poll below and then talk about this great race on our world famous fan forum / messageboard. MB: Race of the week/year? Who you got? Centro vs. Murphy at 1k tmw night!! Live and on ESPN during Primetime!!!
[gravityform action="

polls

" id="422″ mode="

poll

" cookie="1 month" show_results_link="false" display_results="true" percentages="true" counts="false" ajax="true"]