By Jonathan Gault
June 18, 2016
BOSTON — The first ever street meet in the U.S. is in the books.
A temporary 180-meter track and long jump/pole vault runway erected on Charles Street on Boston Common marked day two of the inaugural adidas Boost Boston Games, and while some athletes, such as women's 100 winner Tori Bowie (11.03) took to it just fine, others weren't as enthused.
"It was atrocious out there for me and the track," said Jamaican star Yohan Blake after taking second in the men's 100 in 10.23 seconds, his slowest time of the season. "I kept going up and down, up and down, losing my form and my balance…It's more than a little bouncy. It's atrocious."
Reigning Olympic pole vault champ Jenn Suhr was another big name who did not perform as she wanted — that is to say, she did not perform at all. Suhr, who has not competed since May 7, was banged up going into the event, did not look great in warmups and decided to scratch rather than risk further injury.
Article continues below player
Bowie was not as harsh in her criticism of the track as Blake, but felt that her performance was worth more than 11.03 today.
"The time doesn't show what kind of shape I'm in right now," Bowie said. "[The track was] a little different. Sprinting on a regular track, you can put everything into the track. this one kind of yields a little bit. it's a bit bouncy, a little curvy. but overall, we all had to deal with it, so it was fair, right?"
It's a testament to the fitness of Bowie — the U.S. leader and #2 in the world right now — that she could still come out and run so quickly, especially considering she had been sick in the week leading up to the race.
While the track, as is common in this sort of competition, was not super fast (winning times in the 100/110 hurdles were 12.94 for Tiffany Porter and 13.39 for Ronnie Ash), athletes universally praised the atmosphere of the United States' first street meet. Fans lined the long jump/pole vault runway two or three deep, with bigger numbers fitting themselves into the bleachers at the end of the sprint straightaway.
"It kind of put me back in that mindset of when I was 15, 16 years old racing out in the middle of the road," Bowie said. "This was so exciting, I actually really enjoyed it."
"The crowd was good," Blake said. "The atmosphere was good but the track was atrocious."
Brief recap with interviews below.
*Full results *Day 1 recap *All LRC coverage
Men's 100: Marvin Bracy edges Yohan Blake at the line
(No wind reading listed in results)
PLACE
ATHLETE
RESULT
REACT
1
USA
Marvin Bracy
10.23

10.223

0.139
2
JAM
Yohan Blake
10.23

10.225

0.139
3
TTO
Keston Bledman
10.29
0.139
4
RSA
Akani Simbine
10.32
0.153
FS
JAM
Warren Weir
Marvin Bracy interview
Bracy said it was cool to come back and win at the same meet where he captured the high school Dream 100 in 2011, even if the venue has changed since then.
Yohan Blake was not happy with the track, said Russians should be allowed to compete in Rio and explained why he's no longer "The Beast"
Blake's training partner Warren Weir false started and Blake said that he wanted to false start too because of the track but knew he couldn't let down the fans. He said he was "all over the place" because of the track and couldn't transition properly but was happy to make it through the meet injury-free.
Blake also said he that he would be in favor of Russians competing in Rio even though the federation is currently banned by the IAAF.
"There's a saying: first bitten, twice shy," Blake said. "Everybody deserves a chance. God gives us plenty of chances. If it was me, I would let them compete because you know, they still have the [inaudible] out there and you have to give everybody a chance. Everybody works hard and everything. Give them a chance and let them compete, that's my thoughts…To be honest, I don't know what happened. We all deserve a second chance in life."
Finally, Blake explained why he gave up "The Beast" nickname earlier this year. He said that in April pastor Andrew Scott told him that God didn't like the nickname and that if he gave it up, he would run well in 72 hours. And he did, clocking 9.95 in Kingston on April 16, his first sub-10 100 since 2012.
"The nickname was holding me back. I keep on getting injured and it was related to The Beast…God didn't like it so I had to change it."
Women's 100: Torie Bowie clocks 11.03
WIND: 0.4 M/S
PLACE
ATHLETE
RESULT
REACT
1
USA
Tori Bowie
11.03
0.162
2
TTO
Kelly-Ann Baptiste
11.30
0.146
3
JAM
Remona Burchell
11.42
0.148
4
JAM
Schillonie Calvert
11.48
0.154
FS
USA
Octavious Freeman
Tori Bowie interview
Bowie, the U.S. leader at 100 (10.80) and 200 (21.99) said that she plans to run both events at the Olympic Trials.
Men's 110 hurdles: Ronnie Ash nips Orlando Ortega
Ash went almost a month between meets but ran a big SB of 13.18 in Montverde last weekend and won again here today.
WIND: 0.1 M/S
PLACE
ATHLETE
RESULT
REACT
1
USA
Ronnie Ash
13.39
0.145
2
ESP
Orlando Ortega
13.41
0.153
3
USA
Aleec Harris
13.68
0.136
4
USA
Spencer Adams
13.72
0.151
5
USA
Jason Richardson
14.21
0.155
Women's 100 hurdles: Tiffany Porter takes down Sharika Nelvis and world champ Danielle Williams
Porter loves running in street meets and has a great record in them: she's won the last three editions of the Manchester GreatCity Games and the last two of the Great North City Games. Now she can add the inaugural adidas Boost Boston Games to the list.
PLACE
ATHLETE
RESULT
REACT
1
GBR
Tiffany Porter
12.94
0.168
2
USA
Sharika Nelvis
12.98
0.149
3
JAM
Danielle Williams
12.99
0.190
4
JAM
Shermaine Williams
13.41
0.176
5
USA
Candice Davis-Price
13.43
0.143
Women's 150: Tiffany Townsend takes it, Jasmine Todd address her departure from the University of Oregon
WIND: -0.1 M/S
PLACE
ATHLETE
RESULT
REACT
1
USA
Tiffany Townsend
16.99
0.168
2
USA
Shalonda Solomon
17.01
0.174
3
USA
Gabby Thomas
17.20
0.170
4
USA
Kamaria Brown
17.27
0.150
5
USA
Jasmine Todd
17.48
0.221
Todd, who made Team USA for the World Championships last year in two events, left Oregon before the NCAA West regional meet under mysterious circumstances. She said she's still not ready to discuss why in detail but said that it was not related to the Oregon team.
"It's a sticky situation. It's a lot but it had absolutely nothing to do with the track program itself," Todd said.
Later, she added, "the coaches really don't have much comment because they know everything that was going on and they were there with a lot of support."
Todd said that she will likely explain what happened later once the time is right.
"The situation is as resolved as it's going to be…I will probably be releasing [a statement] because I feel like I do owe it to my fans, for them to know what was going on. It was a tough situation for me."
Men's 150: Antigua & Barbuda's Miguel Francis continues unbeaten season
Francis ran 19.88 for 200 in Kingston last weekend, the #3 time in the world this year, and is now six-for-six on the season at all distances.
PLACE
ATHLETE
RESULT
REACT
1
ANT
Miguel Francis
14.93
0.141
2
PAN
Alonso Edward
15.10
0.169
3
USA
Sean McClean
15.24
0.147
FS
JAM
Nickel Ashmeade
High school boys' Dream 100: Eric Stokes (Covington, Ga.) gets the win
WIND: -0.4 M/S
PLACE
ATHLETE
RESULT
REACT
1
USA
Eric Stokes
10.59
0.165
2
USA
Anthony Schwartz
10.66
0.164
3
USA
Cravont Charleston
10.69
0.201
4
USA
Micah Beaver
10.71
0.173
5
USA
Ramone Newland
10.80
0.170
High school girls' Dream 100: Amaru Patterson (Haines City, Fla.) wins
PLACE
ATHLETE
RESULT
REACT
1
USA
Amaru Patterson
11.59
0.152
2
USA
Katia Seymour
11.66
0.175
3
USA
Tamari Davis
11.77
0.146
4
USA
Abby Steiner
11.81
0.217
5
USA
Ariyonna Augustine
11.95
0.195
Women's pole vault: Katie Nageotte takes it after Jenn Suhr scratches
PLACE
ATHLETE
RESULT
4.30
14-1 ¼
4.50
14-9
4.60
15-1
4.70
15-5
4.80
15-9
4.87
15-11 ¾
4.93
16-2
4.98
16-4
5.03
16-6
5.08
16-8
1
USA
Katie Nageotte
4.50

14-9

XO
O
XXX
2
CAN
Alysha Newman
4.30

14-1 ¼

O
XXX
3
USA
Melissa Gergel
4.30

14-1 ¼

XXO
XXX
DNS
USA
Jennifer Suhr
PPP
PPP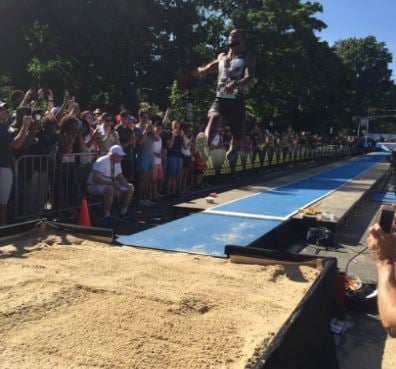 Men's long jump: Michael Hartfield wins it in the fifth round
2014 U.S. champ Jeff Henderson took the lead with a 7.77-meter jump in the second round and extended it out to 7.87 in the fourth round, but Hartfield answered back with a 7.90 in round five, which held up for the win. Olympic bronze medallist Will Claye struggled as he fouled four consecutive attempts in the middle of the competition.
PLACE
ATHLETE
RESULT
1ST
2ND
3RD
4TH
5TH
6TH
1
USA
Michael Hartfield
7.90
7.74

25-4 ¾

0.2

7.41

24-3 ¾

7.59

24-11

-0.5

F

-0.2

7.90

25-11

0.2

7.81

25-7 ½

-0.5

2
USA
Jeff Henderson
7.87
5.53

18-1 ¾

0.7

7.77

25-6

0.1

7.66

25-1 ¾

7.87

25-10

-0.9

F

-0.3

6.60

21-8

-0.4

3
USA
Will Claye
7.66
7.46

24-5 ¾

0.1

F

0.9

F

0.1

F
F

1.0

7.66

25-1 ¾

-2.0

4
USA
Korbin Smith
7.63
7.63

25-0 ½

0.3

7.34

24-1

0.4

F

0.3

7.51

24-7 ¾

-1.1

7.29

23-11

-0.7

F

-0.5

5
JAM
Damar Forbes
7.49
F
7.25

23-9 ½

-0.5

7.43

24-4 ½

0.6

7.32

24-0 ¼

7.29

23-11

0.2

7.49

24-7

-0.3