by LetsRun.com
June 19, 2016
A healthy Duane Solomon won the Victoria Track Classic Sunday afternoon in 1:46.71.
Solomon's health was a major concern after he ran his first race of any kind in a month on Friday in Vancouver at Harry Jerome where he was passed on the homestretch by the field, then jogged it in to the finish. Solomon after that race said he shut it down for precautionary reasons as he was on the comeback from an hamstring injury. Solomon said the plan was still to race today in Victoria.
Eyes turned to Victoria and Solomon did toe the line and get the win. The rabbit led the field out in 25 and 52 and Solomon was right on the pace. He took the lead for good at 600 (1:19) and would open up a gap on the field around the turn. Anthony Romaniw, the winner in Harry Jerome on Friday and in Portland last Sunday, closed well as he did in both of those races but he could not catch Solomon as Solomon won in 1:46.71 and Romaniw was second in 1:46.87.
Article continues below player
Afterwards Solomon said on the AthleticsCanada.tv broadcast, "Today was just a plan of being a little bit more conservative making sure I don't injure anything, working on parts of my race and tactics. I felt a little better than Vancouver."
Up next for Solomon is the Olympic Trials.
QT #1: A healthy Duane Solomon is a good thing
With Nick Symmonds not a sure thing for the Trials, it was good to see Solomon get through this race healthy. He may not be 100% yet fitness wise, but the Trials needs one of its veteran 800m stars.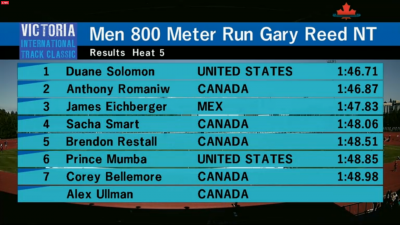 Women's 800: Melissa Bishop Goes Sub-1:59 Again
Melissa Bishop dominated this race and ran under 1:59 for the second time in three days. This race was all Bishop. Chrishuna Williams, who had been the US leader until Friday when Ajee Wilson ran faster, tried to stay with Bishop, but wasn't a factor the second lap. The rabbit went out in 28 and 57. Bishop took over the second lap and hit 600 in 1:27. With a great close she could have taken down Diane Cummins' Canadian record of 1:58.39 but settled for the convincing win.
QT #1: Bishop is showing why she got silver at Worlds last year. She is very good. The event may have moved to another level this year with the hyperandrogenism rules being dropped by the IOC but Bishop too is in better form than 2015.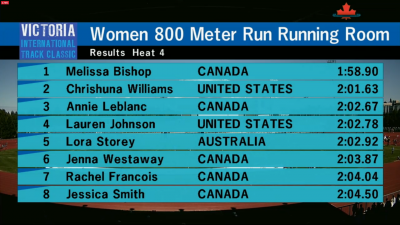 Results will be here.