Brooks PR Recap: Could Nick Symmonds and Andrew Wheating Be Watching the Olympic Trials from Home?
by LetsRun.com
June 18, 2016
SEATTLE — Some of the top high schoolers in the nation competed at the Brooks PR Invitational on Saturday and for the first time they were joined by pros as there was a pro men's 600, women's 800, and men's and women's 1500's. Strong winds prevented super fast times and Olympic qualifiers in any of the races.
The biggest news to emerge from the meet was that two of America's middle distance stars — Nick Symmonds and Andrew Wheating — may not even be at the Olympic Trials.
Symmonds had been slated to run the 600m, but scratched due to a nagging ankle injury. LRC caught up with him and in the interview below Symmonds did not commit to running the Trials. He's going to consult with his medical team and run the Trials if he thinks he's got a chance of making the team. Full interview with Symmonds below where he also talks about how his legal team has appealed the Run Gum lawsuit vs. USATF and USOC on whether athletes can have non-shoe apparel sponsors on their jerseys.
Article continues below player.
Andrew Wheating was the only athlete in the men's 1500m to chase the rabbit and the 3:36.20 Olympic qualifying time in very windy conditions that knocked over a plastic fence surrounding the track. He would fade over the final 400m and end up fifth in 3:41.38. The problem for Wheating is he has not attained the Olympic Trials automatic qualifying standard of 3:38.00, only having run 3:38.60 in the qualifying window. Wheating currently sits 34th on the LetsRun.com US Olympic Trials 1500m list with USATF saying its approximate field size will be 30.
In talking to Wheating, he was confident his fitness is there, but at the same time it is very evident that chasing times is wearing on him. Wheating clearly didn't expect to leave Seattle not having an Olympic Trials qualifier. Wheating did not play it safe today and go for the 3:38.00 Trials standard, he went for the 3:36.20 Olympic standard in conditions where achieving the standard was virtually impossible
Wheating next will race at the 1500m on Thursday in Portland, likely his last chance to get the standard.
(Editor's note: Personally, we at LetsRun.com think it's absurd that they only take 30 for the 1500. They are going to run 3 rounds. They should take at least 36 people, maybe 48 so you cut it in half each time).
Josh Thompson — Who Didn't Even Make NCAAs in the 1500 — Wins the Marquee 1500
In the 1500 race itself, the rabbit took Wheating out in 56 and there was a five-meter gap to the field as they realized such a pace was nearly suicidal considering the conditions. NCAA champ Clayton Murphy led the chasers. By 800 the pace slowed (1:55) and eventually most of the field would catch up to Wheating as NCAA runner-up Izaic Yorks took the lead at the bell (2:41.8). It was about racing for pride at this point. Wheating would fade the final 100m but there was a fierce battle down the homestretch between Yorks, Olympic silver medallist Leo Manzano, and Oklahoma State's Josh Thompson, who didn't even make NCAAs after inclement weather meant only 2 people in his heat made it to NCAAs.
Thompson was best and got the win in 3:39.61 just ahead of Manzano in 3:39.70 and Yorks in 3:39.83. There was a gap back to Murphy and then Wheating.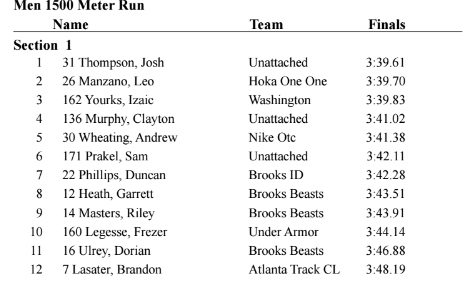 QT #1 Leo Manzano Takes A Big Step in the Right Direction
We didn't speak to Manzano as he had to go cooldown but we did speak to his coach Ryan Ponsonby. Ponsonby noted that Leo put himself in poor position early in the race and only was able to get back in it because the pace up front slowed so much. We don't expect Leo to be so passive at the Trials and for the first time this year, he showed his famous close. Ponsonby said there is a lot of work for Leo to do before the Trials.
Leo has been sick a lot this year, and this was his first sub-4 mile equivalent on the year. Here are his previous races this year from All-Athletics.com.
QT #2 Nice Win for Thompson
Thompson was glad to be back racing again and like Wheating does not have the Trials standard. (For an excellent profile on Thompson aka "The Most Interesting Man in the NCAAs" click here). This was a nice win versus a strong field.
QT #3 Clayton Murphy Likely Running 800 at Trials
The NCAA champ Murphy said he was looking forward to going back to Akron and training as he's been in Portland all week waiting for this meet. The good news is one day before Father's Day, his dad got to watch him run. Murphy wasn't certain which event he'd run at the Trials but is leaning to the 800 as he has the Olympic standard there. He has yet to sign with a shoe company.
Other highlights: We'll have a full meet recap later. Quick highlights and results below. In the other pro races, Katie Mackey crushed the field in the 1500 over the final 250, Phoebe Wright got a narrow win in the 800 over McKayla Fricker, and Cas Loxsom won a match-race 600. High school highlights included Annie Hill of Montana destroying the girls' mile field the final lap, Shona McCulloch of Canada dipping under 10 in the high school 2 mile, Devin Dixon (a Texas A&M signee) leading the 800 until he was involved in a fall, Cassandra Hall dominating the 100, and Bowerman Track Club coach Jerry Schumacher's sophomore son, Josh, going sub-9 for the first time (8:58.21) but that only got him 13th as 13 guys broke 9, while his freshman daughter Makenna ran 5:02.33 in the mile.
All video interviews below with results below that.
https://www.youtube.com/embed?listType=playlisty&list=PLwq03wnoevG9mUgVaSs4d2nL90BdSHCg1&layout=gallery
Full results: