What Did Boris Berian Say Under Oath? Before They Square Off In Court Today, Boris Berian's Deposition Is Released
by LetsRun.com
June 22, 2016
Before today's 2 p.m. Pacific Time (5 p.m. ET) showdown in Federal Court, Nike has filed more documents with the court in support of its case in the Boris Berian lawsuit where it is suing Berian trying to force him to run for Nike, contending they matched New Balance's contract and per the terms of Boris' 2015 contract, Boris has to run for Nike.
For track fans, this is a first glimpse to see what Boris Berian said under oath when he was deposed by Nike lawyers last Friday in at the Best Western in Big Bear, California.
One thing is clear: Boris didn't want to sign with Nike and his agent Merhawi Keflezighi tried to put various clauses in the contract so Nike would not match the New Balance offer. Berian's team contends Nike presented an offer with reduction clauses in it so it was not a match, while Nike contends Keflezighi team didn't clarify for weeks that New Balance's offer didn't have reductions in it.
The deposition revealed ways Berian and his team tried to avoid re-signing with Nike. A textual exchange is shown where Keflezighi says to Berian, "There's a few ways to get the desired results. Let me analyze them and get back to you with a good game plan and options" with the desired result being not signing with Nike.
Article continues below player.
In the deposition, Berian admitted that they purposely put in his New Balance contract the no-reductions clause and the affiliation clause (that his uniform would also have the Big Bear Track Club logo on it) because they didn't think Nike would match those terms.
Read the full Boris Berian Deposition here:
Nike's Response:
All Exhibits Filed by Nike Including Boris Berian, Merhawi Keflezighi Depositions, Emails, Texts and Correspondence with New Balance:
Ben Cesar Doc
Quick Thought #1: The first question for a judge to decide is, "Did Nike match?"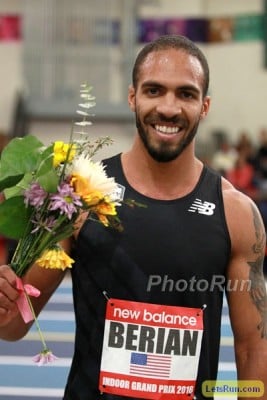 If we were the lawyers representing Berian today in court, we would admit the obvious – that Berian wanted out of the Nike deal. Don't let that facts make him look guilty. Just say, "Yes, our client didn't want to sign with Nike and doesn't have to as Nike didn't match." There is nothing wrong with wanting out of a contract.
It seems to us this is most likely going to boil down to one question for the judge to answer, "Did Nike match?" All of the other stuff (Big Bear logo, New Balance's shoes are better) seems a bit contrived. Does the judge believe Nike matched or not (or perhaps he could rule those terms were an unlawful poison pill, though we doubt the reductions clause would be viewed that way)?
Nike says it couldn't match as Merhawi didn't give them the details of the no reductions. Berian's team counters by saying the offer sheet presented by NB didn't have any reductions so there were no details to give.
Talk about the Berian contract on our messageboard: *MB:
*MB: Official Discussion Thread For Boris Berian's Contract Dispute – Court Case is today at 5 pm ET.
*MB: Berian & his agent Keflezighi screwed up, Nike is going to win the lawsuit
Flotrack has an article on Nike's filing today (but not the Berian deposition).