Friday Distance Prelim Recap: Caleb Ndiku Falls and Advances to Final, as Americans Brenda Martinez, Berian, Sowinski, Ryan Hill and Paul Chelimo Make Finals
by LetsRun.com
March 18, 2016
PORTLAND, Ore. — The track events got started late Friday morning at the 2016 World Indoor Track and Field Championships at the Oregon Convention Center. The highlights were qualifying in the men's 800, women's 1500, and men's 3000, plus Asafa Powell running a very fast 6.44 in the 60m.
We recap that action below.
Article continues below player
One thing to bear in mind with indoors is less people make the finals due to the smaller tracks so that can make the prelims more interesting and also give a big advantage to running in the last heat of any event, where you know what the time qualifying will be.
Men's 3000: Ryan Hill Advances But He'll Have His Hands Full in the Final as the Favorites Advance, Including Caleb Ndiku (Who Fell)
The preliminaries were surprisingly exciting for an event that only eliminated six of the 18 men in the field. Of the five men we mentioned capable of winning in our preview (which includes American Ryan Hill), all five made it through, though not without drama: defending champion Caleb Ndiku of Kenya fell with just over 800 meters to go in his heat and had to work to earn his spot in the final. The biggest news was we had the addition of a new contender as three-time World Indoor 1500 finalist Abdalaati Iguider (also entered in 1500) looked great in winning heat 2 and is running the 3000m here. We had assumed he would just run the 1500 where he is also entered.
Paul Chelimo of the US also made the final joining Ryan Hill who we had listed as one of the five favorites.
Heat 1
Brit Tom Farrell took this one out at a steady pace and as the field came through 1600 (4:18.24), and everyone except for Kyrgyzstan's Adilet Kyshtabekov was in contention. The racing began in earnest just before two kilometers (5:22.07) as Djibouti's Youssouf Hiss Bachir hit the front and accelerated the pace. With 700 to go, Kenya's Augustine Choge took over and began to string things out, with Ethiopia's Yomif Kejelcha, Bachir and American Ryan Hill behind him.
Kejelcha came up on Choge's shoulder at the bell and sprinted the last lap in 26.8 to take the win with ease. Choge hung on for second, while Bachir and Hill separated from the rest of the field and cruised in for the final two qualifying spots.
Quick Take #1: Yomif Kejelcha looked incredible but did he close too hard?
Kejelcha ran a very quick 26.8 final 200 and definitely looked the best of anyone in heat 1. But looking the best in the prelims can be a double-edged sword. Yes, he had the best kick, but that extra effort at the end could tire him out just a little for Sunday's final — which could be the margin between gold and silver. After all, Kejelcha lost to Iguider, who looked great in winning the other heat, by just .07 in Stockholm earlier this year.
Quick Take #2: Augustine Choge believes he's back to his pre-injury form and wants gold on Sunday
Choge battled a tendon injury that kept him out for all of 2015 but he said training has gone well since he started up again in October and believes he's back to his pre-injury form. Choge said he wasn't worried that Kejelcha was able to run away from him at the end of the race today as he knew he had a spot in the final locked up.
We apologize for the quality of the interview below (our lens was blurry) but in case you can't tell, that's Choge in the video.
Quick Take #3: This was Ryan Hill's easiest World Championship prelim to date, but he knows the final will be very tough
Hill said that unlike his previous qualifying rounds at outdoor Worlds in 2013 and 2015, which he dubbed "dogfights," he felt like it was much easier to make the final this time around.
"I'm really relieved that I have a little bit left in the tank and see how that translates to Sunday," Hill said.
That's the good news. The bad news is that Hill has a massive challenge ahead of him in Sunday's final. We criticized Hill's pre-meet goal of top five as shooting too low, but after watching today's races, we may be inclined to agree with him. Kejelcha and Iguider both looked fantastic and if Ndiku doesn't fall, he probably makes it through more easily too. Eight of the 12 men in the final have broken 7:40 and once you get to that level, everyone has at least an outside shot at a medal.
Hill knows it will be tough to beat guys like Kejelcha and Ndiku, against whom he is a combined 0-7 in his career.
"It's being able to stay with those guys and maybe surprise them in the end and kind of chip my way into a place that maybe I'm not quite qualified to get," Hill said. "I'll just be honest, I know the Africans are really good. I know how good they are. It's impressive."
Heat 2: Iguider Runs and Changes Everything
This one turned interesting just after 2100 meters when defending champion Ndiku went down. Ndiku was running on the outside of the main pack on the turn and went down with Isiah Koech tried to move to the outside. Once he went down, the pace increased, but Ndiku deserves a lot of credit for hopping up quickly and a lap later he was already back at the end of the pack. Iguider looked a cut above the rest of the field over the final 200, winning the heat easily by almost a second. 2013 World Champs bronze medallist Isiah Koech looked strong to take second, but the battle for the final two auto spots was fierce. Ndiku held third on the final turn, but the began to feel the effects of his fall over the final 50 meters and was passed first by the U.S.'s Paul Chelimo and later by Great Britain's two-time NCAA mile champ Lee Emanuel at the line. Ndiku wound up fifth, just outside the final auto spot, but his time was good enough to advance him to the final.
Quick Take #1: Iguider looked fantastic and is a serious gold medal contender
Iguider looked as if he was cruising at the end of this one while everyone else was battling it out for the qualifying spots. We didn't get to speak to him afterwards — he ran through the mixed zone almost as quickly as he did on the track — but he will be dangerous on Sunday.
Quick Take #2: Caleb Ndiku's training hasn't been 100% but says he has something special in store for the final
Ndiku wasn't too down on himself after the fall as he said his main goal was to make the final. However, it did make it more difficult to evaluate his chances in Sunday's final. Ndiku clearly struggled over the final 100 meters, but he still made it into the final on time. How much of that struggle was due to the fall and how much was based on fitness? In his first race of 2015, Ndiku fell in Lausanne and wound up taking silver at Worlds. Can he engineer a similar turnaround (in a much smaller timeframe) in Portland?
Ndiku ran today's race with athletic tape on his back, and he revealed that he's been battling a nagging back injury since November 2014 but feels that he's been making progress on it recently. He said that his knee injury that required surgery in the winter of 2014-15 was related to the back troubles and that even now his sprinting ability and speed training has been compromised by the injury.
Finally, we asked Ndiku about the "Run Caleb Ndiku" music video that was released last month. Ndiku told us that he's a fan and that he listened to it this morning. Ndiku is quite a character, running the prelims at World Indoors in 2014 in a winter hat and dyeing his hair red for the final. We asked him if he had anything special in store for Sunday's final.
"That is a secret I'll have to keep until the last minute," Ndiku said with a smile.
Later we spoke to Ndiku on camera when the British press wanted to know if he had anything so say to Mo Farah, his #1 rival, who lives in Portland but is skipping World Indoors for the World Half Marathon Champs. The clip is very short, but Ndiku didn't back down from Farah saying, "All I know is I'm still the guy to watch."
Quick Take #3: Paul Chelimo Made the U.S. Team and Now Has Made the Final
We also spoke briefly to Chelimo's coach Dan Browne. Browne was very happy with how Chelimo ran tactically in the prelim and felt that he looked very controlled, a good sign that he has something left for Sunday's final. Browne said Chelimo will be shooting for a medal.
Chelimo said that he felt strong today and today was just about making the final and now focus on recovering. On what goals for the final he said, "I came here to represent America, so my goal now is to go for the medal, top three."
Quick Take #4: Mo Ahmed has never felt more prepared for a 3000
Ahmed said that he's been working with coach Jerry Schumacher on really improving his speed this year and it's paid off with a Canadian record in the 3k at Millrose (7:40.11) and a berth in Sunday's final. It certainly helps that he trains with a fast closer like Ryan Hill.
QT #5: Cam Levins Doesn't Make Final But Says This is His Best Finish of the Season
Cam Levins, who also lives in Portland and trains in the Nike Oregon Project with Mo Farah, did not make the final. He's had a rough — by his standards — indoor season, but he said this was the best he closed all season. Now it's time to focus on the outdoor season. Cam said he was behind this indoor season because he had some mechanical and injury issues through December but now is feeling healthy and ready for outdoors.
Men's 3000 results
Heat 1
Heat 2


Women's 1500: Favorites Including Brenda Martinez Advance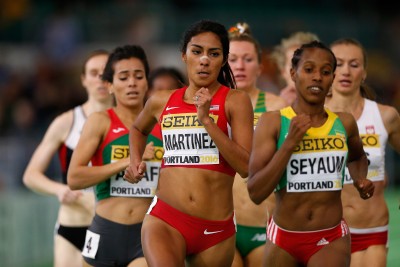 On paper the women's 1500m at the World Indoor Championships looked to be a battle between Brenda Martinez and the four Ethiopian-born women (the three Ethiopian entrants and Sifan Hassan, who represents Netherlands). After the prelims, that is still the case as all of the Ethiopian-born women and Brenda Martinez automatically qualified for the final along with Poland's Danuta Urbanik. America's Cory McGee did not make the final.
Heat 1 featured the top seed Dawit Seyaum, who was the 4th place finisher at Worlds last year, Brenda, and Axumawit Embaye, the weakest of the three Ethiopian entrants. Those three took the three automatic spots with Seyaum ahead of Embaye, who was ahead of Martinez. However, they all will start on equal terms in tomorrow's final.
Heat 2 had Sifan Hassan, undefeated this indoor season (she ran 3:56.05 last year outdoors), and Gudaf Tsegay, who was the was the world junior silver medallist in 2014. They showed themselves to be the class of the field. After the pace lagged the first 400 (68.90), Tsegay went to the front and upped the ante and started running 32-second laps.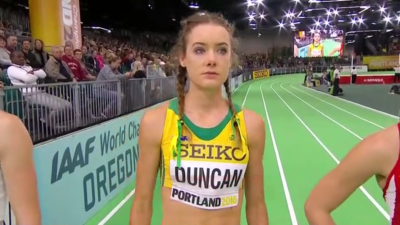 Australia's Melissa Duncan would hang up front until the final lap. It was on the final lap that Hassan wanted to show everyone who was boss and she took the lead with ease and won the heat comfortably. Tsegay got 2nd, Urbanik moved up for 3rd, Duncan held on for fourth and and the last spot in the final as Gabriela Stafford in 5th and Cory McGee in 6th would miss the final.
QT #1: Hassan Looked Great
Hassan's pedigree was the best coming in and she remains the favorite for the final. She said afterwards that she learned from her expereince in Beijing last year (she was third in a race dominated by Genzebe Dibaba) that she needs to be closer to the front in championship finals so wach for her to go out with the leaders tomorrow night.

QT #2:  A Medal Will Be Difficult for Martinez
Coming into Worlds, Seyaum had beaten Martinez convincingly early this year and Hassan is a class above her. That left one medal between Embaye, Martinez, and Tsegay and today's action showed that medal won't come easily for Martinez.
QT #3: Cory McGee still has a few things to learn
McGee wasn't too down on herself after her race but thought she would be able to close better than she did today given how strong she felt over the final 600 meters at USAs last week. McGee could have made the final by closing in a 65 for her last 400, but for whatever reason, she didn't have it today.
Overall, McGee gave herself an A for the season as it represented a big leap forward from last year when she didn't even run indoors. She said that the biggest way she can improve is by getting experience and improving tactically in major races, so she was happy for the experience she got today in Portland. McGee, who trains in Boston with Mark Coogan, will now go back to Florida and Mississippi for a few days to visit family and enjoy some sun.
Women's 1500m Heat 1
Heat 2

Men's 800: Musaeb Balla Impresses as Both Americans Make The Final
The prelims of the men's 800 are in the books and round 1 was cut throat as it always is at major championships with the field of 15 being whittled down to six. To make the final you had to either win your heat or be one of the next three best times.
Crazy things can happen in the rounds of the 800, especially indoors, but there were really no big casualties in the first round here as all the men we considered pre-race to be medal contenders made it through. In the end, it ended up being very hard to make the final if you were in the first two heats but very easy if you were in heat #3.
One of the big favorites Musaeb Abdulrahman Balla looked great running the fastest time with 1:47.61 to win the third heat, with two-time defending champion Mohammed Aman lookingless than stellar, having to fight hard in his heat to finish second (1:48.02) ahead of the US's Erik Sowinksi (1:48.11). Sowinski and US champ Boris Berian both made the finals on time.Boris Berian both made the finals on time.
Discuss the 800 on our world famous messageboard / fan forum: Mens 800 Final WIC16.
Heat 1
In the first heat, Morocco's 19-year-old Mostafa Smaili went to the front and took the field through a dawdling 58.00 first 400, thereby guaranteeing that only the winner would make it to the final. Behind him, the field stayed close with Kenya's former NCAA champion and Iowa State alum Edward Kemboi moving up and trying to get by Smaili on the final lap. But Smaili's last 200 was esxception in this negatively split race (25.30) and he was able tohold Kemboi off, crossing the line in 1:52.16 to Kemboi's 1:52.39. That sealed Smaili's place in the final and mean that barring a freak fall in the other two heats, Kemboi would be going home early in his first major global championship.
Quick Take #1: Smaili keeps His Great 2016 Going
The 19-year-old Smaili has had a huge jump this year going from a 1:48.17 indoor PR to 1:46.50, seeding him third coming into these championships (he has a 1:46.57 outdoor PR from last year). Here he keeps that momentum going making the final in his first major championship. He probably showed his inexperience with the super slow opening 400, but was able to pull it off and now has a very good shot at a medal. If the final is slow, watch out as his final 200 was great today.
Quick Take #2: Edward Kemboi Goes Home Early
Post-race, Kemboi said that he didn't realize they were running so slow and waited too long and was too far back when he made his move. His coach told him if it was slow he would need to take the lead and he regretted not doing that. Looking ahead to this summer and trying to make the Kenyan Olympic team, he said he thinks he can run 1:44 based on his current fitness (current PR of 1:45.58), but that "Everybody is really fit in Kenya". He says that last year he had such a long season with so many races (since he was still in the NCAA) that he was really tired by the time the Kenyan Trials came around and he didn't make the final. This year with no NCAA season to worry about, he hopes he will be fresher, but admitted that "it will be hard" for him to make the Kenyan Olympic team.
Quick Take #3: National Record For Afghanistan
Afghanistan's Wais Ibrahim Khairandesh finished last place, setting a new national indoor record of 1:57.36. (His outdoor best is 1:55.91.)
Heat 2
Heat 2 had a lot more shifting around than either of the other 800 heats. Kenya's Jeremiah Mutai went out in the lead, bringing the field through a 26.18 first 200, but was then surpassed by Spain's Daniel Andujar who lead through 400m in 54.63. All the while, Boris Berian stayed within striking distance, moving himself into second place and then going to the lead with one lap to go as they came through 600m in 1:21.52. On the final lap though it was Burundi's Antoine Gakeme who came from way back and made a big move to pass Berian and win the heat in 1:48.09 as Berian finished in second (1:48.55) ahead of Mutai in the third. Berian didn't get the heat win, but would get in to the final as the final time qualifier. Even indoors, one is pretty lucky to make a final when they only run 1:48.55 but considering he was way faster than the first heat and that the third heat of 5 guys had two of the slowest men in the field, Berian would end up making it comfortably as fourth place in heat #3 was just 1:51.36.
Quick Take #1: Boris Berian will be disappointed with anything less than a medal.
Berian was expecting Gakeme to die once he made his aggressive move on the backstretch but Gakeme surprisingly held on, making Berian sweat through the final heat to confirm his time qualifier. Berian admitted that the race was "more challenging than I thought it would be" but he's in the final now, which is half the battle in the 800 — three of the six guys in the final will medal. Berian said that a medal was his goal going into the meet (he had the #2 seed time) and that he'll be disappointed with any other outcome.
In many ways, he's lucky to have that opportunity. Berian is a front runner and we didn't like the fact that he only went out in 54-high in this race. Since the first heat was slow as heck, Berian should have gone out in 51 high-52 low like he did at USAs and run 1:47 at the worse and been in easily.
Quick Take #2: Who is Antoine Gakeme?
This was Gakeme's first 800 of 2016 and he looked great in it. Though he was boxed in at the bell, he escaped the box on the backstretch and released a savage burst of speed, destroying Berian and everyone else over the final lap to win in 1:48.09.
Gakeme, 24, rose to prominence in 2013 when he ran a PB of 1:45.39 in the semifinals of the World Championships, a time he lowered to 1:44.09 last year (he again went out in the semis at Worlds). Before this year, Gakeme had run just one indoor race, and his first couple in 2016 didn't go great as he ran 2:20 1k in Stockholm on Feb. 17 (the race where Ayanleh Souleiman broke the WR) and was second (3:52) in a slow 1500 final at the Spanish indoor champs on January 30.
Now he's in his first global final and it's safe to say he's happy to be there. After crossing the finish line, he dropped to his knees and raised his arms in joy and and had a huge smile plastered to his face throughout our interview with him.
"You see my face, how my happiness is," Gakeme said.
Gakeme, who relocated from his native Burundi to Spain last year, isn't taking anyone for granted in the final as he believes everyone has a chance to win. Given how strong he looked over the final 200 today, he certainly does.
Heat 3
The third heat was the most loaded of today's opening rounds as it had both the world leader Musaeb Abdulrahman Balla of Qatar as well as two-time defending World Indoor 800m champion Mohammed Aman. But given that the first two heats had been slow and the third heat knew exactly how fast they needed to run to make the final (1:48.54 and top 4) , it was the easiest heat to get out of and it was no surprise that it ended up as the fastest heat of the day. Musaeb Balla went to the lead and stayed there, going through 200m in 25.76, 400m in 53.22 and 600m in 1:20.44. Right behind him was US's Erik Sowinski, stalking him in second place and keeping the pressure on Balla to make sure the pace didn't slow. Aman sat on Sowinski in third as the top three broke away, quickly dropping the two slower men.
On the final lap, Balla created some separation between him and the rest of the field, closing in 27.17-seconds for the final 200 to win the heat in 1:47.61. Behind him Sowinski held on to second place all the way to the line when he was just passed by Aman who  beat him by .09-seconds. Their 1:48.02 and 1:48.11 finishing times garnered them both places in Saturday's final as the fastest two time qualifiers.
Quick Take #1: Balla Is The Man To Beat
Coming into these championships, the men's 800 was a pretty wide open race with no one man having the "big favorite" status. We thought that Balla, as a man with plenty of world championships experience and the fastest time in the world this year, had the slight edge and nothing we saw today has changed our view on that. If anything, Balla cemented himself even more as the favorite as he went unchallenged in his heat with what was by far the fastest time of the day and looked really smooth doing it. But this is the indoor 800 where anything can happen, so we're not handing him the gold medal just yet.
Quick Take #2: A Third Consecutive Gold Medal Might Not Be In The Cards For Mo Aman
Erik Sowinski is a great American runner, but the truth is if Mo Aman has to work that hard to barely beat him by .09-seconds, then that doesn't bode well for his current fitness given that on his best day he is a 1:42.37 man who can take down David Rudisha. Aman sat in third for this entire race and didn't look super easy fighting his way past Sowinski to just take the runner-up spot. As the two time defending champion, he clearly knows how to get the job done and has gold medal potential, but we'd feel better about his chances if he was a little faster and/or smoother in this heat.
Quick Take #3: Erik Sowinski Executes A Perfect Opening Round
Sowinski said that after he watched the first two heats, his strategy was to make sure he kept pressure on the leader so the pace didn't slow and he knew if he did that he'd make it to the final on time no problem. He was happy that they ran well through 600m so he was able to "shut it down" in the final 100 and said he felt great, especially given that it was his third race in seven days. Sowinski said he's recovered well from USAs, explaining that he's pretty used to racing a lot of races back-to-back when he's on the European circuit, so that this wasn't too difficult for him.
On what he'd have to do in order to medal in tomorrow's final Sowinski said, "Man, just put yourself in the mix. You never know how these final races are going to play out. It could be a 1:45 race, it could be a 1:48 race. Just kind of stick your nose in it in the first half and if someone moves go with them and see what we got. It's exciting to have Boris in there too, hopefully we put on a show and get some medals."
As an interesting side-note, Sowinski had no idea that he was into Worlds when he ran the 800 final at USA Champs last weekend even though it was apparently somewhat public knowledge.
Sowinski: "So apparently everybody knew before I did [that I was into Worlds] because they announced it on TV before the [US 800] final that I was already on the team and I didn't know that. So apparently USATF accepted the invite the afternoon of the final so I was already in."
We don't know the specifics of this case, but it sounds like USATF needs to do a better job communicating with the runners as the entire world watching on TV shouldn't find out about the IAAF invitation before Sowinski. Either that, or someone let it slip and maybe it wasn't supposed to be public knowledge at that point in the first place.
Discuss the 800 on our world famous messageboard / fan forum: Mens 800 Final WIC16.
Results:
Heat 1
 Heat 2
Men's 60m: Asafa Powell Runs 6.44 in Prelim
The 60m final is tonight but Asafa Powell ran a quick 6.44 letting up before the line.
6.39 is the world record. Powell has a history of running fast when nothing is on the line. Interview with Powell below.