2:14.20 World Record for 1000m for Ayanleh Souleiman as He Crushes Wilson Kipketer's Old Record
by LetsRun.com
February 17, 2016
Update: Three world records in total were broken at this meet and we recap them all in a separate article here.
Ayanleh Souleiman of Djibouti ran 2:14.20 for 1000m to easily erase Wilson Kipketer's 2:14.96 from the world record books.
Article continues below player
Dutchman Bram Som was Souleiman's rabbit and led for the first 600m. 200m was reached in 25.42, 400 in 52.08 (26.66), and 600 in 1:19.44 (27.36). It was then Souleiman versus the clock as Thijmen Kupers and Elijah Manangoi were falling back.
Souleiman reached 800 in 1:46:97 and as long as he did not run his first 28-second lap of the race, at least a share of the record would be his.
Souleiman did even better, finding another gear to crush the record in 2:14.20 (27.23) as he smiled and pumped his fist into the air upon seeing the record flash on the screen.
He then was embraced by his coach Jama Aden on the turn as they celebrated the first world record of the night. Aden's female athlete Genzebe Dibaba broke the mile record later in the meet.
Analysis below. Discuss world record here.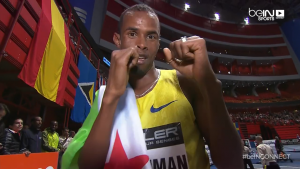 Results
1 Ayanleh Souleiman 92 DJI 2:14.20 WR
2 Thijmen Kupers 91 NED 2:17.02 PB
3 Elijah Manangoi 93 KEN 2:17.09
4 Jakub Holusa 88 CZE 2:18.27 PB
5 Fouad El Kaam 88 MAR 2:19.71 PB
6 Antoine Gakeme 91 BDI 2:20.25
7 Marc Alcala 94 ESP 2:20.45
8 Dale Clutterbuck 92 GBR 2:20.84
Bram Som (pace) 80 NED DN

Leader's Splits
25.42
52.08 (26.65)
1:19.44 (27.36)
1:46.97 (27.53)
2:14.20 (27.23)
Quick Take #1 Aden's Group Can Run Fast Indoors
Indoor world records aren't the easiest thing to make sense of as a lot of athletes do not take the indoor season too seriously. To crush a world record by Wilson Kipketer is an impressive feat. Even more impressive is this was in the first race of the season for Souleiman. Aden's group has shown it can run fast indoors the first time out the gate.
QT #2: Indoor vs Outdoor World Records
Below is the indoor world record 800,1000m and 1500 with the outdoor world record and the ratio of each. The 800 and 1000 ratios are right in alignment now. Be interesting to see someone take a crack at 3:30 indoors. If the ratio of 1500 were similar to those of 800 and 1000 the record should be between 3:29.50 and 3:29.60.
800 1:40.91/1:42.67 = .9828
1000m 2:11.96/2:14.20 = .9833
1500 3:26.00/3:31.18 = .9754
Update: Three world records in total were broken at this meet and we recap them all in a separate article here.
Screenshots from BeinSports Broadcast