Videos from 2016 Camel City Meet
By LetsRun.com
January 30, 2016
WINSTON-SALEM, N.C. — The 2016 Camel City meet at the JDL fast track was a great one and we have a full recap at this link. (Gerry Lindgren''s American indoor high school record had stood since 1964 and is finally gone thanks toDrew Hunter running 7:59.33 in a race won by the hot Garrett Heath. Matt Centrowitz won the mile and dabbed for Carolina fans as Shannon Rowbury got another win.)
We were a little late including our post-race videos in our initial article so we are including them below in case you just want the videos and have already read the article.
Article continues below player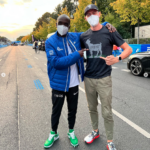 Kipchoge loves the 1:59:40 Shirt Get Yours Today
Shirts are $10 off if he breaks the world record and you order today.
---
Editor's note: The meet organizers have paid for most of Jonathan Gault's travel and housing to the Camel City Elite meet in North Carolina.