Less Than A Month From LA 2016, Kevin Hanson & Desi Linden Talk Marathon Trials, Bobby Curtis & Galen Rupp
By Jonathan Gault
January 14, 2016
Wednesday marked one month until the 2016 U.S. Olympic Marathon Trials in Los Angeles, and with that in mind, I reached out to 2012 Olympian Desi Linden and her coach, Kevin Hanson, to discuss the race. Linden and Hanson, who heads up the Hansons-Brooks Original Distance Project with brother Keith, are currently in Davenport, Fla., with the rest of the Hansons squad (Hansons has 11 OT qualifiers overall: seven women and four men) preparing for the Trials on February 13 and were kind enough to take the time to chat with me on Wednesday afternoon. Both interviews were interesting, particularly Hanson's, in which he discussed Bobby Curtis' buildup (and the Brooks athlete who has run every step of it with him), plus his thoughts on qualifying for the Trials via half marathon vs. the full distance. He also shared his thoughts on Galen Rupp's possible debut in the marathon (you might be surprised to hear what he has to say).
Below, you can find my six biggest takeaways from my conversations with Linden and Hanson.
Article continues below player
1. Don't underestimate the turns on the LA course
Linden and Hanson had a chance to check out the course, and while Hanson said that he hasn't incorporated as much course-specific training into his group's plan as he might when preparing for Boston (where it's important to train on downhills) or New York (where it's important to practice bridges), both noted the many turns on the course, which will serve as rhythm-breakers. In particular, Linden was cognizant of the 180-degree turn in the start-finish area, which will be run four times (plus an extra 180-degree turn in the opening 2.2-mile loop).
"I think [the turns] are going to be a factor," Linden said. "I didn't think anything on the USC campus was too tight, no really sharp back-to-back turns where you lose a lot of your rhythm, but those 180s just lap after lap will be a little bit tricky."
Indeed, the 180 at Figueroa and 11th could be an issue late in the race as runners begin to tire and would be an ideal place to capitalize on a struggling opponent by making a move. Be sure to pay attention to that spot on race day.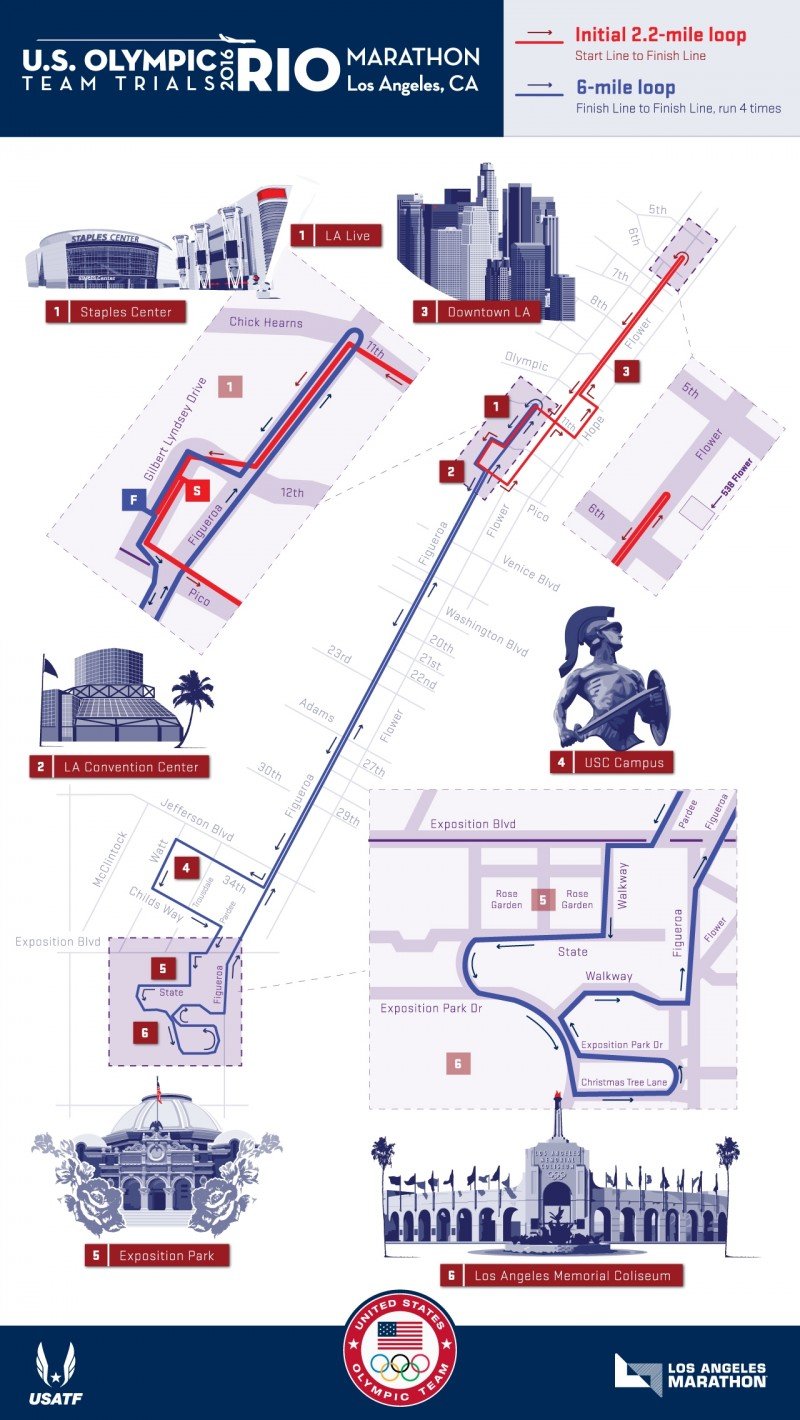 2. Hanson said Linden's buildup has been "very good" so far but there's still work to be done; "the next four weeks are where you make or break," according to Linden who adds she hasn't "been hitting anything out of the park this time."
LA will be marathon #12 for Linden and at 32, she's in a good spot where she's old enough to reap the benefits of experience but young enough that her body hasn't started to break down. Linden said that she's been more patient during this buildup than she was four years ago prior to making her first Olympic team.
"I haven't been hitting anything out of the park this time," Linden said. "I feel like last time, every day was, 'This workout makes or breaks it, this is whether I'm going to be on the team or not.' I've been a lot more relaxed and patient in this one. No standout workout where I go, 'Oh my gosh, I'm in the shape of my life,' but really solid workouts every time out and the mileage is there. If you're comparing them side-by-side, 2012 might look better but there's a lot of work to go still."
Part of Linden's patience was forced on her. She had aimed to close out her track season by running the 5,000 at the NACAC Championships in August, but a calf injury, which Hanson said was brought on from racing in spikes (as opposed to the flats Linden uses more frequently on the roads), caused her to scratch from that race and hold off on workouts for the first few weeks of her return to running early in the fall.
"It was almost good timing for it because it allowed me to be really patient and really gradually build into it," Linden said. "I've been completely healthy [since then]. I did get a head cold, but nothing that kept me from running or doing workouts."
Though Linden ran throughout the fall, her buildup began in earnest in early December and she figures to average 115 miles per week for the 10-week block before the Trials, peaking at around 123 or 124. She'll begin to taper 10 days out from the race, but won't back off too much, lowering her weekly mileage to 90 for the week or two before the Trials.
All of this is pretty standard for Linden, and considering her last three marathons have all produced strong results (2:23:54 for 10th at 2014 Boston, 2:28:11 for 5th at 2014 New York and 2:25:39 for 4th at 2015 Boston), Linden appears close to a lock to make her second straight Olympic team.
3. Bobby Curtis' training has gone great so far
On the men's side, Hanson's top pupil is Bobby Curtis, the Villanova grad who owns pbs of 27:24 for 10,000 and 2:11:20 in the marathon (from 2014 Chicago). Meb Keflezighi and Dathan Ritzenhein make up Tier 1 among American marathoners heading into the Trials; Curtis is one of many athletes ensconced in Tier 2, who could make the team with a good day in LA.
"Each marathon segment, he's gotten a little bit better," Hanson said of Curtis. "When he ran his first marathon with us (a 2:13:24 for 10th in Fukuoka in 2013), he had a tough time adjusting to the cumulative fatigue and being constantly fatigued in training. And we actually had a little blip in the screen and had to back off with him.
"We did not have to do that for Chicago [in 2014] and then you saw the success (9th in 2:11:20, top American). And now he knows, 'Let's go, when I'm feeling [the fatigue], it's a good thing.' He's now wrapped his head around that. There's definitely been a process of learning. People forget that with Desi, her first six marathons she ran with us, she was better every single marathon. I expect the same thing with Bobby."
By design, Curtis did not run a marathon in 2015. Hanson said that they decided in 2014 to either run a fall 2014 or spring 2015 marathon and then recharge by focusing on other distances before the Trials. After Curtis' 2:11 in Chicago in October '14, he began 2015 by running the U.S. Cross Country Championships and placing an impressive second, behind only XC stud Chris Derrick. Curtis also ran 27:56 for 10,000 on the track in May. In all, Hanson called Curtis' 2015 season "exactly what we wanted."
4. Hanson: "I think everyone who ran a fall marathon is going to be a half a step slower than they would have been had they not run a fall marathon"
Unlike Keflezighi or athletes like Deena Kastor and Luke Puskedra, none of the Hansons athletes ran a marathon last fall, and that also was by design.
"We intentionally didn't have anybody run a fall marathon because I think it's very difficult and I think you increase your odds on getting hurt coming back from a fall marathon to something as quick as February," Hanson said. "I really think that it's funny because everybody seems hot about people that have all run fall marathons because that's what's most recent in their mind. But I think everyone who ran a fall marathon is going to be a half a step slower than they would have been had they not run a fall marathon, and that's if they make it out healthy."
Some athletes are obviously better positioned to succeed on short recovery than others. Keflezighi, for instance, ran New York in November 2011 and proceeded to win the Olympic Trials in 2012, and that's when the races were just 10 weeks apart (as opposed to the 15-week gap this time). But it will be interesting to see how someone like Puskedra, who was considering quitting the sport around this time last year, fares in his second high-quality marathon in a four-month stretch.
5. Hanson on how Galen Rupp would fare if he runs the Marathon Trials
I asked Hanson who he viewed as the top contenders were at the Trials (outside of athletes he coached) and he listed Keflezighi and Ritzenhein, followed by the last two U.S. marathon champs — Tyler Pennel and Jared Ward. I asked what he thought Galen Rupp's chances were if Rupp decided to run the Trials.
"I think that people may be surprised [by what I think]" Hanson said. "I would ask this. My questions are simple. People thought that Mo Farah was going to run 2:06 or 2:05 and that didn't happen in his debut on a London course with rabbits that were hired specifically for him to take him through whatever pace he wanted. And I don't think Galen is as good as Mo Farah. And so anybody that would be predicting anything faster than Mo Farah (2:08:21) would be totally unrealistic with him in a situation that doesn't have any rabbits and is a [championship] race situation."
As the coach of a group whose primary focus is the marathon, it's not surprising that Hanson places value on experience at the 26.2-mile distance (hence his endorsement of Pennel and Ward). I was interested to know whether he liked the fact that athletes could qualify for the Trials by using a time achieved in a half marathon, rather than a full marathon.
"I don't think that [a half marathon] simulates the marathon at all," Hanson said. "I do like it for one aspect [in that] I think that it provides additional excitement to the event and that's always good. So I like it for that. But I don't think it's done what they intended it to do, which is introduce people to the sport of marathoning without running a marathon. And I don't think it's done that when you go through and look historically of the people that have qualified through it. I think it's simply been an additional way for people to participate that day."
"I wasn't against it before, but I seem to be more against it now. I like the idea that it brings people to the sport but I don't think that it brings people who are going to be factors."
6. Watch out for Jake Riley
Hanson said that he felt he had three athletes in his group who would be competitive at the 2016 Trials: Linden, Curtis and Jake Riley. Riley, a 28-year-old Stanford grad, ran 2:13:16 in his debut in Chicago in 2014 and is coming off a 2015 season in which he broke 28:00 for the first time at 10,000 (27:59.37) and placed second in the Philly Half Marathon (63:23).
"Jake isn't on people's list and it's kind of funny to me that he's not," Hanson said, noting that Riley was running well at this time last year, placing second at the Great Edinburgh XCountry meet behind former Stanford teammate Chris Derrick. "His training is going exceptionally well. He'll be a healthy two minutes or so [better] than he was in his debut at 2:13, so if anybody considers 2:11 as someone who's in the hunt, then he's in the hunt."
I asked if Riley had been working out with Curtis during this buildup.
Hanson's response?
"Every step."
More: Want to know how Riley's Stanford teammate Chris Derrick is doing and hear some excerpts from our interview with coach Hanson. Read/listen to this: LRC Chris Derrick on the Olympic Marathon Trials, Pro Running Being a Sweet Part-Time Job, The NY Jets, and the Decreasing Marginal Utility of Income
*MB: The Olympic Marathon Trials are One Month From Today: Who You Got?