Book Review: "A History Of The Falmouth Road Race" By Paul Clerici – A Well-Researched Reference Book On One Of America's Most Beloved Road Races
By Jonathan Gault
January 12, 2016

Before it became one of America's best-known road races and a staple of the New England summer, the Falmouth Road Race was an idea inside the mind of a bartender named Tommy Leonard. Leonard spent his summers tending bar on Cape Cod at the Brothers 4 and the rest of the year at the legendary Eliot Lounge, a runners' hangout in Boston. On September 10, 1972, Leonard took a break from serving drinks to watch Frank Shorter win Olympic gold in the marathon in Munich.
"I refused to serve anybody when Frank Shorter came into the stadium," Leonard said.
Article continues below player
Leonard was so inspired that he decided to figure out a way to get Shorter to Falmouth. Less than a year later, the Falmouth Road Race was born. And by 1975, Leonard had accomplished his goal: Shorter not only ran the race, but won it, setting a course record that he would break the following year.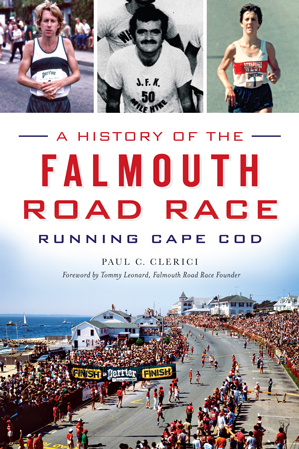 This story, and many others, are included in Paul Clerici's book, A History of the Falmouth Road Race, which was released in July a month before the race's 43rd edition. At 134 pages, it's a quick read, but in that span Clerici packs in everything you could possibly want to know about Falmouth.
The strength of the book is the early chapters, in which Clerici traces the path Leonard and others took to transform his dream into a reality. Relying on interviews with Leonard as well as couples John and Lucia Carroll and Rich and Kathy Sherman — the four men and women who grew the race and directed it from its inception until 2011 — Clerici explains in detail how they were able to pull everything together for the first edition in 1973, which consisted of 98 athletes and was won in a modest 39:16 (for ~7 miles) by a college kid, Dave Duba of Central Michigan University.
Chapter 2 focuses on the 1970s, a decade in which three-time champ Bill Rodgers and Bill Squires' Greater Boston Track Club helped the race achieve local, and then national and international fame. A highlight is the story of how the race secured Shorter's initial entry in 1975, with images of handwritten notes from Shorter negotiating his $600 appearance fee himself. In an age in which appearance fees are held as closely-guarded secrets and negotiated almost exclusively by agents, it's amazing to look back on an era where athletes were forced to do it themselves — even the reigning Olympic marathon champion.
The later chapters are sadly not as exciting. Each is formulaic, with Clerici going through the race year-by-year and sharing the winners of all four divisions (men's and women's open and wheelchair) as well as any changes the race may have undergone that year and other tidbits. There's some entertaining stuff sprinkled throughout — the pictures and descriptions of the damage Hurricane Bob brought to Falmouth the day after the 1991 race were compelling — but many of the years blend together.
Clerici's race descriptions are primarily dependent on the participants (the book is very quote-heavy). That's a good thing when it's someone like Rodgers or Craig Virgin talking, and many of the early races are painted in vivid detail. But not all participants are as eloquent, and some of the summaries drag as a result.
You won't find a lot of bells and whistles, but Clerici has written an excellent reference book. His prose is straightforward, and the book is clearly well-researched. It's also packed with interviews, with everyone from Alberto Salazar to Joan Benoit Samuelson reflecting on what the race means to them.

I would not grant the book "must-read" status, as I did for the past two books I reviewed, The Animal Keepers and Two Hours, which both got 5-star ratings, but if you're a Falmouth veteran or someone interested in learning about the race — particularly its origins — I would recommend it.
---
A History of the Falmouth Road Race, $21.99, The History Press. Available at local retailers, online bookstores, or through Arcadia Publishing at www.arcadiapublishing.com or (888) 313-2665. Or you can order it now via this link or below and support LetsRun.com in the process.
LRC 2015 Falmouth Road Race: Stephen Sambu (32:17) & Diane Nukuri (36:47) Streak to Titles at 43rd Falmouth Road Race
LRC 2014 Falmouth Road Race: Stephen Sambu Breaks Away to Win Falmouth Road Race by 45 Seconds; Betsy Saina Wins Close Affair Over Gemma Steel, Molly Huddle