Book Review: "The Animal Keepers" By Donn Behnke – A Terrific Tale Of What It Means To Be A Team
"The Animal Keepers is a triumph … (Running With The Buffaloes and The Animal Keepers) are very much alike … When you find (a story) told as beautifully as this one, you hold on to it."
By Jonathan Gault
November 3, 2015
Donn Behnke has seen a lot during his 38 years as the boys' cross country coach at Stevens Point (Wisc.) Area Senior High School. He's won 10 state titles, witnessed the rise of a young Suzy Favor on the girls' team and in 2002 coached Wisconsin legend Chris Solinsky to the Foot Locker national title. But when it came time for Behnke to write a book, he didn't elect to write about Solinsky or one of the program's other top runners such as Keith Hanson, who would become an NCAA champion at Marquette. Instead, Behnke chose as his subject his 1985 squad and, in particular, Scott "The Animal" Longley, a boy who until that fall had never run cross country in his life.
Article continues below player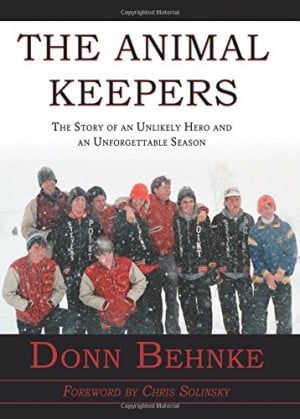 The result, The Animal Keepers, is a triumph. Chris Lear, author of Running with the Buffaloes, recommended The Animal Keepers to me strongly, and the two works are very much alike. The themes of teamwork and brotherhood carry both stories, and by the end of each book, after witnessing the trials of a full cross country season, the reader understands how the bonds between teammates can become so tight. If anyone ever tells you cross country isn't a team sport, point them in the direction of these books.
But if The Animal Keepers were merely a high school version of Running with the Buffaloes, it would not be worthy of high praise. What makes this story click is Behnke's masterful storytelling and a compelling character in Longley. Behnke's prose is straightforward and the book is full of quality details, a testament to Behnke's memory and ability to weave those descriptions in seamlessly. Strip away the names and dates, and you could easily think this is a story from a few months ago told by a veteran writer. Not bad for a guy who, by his own admission, hadn't written something longer than a grocery list prior to beginning this project.
The Animal Keepers revolves around Scott Longley, a special needs student from a group home whom Behnke grudgingly accepts onto his team in 1985. After some initial apprehension, Behnke and his runners come to embrace Scott, dubbing him "The Animal" for his resemblance to The Muppets character, a nickname Scott loves. By showing up and working hard every day, Scott grows tremendously as a runner, surpassing all expectations to emerge as a key member of a squad chasing a state championship.
As with any story worth telling, there are challenges along the way, ranging from simple obstacles, such as getting lost on a run, to serious ones, such as determining Scott's future and who should care for him. It's not my place to share how Behnke and his team do or don't overcome these struggles (read the book if you're curious), but they build nicely until the book's powerful, emotional conclusion at the snowy Wisconsin state meet.
Follow any sport long enough, and it can be tempting to become jaded. That's why a books like The Animal Keepers is important. It serves as a reminder of the positive impact sports can have, how working together toward a common goal can unite people who would never interact otherwise. Sometimes these stories can slip through the cracks, so when you find one told as beautifully as this one, you hold onto it.
5 stars out of 5.
Discuss this book on our messageboard: MB: The Animal Keepers.
---
Editor 's note: Gault and Chris Lear aren't the only ones who have loved The Animal Keepers. It has 36 reviews on Amazon.com – all 5 star reviews. You can buy The Animal Keepers online (and support LetsRun.com in the process) here. If you haven't read Running With Buffaloes, you can also purchase it here or below as well.
Other book reviews by LetsRun.com can be found here.