The Week That Was In Running – November 30 – December 6, 2015
by LetsRun.com
December 8, 2015
Our weekly recap – the Week That Was – appears below. Past editions of The Week That Was can be found here.
Questions or comments? Please email us or post them in our fan forum.
We already analyzed the 2015 NXN meet here – which was won by Casey Clinger and Katie Rainsberger (the daughter of Boston marathon champ Lisa) – and the 2015 Rock 'n' Roll San Antonio Half here.
****


Trying to Be Optimistic – Could The Current Scandals Be Just What The Doctor Ordered?
After a long hiatus, the Week That Was is back. As for the WTW hiatus with so much stuff going down in terms of corruption/doping, it was a little overwhelming. How could we properly analyze the possible takedowns of a federation (Athletics Kenya), governing body (IAAF) and/or entire country (Russia) when all of the facts still aren't known? Better to let the stories speak for themselves and focus on the great action we had at the New York City Marathon, 2015 NCAAs and elsewhere.
Article continues below player
In terms of the scandals of the last few months, we do have a few things to say. One thing that needs to be appreciated is that while they share some common themes, the major players are different in each scandal.
Russia – As close to systematic state doping as you're going to get in the year 2015. The state wasn't actually doing the doping but might as well have been. The doping seems to have involved nearly all of the top runners from the country, who were clearly encouraged to dope. Given the oligarchical ways of the country, this was far from a shocker.
Kenya – A third-world country where those in charge of the federation were enriching themselves (not a shocker). The fact that they also didn't have much, if any, of a real anti-doping agency is also far from a shocker given their limited resources. While the doping positives have hit a few high profile women, for the most part, the positives are coming mainly from C teamers, particularly on the men's side. It apppears the doping is the result of individual actions, not a top-down, well-orchestrated scheme.
IAAF – A sports governing body that, a minimum, wanted to rely on technicalities ("we have to follow procedures") to prevent bad news from coming out. Worst-case scenario – that bad news could be hushed up by paying bribes. When the former president and anti-doping director are under inveestigation for accepting bribes, things are pretty bad.
Thematically though, they all share one important fact. Eradicating doping and viewing that as the #1 priority, no matter the cost, wasn't something that any of the entities were truly interested in achieving. We can only hope that all of the bad news of the last few months ends up spurring positive change in the sport. Are we finally going to realize, for the good of the sport, that this can only end one way: with everyone involved – fans, media, athletes, agents, shoe sponsors, federations, and the IAAF – believing that doping is a total NO-NO that must be destroyed?
Let's hope so.
In a somewhat perverted way, we are viewing all of these scandals as huge positives for the sport. Much like tax evasion, doping will never 100% be destroyed but it can greatly be reduced. The key is setting the culture. We can't be a sport where people think it's ok to cheat and the mindset is "it's not that big of a deal — nearly everyone does it."
Hence, we were thrilled by the Italian National Anti-Doping Organization (NADO) calling for 26 athletes to be banned last week for avoiding drug tests. Were they all dopers? We highly doubt it. Do they deserve to be banned? We're not even sure about that (this post by Renato Canova explains it was a technological nightmare in Italy at the time), but in the year 2015 anti-doping has to be viewed as close to the #1 priority.
We're still waiting for full details to emerge in this story. Obviously, when a federation doesn't even have a good way for athletes to update their whereabouts for testing, it's a problem. And if it was the federation's fault that it did not properly communicate to the athletes about the whereabouts information it required, then the athletes probably should not be punished. But by threatening serious consequences over missed tests, NADO is at least showing that it cares about the integrity of the sport — and hopefully that makes for a more robust Italian anti-doping system in the future.
If you want to think/talk about this matter some more, we are going to recommend a couple of messageboard threads for you to read: *Down Goes Daniele Meucci *Renato Canova: This is how deep is doping in Kenya
Both contain some great insight into the issue from coach Renato Canova. Canova is an ideal person to listen to on this matter as he's Italian, has lived in Kenya and Ethiopia and now lives in China. You may not agree with what he says but he does a great job of explaining how the doping specifics vary greatly from country to country. Below is an excerpt from one of his more informative posts:
About the athletes I know [about in Italy] , NOBODY of them received any official communication of missed tests, or of not filling their whereabouts in the right way (and, at the end, we find athletes with 9 faults, without ant previous communication !).
I suggest you something : when there are problems about doping in different Countries, before writing immediately without knowing the exact facts, wait some days in order to have more precise infos. Being in Kenya and Ethiopia for long time, and in China the last two years, I saw situations very far from what media writes, always without knowing the differences among the problem of one Country and the problem of another Country.
In some Country there was doping organized and supported from the local Federation (not the Government), how happened in the most part of the Countries of the old communist block (URSS, GDR, Bulgaria, Hungary and Romania) in the past, and partially continued during present days.
In some other Country, like China, doping was widespread in the past, but the athletes were totally passive, because the system didn't accept any individual idea from them : they had to do everything their coaches ordered, in training such as taking various pharmacs, without asking anything, because their only role was to obey. In China it's very easy to connect any athletes with their coaches, because all the coaches are officially paid by their Province, and only these coaches work with the athletes (unofficial coaches are not allowed and don't exist), so, if some athlete is positive, is because he received doping from his coach.
Also, no Chinese athletes are allowed to compete abroad if the Federation doesn't enter them directly (private activity doesn't exist), so when some athlete is positive, the coach is fired losing his job, the athlete is banned for 4 years (already when the official sanction was 2 years only), and automatically can't compete abroad in the future.
In Western Countries, the athletes themselves asked for doping, because there is not any official structure behind them, but some private Group. We can say the western doping is something individual, where the Federations don't organize anything, but sometimes don'tp ay attention to what happens inside the Country.
When I see people putting in the same pot the doping of Russia and Kenya, there is clear evidence they don't know anything about the two Countries.
It's true that AK didn't have any interest for building an antidoping agency in Kenya. But what people has to understand, is that Kenya is the Country in the world with the highest number of athletes in top 30 (so, needing whereabouts), and for having an efficient antidoping system they must use more than 50% of all the financial resources of the Federation, if the Government doesn't intervene (and the Government intervened with a contribution of… 2000 USD, enough for 4 or 5 tests in one season !).
And another thing everybody must understand is that, of all the Kenyans positive, no more than 3 of them were in top 30 in the World, so in any case the others could not be tested out of competition (because not in the Group of the best), like happens in the most part of Countries. Tell me, how many times some American sprinter or middle distance runner who is number 10 in US was tested out of competition ?
More: MB: Down Goes Daniele Meucci *Renato Canova: This is how deep is doping in Kenya
****
Stat of the Week I
52 – number of drug suspensions the NFL has handed out this year.
5 – number of drug suspensions that USADA has handed out in track and field in 2015 (just 20 for all sports).
America's favorite sport appears to be way more dirty than track and field. Can we get the press to talk about that? Given all of the paranoia about concussions, one would think the NFL would be more concerned with the role HGH and steroids play in causing concussions (bigger, faster players = more concussions; steroids also make people more aggressive).
More: *USADA suspensions *NFL suspensions
****
Stat of the Week II/PR of The Week
2 minutes, 11.93 seconds – PR run by American Rochelle Kanuho on Sunday at the first-ever Pacific 10k Pursuit as she went from 34:20.69 to 32:08.76, giving her the 32:15 Olympic 10,000 standard.
It's ok to admit that prior to now you'd never heard of Kanuho. The 25-year-old Flagstaff, Ariz., native attended her hometown Northern Arizona University, where she struggled with anemia early in her career. Once that was figured out, she had modest success as she was 46th at the NCAA XC champs in 2012 before ending her collegiate career with a 15th-place finish at NCAAs in the 10,000 in 2013. Her PBs at the time were just 16:12 and 34:20.
Upon graduation, she was part of Scott Simmons' adidas/Boulder Running Company group for a year and a half where she ran a massive 15:25 5000 pb. In February, she joined Ben Rosario's HOKA NAZ Elite team and that improvement has continued in the 10,000. She is now one of 14 Americans with the 10,000 standard for the Rio Games.
We emailed Rosario for a little bit on Kanuho and he wrote in part:
"Her running economy is off the charts. She has the smoothest form on our team for sure but I'd put it up against anyone in the country on the female side. Reminds me a lot of Desi [Linden] with her small size, but she's also born and raised at altitude which is huge. I really think the sky's the limit."
US Women With 10k Standard


| | | |
| --- | --- | --- |
| 1 | 31:09.02 | Shalane Flanagan |
| 2 | 31:38.03 | Emily Sisson |
| 3 | 31:38.71 | Emily Infeld |
| 4 | 31:39.20 | Molly Huddle |
| 5 | 31:49.99 | Alisha Williams |
| 6 | 31:54.43 | Mattie Suver |
| 7 | 31:58.54 | Kim Conley |
| 8 | 32:01.79 | Liz Costello |
| 9 | 32:02.22 | Alexi Pappas |
| 10 | 32:03.95 | Amy Cragg |
| 11 | 32:05.84 | Chelsea Reilly |
| 12 | 32:08.76 | Rochelle Kanuho |
| 13 | 32:10.00 | Kaitlin Goodman |
| 14 | 32:13.28 | Emma Bates |

Pacific 10k Pursuit Women's Results

More: MB: Pacific 10000m Pursuit Thread.
*Kanuho's HOKA NAZ Elite Bio *Kanuho's NAU bio
****
Kara Goucher Takes A Nice Step Forward But Let's Not Hand Her An Olympic Spot Quite Yet
We were in San Antonio to provide you insight into the  2015 Rock 'n' Roll San Antonio Half as it happened but wanted to add a little more analysis now.
Our main advice is to urge everyone to calm down. The Olympic Marathon Trials are in 10 weeks people. Some of the people were racing on Sunday while others were doing a tempo.
There is no doubt that the win by Kara Goucher in 71:10 was a much needed step forward for Goucher who had struggled earlier this year, running only 15:40 and 16:03 for 5000 on the track in June and then 54:54 for 10 miles two months ago at the US 10 Miler, but some of her fans are acting like she won the US Olympic Trials: MB: For all you who said Kara Goucher was Done, Are you choking on your foot now???.
A little perspective is needed here. First, it should be pointed out that Goucher ran a 71:41 in September of 2014 so it's not like she hasn't run at that level in years. Secondly, at best, a 71:10 half marathon is only equivalent to a 2:29 high marathon – McMillan converts it to 2:29:46 whereas John Kellogg converts it to 2:32:12. That type of fitness would put one in the hunt for the third spot for the US Olympic team but Sunday's results certainly don't mean the Trials should be canceled and the three spots should be handed to Goucher and the two heavy favorites Shalane Flanagan and Desi Linden.
That being said, Goucher's win isn't irrelevant either. It shows she's making progress. Perhaps the best way to see that is to compare this race to her 10 miler on October 4th. At the US 10 Miler, Goucher ran 10 miles at 5:29.4 pace. On Sunday she ran 13.1 miles at 5:25.7 pace. That's significant progress. McMillan says Goucher's 71:10 half is equivalent to 53:21 for 10 miles, meaning she's come down 93 seconds over 10 miles (from 54:54 to this 52:21) in just over 2 months. If she can improve her fitness by a similar amount over the next two-plus months before the Trials, then she'll be in really great shape both literally and figuratively as she'll be in 2:25 marathon shape at the Trials and hard to knock out of the top 3 (McMillan says a 51:48 is 2:25:24 in the marathon) .
For everyone involved, people need to not overreact to a single race in the middle of a marathon buildup, particularly when many weren't even racing the event. Kelly Taylor, for example, was given strict instructions to run it between 72:30 and 73:30, which she did (73:19). She was only there to get a workout in and try to snag a share of the Competitor Group's lucrative Grand Prix standings (1st: $15,000, 2nd: $6,000, 3rd: $2,500, 4th: $1,500 per gender).
More: LRC Kara Goucher Wins Rock 'n' Roll San Antonio Half Marathon Over Shalane Flanagan and Amy Cragg But the Real Winner Will Be Determined at the Olympic Trials
*MB: For all you who said Kara Goucher was Done, Are you choking on your foot now???
*MB: Amy Hastings Cragg to Portland
*October: LRC USA 10 Mile: Molly Huddle Crushes It, Sam Chelanga Gets First USA Title
****
No News is Good  News from the USATF Convention
The USATF convention was last weekend in Houston and it did not garner much media attention. That is a good thing.
When the USATF convention garners a lot of press, usually that means the USAT administration has veered off in the wrong direction, and the membership or athletes are trying to correct the ship.
The USOC and USATF may not like it but USATF is a member organization and ultimate power rests with the members.
Last year, the Board totally disprected the members' wishes and nominated one of its own, Stephanie Hightower to the IAAF Council, despite the overwhelming wishes of its membership.
Instead of choosing the nuclear option and trying to remove board members at this year's convention (and setting back our sport with a ton of negative publicity), measures were put forward by David Greifinger and others that passed. These measures restore more power to the membership and will make sure the Board better reflects the desires of the membership in the future.
The details are 1) starting in 2018, the President of USATF (who is chosen by the members) will be the Chair of the Board. 2) The 6 constituent board members will be chosen by their constituent groups (in the past they were chosen in a more complicated process that left the Nominating and Governance Panel with ultimate control of who they were). Now the Board will better reflect its consituent groups.
3) The IAAF Council Rep for the US will be elected by the membership. This is in direct response to Hightower being elected last year.
****
Deep Down, Some Football Stars Want To Be Track Stars
Star New York Giants wide receiver Odell Beckham Jr clearly wants to be a hurdler.
**OBJ ALERT** Beckham bursts through for a 72-yard TD… And then busts out an INSANE hurdles dance in the end zone https://t.co/7fHOpBCgvw

— NFL (@NFL) December 6, 2015
For good reason. Beckham's mom is Heather Van Norman. After one year at Minnesota, she was a six-time All-American for LSU during the 1990s and is currently the head track coach at Nicholls State (Nicholls State bio). It looks like Van Norman taught Beckham some good form as Lolo Jones was impressed.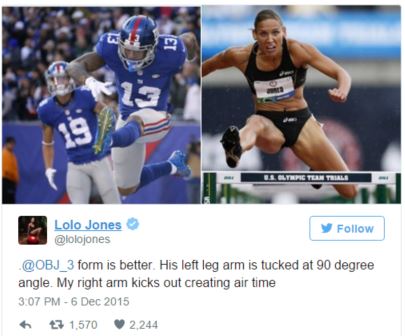 Beckham actually did do track in high school but he wasn't a hurdler. He jumped 6.83 meters in the long jump and ran the 200 in 22.31.
If you want more info on Beckham's mom, we definitely recommend a great piece by Patrick Reusse in Minnesota's Star-Tribune on how great of an athlete Van Norman was in HS. If you don't have time to read it, here's the CliffsNotes version:
"She was unbeaten – as a freshman, as a sophomore, as a junior and as a senior. She won the 100, 200 and 400 meters in the Class A meet all four years; the "quadruple triple" is what they call it in Windom. She finished her high school career in June with a winning streak of 147 races."
More: Mom was right: Odell Beckham Jr. hit 'genetic jackpot'
****
Quotes of the Week* (that weren't Quote of the Day)
*Not all of these quotes are from last week. A few of them are older but we kept them for the next version of the WTW.
#1 – This Guy Hopes Russia is Banned
"Sports officials and politicians in Russia did a lot worse than what athletes were doing, so I think fair punishment for Russian Athletics would be four years. Learn from your mistake, change and come back in four years. See you in Tokyo. [But] I estimate there is a one per cent chance of Russia not being at the Olympics. For this to happen, the International Olympic Committee would have to change and that's not going to happen in the next six months."
-whistleblower Vitaly Stepanov talking last week about the doping scandal. The Stepanovs role in this whole thing can't be underestimated. Without their hidden footage, we'd probably have none of this exposed.
#2 – This Guy Thinks There Are Some Positives Related to The Doping Scandals (We Agree)
"I think one of our small victories is making people aware that there is a lot more cheating going on in sport than most people ever thought."
-former WADA chief Dick Pound talking to The Independent. We like the positive attitude of the post as it coincides with our opening rant.
More: Dick Pound: 'We will never end doping, despite our small victories'
#3 – Here's What Dathan Ritzenhein Said When Asked If He's Worried About His Current Hip Injury
"Maybe a little bit. I guess I've been through this (a nagging injury) many times so I just kind of fall back on the AlterG and hard cross training – things I've done in the past.
"I don't feel like my fitness is bad. It's just something I want 100 percent gone so I can focus on the really hard, long runs that I need to do over the next two months."
–Ritz was talking to mLive.com's Peter J. Wallner in an article that ran on Thursday.
#4 – This Is How Oregon's Only Two-Time Olympic Track Gold Medalist Got His Start
Long before Steve Prefontaine and Nike, Vin Lananna and TrackTown USA, Alberto Salazar and Ashton Eaton, there was an Oregon basketball player watching a track and field practice from his dorm room window across from Hayward Field.
"I can do that," he thought to himself.
So he left his room, crossed the street and walked right up to the legendary Bill Bowerman himself and, with no experience in track and field whatsoever, asked to join the team.
Two years later, Otis Davis was Oregon's first Olympic gold medalist.
-opening lines from a Chris Hansen piece in the Eugene Register-Guard about Otis Davis, who set the 400 WR (44.9) and won Olympic gold in 1960. He added a second gold that year in the 4×400 relay.
#5 This is How Journalist Sean Ingle Wanted Seb Coe To Respond to The IAAF Scandal
What we do not yet know is how Sebastian Coe, the IAAF's new president, will respond to Pound's forensic dissection of his federation's failings. But we can guess: solemn words; promises of change; perhaps a cosmetic gesture or two on a similar scale to cancelling the IAAF's awards gala last week. It is the equivalent of a ship's captain who faces a perfect storm yet hopes that by putting on a waterproof jacket everything will be all right.
But that will not be enough, not this time. Instead Coe urgently needs to perform a vigorous 180-degree turn. Where he has been defensive he needs to be open. Where he has made mistakes he needs to hold his hands up.
Times have changed and Coe needs to as well.
He could start with some mea culpas, including admitting he was wrong to lavish praise on Lamine Diack and say that journalists were "declaring war on his sport" when they published claims of suspicious blood values. They were trying their damnedest to expose cheats – something that we now suspect was not always the case with some IAAF figures.
-Ingle writing in The Guardian at the beginning of November.
****
Fukuoka Marathon
In case you weren't paying attention, Fukuoka was good for former WR holder Patrick Makau but not good for current WR holder Dennis Kimetto. Makau, who only made it about 5km at the Boston Marathon this year, defended his title in 2:08:18 while WR holder Kimetto dropped out after only making it about 5km in Fukuoka. This is a second straight DNF for Kimetto who was also a DNF at Worlds. Former Providence runner Dylan Wykes (Canada) was also a DNF after a 67:23 first half.
More: Fukuoka Results *Former WR Holder Patrick Makau Repeats In 2:08:18, Current World Record Holder Dennis Kimetto Drops Out Yuki Kawauchi ran 2:12.48.
*Japan's Satoru Sasaki Was Third In 2:08:56 To Put Himself In Olympic Contention His previous PR was 2:09:47.
*Fukuoka Live Thread
****
Recommended Reads
LRC Feature The Miracle In The Black Hills: A Coach, A Fallen Teammate And A Season For The Ages In July, Black Hills State's Gage McSpaddenwas struck by lightning and tragically killed at the age of 21. The team's dream of a first-ever NCAA appearance, one that McSpadden had guaranteed, appeared to be shot. No one will ever forget how they responded.
LRC "Two Hours" By Ed Caesar — A Wonderful Book Worthy Of 5 Stars And One We Consider "The Definitive Book On The Modern Elite Marathon"
LRC Did Mike Rossi – The Viral Marathon Dad – Try To Cheat LetsRun.com Out Of $10,000 On Saturday?
 F-M Coach Bill Aris Writes About His Life, Coaching And His Stotan Philosophy
Trayvon Bromell Says He And Andre De Grasse Could Be "The Next Biggest Things In Track And Field" "I feel like we are the future," says Bromell of himself and fellow bronze medallist De Grasse. Bromell says he "would have been crazy" not to go pro when the opportunity was offered to him.
NY Times: Cloud Of Corruption And Doping Hangs Worldwide
Recommended Reads from other weeks can be found here.
****
Quotes Of The Day And Last Week's Home Pages
To see the actual quotes of the day from last week or last week's home page or any home page, go to our archive page.
---
Questions or comments? Please email us or post them in our running fan forum.