Ashton Eaton And Genzebe Dibaba Crowned 2015 IAAF World Athletes Of The Year
IAAF Press Release
November 26, 2015
USA's Ashton Eaton and Ethiopia's Genzebe Dibaba were named the male and female IAAF World Athletes of the Year for 2015 on Thursday (26).
Both athletes set world records during 2015, Eaton in the decathlon and Dibaba in the 1500m, and won gold medals in these events at the IAAF World Championships Beijing 2015.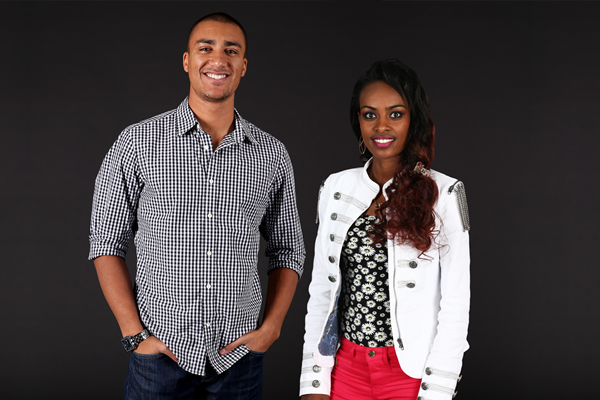 Ashton Eaton became the first decathlete to win the male World Athlete of the Year award after his spectacular performance in the Chinese capital, his only decathlon of the year, when he set a world record of 9045 and improved his own three-year-old mark by nine points. Notable among his individual events in Beijing was a 45.00 400m at the end of the first day, the fastest one lap of the track ever run within a decathlon.
"Athletes spend the most vigorous years of human life, arguably called the 'best years', working to hone their abilities. So, when an athlete competes, what people are witnessing is the manifestation of what a human being is capable of when they choose to direct all of their time and effort towards something.
Article continues below player.
"I'm grateful and thankful to the IAAF for excellent competitions, the canvases that allow us to display our work.
"While I'm honoured that I am considered the 'artist' of the year, I did not beat Usain and Christian; my work simply differed in design. They are some of the most talented and beautiful performers of all time. I'm flattered to be among them.
"I accept this award on behalf of all of us athletes who love what we do."
Genzebe Dibaba, after setting a world indoor 5000m record of 14:18.86, was then unbeaten in her five 1500m races during the summer. Firstly, she ran an African record of 3:54.11 in Barcelona, the fastest time in the world for almost 12 years, and then topped that with a stunning world record of 3:50.07 in Monaco to beat a mark that had been on the books since 1993. In Beijing, Dibaba was majestic through all three rounds of the 1500m, winning every race comfortably, and she also took a 5000m bronze medal.
"I am humbled and honoured to receive this award from the IAAF," said Dibaba. "It feels so good to be the World Athlete of the Year.
"After being a finalist and narrowly missing out on this award one year ago, I am very proud to be recognised by the fans and experts of our sport.
"I had a great season and truly enjoyed competing around the world, from Monaco where I managed to establish a world record, to Beijing where I finally captured my first world outdoor title.
"I would like to pay tribute to Dafne Schippers and Anita Wlodarczyk who have been incredible all year round. Maybe your time will come next year!
"Thank you to all the people who voted for me and supported me. My family, my sisters, my coaches, my partners, my agents and all the people from Ethiopia!
"My focus in 2016 will be the IAAF World Indoor Championships in Portland and as preparation for that I will try to break the world indoor mile record in Stockholm on 17 February.
"This is a difficult time for our sport and with the Athletes' Commission we stand together with Sebastian Coe as he deals with the challenges."
IAAF President Sebastian Coe commented: "While the athletics family is not gathering together as usual in Monaco, we rightly celebrate the marvellous 2015 achievements of the athletes. Foremost, I offer congratulations to our World Athletes of the Year, world champions Ashton Eaton and Genzebe Dibaba. Your performances in 2015 are an inspiration and examples of true sporting excellence.
"A world record when winning a world title is a rare feat and capped two unequalled days of decathlon brilliance from Ashton in Beijing. Genzebe, your win in Beijing was as assured and your 1500m world record a few weeks earlier a run of true grit and determination. We salute you both as we do all our award winners who have been announced today.
"Finally I wish to thank all the athletes, coaches, officials who work tirelessly for our wonderful sport. Our appreciation also goes to the media for relaying the excitement of competition and to the fans watching in stadiums, in homes and on the move around the world. Your enthusiastic support made the IAAF World Championships in Beijing the most talked about sports event of the year."
How the award was decided
Last month the IAAF Family* was asked to vote for athletes from each of the following categories: sprints, hurdles, middle and long distance, road running, race walking, jumps, throws, combined events and multi-terrain.
The top-voted athletes in each category formed the longlist for the World Athlete of the Year, from which an international panel of 10 experts** selected the three finalists. The panel cast their own vote to determine the IAAF World Athletes of the Year.
---
Other awards
IAAF RISING STAR AWARD
Abdul Hakim Sani Brown (JPN) & Candace Hill (USA)        
Sani Brown, 16, took a 100m and 200m sprint double at the IAAF World Youth Championships Cali 2015, winning in championship records of 10.28 and 20.34, both world-youth-leading times.
Hill, also 16, ran a world youth 100m best of 10.98 before then taking a 100m and 200m double in Cali, winning the longer sprint in a world youth best of 22.43.

IAAF GOLDEN SHOE PRESENTED BY ADIDAS
Almaz Ayana (ETH)
Almaz Ayana's triumph over her Ethiopian compatriot and 1500m winner Genzebe Dibaba in the 5000m, with an outstanding display of front running which saw her win by more than 17 seconds in 14:26.33, helped her receive 23.84% of the votes for the performance of the IAAF World Championships Beijing 2015 and she deservedly won the IAAF Golden Shoe Award, presented by Adidas.

IAAF COACHING ACHIEVEMENT AWARD
Bart Bennema (NED)
Bennema, 38, is best known as the coach to the multi-talented world 200m champion Dafne Schippers. The Dutch former international decathlete is also the coach to a number of the Netherlands' other leading athletes, including double 2014 world junior medallist Nadine Visser.

IAAF WORLD JOURNALIST AWARD
Pat Butcher (GBR)
Butcher is a writer, journalist, television producer and commentator. He first attended the Olympic Games in 1972. Subsequently, he has covered all IAAF World Championships and Olympic Games as writer and/or commentator since 1980.

MASTERS' ATHLETES OF THE YEAR
David Heath (GBR) & Silke Schmidt (GER)
Former British cross country international Heath won both the M50 800m and 1500m titles at the 2015 WMA World Championships this summer. Heath won the M50 800m exhibition race at the IAAF World Championships Beijing 2015 and set a European M50 800m best of 1:58.72.
Schmidt won four W55 gold medals – 1500m, 5000m, 10,000m and half marathon – at the 2015 WMA World Championships this summer. During 2015, she also ran world best times for her category in the 1500m, mile, 3000m, 5000m, 10,000m and half marathon.
---
*IAAF Family: IAAF & IAF Council members; IAAF national member federations; IAAF Committee & Commission members; IAAF meeting directors; IAAF athlete ambassadors; athletes' representatives; top athletes; members of the international press; IAAF staff members and the IAAF's official partners
**The international panel of athletics experts includes representatives from all six continental areas of the IAAF