Week That Was: Caster Semenya On Her Way Back, Katie Mackey Diamond League Champ, Hammer WR, And Tokyo Logo Revealed
by LetsRun.com
August 4, 2015
Our weekly recap – the Week That Was – appears below.
We already covered much of the biggest action of the week as it happened. So if you missed the Stockholm Diamond League meet, the 2015 Kenyan World Championships Trials, or the Court of Arbitration for Sport's decision to suspend the IAAF's regulations on hyperandrogenism, catch up on them with the previous links.
Article continues below player
Over the weekend, a huge amount of information came out as the German TV station ARD and the UK's Sunday Times had a huge expose on track and field doping. We don't comment on that below as we are getting educated on what it all means ourselves by reaching out to experts. More on that we promise once we know what we are talking about. We already thought doping was a big problem in the sport, and so did you all in our doping polls. We're not sure if the expose shows the problem is worse or better than we thought it was.
View The Full ARD Documentary In English *Leaked IAAF Doping Files Reveal "Extraordinary Extent Of Cheating" *Read the Sunday Times Article here (Payment required)
Past editions of The Week That Was can be found here. Questions or comments? Please email us or post them in our running fan forum.
****
Stat of The Week I
3.47 – seconds that Caster Semnya chopped off of her seasonal best last week (from 2:04.19 to 2:00.72) to qualify for the 2015 Worlds at the last moment.
3.71 – seconds that Caster Semenya is away from the 2015 world lead.
5.27 – seconds that Caster Semenya is away from her 2009 PB.
Semenya's sudden drop in time came just five days after the Court of Arbitration for Sport suspended the IAAF's hyperandrogenism regulations, meaning women with (internal) testes can now compete as women with no treatment.
This isn't the first time Semenya has suddenly dropped a ton of time in a short period. In 2013, she didn't even get to run at Worlds as she didn't break 2:01.83 all year until September, when she ran 2:00.74 and then 1:58.92 in the span of five days, so she came down by 2.91 seconds. Some speculated that Semenya at the end of the season had cycled off of her hyperandrogenism treatment.
More: LRC The End Of Women's Sports As We Know It? Is Caster Semenya The Favorite For Gold For The 2016 Olympics? The Court Of Arbitration For Sport Suspends IAAF's Hyperandrogenism Regulations
****
Stat of the Week II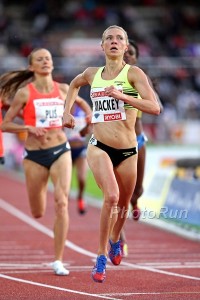 0 – number of wins achieved on the Diamond League circuit by American members of the Nike Oregon Project and Bowerman Track Club (Current NOP member Shannon Rowbury won the 3,000 in London in 2013 but she was not running for the NOP at that time)
1 – number of wins achieved on the Diamond League circuit by American members of the Brooks Beasts Track Club.
Last week, the Beasts' Katie Mackey won the women's 3,000 in Stockholm.
More: LRC Katie Mackey Wins 3,000m!
Don't Miss Our Stockholm Photo Gallery from PhotoRun
****
Stat of the Week III
20 – position on the 2015 world outdoor list in the men's 1500 for Canada's Charles Philibert-Thiboutot (3:34.23).
21 – position on the 2015 world outdoor list in the men's 5000 for Great Britian's Mo Farah (13:11.77).
The 24-year-old Philibert-Thiboutot (and Nate Brannen) both won't be going to Worlds, despite having the standard, unless Athletics Canada changes its mind.
More:Athletics Illustrated Asks "Should Athletics Canada Bend Their Rules In Order To Send The Most Competitive Team To Worlds?"
* Former Rice Steeplechaser Lennie Waite, The British Champ Who Has PRed 3 Times This Year, Including In Her Last Two Races, Is Left Off Of GBR Team
*Payton Jordan 10k Winner Andy Vernon Left Out As Well
*Q&A With British Steepler Lennie Waite, Who Wasn't Selected By UKA For Worlds Despite Hitting The Standard
****
Stat of The Week IV / Money Talks
$100,000 – amount of money that Seb Coe promised all federations in the IAAF will receive (over four years) if he's elected to be the head of the IAAF. After that fact came out, it was revealed that Coe has pulled ahead of Sergey Bubka in his battle to be the head of the IAAF.
More: Seb Coe Pulls Ahead Of Sergey Bubka For IAAF Head After He Promises To Pay All 214 IAAF Federations At Least $100,000
*Sergey Bubka Vows He Won't Withdraw His Bid To Become President Of The IAAF As Two More Countries Publicly Promise To Back Seb Coe Bubka: "I am not worried. I too have plenty of support from members of the IAAF family."
*"Will Seb Coe Save The Sport Of Athletics?"
****
Stat of the Week V
90% – percent of gold medals won by US runners in the mid-d and distance events at the Pan Am Juniors last week. The US won gold in everything but the women's 3000 steeplechase.
94.8% – percent of US entrants in the mid-d/distance events at the Pan Am Juniors that won a medal (18/19 – each country could enter two per event but the US only had one in the women's 3000).
The US team certainly dominated the mid-d/distance events in a fashion that would make the Kenyans proud. The most dominant of all entrants? The US's Raevyn Rogers. The NCAA champ from Oregon won the women's 800 by nearly four seconds in 2:04.62 (2nd was 2:08.46).
More: Pan Am Junior Results
****
Stat of the Week VI
0 – number of people, in a field that included half-marathon world record holder Zersenay Tadese, that achieved the IAAF qualifying time for the men's 10,000 at the 1st Meeting Mini Estadio Anoeta held in San Sebastian, Spain, on Friday, July 24. The main purpose of the meet was to get the qualifiers but the conditions were poor and no one got them.
Meeting Mini Estadio Anoeta (1st)
San Sebastian, ESP; Friday, July 24
MEN -10,000m:
1. Nguse AMLOSOM, 1985, ERI, 27:50.14
2. Afewerki BERHANE, 1996, ERI, 28:04.07
3. Zersenay TADESE, 1982, ERI, 28:05.34
4. Polat KEMBOI ARIKAN, 1990, TUR, 28:05.64
5. Goitom KIFLE, 1993, ERI, 28:11.28
Fear not; while Tadese will be missed, Eritrea does have some people with the qualifier to send. Abrar Osman was top 15 at World XC and then ran 27:41.69 in June. Last year, two-time world xc medallist Teklemariam Medhin ran 27:38 and Goitom Kifle ran 27:43.
****
Stat of the Week VII
97 – combined age of the top two women's finishers at the 38th Badwater Nutrimatix Ultramarathon in California last week. The 135-mile race, which features a cumulative total of 14,600 feet of vertical ascent was won by 43-year-old Nikki Wynd in 27 hours, 23 minutes and 27 seconds. The women's runner-up was 54-year-old Pam Reed (31:24:34). Aged ruled the day in the women's race as 8 of the top 10 were over 40 and 5 of the top 110 were over 50. The men's race was won by 27-year-old Pete Kostelnick.
2015 Badwater Results
MEN –
1. Pete Kostelnick, 27, USA 23:27:10
2. Lolpez Oswaldo, 43, MEX 25:28:32
3. Mick Thwaites, 41, AUS 26:23:10
4. Dave Krupski, 38, USA 28:09:19
5. Luigi Dessy, 27, PUR 28:24:37
6. Michael Jimenez, 41, USA 28:51:59
7. Jovica Spajic, 28, SRB 29:09:02
8. Grant Maughan, 51, AUS 30:02:37
9. Mark Matyazic, 51, USA 30:45:51
10. Jared Fetterolf, 26, USA 30:58:17WOMEN –
1. Nikki Wynd, 43, AUS 27:23:27 (4th overall)
2. Pam Reed, 54, USA 31:24:34
3. Jill Anderson, 38, USA 34:04:14
4. Starshine Blackford, 39, USA 34:58:24
5. Ricarda Bethke, 51, GER 35:53:21
6. Lorie Alexander, 56, CAN 37:00:05
7. Andrea Kooiman, 40, USA 38:25:30
8. Noora Alidina, 58, USA 38:51:51
9. Michelle West, 43, USA 38:59:05
10. Prisca Vis, 51, NED 39:10:34
****
3 Quotes of the Week (that weren't quote of the day)
#1 – Nick Willis Isn't Surprised By At The Amount of Doping in Track and Field
"On a shock scale of zero to 10 it's a zero – the only surprise is that the information actually got leaked."
– Nick Willis talking about the German ARD/Sunday Times report on doping that came out week.
More: Watch The Full ARD Documentary In English *Read the Sunday Times Article here (Payment required)
#2 – LA Enjoys Saying 'Bye Bye Boston'
"Boston's sanctioned bid to put on the 2024 Olympics deflated quicker than a bag of Tom Brady footballs."
– LA Times columnist Bill Plaschke writing about the USOC's decision to drop Boston as a potential hosts for the 2024 Olympics. Attention has now turned to LA (or Toronto) as a replacement.
More: USOC Dumps Boston 2024 Bid, Attention Shifts To LA
#3 – 200m Is 100m Too Far
"I'm not running the 200m. I'm telling my coach he has to change his mind. The 200m is too far so I'm set for the 100m!"
– Jamaica's Shelly-Ann Fraser-Pryce talking about how she won't double at Worlds after winning the 100m in Stockholm. Fraser-Pryce has four times won the 100m at Worlds/Olympics (two golds at each) but did win the 200 as well in 2013.
More: Shelly-Ann Fraser-Pryce Wins In 10.73 But Reverses Press Conference Announcement
****
Tweet of the Week / Imitation Is the Sincerest Form of Flattery
Last week, the logo for the Tokyo 2020 Olympics was unveiled. Not everyone was thrilled with the logo. Olivier Debie, the designer of the logo for Belgium's Théâtre de Liège, thinks it too closely resembels his logo. Push play below and decide for yourself.
Théâtre de Liège vs Tokyo 2020#Tokyo2020 #ThéâtredeLiège #plagiat? pic.twitter.com/u64MpWBAI2

— Olivier Debie (@OliDebie) July 28, 2015
More: Tokyo Olympic Games Logo Embroiled In Plagiarism Dispute
****
Video of The Week
The production value is awful but below at least you can hear the excitement of the crowd witnessing the first 80+ meter throw in women's hammer history. Last week, Poland's Anita Wlodarczyk smashed her own 79.58m hammer world record with a 81.08 heave. 81.08 is also farther than the 79.83 that Wlodarczyk had thrown over a river earlier this year in a mark some weren't sure would count as a WR.
****
Recommended Reads
Previous 'Recommended Reads' can be found here.
Nick Willis Shares His Thoughts On The Latest ARD Report And Doping In The Sport In General
34-Year-Old Stay-At-Home Mom Amber Green Qualifies For The Olympic Trials In Her 31st Marathon After running 4:23 in 2000, she has brought her PR down to 2:40 (2:41 on a eligible course) to qualify. "I can't even begin to describe the feeling of crossing that finish line and being like, 'Oh, yes, finally I did it.' It took me five attempts to do it, but it made it that much sweeter."
Asbel Kiprop Talks About His Strange Tactics In The London DL Meet, Disappointment Of Missing The WR In Monaco And Doubling At Worlds Kiprop blames being tripped on his tactics in London, mentions Matt Centrowitz and Ben Blankenship as guys he had to worry about kicking against and says he celebrated early because he forgot the mile starting line wasn't the finish line.
****
Quotes Of The Day And Last Week's Home Pages
To see the actual quotes of the day from last week or last week's home page or any home page, go to our archive page. Past editions of The Week That Was can be found here. Questions or comments? Please email us or post them in our running fan forum.