by: LetsRun.com
June 28, 2015
An upset Kara Goucher spoke about the Nike Oregon Project doping investigation involving her former coach Alberto Saslazar said she will have a lot more to say on the matter in the next few days with much more information coming out from her.
Full LRC video below is a must watch.
Brief highlights below:
She said, "I understand if you read it through, it looks like I am a liar. I don't like being labeled a liar." She added, "I would welcome that opportunity for myself, for every former Oregon Project member, for every doctor that has been involved, to go under oath…I feel very good about (the case). I believe in the truth and I know these things take time. … Think of how long it took for Lance (Armstrong)…"
Article continues below player
She encouraged more people to come forward and speak to USADA and to ProPublica's David Epstein.
She said she understands why more people don't come forward, "There's so much fear, and it's very, very real."
Ken Goe of the Oregonian has the most detailed writeup with the most quotes, "This is a burden I've been carrying around for years… I want my son to be able to believe in the sport and the system. I want USADA to show they work, and I want justice for everyone involved."
Video # 1. If you are short on time, start at the 1:07 mark – that's where the under oath talk begins and listen for 60 seconds.
Video 2: (Shameless plug She thanks LRC for its coverage of this)
*Ken Goe of Oregonian's Article
LRC Message Board Discussion On This: "People have been threatened at this meet" – Kara Goucher
*Kara Goucher blames Alberto for 18th place
Tweets:
SPORTS Don't call me a liar, Goucher tells Salazar http://t.co/HccOdStn42 http://t.co/KCxy33dCfM

— Emergency Jobs Go (@EmergencyJobsGo) June 28, 2015
Kara Goucher's goals: "I want my son to be able to believe in the sport. I want USADA to show it works. And I want justice for all involved"

— Jason Henderson (@Jason_AW) June 28, 2015
More @karagoucher 'I knew who it was I was dealing with' 'knew it would get ugly' 'I get the fear' 'this is bigger than us'

— LetsRun.com (@letsrundotcom) June 28, 2015
'Burden I have been carrying for years' @DavidEpstein is one of best writers in sport .

— LetsRun.com (@letsrundotcom) June 28, 2015
Kara cont. Look how long it took w Lance. Will reveal more w full email chains and why Adam and Alberto have rift.

— LetsRun.com (@letsrundotcom) June 28, 2015
Goucher 'I don't like being called a liar'. Will share more info. Everyone 'Please come forward'. 'I believe in truth pic.twitter.com/BFFoTdJPGK

— LetsRun.com (@letsrundotcom) June 28, 2015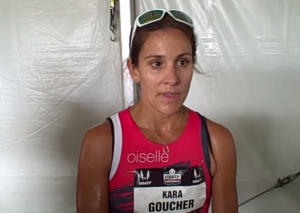 ---
Advertisement
The 1:59:40 GOAT shirts are here