Galen Rupp Discusses Nike Oregon Project Doping Allegations with the Media Following 2015 USATF Outdoor 10,000 Final
By LetsRun.com
June 25, 2015
EUGENE, Ore. — Shortly after winning his seventh consecutive 10,000 meter title at the 2015 USATF Outdoor Championships on Thursday night, Galen Rupp spoke before the for the first time since the BBC/ProPublica report focused on him and coach Alberto Salazar was released on June 3.
It was a total media scrum as evidenced by this picture by Chris Chavez BEFORE Rupp even appeared:
What awaits Galen Rupp in the mixed zone. #USATFoutdoors pic.twitter.com/CgUAz65LEM

— Chris Chavez (@ChrisChavez) June 26, 2015
Article continues below player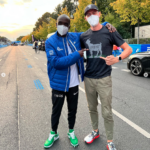 Kipchoge loves the 1:59:40 Shirt Get Yours Today
What a legend!
Tim Layden has a tremendous piece on Rupp and Salazar in Sports Illustrated here. Tim writes, "Three times he (Galen) said some version of, "I stand behind [either Salazar or Salazar's statement] 100 percent." Three times he said some version of, "I believe in a clean sport." Three times he said some version of, "I'm not gonna lie, it's been hard.""
Or
as Ken Goe of the Oregonian quoted Rupp
, ""It's been hard. I'm not going to lie. It's been difficult to focus…"I'm real happy that report came out yesterday. I stand behind it 100 percent. I believe in a clean sport."
Goe also spoke to Salazar
who said,
"The idea was to run just as slow as possible to save himself for
Sunday. 
He could have run faster. We weren't worried about it. He's in the best shape he's ever been in."
As for his critics,
Alberto said,
"People are going up with something else that's crazy. You can't worry about it. Batter up. If somebody else wants to come up with something crazy, batter up."
Full interview with Galen below:
Rupp post race: 3 "I stand behind [Salazar] 100 pct.'' 3 "I believe in a clean sport.'' 3 I'm not gonna lie, it's been hard.'' Coaching.

— Tim Layden (@ByTimLayden) June 26, 2015
Watch the full interview below:
(Editor's note: If you found this article to be interesting, you'll also likely enjoy: LRC Steve Magness Issues Passionate Rebuttal To Alberto Salazar's Open Letter:"(Salazar's) statements actually confirm what I witnessed and what I told to the BBC/ProPublica reporters in their documentary last month")
Rupp also spoke briefly to a TV reporter afterwards (non doping questions)
We asked Rupp if he would be able to answer a few more questions but he did not respond and walked out of the mixed zone.
"See ya," added Rupp's agent, Ricky Simms.
Full interaction in 1 video from a different angle:
Galen Rupp Award Stand interview with Dan O'Brien:
Ben True Addressed the Scandal in His Post Race Comments:
And Chris Derrick Discussed What Supplements He Is On
Messageboard thread: Watch Rupp's Post-Race Interview Here