Women's 3000: Arkansas' Dominique Scott Pulls Away from Stud Frosh Elise Cranny to Close Out a Perfect Weekend
by LetsRun.com
March 14, 2015
FAYETTEVILLE, Ark. — Arkansas' Dominique Scott couldn't have drawn it up any better. With her parents watching in the stands after making the long trip from South Africa, Scott claimed her first individual NCAA title on her home track, pulling away from Stanford's Elise Cranny with two laps to go to win in a quick 8:55.19, the third-fastest winning time in meet history. Scott ran 4:38.51 for her final 1600, which served as unfortunate case of deja vu for Cranny; Scott denied Cranny and her Stanford teammates glory in the DMR last night in an eerily similar race.
Scott was in heaven after the race. Not only did her 10 points help seal the Arkansas women's first NCAA title, but her boyfriend proposed in the post-meet celebration and she said yes.
Article continues below player
"It's been an amazing weekend," Scott said after the race on the ESPN webcast. "I have so much family here and normally I don't have any family here.
"I just wanted to do it for coach [Lance] Harter. He's such an amazing coach. The fact that I was able to do it this evening means the world."
The Race
Following teammate Leah O'Connor's race strategy from the mile, Michigan State's Rachele Schulist went to the front early and led the first 2200 meters of this race. After hitting 1600 in 4:51.86, Schulist had done enough to drop a few women, but much of the 14-woman field remained in contact. By 800 to go, seven women were still in it, with Scott sitting on Schulist's shoulder, followed by Cranny, 5k champ Emily Sisson, Georgetown's Katrina Coogan, Stanford's Jessica Tonn and Baylor's Rachel Johnson. Scott went to the lead with three laps to go, upping the ante with a 33.00-second 200 (Schulist had been running 35s and 36s from the front) and that immediately killed off everyone but Cranny.
Could Cranny avenge her DMR defeat and turn the tables on Scott? No. Scott moved at almost the same point as she did in the DMR (350 to go vs. 300 to go) and Cranny had no response; Scott's 65.43 400 from 2400 to 2800 had totally broken the field, and though Cranny never gave up on the final lap, it was clear she wasn't going to be catching Scott. The crowd, which had become noticeably louder once Scott took to the lead, erupted as she crossed the line, following shortly with chants of "Woo pig sooie!" Cranny held on for second, while Sisson summoned her kick in the final meters to push by Coogan for third by five thousandths of a second.
Results, quick takes and screen shots appear below.
Lap-by-lap splits are here.
Results
| | | | | |
| --- | --- | --- | --- | --- |
| Place | Name | | Affiliation | Time |
| 1 | Dominique Scott | SR | Arkansas | 8:55.19 |
| 2 | Elise Cranny | FR | Stanford | 8:58.88 |
| 3 | Emily Sisson | SR | Providence | 9:01.16 (9:01.155) |
| 4 | Katrina Coogan | JR | Georgetown | 9:01.16 (9:01.160) |
| 5 | Jessica Tonn | SR | Stanford | 9:01.84 |
| 6 | Rachel Johnson | SR | Baylor | 9:02.50 |
| 7 | Erin Teschuk | JR | North Dakota St. | 9:07.92 |
| 8 | Shelby Houlihan | SR | Arizona State | 9:09.61 |
| 9 | Rachele Schulist | SO | Michigan State | 9:09.78 |
| 10 | Katy Moen | SR | Iowa State | 9:13.83 |
| 11 | Samantha Nadel | SO | Georgetown | 9:14.43 |
| 12 | Dana Giordano | JR | Dartmouth | 9:16.20 |
| 13 | Calli Thackery | SO | New Mexico | 9:26.33 |
| 14 | Maddie Meyers | SO | Washington | 9:33.65 |
| | Maggie Montoya | SO | Baylor | FS |
| | Mara Olson | SR | Butler | DNS |
Quick Take #1: Dominique Scott finished out a perfect weekend with her first individual title
How good does Scott have it right now? Consider all she accomplished this weekend:
-anchored the Arkansas DMR to a victory for the second consecutive year
-came back the next day to win the 3000, her first individual title
-played a big role in delivering the team title for Arkansas — the first women's championship in the school's history
-did all of this on her home track
-capped things off by getting engaged to her boyfriend immediately after the meet
Everything lined up perfectly for Scott, and she was fit enough to take full advantage. She's developed significantly over the past two years, which she credited to consistency and hard work under coach Lance Harter. Prior to 2014, she'd never made NCAAs and had PRs of 4:44 (mile) and 9:18 (3k) — good, but not dominant. Well over her final two seasons, Scott has developed into one of the best runners in the NCAA, getting down to 4:32 and 8:52. At the last two NCAA indoor championships, she's finished second and first in the 3k and anchored the winning DMR each time.
Quick Take #2: This weekend was bittersweet for Elise Cranny
On the one hand, Cranny had a fantastic weekend, anchoring the Stanford DMR to second and finishing second in the 3000 as a true freshman. If not for Dominique Scott, she'd probably be sitting on two NCAA Championships right now. But Arkansas/Scott won both races, which was a tough pill for Cranny to swallow.
"I'm excited, but definitely having Dominique take off on me both times is a little bit hard," Cranny said.
Overall, Cranny had a tremendously successful indoor season, capped with her 8:58.88 in today's 3k — a four-second PR and an American junior indoor record (eclipsing Alexa Efraimson's 9:00.14 from last year). Mary Cain (who was born six days before Cranny) is barely faster at 3000 (she ran 8:58.48 outdoors last year at World Juniors).
Quick Take #3: Baylor's Maggie Montoya was in tears after being disqualified for a false start
Montoya became the second distance runner to be DQ'ed this weekend (Binghamton's Jesse Garn also false-started in the men's 800 prelims) and it was heartbreaking to see her come through the mixed zone and pick up her belongings without running a step of the actual race. Montoya did step over the line, which by the letter of the law is a DQ, but it's unfortunate that this had to happen and really brings into question what purpose the false start DQ serves in distance races.
In the sprints, it's fair to be disqualified from a race for a false start as the margins of victory are much tighter. Guessing right on the starter's pistol could give a clear advantage to a runner and with no DQ penalty, runners could false start endlessly to seek an advantage or screw with their competition. It's different in a distance race such as the 3k. The advantage gained by getting a good start is minimal and if you went down the start line, we doubt you'd find any other runner who'd want Montoya thrown out of the race (the crowd booed as she was forced to leave the track). And if that's the case, why exactly shouldn't she be allowed to run in the final? It's something the NCAA may need to examine more closely.
Montoya sat in the mixed zone briefly, holding her head in her hands before departing as the race was going on. We asked her if she'd be willing to discuss the false start with us but she declined, saying, "Sorry, it's too much." An understandable response, given the situation.
Quick Take #4: NCAA Title #1 for Harter
This was the first NCAA title in any women's sport for the Razorbacks. Arkansas coach Lance Harter appears to be genuinely really liked by his athletes and a class act (we don't know him personally but are impressed with how he interacts with random event staff at the meet). Afterwards he said, "This is a dream come true. Anytime you can make history it is very special. We're going to cherish it as long as we possibly can… You can't ask for anything more especially to do it before our home crowd."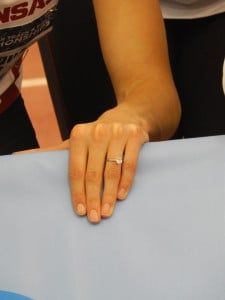 For more on Scott's engagement and a photo of the ring go here: What a Night: Arkansas' Dominique Scott Wins NCAA Individual Title, Team Title and Gets Engaged
***
Screen shots from the ESPN broadcast appear below (click for larger image).