Rejoice, Chris Derrick Is Just Like You – A Running Nerd; The Course Is Awesome, Tough and Dry; and The IAAF Shafts Ethiopia
by Robert Johnson
March 27, 2015
Guiyang, China – At noon, the pre-meet press conference was held and then we got bused out to get a look at the course before tomorrow's action. Here are my takeaways.
1) The Course is Challenging But Firm (And Far From Muddy) And Totally Awesome For TV Viewers
Article continues below player
I got to take a look at the course this afternoon at 2:30 pm local time. I did one walk around the full 2km loop. The course is entirely a grass course but it is very firm and hard. Rain is in the forecast so we'll see how it is tomorrow, but right now it's not wet at all. If it rains, the course could get muddy quickly, particularly the man made hills. Update at 9:04 pm local time. It's raining here now and has been so for about an hour. The course is about 30 minutes away so I can't confirm it's raining there.
Still, even if it's firm, the course certainly benefits a strength runner and non-rhythm types. When I got to the course, I asked someone if they had a course map and thought they were joking when they pulled this out.
Take a look at that baby. There are 10 turns of at least 90 degrees per lap. The way I counted there are eight turns that are almost 180 degree turns and two 90 degree turns. The course will require a lot of acceleration and great strength based on that alone. The course also will require a pretty quick start as there is a sharp left turn a couple hundred meters into the race although the fields aren't that large.
XC for the IAAF is not like xc at the NCAA level at all. There isn't a stretch of more than 300 meters that is straight. In terms of hills, it definitely is hilly as each loop features a 40 + foot elevation gain/loss (13 meters).
Basically the first 400 is flat. Then the course rises more than 40 feet (13 meters) over the next 400 meters. The downhill is more gradual as you lose the 40 + feet over the span of about 1000 meters.
If you look at the map above, the start to just before obstacle #1 is flat. Everything after from just before obstacle #1 to the "First Aid-Station" is a gradual uphill. Then everything from the "First Aid Station" to Obstacle #6 is downhill giving you an elevation chart as follows:

Here is what the 40+ foot hill looks like:
And then there are the man-made obstacles which really make this course interesting. Throughout the course there are a number of small man-made hills that runners must quickly go up and down. The first one is the most treacherous as before you get to it, they have dug out a huge pit. So you must go down, then up as shown here.
Imagine the NCAA trying to put that in a NCAA cross race. The race would have to be delayed for a few days as the NCAA coaches would be whining and moaning so much about how it was dangerous.
Here you go down, then up and then bam, turn 90 degrees to the left.
Here's what it looks like when you are down in that pit:
Here's what it looks like from the side: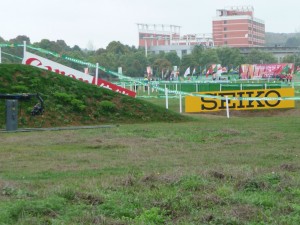 Obstacle #5 or 6 is pretty hairy as well. There are two hills, only three or four feet tall, but they are steep and come right after each other.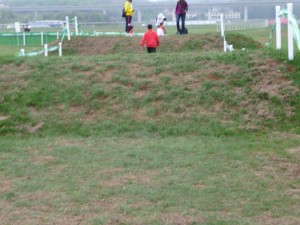 Here's a little video of me walking up it:
2) Shame on the IAAF For Shafting The Ethiopians at The Press Conference.
There were no Ethiopians featured at the press conference today. The featured athletes were China's Ding Changqin, American Chris Derrick, Kenyans Geoffrey Kamworor and Emily Chebet and 1998 champion Sonia O'Sullivan or Ireland/Australia.
I wondered if there were no Ethiopians simply because there wasn't an Ethiopian translator and that was confirmed to be the case. Totally unacceptable.
The IAAF pays for a lot of people to travel to the meet. I'm not 100% certain I'm reading this IAAF reimbursement chart right, but it appears, if you run a full allotment of 24 people at the meet, the IAAF will pay for more than 9 administrators to travel to the meet.
Considering one African nation brought 24 runners, 16 administrators and 3 girlfriends (yes that's what I was told or maybe it was 13 administrators and 3 girlfriends – they got a sponsor to give them extra administrators and the girlfriends are accredited as masseuses), I think the IAAF must figure out a way to pay for an Ethiopian translator or insist that one of Ethiopia's administrative spots be a translator.
The IAAF always wonders why cross country isn't more popular. Well if you treat every athletes as simply "an African" or in this case "an Ethiopian" instead of letting their individual stories come out, then you certainly aren't helping the cause.
3) Chris Derrick Admits He's A "Running Nerd", Takes A Subtle Dig At Europe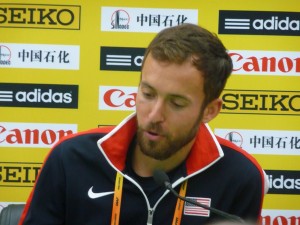 At the press conference, Chris Derrick started by saying many of the same things he said to me yesterday (article and video here) . He said his current fitness is "really good" and that he thinks he's still at the age where as long as he stays healthy he should make jumps in his fitness level each year.
In terms of the team competition, he said that "it's going to be tough to replicate" the silver from 2013 as Ben True made a huge jump that set him up for eventually running 13:02 and also it's rare in our sport for everything go perfect two-times in a row. But Derrick said that Team USA is still a strong one and one he hopes competes well and "hopefully convinces some European countries that they can compete as well."
Bravo, Chris. The 2014 European champs in December were won the by Turkish men and GBR women and neither of those teams is here. Why the IAAF doesn't mandate GBR attend is beyond me. Here's what I would have done if I was the IAAF, "Ok GBR, so you want to host Worlds in 2017? Then you will support our events with full participation."
When asked what it was like to take down traditional East African power Kenya in 2013, and whether that meant other countries, particularly the European ones who aren't here, should dream big, Derrick had this to say:
"When I grew up I was – I guess in America we'd say a running nerd – I was very involved in the sport and I think there always was a question in my mind as to whether or not we could compete with the Africans at the top of the sport so it was very gratifying to (get the silver) because I felt I had been in a situation when I was younger where I was looking for something like that to inspire me.
And I think belief and confidence play a huge part in things like cross country and distance running. It's always going to be difficult and the races are always going to be really, really hard so you need to know it's possible when you are out there on the third, fourth or fifth lap.
So it was an extremely gratifying experience and I think also it was something that I hope is part of an upswing instead of a peak."
When asked what type of surface he prefered, Derrick tried the comedy route, "I like whatever Geoffrey (Kamworor) doesn't like."
As for Kamworor, the 2011 junior champ as well as 2014 world half champ who skipped the 2013 xc champs as he focused on the roads, he said he's not focused on any one individual and is ready to work with his team for glory. He said that after cross country, he plans on trying to make Beijing Worlds in the 10,000. As for Rio, he's not sure if he'll go for the 10,000 or marathon.
Two-time champ Emily Chebet said she was lucky to win in 2010, but that gave her confidence for 2013. As for her 14th place showing at the Kenyan Trials, Chebet said she wasn't feeling well but right now she's feeling "sufficiently well to compete" (translated).
4) There is no way the start boxes are random.
The US Senior men got a great starting box. They start right in the middle with a stantion – not a team on their immediate left – in box #14. To the left of the stantion is Ethiopia, then China and Uganda and to their right is Kenya and then Eritrea.
In the senior women's race, the US is in box #15 with Ethiopia, Kenya and China on its left,and Spain and Uganda are on the USA's right.
The junior races are similar. In the junior men, it goes Ethiopian, Kenya, China, USA in 13-16. For the junior women, Ethiopian, Kenya, China, Uganda and USA are in 13-17. Clearly the best teams plus China are being put in the middle which makes it easier on the TV people and makes it more likely the best teams get off to a fair start.
More Photos Below (click for larger image):