Self-Focused Chris Derrick Is Ready To Lead Team USA and Challenge For Individual Medal
"The only thing I can control is training as hard as I can, racing as hard as I can and getting the most of my body."
By Robert Johnson, LetsRun.com
March 26, 2015
GUIYANG, China — Today, I sat down with three-time U.S. champ Chris Derrick at his hotel before he leads Team USA into battle on Saturday at the 2015 IAAF World Cross Country Championships. Derrick, who was 10th at World XC two years ago in a race where the US stunned the world and beat Kenya to get the silver medal, arrived here on Monday after three weeks of solo training in Flagstaff, Ariz.
Article continues below player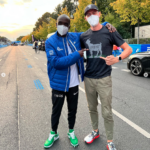 Kipchoge loves the 1:59:40 Shirt Get Yours Today
Shirts are $10 off if he breaks the world record and you order today.
Derrick was upbeat about his prospects as he said in Flagstaff he hit "pretty much every workout" he was assigned by coach Jerry Schumacher, which is all he tries to do. He tries "not to think too much about" his training and just do as he's told.
"Overall I'd say preparation has been good and I couldn't ask for much more in that regard," said Derrick. "I'd like to better [my performance from last time when I was 10th]. But realistically, I ran a really good race last time I was here and I think the conditions favored me more than some of the Africans….. Plus Bahrain is sending a team this time. I think there are probably six to eight guys that credential-wise are definitely a level above me and then another 10-15 guys that are around my level so I'd like to just go out with the main pack and beat as many of those guys as I can.
"I think I belong in the front pack. I don't know how long I'll be able to hang in there but I don't want to sell myself short in any regard."
Derrick said it was nice to hear that coach Renato Canova, whom Derrick emailed back in high school for ways to improve his speed, thinks he has a shot at a medal. See LRC Renato Canova Thinks Both Chris Derrick and Team USA Have Realistic Shot At Medals on Saturday.
Canova said Derrick emailed him about breaking 58 in the quarter. Derrick said he thought he or Canova was exaggerating as he's closed a 1500 in 53.9 before but definitely realizes he's a strength runner.
More highlights:
On his love of cross country:
"Cross country is great. It certainly appeals to me as it's an event where you don't really have to kick. I've kicked well at certain points before but I think my strength for sure is to just being able to grind out a certain pace. Jerry and I are looking for ways to apply that more to the track as that's where most of the action is. I don't want to be a guy who thinks, "Oh I can never finish fast," as I've seen guys who think that way and they get blown up on the last lap and it becomes a self-fulfilling prophecy. I really like cross country as it appeals to my strengths but also I want to be able to [be a great track runner]."
Chris Derrick Talks About The Nike Oregon Project's use of L-carnitine:
Given the developments of the last week, I asked Derrick for his feelings on what it's like to realize two of the top 10,000 guys in the world may be experimenting with injections of L-carnitine. Here's what he had to say (5:28 mark).
 "At a baseline, what other people do is always exogenous to you – whether it's legal or not – how good they are you don't control. The only thing I can control is training as hard as I can, racing as hard as I can and getting the most of my body… Whether someone is a genetic freak or an immoral asshole, I can't control either of those things. As far as would I want to be doing stuff like that (lots of supplements), I don't really think so…"
(we've got more of the quote below the video player if you want to read and not watch.)
Only Medal Derrick Has Kept Track of Is His 4th Place from the 2012 Olympic Trials
Derrick has no idea where his silver medal from 2013 World XC is. The only medal he puts up is the medal he got for finishing fourth at the 2012 Olympic Trials to remind himself of the "dumb things" he did leading up to the Trials.
You can hear Derrick talk about his medals near the end of the interview starting at the 9:22 mark.
Full interview below:
 More: LRC Renato Canova Thinks Both Chris Derrick and Team USA Have Realistic Shot At Medals on Saturday.
*Complete 2015 World Cross Country Coverage
Longer quote on not worrying about what others are doing:
"Honestly, I accept that someone is always going to be cheating. I'm not saying that's cheating. At a baseline, what other people do is always exogenous to you – whether it's legal or not – how good they are you don't control. The only thing I can control is training as hard as I can, racing as hard as I can and getting the most of my body. I was in a situation in college where at an indoor championships I ran 13:20-something and 7:40-something and didn't win (13:26 and 7:46 in 2012, losing to Lawi Lalang each time). I think I got the most out of my body that day but I was just racing someone who was just really, really good. When it comes to all of that other stuff or what other people are doing, I just try to go back to that. Whether someone is a genetic freak or an immoral asshole, I can't control either of those things. As far as would I want to be doing stuff like that (lots of supplements), I don't really think so. I think for the most part I take iron supplements when I go to high altitude but I don't think that [lots of supplements] is really necessary to compete at a high level – I know it's not necessary to compete at a high level as I've done everything I've done by not taking anything really. I think when you look at a lot of stuff people are just searching for stuff on the edges, frankly looking for a magic bullet that's not there. At the end of the day, me staying healthy, executing my training and racing as hard as I can is what has brought me success and what I'm going to keep doing. If people want to do other things, they can live with those decisions."