by: LetsRun.com
September 14, 2014
Below we recap the men's 800m, women's 5000, and men's 3000m from the final day of action at the 2014 Continental Cup in Morocco.
We recapped the steeplechases and Emma Coburn's $30,000 win here.
Day 1 coverage is here. All Continental Cup coverage here.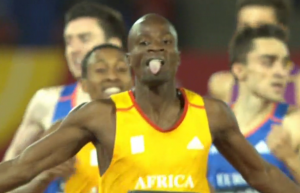 Men's 800m: Nijel Amos Shows It Again, He's the Best in the World
Article continues below player
After the Zurich Diamond League finale we wrote:
"Let there be no doubt. Nijel Amos is the best 800m man in the world in 2014. Amos, already the Commonwealth Games champion and the African champion, is now the Diamond League champion after his 1:43.77 win versus a stacked field."
We can now add Amos is the Continental Cup champion and $30,000 richer as he outkicked Duane Solomon, Mo Aman, and Adam Kszczot over the final 100m to win the Continental Cup in 1:44.88 as Aman was second and Kszczot third. Duane Solomon, in his first race in nearly two months, was sixth.
Solomon led at 400 in 51.55 and continued to lead all the way around the final turn as the field queued up behind him, preparing for the final kick. Aman was in second coming off the final bend and he went by Solomon with ease and sprinted to the victory. He had time to put out his right hand to celebrate as he won comfortably. Mo Aman was second, Kszczot got third, Mark English moved up for fourth, and Solomon let up right before the line to let Jeff Riseley get fifth.
We praised Amos' year after his Diamond League win in Zurich and nothing more needs to be said about his fabulous 2014.
Duane Solomon's promising but frustrating 2014 came to an end here. Duane's American outdoor season started with a 1:43.88 in April at Mt. SAC, the fastest time ever in the world in April. He'd never get faster. There was talk of him trying to break the American record at Prefontaine, but he only ran 1:47.40 for 10th there. He bounced back to win USAs, but then would DNF in Monaco in his only European race after USAs before returning to action here.
POS
BIB
ATHLETE
TEAM
COUNTRY
MARK
POINTS
1
537
Nijel 

AMOS

Africa
BOT
1:44.88
8
2
569
Mohammed 

AMAN

Africa
ETH
1:45.34
7
3
621
Adam 

KSZCZOT

Europe
POL
1:45.72
6
4
596
Mark 

ENGLISH

Europe
IRL
1:45.74
5
5
534
Jeffrey 

RISELEY

Asia-Pacific
AUS
1:46.20
4
6
661
Duane 

SOLOMON

Americas
USA
1:46.21
3
7
628
Musaeb Abdulrahman 

BALLA

Asia-Pacific
QAT
1:48.50
2
8
627
Wesley 

VAZQUEZ

Americas
PUR
1:49.32
1
Duane Solomon 51.55 400
Men's 3000m: Caleb Ndiku Wins Continental Cup to Go Along With World Indoor, Diamond League, and African Titles
Caleb Ndiku capped a tremendous year with the win here. It came down to the final lap, and Ndiku controlled it the entire way before pulling away the last 100m.
Ndiku showed he's a championship runner in 2014. Jon Mulkeen tweeted it best:
Caleb Ndiku is the only athlete in world this year to have won at World Indoors, Diamond Race, Continental Cup and Euro/African Champs.

— Jon Mulkeen (@Statman_Jon) September 14, 2014
Mo Farah had to be watching what Ndiku did this year. Ndiku is also emerging as a needed personality in the sport. At world indoors, Ndiku made a name for himself by wearing a cap indoors in his prelim and talking about his 'swag' to LRC afterwards, and then sporting a red mini-mohawk in the final. Today he wore a headband that appeared to be just tape on his head and did a dance after the finish. He also talked about his 'swag' some more.
Asked 3k champ Caleb Ndiku about dying his hair sand-coloured to match his african team kit. "This is my swag. It's not common to everyone."

— Cathal Dennehy (@denners87) September 14, 2014
Looking ahead, one big question for 2015 is whether Bernard Lagat at age 40 will be able to be a championship runner. He was third today, but not as close to Ndiku as he was at the 3000 at World Indoors where he got silver.
Video highlights:
Brief interviews with Ndiku and Lagat from IAAF below.
POS
BIB
ATHLETE
TEAM
COUNTRY
MARK
POINTS
1
603
Caleb Mwangangi 

NDIKU

Africa
KEN
7:52.64
8
2
536
Hayle 

IBRAHIMOV

Europe
AZE
7:53.14
7
3
659
Bernard 

LAGAT

Americas
USA
7:53.95
6
4
618
Nicholas 

WILLIS

Asia-Pacific
NZL
7:55.50
5
5
542
Aweke 

AYALEW

Asia-Pacific
BRN
7:56.58
4
6
566
Abrar 

OSMAN

Africa
ERI
8:01.20
SB
3
7
591
Richard 

RINGER

Europe
GER
8:02.87
2
8
540
Carlos 

DOS SANTOS

Americas
BRA
8:08.50
1
Women's 1500: Sifan Hasan Keeps Winning, Rowbury Gets 2nd
There was little doubt about this one. Sifan Hassan outclassed the field the final 200m as she pulled away from world junior champion Dawit Seyaum. American Shannon Rowbury moved up the final 100m to pass Seyaum to get second. Rowbury had a great 2014, finishing second in the Diamond League finale, second here, plus going sub-4:00 and sub-15:00 for the first time in her first year under new coach Alberto Salazar.
Rowbury can take some time off and buy herself a nice 30th birthday present (her birthday is next week) with the $15,000 she won today.
Video highlights:
POS
BIB
ATHLETE
TEAM
COUNTRY
MARK
POINTS
1
219
Sifan 

HASSAN

Europe
NED
4:05.99
8
2
254
Shannon 

ROWBURY

Americas
USA
4:07.21
7
3
178
Dawit 

SEYAUM

Africa
ETH
4:07.61
6
4
211
Hellen Onsando 

OBIRI

Africa
KEN
4:08.15
5
5
228
Renata 

PLIS

Europe
POL
4:08.68
4
6
145
Mimi 

BELETE

Asia-Pacific
BRN
4:09.14
3
7
156
Nicole 

SIFUENTES

Americas
CAN
4:11.18
2
8
135
Selma 

KAJAN

Asia-Pacific
AUS
4:19.61
1
Women's 5000: Almaz Ayana Runs 8:40 for Final 3000m to Crush Field
Almaz Ayana ran quick 8:40 (14:26 pace) the final 3km to crush the field. Ayana, the African 5000m champ, was the class of the field on paper and it showed.