Jenny Simpson Holds Off Brenda Martinez to Become First-Ever 3-Time 5th Avenue Mile Champ
By Chris Lotsbom, @ChrisLotsbom. Additional adds by LetsRun.com.
(c) 2014 Race Results Weekly, all rights reserved

American Jenny Simpson came into today's NYRR Fifth Avenue Mile knowing that a win would guarantee her place in history, for no woman had ever claimed more than two titles. From the time she lined up near the Metropolitan Museum of Art until the moment she broke the tape in Grand Army Plaza, a resolute stare never left the 28-year-old's face.

Leading wire to wire, Simpson would break the finish tape in 4:19.4, securing her third title and the $5,000 first place prize.

"Every race I get nervous, every race I know that there are people who are raising the bar and raising the level," said Simpson, clutching an American flag. "I just feel really fortunate. This year went so well, I don't want to take it for granted."

As soon as the gun sounded, Simpson bolted to the front just as she did in her winning run twelve months ago. Under orders from Alberto Salazar, the Nike Oregon Project trio of Mary Cain, Jordan Hasay, and Treniere Moser tucked in directly behind.

"I just sat on her and I felt good," said Hasay, who trailed Simpson by a step at the quarter mile mark, reached in 62 seconds. "It's just an honor to be out there with her."
Charging up the slight hill to the midway point, Simpson still had the gritty determined look on her face, appearing strong and in control. She'd take home the $1,000 premium for leading at halfway.

Sticking to her pre-race strategy and not letting anyone come up on her shoulder, Simpson passed the three-quarters mark in 3:17. While in the lead, she used the crowd's cheers to gauge how close her competitors were.

With 300 meters to go, fellow New Balance athletes Brenda Martinez –the 2012 champion– and Ireland's Ciara Mageean were beginning their kicks and had momentum on their side, closing the gap ever so slightly.

However, the day belonged to Simpson, matching her competitors sprint with a kick of her own. She'd cross the line first in 4:19.4, followed closely by Martinez (4:19.6) and Mageean (4:21.2). American Heather Kampf and Norway's Ingvill Makestad Bovim rounded out the top five in 4:21.4 and 4:21.9, respectively. A record 14 women broke 4:30.

"I really knew to save one final big push for that last two blocks and I'm just so grateful it was enough to win it," said a smiling Simpson. "I don't know if I'll ever use that strategy again because it's just so hard to run that way [from the front]."

The moment Simpson reached the finish line, her season had come to a close. Up next is 14 days of no running at all. Next year, Simpson said she plans on returning to defend her win and go for title number four.

"I'll try to win fifteen years in a row if I can!" Simpson joked with one reporter. "It's great to be on top and doing well, but it's especially fun to win this race."

Though they didn't win, both Martinez and Mageean were proud of how they fought all the way through the finish.

"I'm absolutely over the moon," said a glowing Mageean who had struggled with injuries the last two seasons. "Returning home feeling quite happy and very proud to have the tri-colored flag flying up there in the Fifth Avenue Mile. I hope we did our country proud out here today."

Other notable finishers included Morgan Uceny in sixth (4:22.0), Hannah England in seventh (4:23.1), and Mary Cain in tenth (4:25.5). Cain did not speak to the media following her race, although she cheered home the children's which followed the professionals and then did a workout at the Central Park Reservoir with her coach, Alberto Salazar.

In her final race as a professional, Canada's Diane Cummins, 40, placed 18th in 4:40.2.
Article continues below player.
A full race video and results appear below. Discuss this race in the LetsRun.com Forum: 2014 Fifth Avenue Mile Official Discussion Thread – Jordan McNamara and Jenny Simpson win! .
Race Video
Photo Gallery: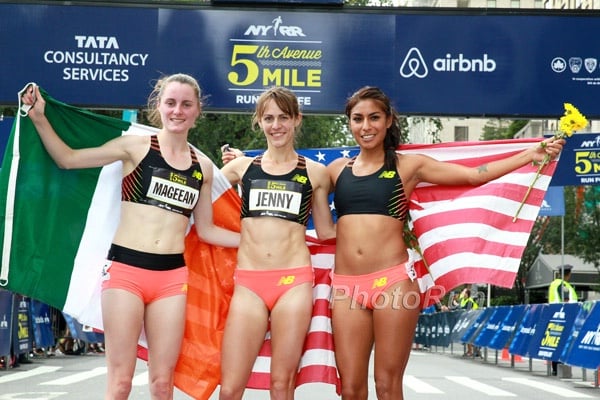 Results
Fifth Avenue Mile Professional Women

Pl.
Bib
First
Last
Age
City
State
Country
Affiliation
Time
1
1
Jenny
Simpson
28
Boulder
CO
United States
New Balance
4:19.4
2
3
Brenda
Martinez
27
Big Bear
CA
United States
New Balance
4:19.6
3
15
Ciara
Mageean
22
Dublin
Ireland
New Balance
4:21.2
4
10
Heather
Kampf
27
Minneapolis
MN
United States
Asics
4:21.4
5
11
Ingvill
Makestad Bovim
33
Oslo
Norway
Adidas
4:21.9
6
6
Morgan
Uceny
29
Watertown
MA
United States
Adidas
4:22.0
7
8
Hannah
England
27
Birmingham
Great Britain
Nike
4:23.1
8
21
Jordan
Hasay
22
Portland
OR
United States
Nike
4:23.9
9
4
Treniere
Moser
32
Portland
OR
United States
Nike
4:24.3
10
2
Mary
Cain
18
Bronxville
NY
United States
Nike
4:25.5
11
7
Laura
Weightman
23
Leeds
Great Britain
Nike
4:26.9
12
12
Sarah
Brown
27
Solana Beach
CA
United States
New Balance
4:28.3
13
9
Violah
Lagat
25
Colorado Springs
CO
Kenya
Adidas
4:29.3
14
5
Sally
Kipyego
28
Eugene
OR
Kenya
Nike Oregon Track Club
4:29.4
15
14
Brie
Felnagle
27
Tacoma
WA
United States
Adidas
4:31.1
16
20
Beverly
Ramos
27
San Juan
PR
Puerto Rico
New Balance
4:33.6
17
18
Gesa
Krause
22
Dillenburg
Germany
Nike
4:35.6
18
19
Diane
Cummins
40
Missoula
MT
Canada
4:40.2
NYRR Road Mile Championships Women

Pl.
Bib
First
Last
Age
City
State
Country
Affiliation
Time
1
71
Ariann
Neutts
23
Succasunna
NJ
United States
4:43.8
2
73
Grace
Kahura
21
High Falls
NY
United States
Westchester TC
4:48.2
3
72
Catherine
Beck
28
Newark
NJ
Kenya
CPTC New Balance
4:49.6
4
75
Kathryn
McManus
39
Mamaroneck
NY
United States
New York Athletic Club
4:50.8
5
76
Lesley
Higgins
34
New York
NY
United States
New York Athletic Club
4:57.5
6
74
Caroline
Williams
22
New York
NY
United States
New York Athletic Club
4:58.1
7
78
Ivette
Ramirez
24
New York
NY
United States
CPTC New Balance
4:59.2
8
70
Stephanie
Herrick
27
New York
NY
United States
CPTC New Balance
5:02.8
9
77
Andrea
Bradshaw
26
New York
NY
United States
CPTC New Balance
5:11.4
10
80
Shari
Klarfeld
33
Plainview
NY
United States
New York Harriers
5:26.8
Men's Race Recap: Jordan McNamara Edges Garrett Heath In Photo Finish at Line, Wins 1st Fifth Avenue Mile Title