Defending Champs Molly Huddle and Aaron Braun Return to .US National 12K Champs in November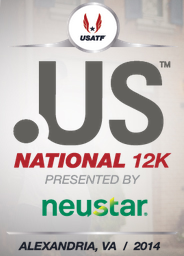 November 16, 2014
by: Running USA Wire
September 24, 2014
The .US National 12K is the season-capping race to the USA Running Circuit (USARC), a series of races that annually provides nearly $1 million in prize money to American runners
INDIANAPOLIS — 2013 .US National 12K champions Molly Huddle (Providence, Rhode Island) and Aaron Braun (Ft. Collins, Colorado) are back for more, as both athletes have confirmed their participation in the 2014 .US National 12K on Sunday, November 16 in Alexandria, Virginia.
Article continues below player
The .US National 12K is the season-capping race to the USA Running Circuit (USARC), a series of races that annually provides nearly $1 million in prize money to American runners. Elite athletes will vie for a combined $100,000 in prize money in Alexandria.
2013 was the inaugural .US race, which saw Huddle set a new world best over 12K in 37 minutes, 50 seconds. Since then, the 2012 Olympian has dominated both the track and the roads, and currently carries a USARC winning streak of six races (3/15/12) into the .US National 12K. Huddle is the American record holder over 5,000 meters, finishing in 14:42.64 at the Diamond League meeting in Monaco this year. She won the New York Mini 10K in 31:37, setting an American record for an all-women's road 10K and becoming the first American Mini champion since Deena Kastor in 2004.
Huddle is the defending USARC Champion, scoring 60 points last season. She also captured the 2014 USATF Outdoor title in the women's 5,000 meters, just edging Shannon Rowbury to take the crown. Huddle prevailed in 15:01.56 to Rowbury's 15:01.71.
Braun's .US title in 2013 was a wire-to-wire performance, as Braun set the tone early and never relinquished his lead, crossing only two seconds off the American record in 34:28. Braun has turned in four straight top-five finishes in USARC races and earned a runner-up finish at the 2014 USA Half Marathon Championships in January, crossing in 1:01:38.
Braun finished in the top five at the USATF Outdoor Championships in the men's 10,000 meters, crossing in 28:34.43. Just last weekend, he won the Cow Harbor 10k, finishing in 29:00.02.
In 2014, the race also will serve at the USATF Masters 12km Championships and, for the first time, the USATF Club Road Racing Championships.
The .US National 12K is the final stop on the USA Running Circuit, with the top ten finishers earning double points towards the USARC overall standings. With the winner picking up a whopping 30 points (24 for second, 20 for third, 14, 12, 10, 8, 6, 4, 2), the standings could see a dramatic difference at race's end. Huddle and Josphat Boit were crowned 2013 USARC champions in Alexandria.
To register for the .US National 12K, which showcases a 12K open race for recreational runners and professionals as well as a new 1-mile road race and kids' fun run, please visit www.national12k.us