Video Interview And Transcript With Emma Coburn After Her American Record Run At The Glasgow DL
By Adam Richards, Sportsbeat
July 14, 2014
Emma Coburn secured herself a spot in the record books on Saturday as she broke the American record for the 3,000-meter steeplechase at the Diamond League meeting in Glasgow.
The 23-year-old Olympian crossed the line in 9mins 11.42secs to smash her personal best and claim second place behind Hiwot Ayalew, who ran a world leading 9mins 10.64secs.
Article continues below player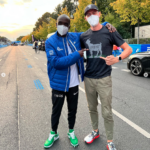 Kipchoge loves the 1:59:40 Shirt Get Yours Today
Shirts are $10 off if he breaks the world record and you order today.
Coburn took up the pace immediately and led from a kilometre in until the final lap when Ayalew took control of the race.
"It was very similar to Paris with me going right behind the rabbit for the first kilometre and then the rabbit peeled off and I had to do two kilometres alone which in breezy conditions, when you're running PR pace, is really difficult," said Coburn, who beat former Colorado teammate Jenny Simpson's previous American record of 9mins 12.5secs, set at the World Championships in 2009.
"I was thrilled that I was able to finish a little bit tougher than I did in Paris and I'm going home for more training before I come back for the next Diamond League.
"I'm just happy that I have an American record under my belt and a few second place finishes in Diamond Leagues and can go home and try to get back to be a little bit more dominant for the next couple.
"It feels wonderful knowing that it's my teammate's record and I know that she's at home and she's proud of me
"And I just feel lucky that I'm in a group with coaches who know what they are doing and teammates who are supportive so I'm really thrilled today.
"It was fun the track was nice it was a little bit breezy but I love the clouds and the rain.
"I'm from Colorado and I like cold weather so it was pretty perfect and the crowd was cheering for me and I felt like a home athlete even though I'm from across the pond."
Coburn's time moved the two-time USATF champion up to 11th on the all-time list.
***********
Sainsbury's is proud to support British Athletics through the Summer Series events and is committed to helping young people lead healthier, more active lifestyles. For more information visit www.sainsburys.co.uk/legacy