Who Do You Think Is "Dirty"? Who Do You Think Is "Clean"? Male Track And Field Stars Doping Poll Results
by: LetsRun.com
June 3, 2014
If you'd like to read our intro on why we did this and why we think it leads to a cleaner sport, click here.
Earlier this year, when a visitor came to the LetsRun.com (LRC) homepage, they were given a list of top athletes in the sport of track and field, the country they were from, some prominent info about their accomplishments, and then two options to vote on, "Clean" or "Dirty," which our visitors used to state whether they thought the athlete had used performance-enhancing drugs or not.
Earlier this year, we revealed the doping poll results for the World Record holders in the running events: World Record Holders "Dirty" Or "Clean" Doping Poll Results. Then we revealed the results for the female stars of the sport: Female Track And Field Stars: "Dirty" Or "Clean" Doping Poll Results.
Today in part III, we reveal the results for the non-record-holding male stars of the sport.
Article continues below player.
Before we get to the results and a brief analysis of the results, just a reminder to everyone, the polls don't prove anything. As we wrote in our intro to the WR holder article, "A number of message board posters and emailers have noted that this poll doesn't tell us whether someone actually doped and is speculation. That's true – we agree."
However, we do believe that the polls and acknowledging public opinion can lead to a cleaner sport.
Below is a graph of the aggregate results. For those of you who want detailed athlete by athlete cross tab results broken down by age, sex, country, race, education status and more, click here.
% of LetsRun.com Audience That Thinks the Following Men Are "Dirty":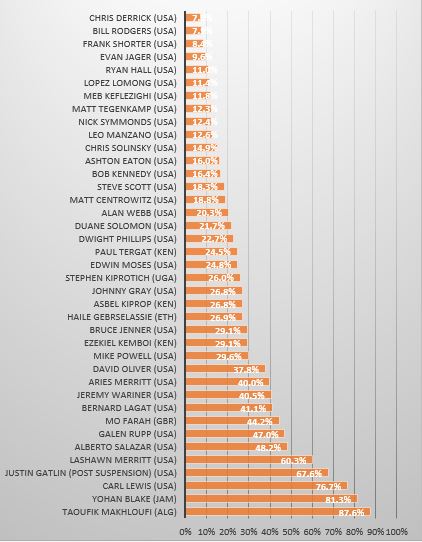 Want Most Voters To Think You Are Clean? Don't Test Positive (Gatlin, Merritt, Blake), Be Mentioned With A Doping Cover-up (Lewis), Or Win Too Easily (Makhloufi)
Just like with the women, the vast majority of LRC nation thinks today's male stars are clean. That shouldn't be too much of a surprise as in the world record poll results, there was a strong correlation between how recent an athlete competed and what percent of you thought that athlete was clean.  Extending the voters' opinions to today's non-record holding stars, and today's American distance favorites, it is consistent that most voters think they are clean.
That's good news as it seems as if the fans think drug testing is gaining momentum.
However, four current athletes tipped the scales with over 60% of our voters thinking they are dirty. Three of them: Lashawn Merritt (21 months for taking penis enlargement product ExtenZe which has a banned steroid), Justin Gatlin (4 years – testosterone), and Yohan Blake (3 months – stimulant) have served a doping suspension in their careers.
A runner with no doping suspension, 2012 Olympic 1500 champion Taoufik Makhloufi, is the runner on the third batch of polls most LRC visitors thought was dirty. Makhloufi raised suspicion because in the eyes of many his 2012 Olympic 1500m win was too easy from someone relatively unknown at the time and then he was largely absent from the scene in 2013.  In today's era (see Rashid Ramzi), being too good can arise suspicion. Sports fans have been burned too often in the past about things being too good to be true (70+ home runs in baseball, cancer survivor winning 7 Tour de France's).
Once again we remind you, dirty or clean votes don't prove anything. It's just a gauge of perception.  Here's a link to a visitor who takes to task LRCers for thinking Makhloufi must be dirty. A consistent and strong 2014 campaign certainly will reduce people's suspicions.
76.2% of voters thought sprint legend King Carl Lewis was dirty. Not totally surprising considering the era he competed in. As we pointed out in our first doping poll results article, most people think the current World Record holders from that era (the 1980s) were dirty. Carl was a world record holder then and had negative publicity in 2003 when Dr. Wade Exum, the former head of USOC drug testing, said Carl tested positive for stimulants and should not have competed at the 1988 Olympics. In 2003, the IAAF said Carl Lewis' case was handled properly and the LA Times reported the amount Carl tested positive for would not trigger a positive test today, but Carl was linked to a positive test and that negative publicity has stuck with him.
Many of the trends that we saw in our other polls held for the non-record-holding male stars. There is a strong country bias in the voting. Americans are more likely to think Americans are clean. British people are more likely to think Brits are clean. The young and the old generally speaking are most likely to think people are clean, but not always (the older people were more likely to think Bruce Jenner was dirty). Women generally were more likely to think people were clean in general but not always (more men think Alberto Salazar was clean).
Most Of You Think The Distance Runners are Clean, However Three US-Based Distance Runners – Rupp, Farah and Lagat – Stand Out 
The good news for distance fans was that in our final poll, with the exception of Makhloufi, more than half of you think all the men's distance runners are clean. Looking at the US-based distance runners in our poll, three runners, Galen Rupp (47.0% "dirty"), his training partner Mo Farah (44.2% "dirty") and Bernard Lagat (41.1% "dirty"), got significantly more dirty votes than their current male US-based distance peers. With the exception of Ezekiel Kemboi (29.1%) and Makhloufi, the dirty percentages for Rupp, Farah, and Lagat were 50% higher than any other distance runner in our final poll (next highest dirty percentage was Haile Gebrselassie at 26.9%), and nearly double the next highest current American-based distance runner ( Duane Solomon at 21.7%).
Rupp, Farah, and Lagat are doing things that truly stand out in the sport, and as we saw with Makhloufhi that can raise suspicion. In addition to his 26:44 American record, Rupp's speed has improved tremendously. Farah went from being very good but failing to make the Olympic final in 2008 to becoming the world's best at 5000 and 10,000 and then running 3:28.81 for 1500 at age 30, and Lagat continues to amaze on the track, now at the age of 39.
Off the track, Rupp, Farah and Lagat, all have had incidents that likely raised the "dirty" percentage of votes. In 2003, Lagat's "A" sample tested positive for EPO and was leaked to the press, but was not confirmed by his "B" sample.
Rupp and Farah are both coached by marathon legend Alberto Salazar (48.2% "dirty"), who admitted in his day to taking Prozac and predisone to perform his best and was one of American legend's Mary Slaney's coaches when she tested positive.  After the 200812 Olympic 1-2 sweep by teammates Farah and Rupp in the 10,000m, Jos Hermens, agent to Kenenise Bekele (28.3% "dirty"), raised a fuss in the Dutch media about Rupp and Farah being on thyroid medication which is a legal product. (FYI Farah's agent Ricky Simms told LRC earlier this year that Farah was "100% never on thyroid medication". Rupp's thyroid medication usage (and Ryan Hall's (11.0% dirty)) has been discussed in the Wall Street Journal.)
Once again we remind you, dirty or clean votes don't prove anything. It's just a gauge of perception. Rupp, Farah, Lagat, and Salazar share some good company. 44.0% of you in our world record poll thought Usain Bolt was dirty. People doing unprecedented things in the sport often arise more suspicion.
Aries Merritt Included in Both Polls
We included world record holder Aries Merritt in both the world record polls and the non-record-holding male stars poll to see if people's opinions on athletes were consistent. When included in our world record poll, 35.4% of our voters thought Merritt was dirty. However, when included on our stars poll, 40.0% of you thought he was dirty. There are two possible explanations we can think of for this. 1) Contrast bias – when paired with world record holders that overall more voters thought were dirty, the tendency of undecided voters may have been to think Merritt was clean. 2) Voter fatigue – in our second poll, people who thought athletes were clean could be less likely to vote.
We strongly encourage you to look at our detailed athlete by athlete cross tab results broken down by age, sex, country, race, education status and more.
Be sure to email us or post in our forums any interesting results you find: MB: LRC Male Stars "Clean" or "Dirty" Doping Poll Results
More: *For Detailed Athlete-By-Athlete Cross Tabs of the Male Stars, Click Here
*For Our World Record Doping Poll Results, Click Here
*For Our Women's Stars Doping Results click here
*All the Data in one Place