USATF's Incompetence Makes Front Page Of Wall Street Journal Marketplace Section Under Headline, "Nike Runs Into Trouble On The Track"
by: LetsRun.com
April 3, 2014
Jordan Hasay made the front page of a major section of one of America's largest papers today. It's definitely not the type of publicity she or Nike wanted.
An article by Sara Germano, titled "Nike Runs Into Trouble on the Track" (online title is, "Nike, Brooks Running Get Entangled in Track Controversy"), is on the front page of the Marketplace Section of the Wall Street Journal.  The article discusses how track and field athletes are considering boycotting the USATF outdoor nationals over how "USA Track & Field runs its meets and applies its rules" and links the track and field athletes' potential uprising with the recent attempt by college football players to unionize.
Article continues below player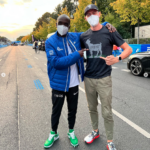 Kipchoge loves the 1:59:40 Shirt Get Yours Today
What a legend!
To be honest, the article got one thing wrong – the title. This is not a Nike issue per se. It is about USATF not caring about the integrity of the sport and not having a system that treats all athletes and coaches equally at national championships*
There were two incidents at the 2014 USA Indoor Championships that have spurred the athletes to start discussing boycotting USATF outdoors. (If you are not aware of the two incidents, click here to read about Nike athlete Andrew Bumbalough being DQd in the men's 3k when he did nothing wrong in a case of mistaken identity for allegedly fouling fellow Nike athlete Galen Rupp, and click here to read about the other incident that attracted much more attention– Brooks athlete Gabe Grunewald, the women's 3000m champion being DQd via an opaque process, then being reinstated 2 days later after a public outcry. Both incidents involved protests from Nike coach Alberto Salazar).
In one of these two incidents at the 2014 USA Indoor Championships, 40 days ago today, in case of mistaken identity a (Nike) athlete who did nothing wrong was disqualified at a national championship (for allegedly fouling another Nike athlete). No one disputes that.
USATF has done nothing about it. It has not even acknowledged the error, only issuing a statement about the nationals saying, "the topics related to Albuquerque are not quick fixes."
Bull shit.
The wrong athlete was disqualified at a national championship. Admitting that does not take time.
2 nights ago, the NBA refs made the incorrect call on a goal tending call in overtime of the Dallas Mavericks – Golden State Warriors game with huge playoff implications. The NBA the next day issued a statement saying it was the wrong call.
The NBA example illustrates a well run organization can show it is committed to fair sport in hours, not days. Not being transparent – now that takes days.
Amazingly, 40 days have passed and all we've heard from USATF is that the rules were supposedly followed. If that's the case, then the rules need to be changed as both decisions were wrong.
Ironically, the way USATF operates, now that the boycott got picked up by the WSJ and was framed as a Nike problem, USATF will probably get its act together. Nike no doubt doesn't want to be known for sponsoring an incompetent organization that brings it negative publicity. If Nike CEO Mark Parker was not aware of this issue, he is now.
USATF needs to acknowledge its errors and let an independent body investigate what happened at USA Indoors.
We at LRC thought the potential threat of a boycott by athletes would get USATF's attention, but sadly USATF has shown it cares more about negative publicity and its sponsors than athletes. That is the problem.
We have been very restrained in not yet calling for a boycott of USATF Nationals or starting the discussion on whether the USOC should decertify USATF.
Don't fire your bullets until you have to.
Let's not get to 50 days.
---
*One could argue that Nike, USATF's #1 sponsor, has often looked the other way over the years at USATF's incompetence, as the beneficiary of USATF's unequal treatment is often the more prominent athletes in the sport, who often are Nike athletes.
More LRC Coverage on the Controversies at Indoor Nationals:
*The Inside Story Of Gabriele Grunewald's DQ – Insider Access, False Promises And A Violation Of USATF's Own Rules?
*The Inside Story Of The Andrew Bumbalough DQ: A Case Of Mistaken Identity Or A Near Catastrophe Bigger Than The Grunewald DQ Averted?
*Irony Of Ironies: USATF's Reinstatement Of Gabriele Grunewald Was Another Example Of Itself Violating Its Own Rules And Making Them Up On The Spot