Rita Jeptoo Earns Third Boston Marathon Crown With Sensational 2:18:57 Course Record
By Chris Lotsbom; @ChrisLotsbom
(c) 2014 Race Results Weekly, all rights reserved
Editor's note: Jeptoo would eventually be stripped of her title for doping. More here: MB: Rita Jeptoo Stripped of 2014 Boston Marathon title
Article continues below player.
BOSTON (21-Apr) — Kenya's Rita Jeptoo raced her way into the history books here at the 118th Boston Marathon, claiming victory in a course record of 2:18:57. It was the third time in eight years that Jeptoo, 33, broke the finish tape on Boylston Street.

"I was not expecting to run fast like today," said Jeptoo, a twinkle in her eye. "Today the race was like on fire!"

From the get-go in Hopkinton, it was American Shalane Flanagan bursting to the lead, pacing the field through five kilometers in 16:12 and ten kilometers in 32:32, well ahead of course record pace. A native of Marblehead, Mass., some 14 miles northeast of Boston, Flanagan was determined to run her own race, taking off at a blazing clip.

Motivated by her hometown pride and thoughts of last year's terrorist bombings at the marathon's finish line, Flanagan wanted to become the first American to win since Lisa Larsen-Weidenbach in 1985.

"I have a good friend (1983 Boston Marathon champion) Joan Benoit Samuelson and for three years she's told me to run my own race," Flanagan told members of the media. "Today, I wanted to go out and do just that. I wanted to see if it was good enough to win the olive wreath."
Rattling off mile after mile in the 5:10 to 5:25 range, Flanagan seemed poised through the halfway point in 1:09:25. There she was joined by seven others –all of East African decent– including reigning champion Jeptoo, Ethiopians Buzunesh Deba and Mare Dibaba, as well as Kenyan Jemima Jelagat Sumgong.

Chants of "USA! USA!" continued to rain down on Flanagan and the group with each step, the hopes of a city, state, and country riding on the 32-year-old's slender shoulders.

Those dreams of an American victory took a turn with the arrival of the infamous Newton hills from miles 17 to 21. By then, Flanagan seemed to be feeling her hot early pace; she was the only one of the lead pack to hold her elite fluid bottles for more than a minute and a half, taking quick sips one after the other before tossing the bottle to the ground with gusto.

Approaching Boston College and the summit of Heartbreak Hill (around 21 miles/33.8 kilometers), Flanagan began to fade. With a quick surge, Dibaba and her East African counterparts left Flanagan in their wake. Before she could blink an eye, Flanagan found herself more than 30 seconds behind.

Jeptoo's Move
The next big move would come between miles 22 and 23, when Jeptoo sensed it was her time to go. Making a decisive move, Jeptoo upped the tempo before blasting the 24th mile in 4:47. From then on, her only competition would be the chasing Green Line Trolley, which cruised along her left shoulder before suffering the same fate as her rivals.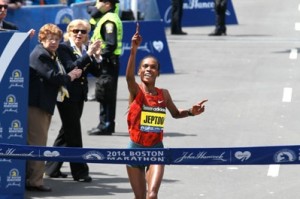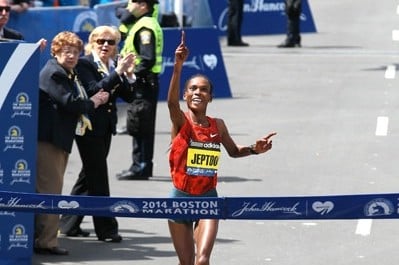 To the cheers of thousands, Jeptoo came through Kenmore Square then completed the final two turns on Hereford and Boylston Streets, seeing the finish tape in front of her. When she crossed the line with 2:18:57 reading on the clock, she had shattered Margaret Okayo's 2002 course record of 2:20:43 by close to two minutes and became the sixth woman ever to break 2:19.

"The race today was very very hard. So I'm not thinking I would expect to try like today," she would say, paying homage to Flanagan's early effort. "But today I pushed all today and my time is my best time here in Boston."

Speaking with Race Results Weekly last Friday, Jeptoo said earning her third Boston Marathon crown would be extra special, ranking her among the race's all-time greatest athletes: Kenyan Catherine Ndereba (four titles), Ethiopia's Fatuma Roba (three), Germany's Uta Pippig (three), and Portugal's Rosa Mota (three).

"It's not easy to win three times and be a champion, but I mean today I'm just happy," said Jeptoo, who picked up $150,000 for finishing first plus $25,000 for establishing a new course record. "I don't have anything to say but that I'm happy."

2:19:59 for Deba
Finishing in second was Deba, recording a personal best time of 2:19:59. It is Deba's third consecutive runner-up finish at a World Marathon Majors event (second at the 2013 and 2011 TCS New York City Marathons). Rounding out the top three was Dibaba in 2:20:35. Both were under Okayo's previous course record.

Coming home in seventh was Flanagan, recording the fastest American time in race history by 36 seconds, 2:22:02. Although it was more than a three minute personal best, Flanagan was disappointed that she couldn't bring home the victory for her beloved hometown crowd.

"It does mean a lot to me that my city is proud of me, so yeah. I'm proud of how I ran and like I said, I don't wish it was easier. I just wish I was better. It was a really heartfelt effort today," she said, tears welling in her eyes.

Flanagan, who was the first elite athlete to commit to run this year's Boston Marathon only three days after the 2013 edition, said she'll return to Boston every year until she claims the laurel wreath. Drawing motivation from men's champion Meb Keflezighi –the first American men's winner since Greg Meyer in 1983– Flanagan assured that she has many more high quality marathons left in her legs.

"I will take away a three minute PR and more, so that's a good step forward," she said. "I look up to people like Meb, who has had a really lengthy career. I don't know what Boston this was for him, but it took a few steps for him to get it right."

Also of note, American Olympian and 2011 Boston Marathon runner-up Desiree Linden finished tenth in 2:23:54, an improbable time for that position (previous best 10th place here was 2:27:00). Colorado's Adriana Nelson was 15th in 2:31:15. Past champions Sharon Cherop and Caroline Kilel placed eighth and 17th in 2:23:00 and 2:32:04, respectively.  Lidia Simon, the 2000 Olympic Marathon silver medalist from Romania, won the masters competition in 2:36:47.

The 2015 Boston Marathon will be held on Monday, April 20th. 
Results
1 Jeptoo, Rita (KEN) F1 Female 18-39 33 +00:00 02:18:57
2 Deba, Buzunesh (ETH) F10 Female 18-39 26 +01:02 02:19:59
3 Dibaba, Mare (ETH) F2 Female 18-39 24 +01:38 02:20:35
4 Sumgong, Jemima Jelagat (KEN) F3 Female 18-39 29 +01:44 02:20:41
5 Melkamu, Meselech (ETH) F25 Female 18-39 29 +02:31 02:21:28
6 Duliba, Aleksandra (BLR) F12 Female 18-39 26 +02:32 02:21:29
7 Flanagan, Shalane (USA) F17 Female 18-39 32 OR +03:05 02:22:02
8 Cherop, Sharon (KEN) F6 Female 18-39 30 +04:03 02:23:00
9 Ongori, Philes (KEN) F15 Female 18-39 27 +04:25 02:23:22
10 Linden, Desiree (USA) F8 Female 18-39 30 MI +04:57 02:23:54
11 Oljira, Belaynesh (ETH) F16 Female 18-39 23 +05:24 02:24:21
12 Esayias, Yeshi (ETH) F14 Female 18-39 28 +08:43 02:27:40
13 Petrova Arkhipova, Tatiana (RUS)F11 Female 18-39 31 +11:32 02:30:29
14 Marchant, Lanni (CAN) F20 Female 18-39 30 ON +11:37 02:30:34
15 Nelson, Adriana (USA) F23 Female 18-39 34 CO +12:18 02:31:15
16 Aparecida da Silva, Adriana (BRA)F24 Female 18-39 32 +12:21 02:31:18
17 Kilel, Caroline (KEN) F7 Female 18-39 33 +13:07 02:32:04
18 Burla, Serena (USA) F21 Female 18-39 31 VA +13:30 02:32:27
19 Thomas, Wendy (USA) F30 Female 18-39 35 CO +13:52 02:32:49
20 Erb, Esther (USA) F29 Female 18-39 28 NJ +14:18 02:33:15
21 Higuchi, Noriko (JPN) F22 Female 18-39 28 +14:42 02:33:39
22 Cummings, Sarah (USA) F33 Female 18-39 25 NY +16:00 02:34:57
23 Dionne, Hilary (USA) F32 Female 18-39 28 MA +16:11 02:35:08
24 Simon, Lidia (ROU) F102 Female 40-44 40 CO +17:50 02:36:47
25 Walkonen, Andrea (USA) F39 Female 18-39 27 NH +18:09 02:37:06
26 Olaru, Nuta (USA) F104 Female 40-44 43 CO +18:32 02:37:29
27 Portis, Laura (USA) F28 Female 18-39 27 MI +19:51 02:38:48
28 Boulet, Magdalena (USA) F103 Female 40-44 40 CA +22:39 02:41:36
29 Jesseman, Erica (USA) F31 Female 18-39 25 ME +23:35 02:42:32
30 Wetsch, Bria (USA) F40 Female 18-39 25 CA +23:36 02:42:33
Women's Splits
Mile 1 – 5:11
Mile 2 – 5:10 (10:21)
Mile 3 – 5:15 (15:36)third mile – 15:37 – 16:10 5k.
Mile 4 – 510 (20:46)
Mile 5 – 525 (26:11)
Mile 6 – 5:11 (31:22) 10k – is 32:32. Projected 2:17:21
Mile 7 – 5:10 (36:42)
Mile 8 – 5:21 (42:03)
Mile 9 – 5:17 (47:20) – 49:05 15k.
Mile 10 – 5:28 (52:48) – 8 person lead pack.
Mile 11 – 523 (58:11)
Mile 12 -5:16 (63:27)
Mile 13 – 5:23 (68:50)
Mile 14 – 5:18 (74:08)
Halfway in 69:24
Mile 15- 5:27 (1:19:35)
Mile 16 – 5:11 (1:24:46)
Mile 17- 5:31 (1:30:17)
Mile 18 –  5:33 (1:35:50)
Mile 19 –  5:21 (1:41:11)
Mile 20 -5:34 (1:46:45) shalane's been dropped .
Mile 21 – 5:45 (1:52:30) Melkamu missed water bottle but Deba gave her some.
Mile 22 – 5:17 (1:57:47)2:01 mark Deba is lost. down to 4. D2:02:15 down to 2.
Mile 23 – 5:14 (2:03:01)
Mile 24 – 4:48 (2:07:49)
Mile 25 – 5:02 (2:12:51)
Mile 26 – 5:02 (2:12:51)