Jenny Simpson Ready To Run Only 2014 Indoor Race In Boston Tomorrow
Simpson Confirms She'll Race Next Week At USA XC Meet In Boulder, CO
By David Monti, @d9monti
(c) 2014 Race Results Weekly, all rights reserved
BOSTON (07-Feb) — Two-time world championships medalist Jenny Simpson's indoor season both begins and ends here tomorrow when she competes in the two-mile at the New Balance Indoor Grand Prix at the Reggie Lewis Track Facility at Roxbury Community College.
Article continues below player
Simpson, 27, who won the 1500m silver medal at the IAAF World Championships in Moscow last August, said that instead of focusing on the IAAF World Indoor Championships in Sopot, Poland, in March, she was instead spending the winter freshening-up her legs by doing events she would normally have to avoid during a year with a major outdoor championships.  She recently ran the quirky Cinque Mulini Cross Country in San Vittore Olona, Italy, last month and confirmed here today that she will run the USA Cross Country Championships next Saturday in Boulder.  Simpson and husband Jason moved back to Boulder last year where she reunited with her University of Colorado coach, Mark Wetmore.
"I'm really excited to be back in Boulder," Simpson said at a press conference here today.  "I feel like an incredibly fortunate person and athlete that I've always been in a really helpful, loved and great situation throughout my career, from high school until now.  Being back at C.U. is just a continuation of that story for me."
Simpson is part of a top-quality training group which includes steeplechasers Emma Coburn (who will run the 2000m event here) and Shalaya Kipp, and 2007 IAAF World Championships 10,000m bronze medalist Kara Goucher, who only recently relocated to Boulder with husband Adam and son Colt.  Goucher, like Simpson, also competed for Colorado during her NCAA career.  Simpson likes her new team, a sharp contrast to the all-male training group she had in Colorado Springs at the United States Air Force Academy under her previous coach, Juli Benson.
"Being back, the significant change for me is in Colorado Springs I spent a lot of time training with Air Force men, and now I'm back with Shalaya, and Emma, and Kara which is quite a departure from my three years with Air Force men.  It's a lot of fun to be back with those ladies; the recent addition of Kara has been very exciting."
For months, Simpson debated whether to compete at the national cross country championships or at the NYRR Millrose Games in New York (both events are next Saturday).  She chose to run in Boulder to support a community which has always supported her, she said.
"Just the community of Boulder is really fun being back," she explained.  "It's great to be in a place that appreciates distance running and endurance sports.  But, even more so, it's your alma mater, it's a school where you're familiar, where you feel like you have a piece of history there.  It's just really, really special to be back."
Simpson, who has won seven national titles, is nervous about running cross country again.  The Cinque Mulini –which means "Five Mills"– was more challenging than she expected. She finished more than a minute and one-half behind the winner, Kenya's Faith Kipyegon, and ran much of the race alone.
"I will totally admit that I had an idea in my mind what it was going to be like racing Cinque Mulini," Simpson began, looking slightly embarrassed.  "It was so difficult and it was so hard.  It reminded me a lot of running community races back in high school when I was young and wasn't very good."
For next Saturday's race in Boulder, Simpson is nervous.  Boulder has had a colder than normal winter and there is snow on the ground. Preparing for both the two-mile here and the cross country in Boulder simultaneously has been challenging.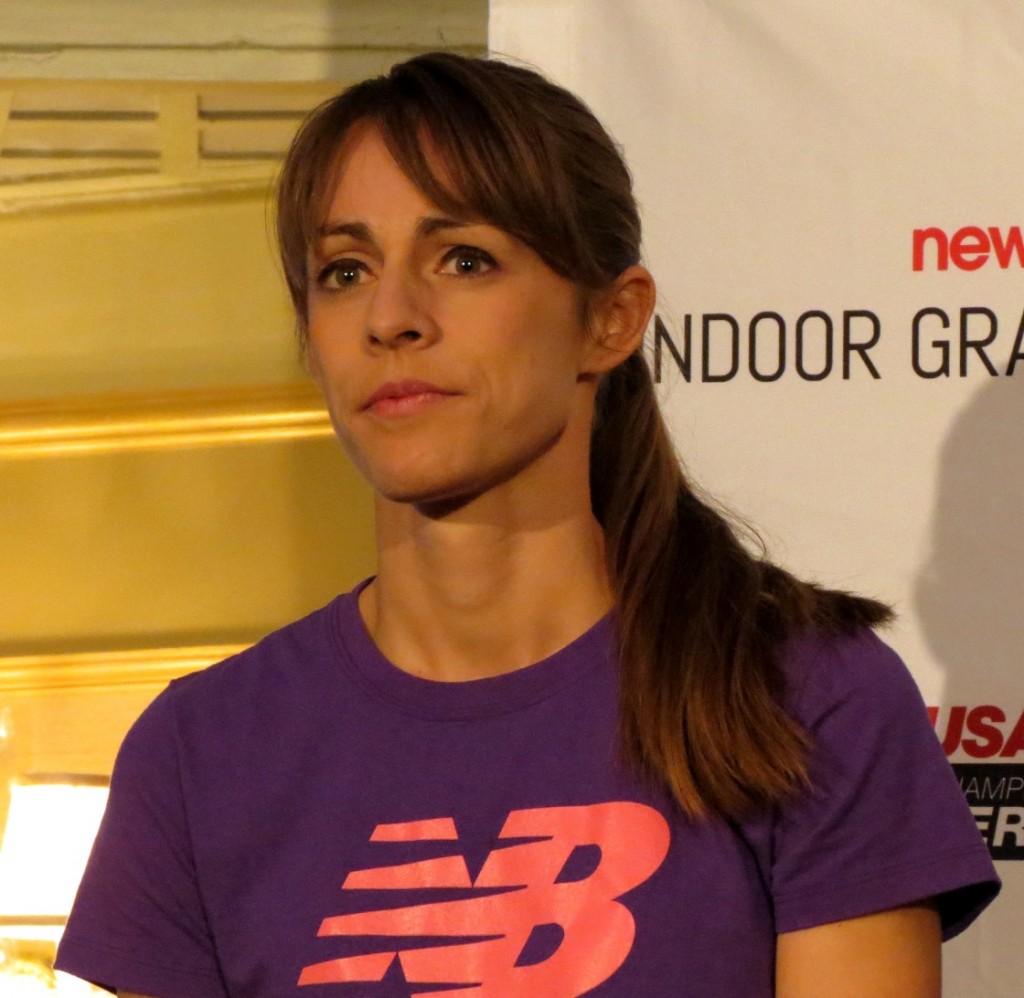 "I'm entered and planning to run next weekend," Simpson said in response to a reporter's question.  "There's a little bit of hesitation for me in running it because the conditions in Boulder have been so bad."  She continued: "I think also there's a part of me which didn't consider how different it would be to run a two mile on the track and an 8-K cross country at the same time."
But Simpson is a miler, and when it's time to get back on the track she'll relish running the 1500m again, an event she plans to stick with for the foreseeable future.
"I'm not tempted yet to move up to another distance," she intoned.  "I really love it and enjoy it; I think that's an important part of it.  But, for you're ability to keep doing it for a living you have to be good at it.  As long as I'm doing that, I'm happy with the training and the racing."
She paused and added: "I'm ready for winter to be over, though."
More: LRC Jenny Simpson talks about Genzebe Dibaba's World Record and her own fitness prior to 2014 New Balance Indoor Grand Prix