Meb Keflezighi And Serena Burla Win 2014 USA Half Marathon Titles
by LetsRun.com
January 19, 2014
Favorites Serena Burla and Meb Keflezighi got victories at the 2014 USA Half Marathon Championships in Houston this morning which were held as part of Aramco Houston Half Marathon and Chevron Houston Marathon. Burla ran away from everyone from the front, whereas Meb pushed the pace repeatedly but didn't break away until the 10-mile mark.
"This is title number 22 for me. I'm so excited to win the title," said Meb on USATF.tv after the race. Meb said he was especially excited to win in Houston where his main sponsor Skecher's is the shoe sponsor of for the marathon and half-marathon. "They (Skecher's) didn't expect me to run here but I've been training very well. … I'm so happy to be in a partnership with them."
"I'm a front runner – I look to push the pace," said Meb about his pushing the pace several times in the races before making his final bid for glory at the 10 mile mark. "I feel delighted to be healthy and with the blessing with God, I'll be Healthy in Boston and ready to go for the title."
Article continues below player.
Top eight results for the men and women appear below along with three quick takes.
Update: A more detailed race recap from Race Results Weekly is now out: *RRW: Keflezighi, Burla Score Convincing Wins At USA Half Marathon Championsips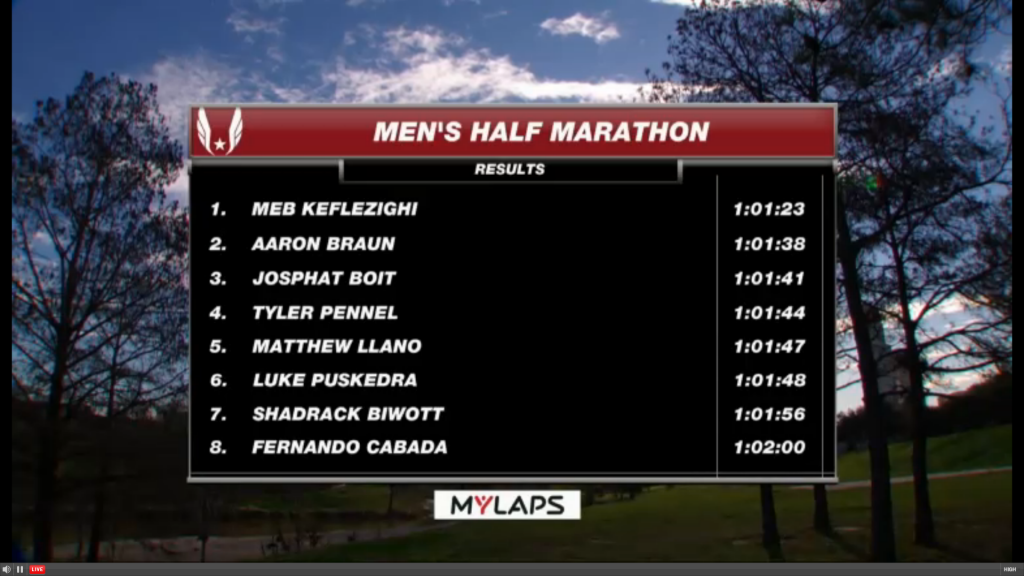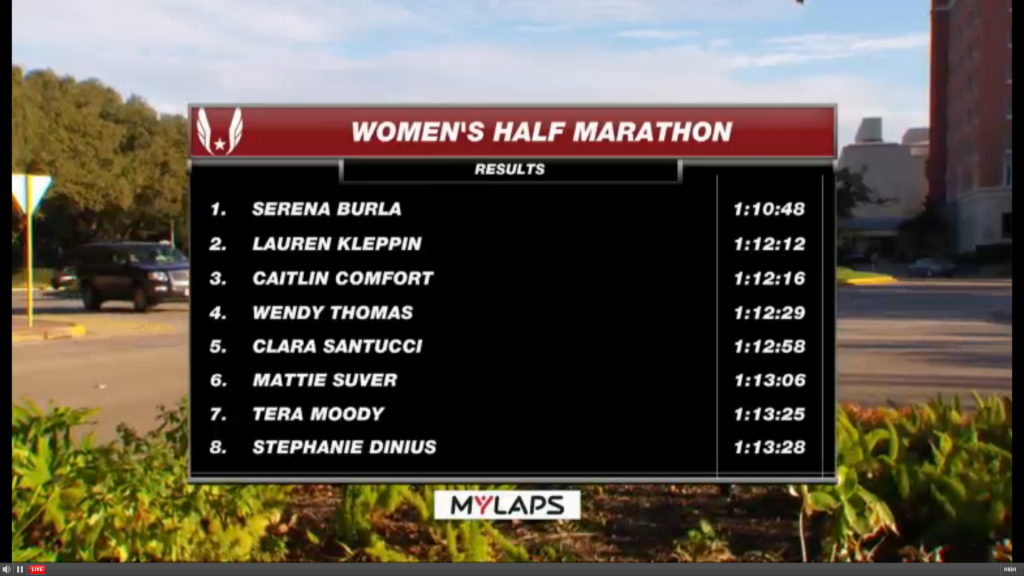 Quik Take #1: An AWESOME and huge victory for Meb. After his disappointing NYC Marathon showing, where he ran 2:23:47, the question was, "Is this the first real sign that Father Time is catching up to the 38-year-old Meb?"
Answer: No.
Father Time has to catch up  soon to Meb, but it might be time to get excited for April 21, 2014 because Meb is healthy and in great shape 13 weeks out of the Boston marathon.
Quick Take #2: This was an EXCELLENT way for all of the men in the top 8 to kick off their 2014 campaigns. In 2013, just three US men broke 62:00 for 13.1 all year long. Update: The full results are out and 9th placer Tim Ritchie also ran 62:00.
Dathan Ritzenhein – 61:10
Mohamed Trafeh – 61:17
Meb Keflezighi – 61:22
Jason Hartman – 61:51
Here 8 men ran 62:00 or better.
Quik Take #3: Serena Burla finally gets some much deserved publicity.
Burla is a great story – a cancer survivor and multi-time 2:28 marathoner – but she was largely under the radar in 2013 as her 2:28 came in Amsterdam. It's nice to see her win on US soil.
More: Messageboard discussion: 2014 National 1/2 Marathon Champs Live Thread
*Full Results