NXN Boys Results: Mark Wieczorek's Team Wins, Kai Wilmot Wins Individual Title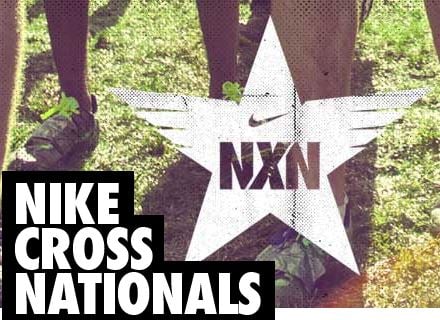 December 07, 2013
LetsRun.com
December 7, 2013
Taylor "Kai" Wilmot of North Spokane won the individual title in 15:00 as 5 others finished in a close battle for 2nd. Scherer's teammate Tanner Andreson was third. In the team competition there was an upset as Gig Harbor beat CBA NJ by 28 points.
Wilmot was only 4th at his state meet this year, but is a big talent who ran 8:57 for 3200m two years ago as a sophomore and has battled back from injuries this year.
Article continues below player
Gig Harbor is coached by 1:45.36 800m runner Mark Wieczorek along with world class 800m pacesetter Matt Scherer.
On The Boards: Kai Wilmot you're my hero
Results:
| Place | Bib | Name | S | Affiliation | Time | Pace |
| --- | --- | --- | --- | --- | --- | --- |
| 1 | 318 | Taylor Wilmot | M | NORTH SPOKANE XC CLUB | 15:00 | 4:50 |
| 2 | 359 | Blake Haney | M | CALIFORNIA 4 | 15:09 | 4:53 |
| 3 | 317 | Tanner Anderson | M | NORTH SPOKANE XC CLUB | 15:09 | 4:53 |
| 4 | 398 | Cerake Geberkidane | M | SOUTHWEST 4 | 15:10 | 4:53 |
| 5 | 201 | Estevan De La Rosa | M | ARCADIA XC CLUB | 15:10 | 4:53 |
| 6 | 265 | Wolfgang Beck | M | GIG XC CLUB | 15:10 | 4:53 |
| 7 | 213 | Connor McMillan | M | AMERICAN FORK XC CLUB | 15:13 | 4:54 |
| 8 | 219 | Taylor Caldwell | M | BRENTWOOD XC CLUB | 15:14 | 4:54 |
| 9 | 360 | Alan Yoho | M | CALIFORNIA 5 | 15:14 | 4:55 |
| 10 | 208 | Obsa Ali | M | HEARTLAND 1 | 15:15 | 4:55 |
| 11 | 354 | Anthony Russell | M | WEST CHESTER XC CLUB | 15:16 | 4:55 |
| 12 | 270 | Logan Carroll | M | GIG XC CLUB | 15:18 | 4:56 |
| 13 | 368 | Jesse Reeser | M | MIDWEST 4 | 15:20 | 4:56 |
| 14 | 291 | Michael McClemens | M | LINCROFT XC CLUB | 15:21 | 4:57 |
| 15 | 238 | Michael Hall II | M | CINCINNATI XC CLUB | 15:23 | 4:57 |
| 16 | 271 | Tristan Peloquin | M | GIG XC CLUB | 15:24 | 4:58 |
| 17 | 363 | Addison Dehaven | M | HEARTLAND 4 | 15:24 | 4:58 |
| 18 | 382 | Reilly Bloomer | M | NORTHWEST 3 | 15:25 | 4:58 |
| 19 | 358 | Austin Tamagno | M | CALIFORNIA 3 | 15:25 | 4:58 |
| 20 | 395 | Zachary Alhambra | M | SOUTHWEST 1 | 15:25 | 4:58 |
| 21 | 373 | TJ Hornberger | M | NEW YORK 4 | 15:26 | 4:58 |
| 22 | 235 | Jacob Pickle | M | CARROLL XC CLUB | 15:28 | 4:59 |
| 23 | 356 | Aidan Goltra | M | CALIFORNIA 1 | 15:28 | 4:59 |
| 24 | 399 | Bailey Roth | M | SOUTHWEST 5 | 15:29 | 4:59 |
| 25 | 361 | Stuart McNutt | M | HEARTLAND 2 | 15:30 | 5:00 |
| 26 | 217 | Coleman Churitch | M | BRENTWOOD XC CLUB | 15:31 | 5:00 |
| 27 | 241 | Evan Stifel | M | CINCINNATI XC CLUB | 15:32 | 5:00 |
| 28 | 223 | Benjamin Veatch | M | CARMEL XC CLUB | 15:32 | 5:00 |
| 29 | 362 | Chandler Austin | M | HEARTLAND 3 | 15:32 | 5:00 |
| 30 | 367 | Zachary Smith | M | MIDWEST 3 | 15:32 | 5:00 |
| 31 | 365 | Zachery Panning | M | MIDWEST 1 | 15:34 | 5:01 |
| 32 | 390 | Austin Sprague | M | SOUTHEAST 1 | 15:35 | 5:01 |
| 33 | 376 | Thomas O'Neill | M | NORTHEAST 2 | 15:35 | 5:01 |
| 34 | 346 | Connor Olson | M | WAYZATA XC CLUB | 15:36 | 5:02 |
| 35 | 369 | Nathan Mroz | M | MIDWEST 5 | 15:36 | 5:02 |
| 36 | 308 | Andrew Berge | M | MANLIUS XC CLUB | 15:36 | 5:02 |
| 37 | 375 | Trevor Hopper | M | NORTHEAST 1 | 15:37 | 5:02 |
| 38 | 364 | Albert Meier | M | HEARTLAND 5 | 15:38 | 5:02 |
| 39 | 386 | Frank Lara | M | SOUTH 2 | 15:38 | 5:02 |
| 40 | 333 | Kyle Thompson | M | PORTLAND XC CLUB | 15:39 | 5:02 |
| 41 | 378 | Christian Stafford | M | NORTHEAST 4 | 15:39 | 5:03 |
| 42 | 292 | Thomas Rooney | M | LINCROFT XC CLUB | 15:40 | 5:03 |
| 43 | 370 | Aidan Tooker | M | NEW YORK 1 | 15:40 | 5:03 |
| 44 | 322 | Michael Brannigan | M | NORTHPORT XC CLUB | 15:40 | 5:03 |
| 45 | 380 | Ahmed Ibrahim | M | NORTHWEST 1 | 15:41 | 5:03 |
| 46 | 312 | Peter Ryan | M | MANLIUS XC CLUB | 15:42 | 5:03 |
| 47 | 261 | Matt Lumbar | M | EDINA XC CLUB | 15:42 | 5:03 |
| 48 | 211 | Zachry Jacklin | M | AMERICAN FORK XC CLUB | 15:43 | 5:04 |
| 49 | 220 | Alec Thomas | M | BRENTWOOD XC CLUB | 15:43 | 5:04 |
| 50 | 325 | John McGowan | M | NORTHPORT XC CLUB | 15:46 | 5:05 |
| 51 | 266 | Mahmoud Moussa | M | GIG XC CLUB | 15:47 | 5:05 |
| 52 | 337 | Ryan Forsyth | M | SEVERNA XC CLUB | 15:48 | 5:05 |
| 53 | 374 | Benito Muniz | M | NEW YORK 5 | 15:48 | 5:06 |
| 54 | 216 | Aaron Thomas | M | BRENTWOOD XC CLUB | 15:49 | 5:06 |
| 55 | 377 | Kevin James | M | NORTHEAST 3 | 15:51 | 5:06 |
| 56 | 289 | Francis Bogan | M | LINCROFT XC CLUB | 15:52 | 5:07 |
| 57 | 396 | Andrew Brewer | M | SOUTHWEST 2 | 15:52 | 5:07 |
| 58 | 233 | Connor Hendrickson | M | CARROLL XC CLUB | 15:53 | 5:07 |
| 59 | 357 | David Luna | M | CALIFORNIA 2 | 15:53 | 5:07 |
| 60 | 366 | Evan Schulte | M | MIDWEST 2 | 15:54 | 5:07 |
| 61 | 372 | Josh Dyrland | M | NEW YORK 3 | 15:55 | 5:08 |
| 62 | 397 | Michael Buckley | M | SOUTHWEST 3 | 15:55 | 5:08 |
| 63 | 247 | Gavin Diem | M | DANA POINT XC CLUB | 15:56 | 5:08 |
| 64 | 202 | Phillip Rocha | M | ARCADIA XC CLUB | 15:56 | 5:08 |
| 65 | 226 | Robert Browning | M | CARMEL XC CLUB | 15:56 | 5:08 |
| 66 | 383 | Andrew Foerder | M | NORTHWEST 4 | 15:56 | 5:08 |
| 67 | 311 | Bryce Millar | M | MANLIUS XC CLUB | 15:56 | 5:08 |
| 68 | 260 | Logan Ramlet | M | EDINA XC CLUB | 15:59 | 5:09 |
| 69 | 385 | Jacob Shiohira | M | SOUTH 1 | 16:00 | 5:09 |
| 70 | 287 | Blaise Ferro | M | LINCROFT XC CLUB | 16:01 | 5:09 |
| 71 | 384 | Ricky Faure | M | NORTHWEST 5 | 16:01 | 5:10 |
| 72 | 394 | Tyler Spear | M | SOUTHEAST 5 | 16:01 | 5:10 |
| 73 | 237 | Michael Vitucci | M | CINCINNATI XC CLUB | 16:01 | 5:10 |
| 74 | 302 | Eduardo Herrera | M | MADERA XC CLUB | 16:02 | 5:10 |
| 75 | 259 | David Ellenberger | M | EDINA XC CLUB | 16:02 | 5:10 |
| 76 | 379 | Griffin Molino | M | NORTHEAST 5 | 16:02 | 5:10 |
| 77 | 214 | Casey Clinger | M | AMERICAN FORK XC CLUB | 16:04 | 5:10 |
| 78 | 329 | Samuel Truax | M | PORTLAND XC CLUB | 16:04 | 5:11 |
| 79 | 393 | Nicholas Diaz | M | SOUTHEAST 4 | 16:04 | 5:11 |
| 80 | 249 | Jacob Ogden | M | DANA POINT XC CLUB | 16:04 | 5:11 |
| 81 | 336 | Rhys Burgett | M | SEVERNA XC CLUB | 16:04 | 5:11 |
| 82 | 300 | Miguel Villar | M | MADERA XC CLUB | 16:04 | 5:11 |
| 83 | 252 | Skylar Williams | M | DAVIS (UT) XC CLUB | 16:05 | 5:11 |
| 84 | 288 | Nicholas Trigani | M | LINCROFT XC CLUB | 16:05 | 5:11 |
| 85 | 389 | Zachariah Hamstra | M | SOUTH 5 | 16:06 | 5:11 |
| 86 | 355 | Alexander Knapp | M | WEST CHESTER XC CLUB | 16:06 | 5:11 |
| 87 | 321 | Nicholas Termine | M | NORTHPORT XC CLUB | 16:07 | 5:11 |
| 88 | 257 | Josh Ward | M | DAVIS (UT) XC CLUB | 16:07 | 5:12 |
| 89 | 293 | Daniel Muldoon | M | LIVERPOOL XC CLUB | 16:07 | 5:12 |
| 90 | 392 | Stephen Garrett | M | SOUTHEAST 3 | 16:08 | 5:12 |
| 91 | 250 | Mason Coppi | M | DANA POINT XC CLUB | 16:08 | 5:12 |
| 92 | 284 | Blake Evertsen | M | HINSDALE XC CLUB | 16:08 | 5:12 |
| 93 | 313 | Kyle Barber | M | MANLIUS XC CLUB | 16:10 | 5:12 |
| 94 | 225 | Benjamin Anderson | M | CARMEL XC CLUB | 16:10 | 5:13 |
| 95 | 342 | Aaton Breyer | M | WAYZATA XC CLUB | 16:11 | 5:13 |
| 96 | 276 | Chase Van Voorhis | M | CARROLLTON XC CLUB | 16:11 | 5:13 |
| 97 | 224 | Michael George | M | CARMEL XC CLUB | 16:11 | 5:13 |
| 98 | 319 | Justin Janke | M | NORTH SPOKANE XC CLUB | 16:12 | 5:13 |
| 99 | 391 | Thomas Mulroy | M | SOUTHEAST 2 | 16:12 | 5:13 |
| 100 | 305 | David Garcia | M | MADERA XC CLUB | 16:12 | 5:13 |
| 101 | 290 | Gregory Paugh | M | LINCROFT XC CLUB | 16:14 | 5:14 |
| 102 | 285 | Timothy Caveney | M | HINSDALE XC CLUB | 16:14 | 5:14 |
| 103 | 269 | Michael Hammer | M | GIG XC CLUB | 16:14 | 5:14 |
| 104 | 298 | Dylan McCarthy | M | LIVERPOOL XC CLUB | 16:15 | 5:14 |
| 105 | 388 | Ben Barrett | M | SOUTH 4 | 16:16 | 5:15 |
| 106 | 234 | Elijah Canal | M | CARROLL XC CLUB | 16:16 | 5:15 |
| 107 | 203 | Josue Gonzalez | M | ARCADIA XC CLUB | 16:17 | 5:15 |
| 108 | 227 | Daniel Sechuga | M | CARMEL XC CLUB | 16:17 | 5:15 |
| 109 | 347 | Jaret Carpenter | M | WAYZATA XC CLUB | 16:19 | 5:15 |
| 110 | 204 | Jarrick Wenslow | M | ARCADIA XC CLUB | 16:19 | 5:15 |
| 111 | 209 | Tyler Bell | M | AMERICAN FORK XC CLUB | 16:19 | 5:15 |
| 112 | 316 | Oliver Reed III | M | NORTH SPOKANE XC CLUB | 16:20 | 5:16 |
| 113 | 272 | Ethan Davis | M | CARROLLTON XC CLUB | 16:20 | 5:16 |
| 114 | 253 | Logan Mackay | M | DAVIS (UT) XC CLUB | 16:22 | 5:16 |
| 115 | 230 | John Kemps | M | CARROLL XC CLUB | 16:23 | 5:17 |
| 116 | 348 | Ian Eklin | M | WAYZATA XC CLUB | 16:24 | 5:17 |
| 117 | 349 | Eric Stratman | M | WEST CHESTER XC CLUB | 16:24 | 5:17 |
| 118 | 338 | John Kiely | M | SEVERNA XC CLUB | 16:24 | 5:17 |
| 119 | 335 | Clayton Whitney | M | SEVERNA XC CLUB | 16:24 | 5:17 |
| 120 | 263 | Jonathan Shirley | M | EDINA XC CLUB | 16:25 | 5:17 |
| 121 | 299 | Benjamin Petrella | M | LIVERPOOL XC CLUB | 16:25 | 5:17 |
| 122 | 387 | Wesley Ward | M | SOUTH 3 | 16:25 | 5:17 |
| 123 | 341 | Kevin Hines | M | SEVERNA XC CLUB | 16:25 | 5:17 |
| 124 | 243 | Bradford Eagan | M | CINCINNATI XC CLUB | 16:25 | 5:17 |
| 125 | 255 | Colton Rimann | M | DAVIS (UT) XC CLUB | 16:25 | 5:17 |
| 126 | 331 | Samuel Lomax | M | PORTLAND XC CLUB | 16:28 | 5:18 |
| 127 | 350 | Reinhold Barchet | M | WEST CHESTER XC CLUB | 16:28 | 5:18 |
| 128 | 286 | Michael Cassidy | M | LINCROFT XC CLUB | 16:28 | 5:18 |
| 129 | 242 | Cole Grabowski | M | CINCINNATI XC CLUB | 16:28 | 5:18 |
| 130 | 207 | Bryan Ngo | M | ARCADIA XC CLUB | 16:28 | 5:18 |
| 131 | 351 | Kevin Moy | M | WEST CHESTER XC CLUB | 16:29 | 5:19 |
| 132 | 262 | Henry Jessen | M | EDINA XC CLUB | 16:29 | 5:19 |
| 133 | 306 | Michael Marquez | M | MADERA XC CLUB | 16:29 | 5:19 |
| 134 | 310 | Adam Hunt | M | MANLIUS XC CLUB | 16:30 | 5:19 |
| 135 | 273 | Michael Summers | M | CARROLLTON XC CLUB | 16:30 | 5:19 |
| 136 | 371 | Patrick Tucker | M | NEW YORK 2 | 16:30 | 5:19 |
| 137 | 212 | Jacob Chase | M | AMERICAN FORK XC CLUB | 16:31 | 5:19 |
| 138 | 303 | Juan Macias | M | MADERA XC CLUB | 16:31 | 5:19 |
| 139 | 275 | Zachary Van Voorhis | M | CARROLLTON XC CLUB | 16:31 | 5:19 |
| 140 | 254 | Colter Blanchard | M | DAVIS (UT) XC CLUB | 16:31 | 5:19 |
| 141 | 297 | Connor Buck | M | LIVERPOOL XC CLUB | 16:32 | 5:20 |
| 142 | 324 | Tim McGowan | M | NORTHPORT XC CLUB | 16:32 | 5:20 |
| 143 | 340 | Dillon Cooley | M | SEVERNA XC CLUB | 16:33 | 5:20 |
| 144 | 320 | Samuel Sjoberg | M | NORTH SPOKANE XC CLUB | 16:33 | 5:20 |
| 145 | 277 | Bradley White | M | CARROLLTON XC CLUB | 16:33 | 5:20 |
| 146 | 330 | Gunner Vik | M | PORTLAND XC CLUB | 16:35 | 5:21 |
| 147 | 222 | Ryan Lee | M | BRENTWOOD XC CLUB | 16:37 | 5:21 |
| 148 | 268 | John Shields | M | GIG XC CLUB | 16:38 | 5:22 |
| 149 | 282 | Matthew McBrien | M | HINSDALE XC CLUB | 16:39 | 5:22 |
| 150 | 246 | Alexander Smith | M | DANA POINT XC CLUB | 16:41 | 5:22 |
| 151 | 258 | Luke Lumbar | M | EDINA XC CLUB | 16:41 | 5:23 |
| 152 | 326 | Justin Leopold | M | NORTHPORT XC CLUB | 16:42 | 5:23 |
| 153 | 353 | Richard Waltz | M | WEST CHESTER XC CLUB | 16:42 | 5:23 |
| 154 | 345 | Andrew Quirk | M | WAYZATA XC CLUB | 16:43 | 5:23 |
| 155 | 215 | Spencer Herzog | M | AMERICAN FORK XC CLUB | 16:44 | 5:24 |
| 156 | 295 | Nicholas Leclair | M | LIVERPOOL XC CLUB | 16:44 | 5:24 |
| 157 | 251 | Stokton Smith | M | DAVIS (UT) XC CLUB | 16:45 | 5:24 |
| 158 | 315 | Andrew Vandine | M | NORTH SPOKANE XC CLUB | 16:45 | 5:24 |
| 159 | 206 | Trung Tran | M | ARCADIA XC CLUB | 16:45 | 5:24 |
| 160 | 344 | Jack Prazich | M | WAYZATA XC CLUB | 16:46 | 5:24 |
| 161 | 248 | Timothy Wilson | M | DANA POINT XC CLUB | 16:47 | 5:24 |
| 162 | 280 | Emmett Scully | M | HINSDALE XC CLUB | 16:47 | 5:24 |
| 163 | 301 | Michael Ochoa | M | MADERA XC CLUB | 16:47 | 5:25 |
| 164 | 343 | Nicholas Shaleen | M | WAYZATA XC CLUB | 16:49 | 5:25 |
| 165 | 240 | Jack Krug | M | CINCINNATI XC CLUB | 16:50 | 5:25 |
| 166 | 281 | Kevin Huang | M | HINSDALE XC CLUB | 16:51 | 5:26 |
| 167 | 279 | Alex Domiano | M | HINSDALE XC CLUB | 16:51 | 5:26 |
| 168 | 309 | Riley Hughes | M | MANLIUS XC CLUB | 16:51 | 5:26 |
| 169 | 304 | Luis Becerra | M | MADERA XC CLUB | 16:52 | 5:26 |
| 170 | 210 | Caleb Thompson | M | AMERICAN FORK XC CLUB | 16:54 | 5:27 |
| 171 | 264 | Samuel Thomas | M | EDINA XC CLUB | 16:54 | 5:27 |
| 172 | 245 | Joseph Benrubi | M | DANA POINT XC CLUB | 16:56 | 5:27 |
| 173 | 231 | Ansel Richards | M | CARROLL XC CLUB | 16:56 | 5:27 |
| 174 | 229 | Josh Horowitz | M | CARMEL XC CLUB | 16:56 | 5:27 |
| 175 | 332 | Zackeria Lavier | M | PORTLAND XC CLUB | 16:57 | 5:28 |
| 176 | 328 | Daniel Thompson | M | PORTLAND XC CLUB | 16:58 | 5:28 |
| 177 | 327 | Patrick Thall | M | NORTHPORT XC CLUB | 16:59 | 5:28 |
| 178 | 239 | John Talbot | M | CINCINNATI XC CLUB | 16:59 | 5:28 |
| 179 | 244 | Wyler Svoboda | M | DANA POINT XC CLUB | 16:59 | 5:28 |
| 180 | 352 | Seamus Collins | M | WEST CHESTER XC CLUB | 16:59 | 5:28 |
| 181 | 294 | Ryan Comstock | M | LIVERPOOL XC CLUB | 17:05 | 5:30 |
| 182 | 267 | Jordan Oldenburg | M | GIG XC CLUB | 17:06 | 5:31 |
| 183 | 307 | Patrick Perry | M | MANLIUS XC CLUB | 17:11 | 5:32 |
| 184 | 296 | Alexander Christensen | M | LIVERPOOL XC CLUB | 17:17 | 5:34 |
| 185 | 232 | Luke Lanham | M | CARROLL XC CLUB | 17:18 | 5:34 |
| 186 | 314 | Liam Taylor | M | NORTH SPOKANE XC CLUB | 17:22 | 5:36 |
| 187 | 334 | Jean Baptist Tooley | M | PORTLAND XC CLUB | 17:23 | 5:36 |
| 188 | 256 | Kimball Potter | M | DAVIS (UT) XC CLUB | 17:24 | 5:36 |
| 189 | 323 | Roger Acosta | M | NORTHPORT XC CLUB | 17:27 | 5:37 |
| 190 | 205 | Joseph Barajas | M | ARCADIA XC CLUB | 17:30 | 5:38 |
| 191 | 221 | Francois Llorens | M | BRENTWOOD XC CLUB | 17:30 | 5:38 |
| 192 | 218 | Muhammad Fazili | M | BRENTWOOD XC CLUB | 17:31 | 5:39 |
| 193 | 274 | Drew Cummings | M | CARROLLTON XC CLUB | 17:38 | 5:41 |
| 194 | 278 | Jordan Bertrand | M | CARROLLTON XC CLUB | 17:42 | 5:42 |
| 195 | 228 | Thomas Revard | M | CARMEL XC CLUB | 18:10 | 5:51 |
| 196 | 236 | Brent Aydon | M | CARROLL XC CLUB | 18:18 | 5:54 |
| 197 | 339 | John Hussey | M | SEVERNA XC CLUB | 18:52 | 6:05 |
——————————-
Championship Boy's Team Scoring
——————————-
1. 111 GIG XC CLUB (15:35 77:53 1:04)
=====================================
1 4 265 Wolfgang Beck M 15:10
2 8 270 Logan Carroll M 15:18
3 11 271 Tristan Peloquin M 15:24
4 26 266 Mahmoud Moussa M 15:47
5 62 269 Michael Hammer M 16:14
6 (104) 268 John Shields M 16:38
7 (138) 267 Jordan Oldenburg M 17:06
2. 139 LINCROFT XC CLUB (15:48 78:59 0:44)
=====================================
1 9 291 Michael McClemens M 15:21
2 19 292 Thomas Rooney M 15:40
3 29 289 Francis Bogan M 15:52
4 36 287 Blaise Ferro M 16:01
5 46 288 Nicholas Trigani M 16:05
6 ( 60) 290 Gregory Paugh M 16:14
7 ( 85) 286 Michael Cassidy M 16:28
3. 174 BRENTWOOD XC CLUB (15:47 78:54 1:23)
=====================================
1 6 219 Taylor Caldwell M 15:14
2 13 217 Coleman Churitch M 15:31
3 24 220 Alec Thomas M 15:43
4 28 216 Aaron Thomas M 15:49
5 103 222 Ryan Lee M 16:37
6 (147) 221 Francois Llorens M 17:30
7 (148) 218 Muhammad Fazili M 17:31
4. 216 MANLIUS XC CLUB (15:59 79:54 0:54)
=====================================
1 17 308 Andrew Berge M 15:36
2 21 312 Peter Ryan M 15:42
3 34 311 Bryce Millar M 15:56
4 53 313 Kyle Barber M 16:10
5 91 310 Adam Hunt M 16:30
6 (124) 309 Riley Hughes M 16:51
7 (139) 307 Patrick Perry M 17:11
5. 225 CARMEL XC CLUB (16:02 80:06 0:45)
=====================================
1 15 223 Benjamin Veatch M 15:32
2 33 226 Robert Browning M 15:56
3 54 225 Benjamin Anderson M 16:10
4 57 224 Michael George M 16:11
5 66 227 Daniel Sechuga M 16:17
6 (130) 229 Josh Horowitz M 16:56
7 (151) 228 Thomas Revard M 18:10
6. 228 CINCINNATI XC CLUB (15:58 79:49 1:05)
=====================================
1 10 238 Michael Hall II M 15:23
2 14 241 Evan Stifel M 15:32
3 37 237 Michael Vitucci M 16:01
4 81 243 Bradford Eagan M 16:25
5 86 242 Cole Grabowski M 16:28
6 (121) 240 Jack Krug M 16:50
7 (134) 239 John Talbot M 16:59
7. 230 AMERICAN FORK XC CLUB (15:58 79:50 1:18)
=====================================
1 5 213 Connor McMillan M 15:13
2 23 211 Zachry Jacklin M 15:43
3 40 214 Casey Clinger M 16:04
4 69 209 Tyler Bell M 16:19
5 93 212 Jacob Chase M 16:31
6 (111) 215 Spencer Herzog M 16:44
7 (126) 210 Caleb Thompson M 16:54
8. 231 NORTH SPOKANE XC CLUB (15:51 79:14 1:33)
=====================================
1 1 318 Taylor Wilmot M 15:00
2 2 317 Tanner Anderson M 15:09
3 58 319 Justin Janke M 16:12
4 70 316 Oliver Reed III M 16:20
5 100 320 Samuel Sjoberg M 16:33
6 (114) 315 Andrew Vandine M 16:45
7 (142) 314 Liam Taylor M 17:22
9. 255 ARCADIA XC CLUB (16:02 80:10 1:18)
=====================================
1 3 201 Estevan De La Rosa M 15:10
2 32 202 Phillip Rocha M 15:56
3 65 203 Josue Gonzalez M 16:17
4 68 204 Jarrick Wenslow M 16:19
5 87 207 Bryan Ngo M 16:28
6 (115) 206 Trung Tran M 16:45
7 (146) 205 Joseph Barajas M 17:30
10. 263 EDINA XC CLUB (16:08 80:37 0:47)
=====================================
1 22 261 Matt Lumbar M 15:42
2 35 260 Logan Ramlet M 15:59
3 39 259 David Ellenberger M 16:02
4 78 263 Jonathan Shirley M 16:25
5 89 262 Henry Jessen M 16:29
6 (107) 258 Luke Lumbar M 16:41
7 (127) 264 Samuel Thomas M 16:54
11. 299 NORTHPORT XC CLUB (16:10 80:47 1:02)
=====================================
1 20 322 Michael Brannigan M 15:40
2 25 325 John McGowan M 15:46
3 48 321 Nicholas Termine M 16:07
4 98 324 Tim McGowan M 16:32
5 108 326 Justin Leopold M 16:42
6 (133) 327 Patrick Thall M 16:59
7 (145) 323 Roger Acosta M 17:27
12. 301 WEST CHESTER XC CLUB (16:09 80:43 1:13)
=====================================
1 7 354 Anthony Russell M 15:16
2 47 355 Alexander Knapp M 16:06
3 75 349 Eric Stratman M 16:24
4 84 350 Reinhold Barchet M 16:28
5 88 351 Kevin Moy M 16:29
6 (109) 353 Richard Waltz M 16:42
7 (136) 352 Seamus Collins M 16:59
13. 303 SEVERNA XC CLUB (16:13 81:05 0:37)
=====================================
1 27 337 Ryan Forsyth M 15:48
2 43 336 Rhys Burgett M 16:04
3 76 338 John Kiely M 16:24
4 77 335 Clayton Whitney M 16:24
5 80 341 Kevin Hines M 16:25
6 ( 99) 340 Dillon Cooley M 16:33
7 (153) 339 John Hussey M 18:52
14. 308 CARROLL XC CLUB (16:12 80:56 1:28)
=====================================
1 12 235 Jacob Pickle M 15:28
2 30 233 Connor Hendrickson M 15:53
3 64 234 Elijah Canal M 16:16
4 73 230 John Kemps M 16:23
5 129 231 Ansel Richards M 16:56
6 (141) 232 Luke Lanham M 17:18
7 (152) 236 Brent Aydon M 18:18
15. 322 WAYZATA XC CLUB (16:15 81:13 1:07)
=====================================
1 16 346 Connor Olson M 15:36
2 55 342 Aaton Breyer M 16:11
3 67 347 Jaret Carpenter M 16:19
4 74 348 Ian Eklin M 16:24
5 110 345 Andrew Quirk M 16:43
6 (116) 344 Jack Prazich M 16:46
7 (120) 343 Nicholas Shaleen M 16:49
16. 325 MADERA XC CLUB (16:16 81:18 0:29)
=====================================
1 38 302 Eduardo Herrera M 16:02
2 44 300 Miguel Villar M 16:04
3 59 305 David Garcia M 16:12
4 90 306 Michael Marquez M 16:29
5 94 303 Juan Macias M 16:31
6 (119) 301 Michael Ochoa M 16:47
7 (125) 304 Luis Becerra M 16:52
17. 344 DAVIS (UT) XC CLUB (16:18 81:30 0:26)
=====================================
1 45 252 Skylar Williams M 16:05
2 49 257 Josh Ward M 16:07
3 72 253 Logan Mackay M 16:22
4 82 255 Colton Rimann M 16:25
5 96 254 Colter Blanchard M 16:31
6 (113) 251 Stokton Smith M 16:45
7 (144) 256 Kimball Potter M 17:24
18. 347 DANA POINT XC CLUB (16:20 81:36 0:51)
=====================================
1 31 247 Gavin Diem M 15:56
2 42 249 Jacob Ogden M 16:04
3 51 250 Mason Coppi M 16:08
4 106 246 Alexander Smith M 16:41
5 117 248 Timothy Wilson M 16:47
6 (128) 245 Joseph Benrubi M 16:56
7 (135) 244 Wyler Svoboda M 16:59
19. 375 PORTLAND XC CLUB (16:21 81:43 1:18)
=====================================
1 18 333 Kyle Thompson M 15:39
2 41 329 Samuel Truax M 16:04
3 83 331 Samuel Lomax M 16:28
4 102 330 Gunner Vik M 16:35
5 131 332 Zackeria Lavier M 16:57
6 (132) 328 Daniel Thompson M 16:58
7 (143) 334 Jean Baptist Tooley M 17:23
20. 401 LIVERPOOL XC CLUB (16:25 82:03 0:37)
=====================================
1 50 293 Daniel Muldoon M 16:07
2 63 298 Dylan McCarthy M 16:15
3 79 299 Benjamin Petrella M 16:25
4 97 297 Connor Buck M 16:32
5 112 295 Nicholas Leclair M 16:44
6 (137) 294 Ryan Comstock M 17:05
7 (140) 296 Alexander Christensen M 17:17
21. 415 CARROLLTON XC CLUB (16:25 82:05 0:22)
=====================================
1 56 276 Chase Van Voorhis M 16:11
2 71 272 Ethan Davis M 16:20
3 92 273 Michael Summers M 16:30
4 95 275 Zachary Van Voorhis M 16:31
5 101 277 Bradley White M 16:33
6 (149) 274 Drew Cummings M 17:38
7 (150) 278 Jordan Bertrand M 17:42
22. 458 HINSDALE XC CLUB (16:32 82:39 0:43)
=====================================
1 52 284 Blake Evertsen M 16:08
2 61 285 Timothy Caveney M 16:14
3 105 282 Matthew McBrien M 16:39
4 118 280 Emmett Scully M 16:47
5 122 281 Kevin Huang M 16:51
6 (123) 279 Alex Domiano M 16:51
12/07/2013 12:07PM