Six Thoughts On NCAA Men's Cross-Country D1 Individual Race Won By Edward Cheserek
by: LetsRun.com
November 23, 2013
Six quick thoughts on the 2013 NCAA Cross-Country men's individual race won by Edward Cheserek on Saturday.
Race Recap From RRW: Freshman Edward Cheserek Comes From Behind To Win Convincingly
Article continues below player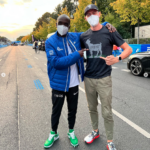 Kipchoge loves the 1:59:40 Shirt Get Yours Today
What a legend!
1) Edward Cheserek National Champion The words on the surface shouldn't be much of a surprise, as Cheserek won eight high school national titles (and ran the fastest two-mile time by a student at an American high school), but this one was a big surprise. Kennedy Kithuka was the heavy favorite and Cheserek was the last athlete to stay with Kithuka until Kithuka began to pull away after 5k. The race looked over. Give Cheserek his due; he did not give up. The next thing you knew he was gaining on Kithuka, and then it was all over.
Cheserek came over from Kenya and was an instant success at the high school ranks as a sophomore. He was almost too good for the high school ranks, but the jump up to college is a big one. After the race, Cheserek acted like taking down Kithuka, who had never lost a college cross-country race, was no big deal, but it most certainly was. Andy Powell and crew at Oregon can be proud of this one.
Our interview with Kithuka appears below. He deserves big props for making no excuses and not acting like a brat when he saw his collegiate XC undefeated streak come to an end in the last college XC race of his career. He was a great sport. "I know I am in good shape. It's not like losing today means the Kennedy is out of shape. I am in very good shape – I know that," said Kithuka. While he wouldn't make excuses, we will. We thought he should have used even bigger spikes (some teams were using 5/8 inchers).
2) From Lapped Three Times In The NCAA 10,000m, To Third At NCAAs Maksim Korolev – First American Maksim Korolev was the first American in third place and what a year it has been. Korolev ran the 10,000m last year at the NCAA Championships and got lapped three times, running 33:58 and prompting this thread: MB: Maksim Korolev: Physical or mental? Now he's third in the country. Pretty amazing. Last year, Korolev was 201st at NCAAs, now he's third. Last year, Korolev was 21st at the Heps (Ivy League Champs), this year he was first. Korolev until now was know for his inconsistency – flashes of brilliance and then crazy subpar results (when he got 21st at Heps last year, he was clear of everyone in the field but 1 guy with 600 left). Now he's known at the top American at NCAAs. Thumbs Up for for righting the ship and showing a whole different level of brilliance. And oh yeah, one more thing. In the video below, you'll realize that Korolev isn't done yet. He's got another year of eligibility, which he'll use as a grad student next year for another school – at either Stanford, Portland or Wisconsin.
3) Four Americans In The Top 10, Including True Frosh Ben Saarel In 8th There was some speculation this year that an American might not finish in the top 10, but the Americans more than held their own with four in the top ten. They were Maksim Korolev (3), Jim Rosa (5), Andrew Colley (7), and true frosh Ben Saarel (8). Futsum Zeinasellassie, who has a green card, but not citizenship, was 4th. We at LRC have been hyping up the future prospects of Saarel and he delivered on Saturday. Eighth as a true frosh leading Colorado to the team title. Very impressive.
4) Kemoy Campbell's Incredible Year Ends With Him Finishing 46th If anyone was going to beat Kennedy Kithuka, we and you thought the most likely candidate was Jamaica's Kemoy Campbell. A Jamaican long-distance runner is unheard of, but Campbell had been on fire in 2013 until today. He went with Kithuka and Cheserek early, and then fell off and then kept going backwards through the field to the finish. If anyone gets a free pass for having an off day in really cold and windy weather, it's a Jamaican distance runner. Campbell has been one of the best stories of 2013.
5) The Plight Of Colorado's And NAU's 5th Men We'll have more on the team title later, but at 8k, the score was Northern Arizona 152, Colorado 171. At the finish it was Colorado 149, Northern Arizona 169. The change in score largely can be attributed to the changes of both school's eventual fifth men over the final two kilometers. Northern Arizona's Nathan Weitz lost 27 spots to finish in 76th place. Further back in the field was Colorado's fifth man, Ammar Moussa. Moussa gained 18 spots to finish in 95th. Those changes were enough to reverse the standings.
6) Super Frosh – Colorado's Ben Saarel – We said this spring Mark Wetmore has a special talent in Saarel and Saarel proved that today by becoming the first American freshman to finish in the top 10 since Chris Derrick and Luke Puskedra did it in 2008. Saarel was the Buffs #1 man and without him, they would have been just third in the team standings.